In order to get a flavor of any town of Vietnam (Việt Nam), you should go to the local market, the heart of local community. This is the place where local people come every morning in order to ferret out the fresh veggies, meats as well as spices for their meals. If you are going to visit Vietnam in the future, apart from visiting the most famous tourist attractions, you can spend time going some of best Vietnam's markets to enjoy the truest taste of Vietnam's daily life. Take a look at the list below to see which Vietnam's best markets are:
1. Bac Ha (Bắc Hà) Market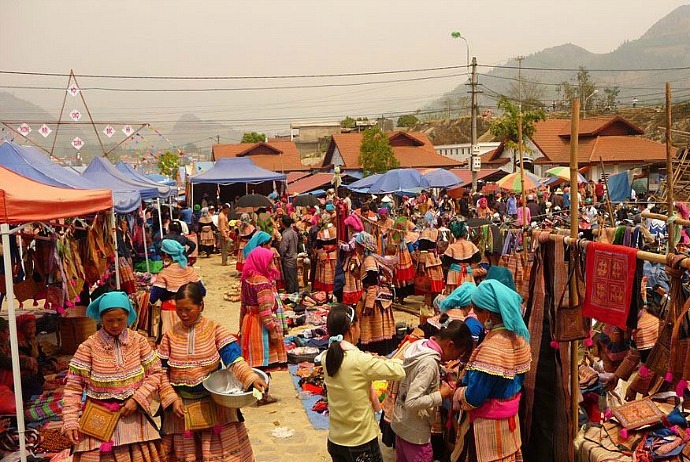 Bac Ha Market is a Sunday market. It means that the market is open each Sunday. In the market, you will find a wide range of handicrafts for sale. Particularly, Bac Ha Market is very close and attractive for the local tribal people. If possible, you should stay the previous night in Bac Ha – on Saturday, and then get this market early prior to hundreds of day trippers from the town of Sapa start arriving.
Here, you will also be impressed by Flower H'mong women who wear a few layers of dazzling clothing. Those include an elaborate collar-cum-shawl which is pinned at the neck, along with an apron-style garment. They are made of woven strips of multi-colored fabric, and usually with a frilly edge. Also, ankle fabrics and highly ornate cuffs are part of their daily costume.
In addition to clothing and fabrics, people also bring the buffalo to the market for sale. There is an area having sufficient space for hundreds of people trading. Buffalo market is always the busiest and most exciting place in Bac Ha Market. Here, from white buffalo to black buffalo, from male to female, from big to small, all types of buffaloes could be found. The prices will depend on the purposes of using. The process of buffalo recruitment is rather stringent.
In fact, this market is not only a place to buy, sell, and exchange commodity, but also brings cultural and spiritual factors. This is the place to meet, communicate, exchange information between locals.
A specialty that cannot be missed when visiting Bac Ha Market is "Thang Co". You can find Thang Co in the food court with over 20 stalls, and almost every stall serves this dish. This dish always attracts not only tribal people but also many King people.
Location: Bac Ha, Vietnam
Opening hours: sunrise – 2pm Sunday
2. Can Cau (Cán Cấu) Market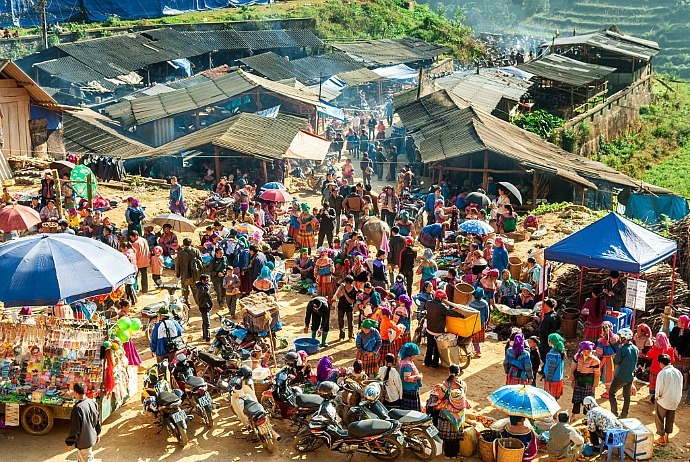 About 20km north of Bac Ha, you will find Can Cau Market which is open in every Saturday and attracts a lot of tourists. Some tours from Sapa town now also visit Can Cau on Saturday prior to moving on to Bac Ha for the Sunday market. Some Bac Ha stallholders even make their journey to Can Cau Market on Saturdays. The market is a magnet to local hill-tribe people, including Blue Hmong and Flower Hmong.
This markets spills down a hillside with the food stalls on one level and the livestock right at the valley's bottom, including a large number of dogs. Local people will implore you to enjoy the local alcohol with them. If you are a fan of trekking, then luckily, some trips here have the option of an afternoon trek for tourists (who are still able to stand after having some alcohol shots) to the nearby Fu La village.
Location: Can Cau (Cán Cấu) commune, Si Ma Cai district, Lao Cai (Lào Cai), Vietnam (Việt Nam)
Opening hours: 6 am – 1 pm on Saturday
3. Coc Ly (Cốc Ly) Market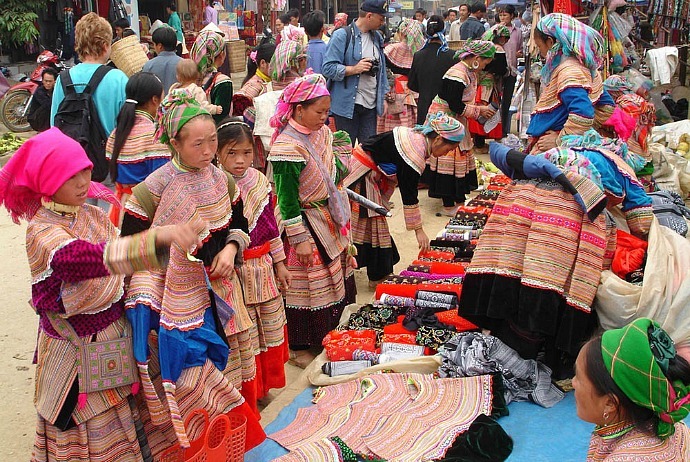 Coc Ly Market is an impressive market attracting Flower Hmong, Dzao, Nung (Nùng) and Tay (Tày) people from surrounding hills. It is about 35 km southwest of Bac Ha along the good roads. Some tour operators in Bac Ha could arrange interesting day trips here.
Location: Bac Ha (Bắc Hà), Lao Cai (Lào Cai), Vietnam (Việt Nam)
Opening hours: 8:30 am – 1:30 on Tuesday
4. Cai Rang (Cái Răng) Floating Market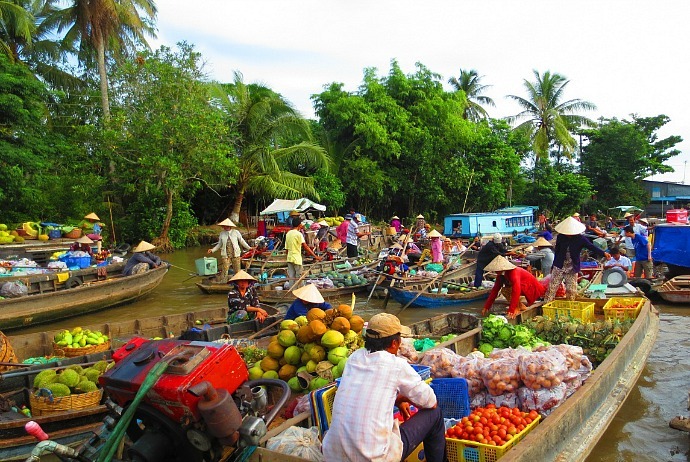 About 6km away from Can Tho (Cần Thơ), following the direction of Soc Trang (Sóc Trăng), you will find Cai Rang floating market – the biggest one in the Mekong Delta. There is a bridge here which serves a main destination for photographers and photography enthusiasts. This market is open from 6 to 7 am, but you should get here early in order to beat the boatloads of visitors. Basically, this is a wholesale market, so you can look at the things tied along the pole above the boat s to figure out the goods they are selling to those smaller traders.
You can see Cai Rang Floating market from the road, and to get here you can use boat (from $10 to $15). It takes 45 minutes from the local market in Can Tho (Cần Thơ) by river. If you drive, then follow the Dau Sau (Đầu Sấu) Bridge – this way, it just takes approximately 10 minutes to reach this market.
Location: Can Tho (Cần Thơ), Vietnam (Việt Nam)
Opening hours: 5 am – noon
5. Phong Dien (Phong Điền) Floating Market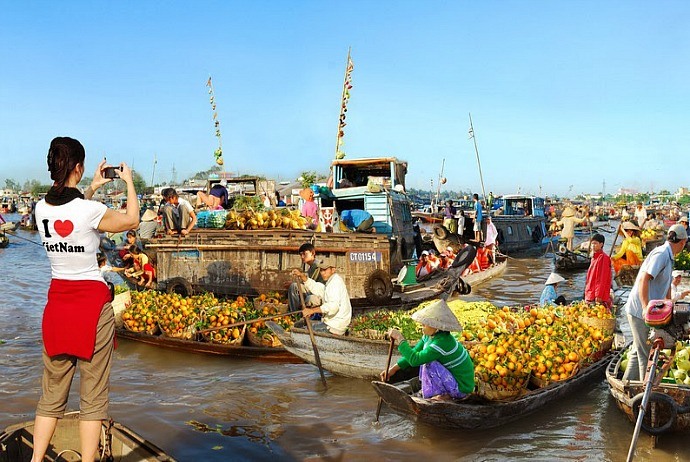 When it comes to Vietnam's best market, the Phong Dien (Phong Điền) Floating market is the most intimate one, which has fewer motorized crafts and more boats rowed by standing-up locals, with local vendors trading and exchanging gossip. In general, this market is less crowded than Cai Rang (Cái Răng). It is at its most crowded state from 5 am to 7 am. Located about 20km southwest of Can Tho (Cần Thơ), Phong Dien Floating Market could be gotten by road, yet many tour operators offer a 6-hour combined Cai Rang – Phong Dien tour, which allows tourists to return to Can Tho via quieter backwaters.
Location: Can Tho (Cần Thơ), Vietnam (Việt Nam)
Opening hours: 5 am – noon
6. Ben Thanh (Bến Thành) Market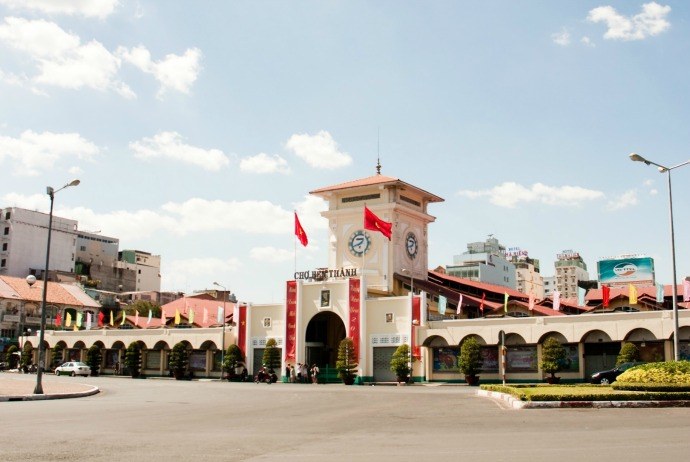 Located in the central area of Ho Chi Minh City, Ben Thanh market is surrounded by streets of one of the liveliest areas of Saigon. You can find everything which is commonly used, worn or eaten by Saigon local people, and souvenir items here. The prices are often higher than other places, so it is better to bargain vigorously and ignore those shops with "Fixed price" signs. For food lovers, some good food stalls are often open until mid-afternoon.
Customers going to Ben Thanh Market are mainly divided into 2 forms: visitors and patrons. Visitors are tourists who are mostly foreigners, and patrons include residents living at surrounding streets as well as longtime residents of Saigon.
In reality, Ben Thanh market is a familiar address of foreign tourists. Recently, this famous market is listed among the best 15 world-open markets, voted by the USA Today.
This market is also home to the world-famous chefs coming to choose fresh foods and discovering Vietnamese culinary. Not only is Ben Thanh Market the most diverse market, but it is also loved by impeccable and caring services of the stalls inside.
Location: District 1, at the intersection between Le Loi (Lê Lợi), Ham Nghi (Hàm Nghi), Tran Hung Dao (Trần Hưng Đạo), Le Lai (Lê Lai) Street, Ho Chi Minh (Hồ Chí Minh) City, Vietnam (Việt Nam)
Opening hours: 6:00 –24:00 daily
7. Dan Sinh (Dân Sinh) Market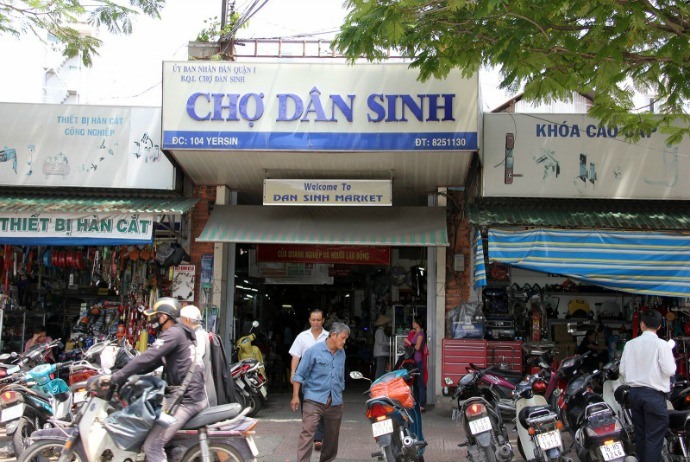 Also known as the War Surplus Market, this market provides people with authentic combat boots as well as rusty dog tags. There are also some stalls offering hardware, handy gas masks, field stretchers, rain gear, canteens, ponchos, duffel bags, boots and flak jackets.
Location: No. 104 Yersin Street, Ho Chi Minh (Hồ Chí Minh) City, Vietnam (Việt Nam)
Opening hours: 7am-6pm
8. Buoi (Bưởi ) Market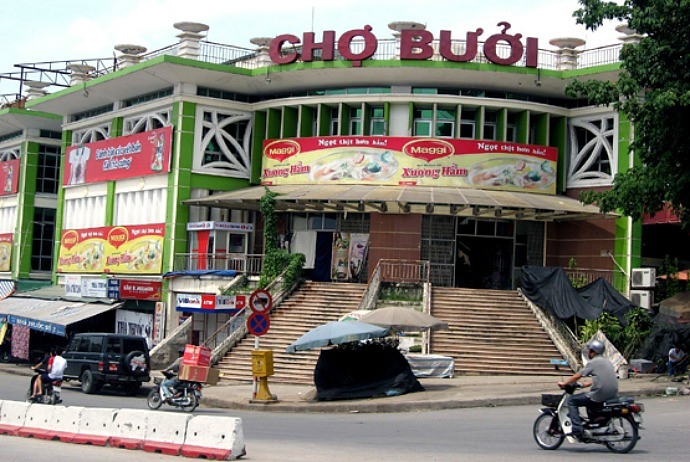 In regard to Vietnam's best markets, Buoi Market is an old market located near the southwest edge of Tay Lake (Hồ Tây), right at the intersection of Duong Buoi (Đường Bưởi) and Lac Long Quan (Lạc Long Quân) Street. This market sells mostly live animals, such as ducks, pigs, chickens, but also features some ornamental plants.
Location: corner Duong Buoi (Đường Bưởi) and Lac Long Quan (Lạc Long Quân) Street
Opening hours: 6am – 2pm