Source: emthichdidau
Updated: 08/26/2019
Located in Ba Na Nui Chua Reservation Area (Khu Bảo Tồn Bà Nà Núi Chúa), Phu Tuc (thôn Phú Túc) village, Hoa Phu commune (xã Hòa Phú), Hoa Vang district (huyện Hòa Vang), Danang (Đà Nẵng), Vietnam, Than Tai Hot Springs Park (Công viên suối nước nóng Thần Tài) is a masterpiece that the Mother Nature bestowed the capital of Central Vietnam – Danang.
Than Tai Hot Springs Park was derived from the sacred Ba Na peak and is surrounded by the Thanh Long Mountain (Núi Thanh Long) and Bach Ho Mountain (Núi Bạch Hổ).
Coming to Than Tai Hot Springs Park, you will be able to enjoy the service supplied by professional experts from Japan, which is known as the home of mineral bath.
With a total investment of nearly 500 billion of Vietnam Dong, Than Tai Hot Springs Park was valuable natural resources for the local next generations. Visiting this destination, you will have a chance to experience the first Onsen bath designed with Japanese style standards. Check out this article before heading to this attraction in Danang!
What Is The Best Time To Visit?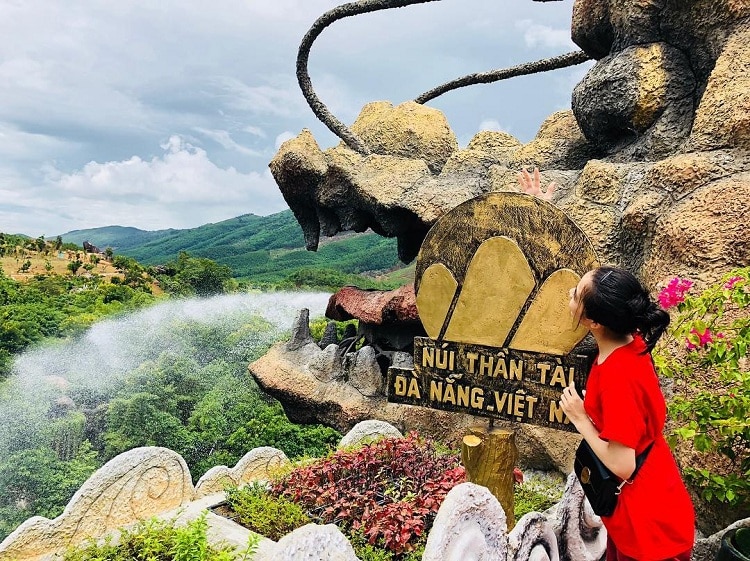 Source: dulichdaibang
Than Tai Hot Springs Park is always cool all year round and has four seasons during a day.
Therefore, you can visit this site at any time, but the most appropriate time is from April to September. During this period, there is not much rain in Danang and it is convenient for travelling.
How To Get To Than Tai Hot Springs Park?
Than Tai Hot Springs Park is about 30 km away from Danang city center, 28 km from Da Nang International Airport, and 60 km from Hoi An Ancient Town.
To get to this site, you can use: motorbikes, cars (taxis) or go on tours. You can combine visiting Than Tai Mountain and Ba Na Hills in a day as they are in just one direction.
By motorcycles: you should prepare a map or use a smart phone to find the route. There are two routes that you can choose to go: Ba Na – Suoi Mo Stream (Bà Nà – Suối Mơ) route and Highway 14B and Highway 14G. Using motorcycles during your trip requires you to check the engine and brakes carefully because there are many up and down steep ramps along the road. While driving, you should go with a moderate speed to ensure safety because the road is winding and folding.
By cars: If you drive yourself, you can also follow the routes for motorcycles. It will make you more comfortable to go on a taxi or rent a car.
Where To Visit?
Coming to Than Tai Hot Springs Park, you should not skip these 10 interesting destinations:
The Path Along The Stream
Do not miss the chance to stroll under the path which is covered by lush, heavy green trees with fragrant flowers and sweet fruits. This is a natural stream which is kept in its original state with the inherent wild beauty dotted with some bridges crossing over which will surely attract tourists.
Son Than Temple (Đền Sơn Thần)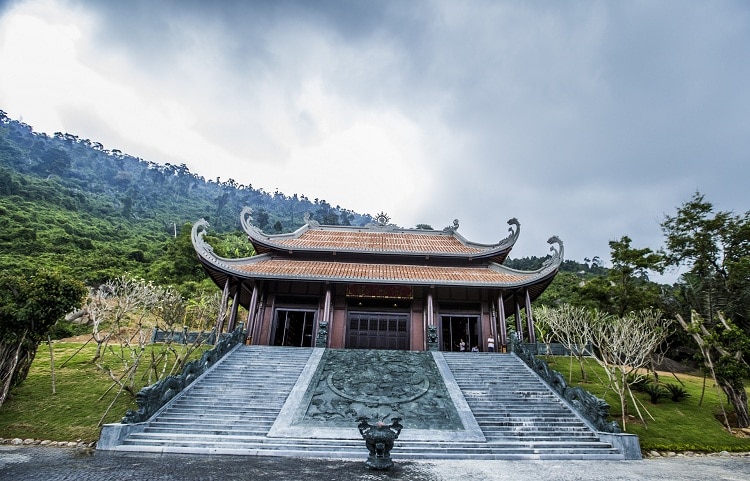 Source: nuithantai

Than Tai Mountain is a symbol for the superhuman and supernatural forces with many divine manifestations. Son Than Temple is located on this mountain to remind local people to cherish and reserve precious treasures, protect the underground mineral water resources for next generations.
Water Park (Công Viên Nước)
The water park serves tourists' demand upon visiting Than Tai Hot Springs Park. There are adventurous slides built on hilly terrain that will bring real challenging moments.
Maitreya Statue (Tượng Phật Di Lặc)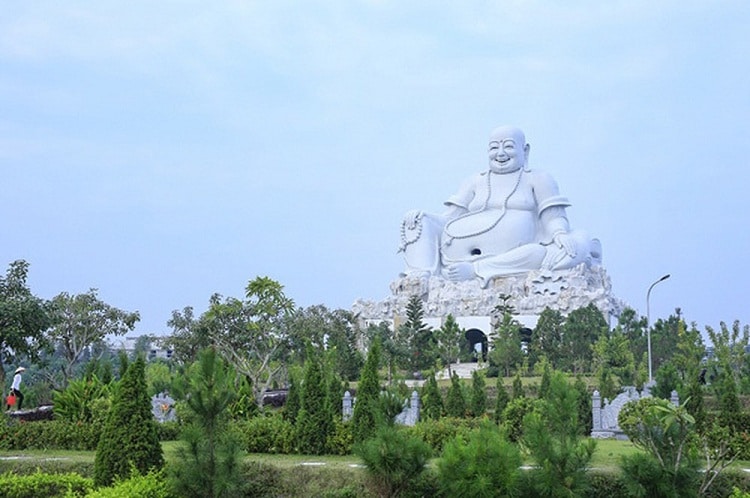 Source: baomoi
Also known as "Laughing Buddha", Maitreya Buddha is the absolute symbol of happiness in feng shui. In accordance with the legend, the greatest joy of Maitreya is turning people's sadness or stress into happiness. Buddha Maitreya's inner smile is so strong that it always shines on his gentle face. Thus, many Vietnamese people worship Maitreya Buddha or put his statue close to their working area to create a sense of excitement and energetic fullness.
Long Huyet Lake (Long Huyệt Hồ)
Long Huyet Lake is located right in the middle of Thanh Long – Bach Ho (Blue Dragon – White Tiger) Hills, which is surrounded by natural stones.  There is a monolith stone which is the grave of dragon (Long Huyet) right in the middle of the lake. This is also the origin of the most quintessential things and revealed water source. Right here, visitors can see a source of rising smoke which proves that this water source is led from underground natural source. Around this grave, there are two other large rocks corresponding to "Thanh Long Bach Ho", which helps protect the most valuable mineral water source. This is also the premise for the two hills, namely Thanh Long and Bach Ho, which have the meaning of protecting the air source to bring prosperity, well-being and health for people.
Japanese Onsen (Onsen Nhật Bản)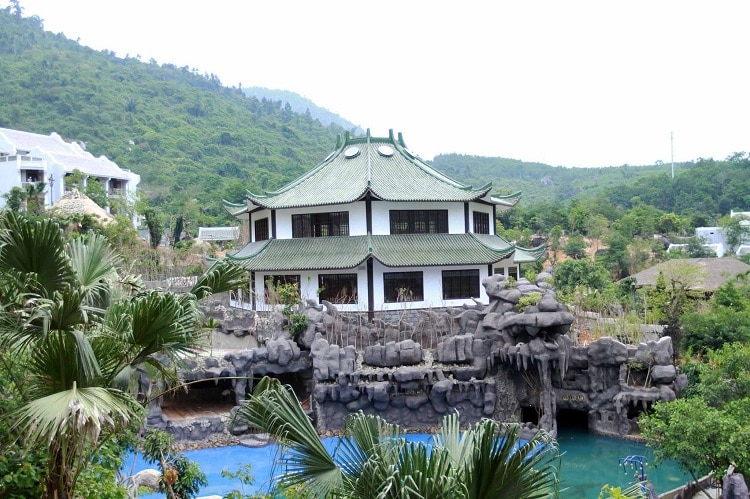 Source: nuithantai
Known as a unique resort and entertainment area, Than Tai Hot Springs Park also has many romantic natural landscapes. Particularly, tourists can also experience Japanese Onset culture which has been introduced the first time in Danang – Vietnam.
Soaking your body in the hot spring amidst a harmonious natural setting is considered one of the most effective therapists to relieve stress, relax and cure some diseases thanks to the mineral-rich water sources.
Don't skip witnessing the stone bath in Than Tai Hot Springs Park which holds a Vietnam record as the largest natural stone bath in Vietnam. Surrounded by natural forest trees and near Long Huyet Lake, you will have a chance to feel the cooling sensation coming from an original mountainous stone block, the warmth of the mineral water and the freshness of surrounding green color. All of them will create an unforgettable experience.
Long Tien Cave (Động Long Tiên)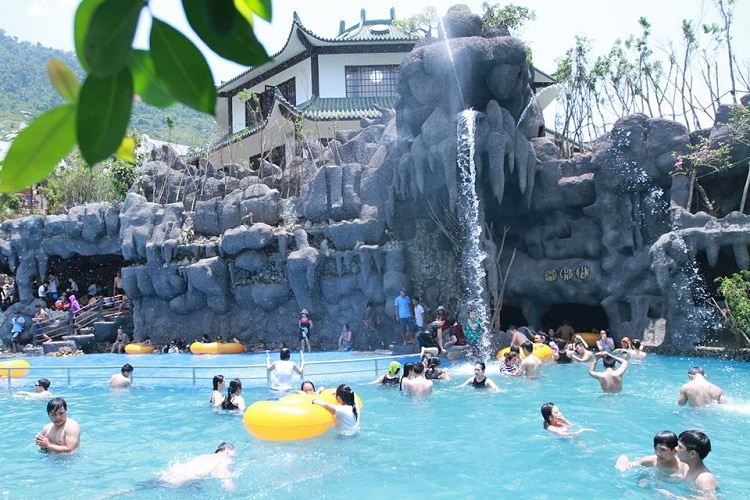 Source: danangz
The special feature of Than Tai Hot Springs Park is the meaning behind each sophistically built symbol. Not only does this establishment bring an entertainment place that can satisfy tourists, but it is also a work enhancing surrounding landscapes and revealing the most prominent points of the mountainous areas of Hoa Phu commune, Hoa Vang district, Danang.
Jacazzi Lake is also called as hydraulic massage lake, which is one of the most special places at Than Tai Mountain. Located right in the pool and kids' playing area, Jacazzi Lake has a view overlooking the natural lake and riverside path, making tourists feel like being in the middle of fresh green oasis. Thus, they will experience relaxing moments in such an open and airy space.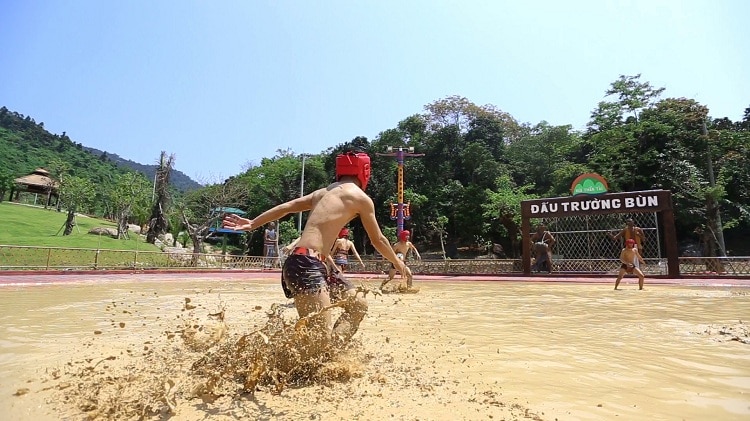 Source: dulichdananggiare
Mud arena is located near the campsite. It has an area for organizing extremely exciting mud-related games.
Aside from the 10 places to visit in Than Tai Hot Springs Park above, there are some other places that tourists should not skip, which include plentiful and diverse flora gardens such as Rambutan garden, pomelo garden, mango orchard, cold streams and waterfalls.
What To Do In Than Tai Hot Springs Park?
Having bath:
There are some forms of having bath in Thai Tai Hot Springs Park, which are:
Bungalow bath at Than Tan Mountain is the perfect combination between the regular bungalows and green trees. The bungalow bath is situated in a completely separate area like a small garden and equipped with full amenities like locker rooms, benches, closets…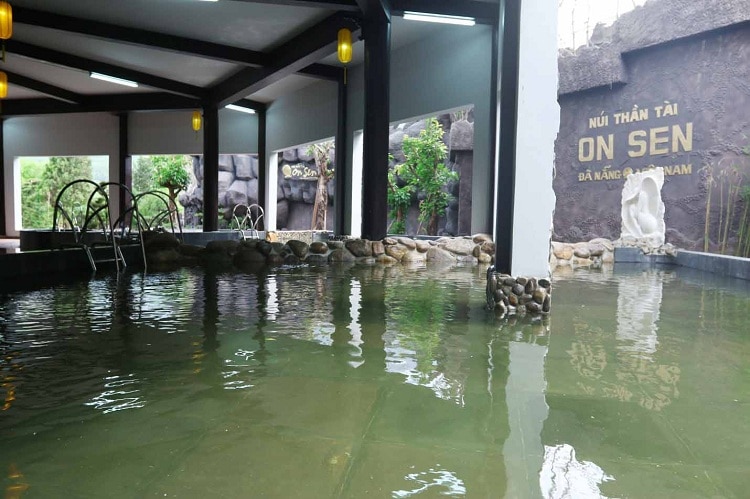 Source: nuithantai
Having Onsen bath in Than Tai Mountain is also known as regional "naked bath" in the large size bath of Japanese style. This is the only place in Vietnam certified to be the standard of Bepp city – the cradle of Onsen baths in Japan.
Be favored by natural gift, Than Tai mountain has four seasons during the day.
Mud at Than Tai Mountain is formed from a muddy Ba Na mountain, which is completely nature. After having a mud bath at Than Tai Mountain, tourists will feel freshness as the mud here offers many high quality micronutrients than other places.
Nowadays, coffee is an indispensable drink and also known as a cosmetic beauty treatment for women. They contain oxidants that blur pigmentation spots. By exfoliating your skin with coffee through café bath, you will have smooth white skin.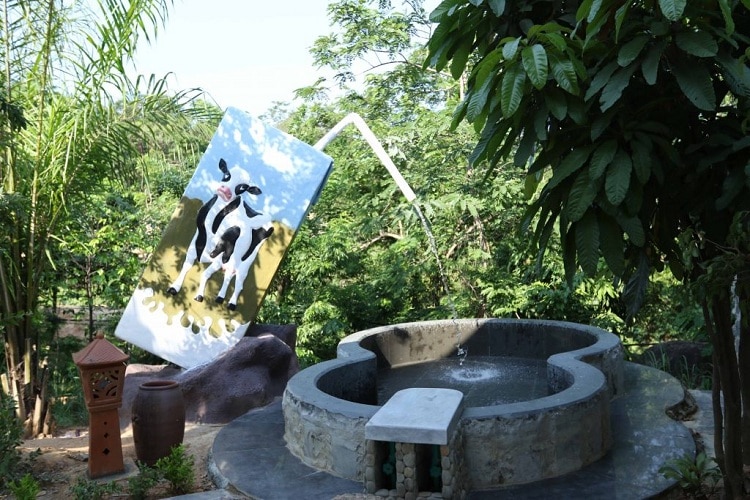 Source: onetourdanang
In addition to experience spa services, tourists will also be able to enjoy the "milk bath" service which is very beneficial for the human health. Especially, this service is highly attractive among female tourists.
Having lemongrass bath is considered a natural stress relieving treatment, which is trusted by women as a natural cosmetic. After relaxing with lemongrass bath, your skin becomes toned, healthy and glowing.
This is the secret beauty of Egyptian Queen Cleopatra in thousands of years ago. Many studies proved that wine contains resveratol – the antioxidants helping protect the skin from aging skin.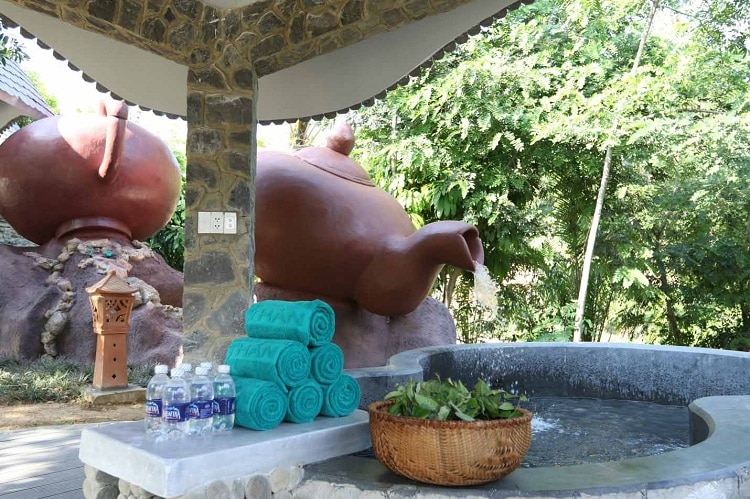 Source: nuithantai
Soaking yourself in the middle of charming natural sites with green tea bath services is the most effective way to relax those tired. Regain mental and pump more energy for the body.
Green tea essences have antibacterial effects and heal wounds. With the regular green tea bath. They owned a white soft skin and pink very naturally.
Go Steaming:
After taking a hot bath, you can go to the sauna which gives you a chance to relax your body, eliminate toxins and support your weight loss.
Eat longevity eggs:
According to Japanese people, if you eat the eggs boiled in hot mineral spring water, your longevity will be increased by about 7 years of age.
What To Eat?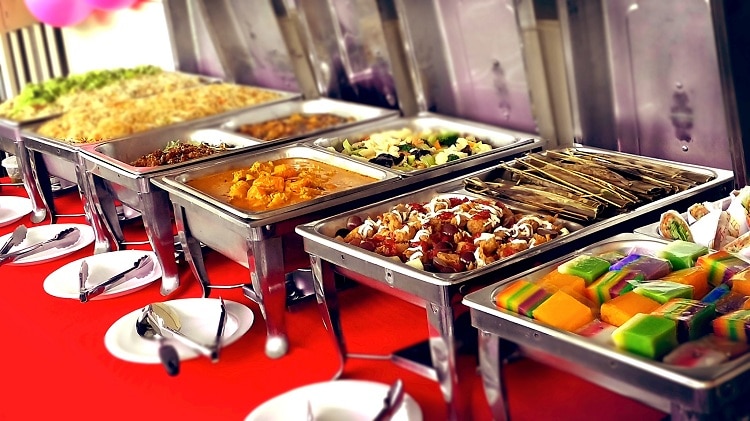 Source: suatanantoan
There is a Rong Do Restaurant in Than Tai Hot Springs Park. The large 4-storey restaurant serves a variety of different culinary services:
1st floor: buffet area with a capacity of 300 guests at a time.

2nd floor: Buffet, A la carte, VIP room (capacity of 70 guests)

3rd Floor: Convention Center (2 ballrooms)
Conference facilities include projectors, screens, flipcharts, headphones, microphones, podiums, free wifi, etc. Professional staffs will ensure the success of the event.
Phuoc room: 300 m2, 300 guests
Tho room: 250 m2, 250 guests
4th floor: welcome room, dressing area
Coming to Than Tai Mountain, you will enjoy Vietnamese food buffet with nearly 100 attractive dishes. Vietnamese food buffet is served at 11:00 -14:00 daily with the following prices:
A adult: 200.000 VND

A child under 1m3: 100.000 VND

Kids under 1 m: free
Food buffet at the restaurant with a variety of snacks and desserts processed according to the taste of the 3 regions in Vietnam. The local cuisine's special feature is the priority use of "homegrown" ingredients. This feature combined with the cuisine space which is close to the nature gives diners a novelty and tranquility feeling, which promises to bring you a memorable experience during your trip.
Admission Tickets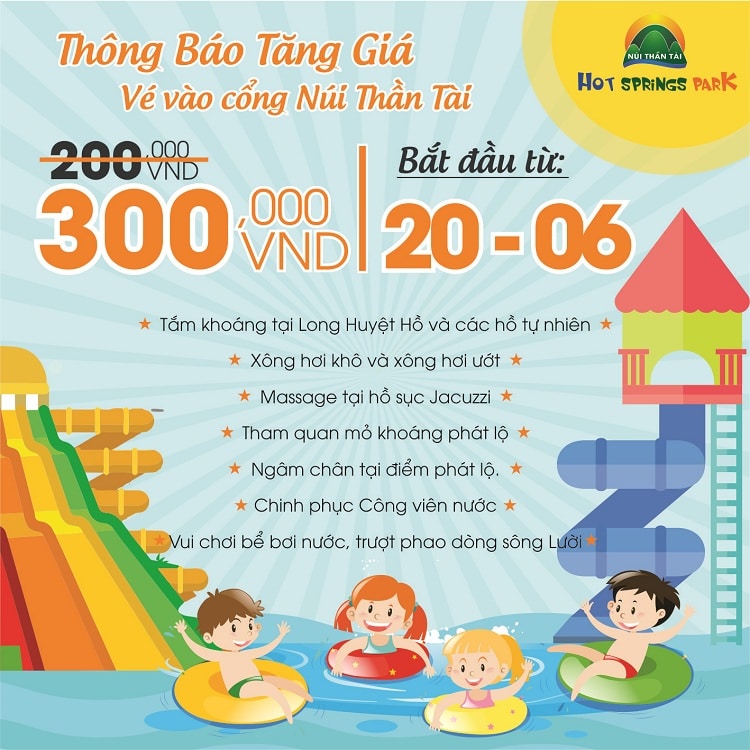 Source: nuithantai
Tickets to the Than Tai Mountain Hot Springs Park include tickets when taking part in water games; enjoying mineral baths at the mine, massage chairs at the Ficus massage pool, Turkish sauna, and Russian sauna; and floating on the lazy river, and visiting tropical fruit gardens, etc.
Ticket prices for children:
Over 1.3 m: 300.000 VND / baby

From 1m to 1.3m: 150.000 VND / baby

Under 1m: Free
Some Tips On Traveling
Prepare sunscreen to protect your skin while having a bath.

Bring swimwear and towels as must-have items.

Bring nylon bags to carry wet clothes to your home.

Game order: water park – hot springs – eat eggs longevity – sauna – steaming – buffet – 9D movie (if you have enough time)
We have given you many interesting information about Than Tai Hot Springs Park, hopefully you will have a joyful trip in Danang, Vietnam.
Let's schedule your free time to enjoy this place as soon as possible or you will regret later. Keep your good health if you want to visit as many places as possible. Have a nice trip!