Vietnamese fried squid with satay sauce recipe (Mực xào sa tế) is not only delicious but also quick for cooking. Plus, the combination of squid and satay will make a fantastic song in your mouth when eating. Today, from multiple easy Vietnamese recipes, we, Vina.com, will show you the way to make this recipe for yourself, your family, and friends. Follow our instructions below.
Vietnamese Food: Fried Squid With Satay Sauce Recipe
I. Ingredients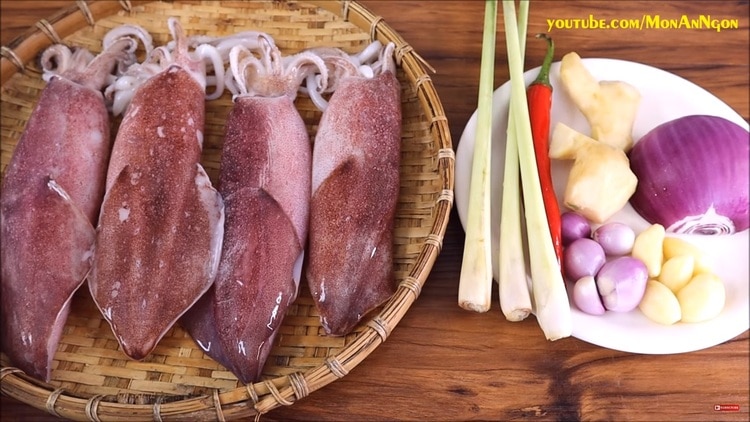 Fresh squid: 1 kg

Onions: 100g

Garlic cloves: 20g

Shallots: 20g

Ginger: 40g

Cowhorn peppers

:

20g

Stalks of lemongrass: 20g

½ tablespoon of oyster sauce

½ tablespoon of broth mix

½ teaspoon of ground pepper

1 tablespoon of sugar

2 tablespoons of rice wine

6 tablespoons of annatto oil

Fish sauce
II. Method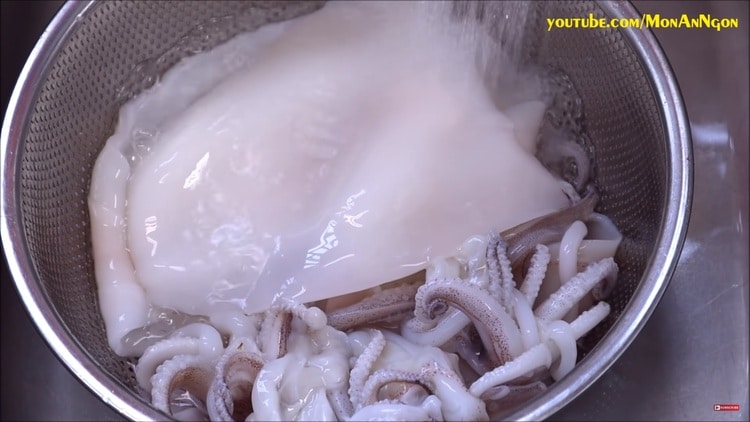 Cut the squid into half lengthwise and remove its skin and all organs. Clean it with 2 tablespoons of rice wine for five minutes until its fishy smell disappears. Wash again with water and let it dry.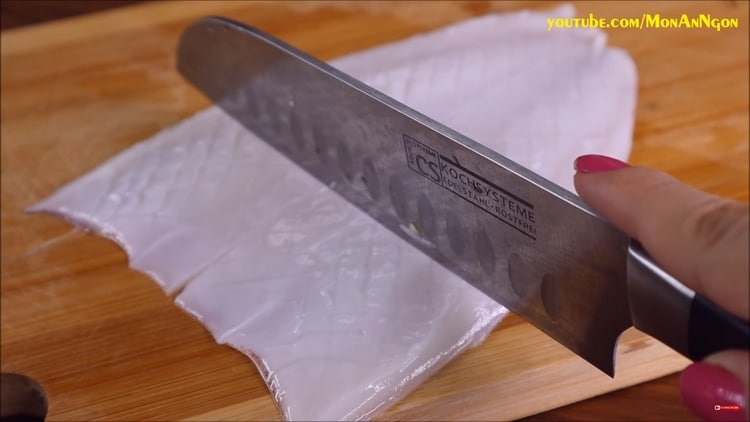 Once the squid is dried, cut it into inch wide pieces.

Score the squid

before cutting it so that it will make the squid pieces look beautiful.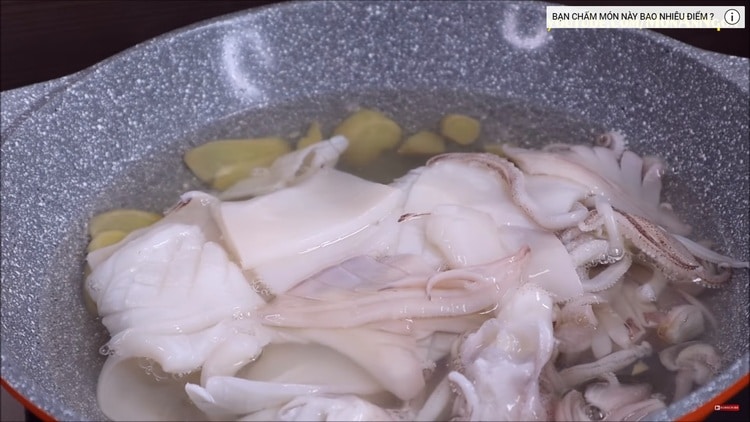 Slice ½ each of the prepared ginger and shallots. Put them in a pot of water and heat until it starts to boil. Add the squid pieces and boil for one minute.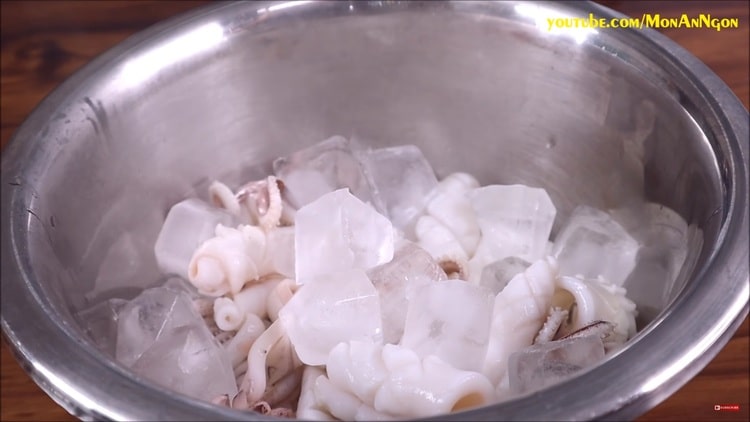 Take out the squid in a bowl after a minute and soak in ice cubes for five minutes. Soaking the squid in ice cubes will help keep the squid crispy. After 5 minutes, remove it and allow it to dry.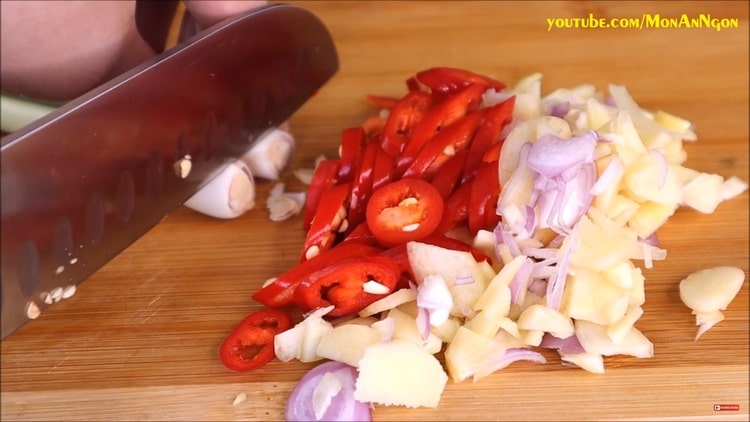 Slice and mince the rest of shallots and ginger, and garlic cloves, cowhorn peppers, and lemongrass stalks. Cut the onion into pieces.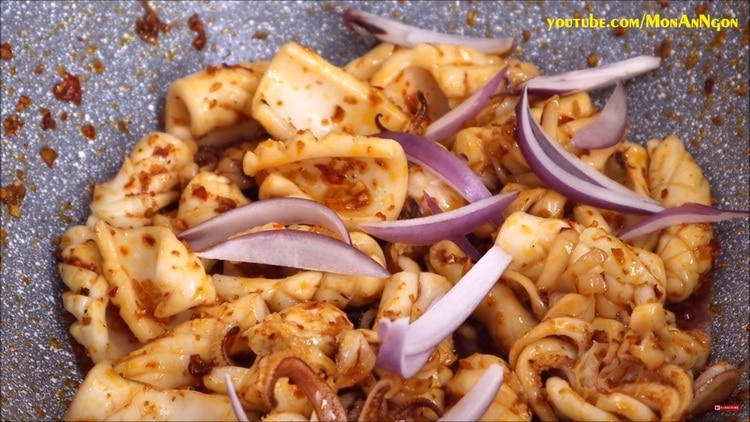 Heat 6 tablespoons of annatto oil in a frying pan. Heat until the oil begins to boil and then sauté the minced shallots, garlic, chili pepper, and lemongrass until fragrant. Add the sugar, broth mix, oyster sauce, ground pepper, and satay sauce to it and turn evenly until all of the ingredients are melted. Add the squid and season with ½ tablespoon of fish sauce. When the squid is medium well, add the onion pieces, stir, and turn off the heat
Note: Don't overcook the squid because this will make the squid harden and lose their crispiness.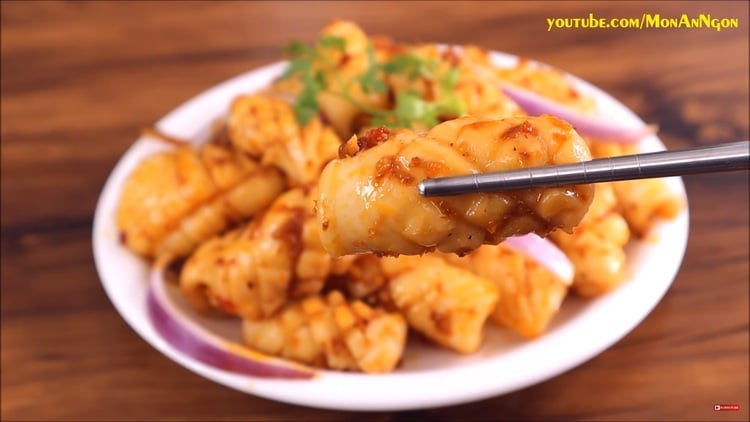 Once done, place your fried squid on a plate and serve with rice. 
Read more: 
You can invite your friends or family to come to enjoy this Vietnamese fried squid with satay sauce recipe when it is still hot. We hope you are satisfied with the way to make this dish we give for you guys. Good luck with your cooking.