Overview About Dalat Tourism
Dalat (Đà Lạt) is the capital city of Lam Dong (Lâm Đồng) province, Vietnam (Việt Nam). With a height of 1500 meters above the sea level, the weather in Dalat is cool and is an ideal retreat in the south area of Vietnam. Used to be famous for the attractions such as the Valley of Love (Thung Lũng Tình Yêu), Than Tho (Than Thở) Lake, Doi Thong Hai Mo (Đồi Thông Hai Mộ), Elephant Waterfall (Thác Voi)…, today Dalat seems not to be able to remain its pristine as before. The main sites for tourism in Da Lat include Xuan Huong (Xuân Hương) Lake, Langbiang Mount, Bao Dai (Bảo Đại) palace, Biet Dien Tran Le Xuan (Biệt Điện Trần Lệ Xuân), Truc Lam (Trúc Lâm) Monastery, Tuyen Lam (Tuyền Lâm) Lake, and Da Lat Railway Station (also known as Trai Mat (Trại Mát) Station). Only about 300 kilometers from Saigon (Sài Gòn), Dalat city is a great accommodation, helping visitors escape the sweltering heat of the southern delta region.
A Detailed Dalat Travel Guide For Tourists Worldwide
I. Vehicles, Transfer When Traveling Dalat
1. Airplane: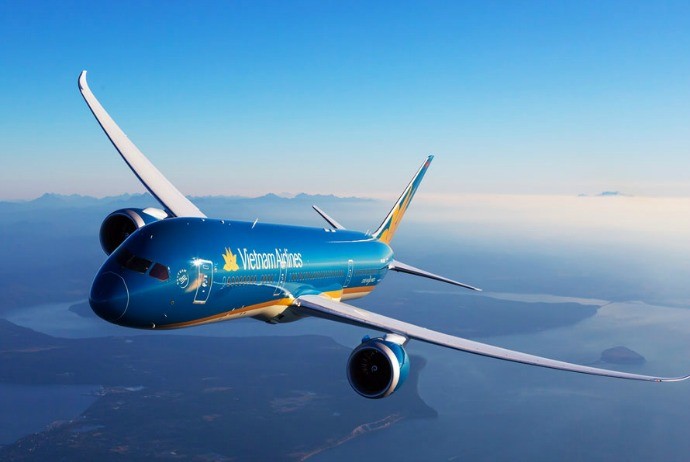 There are direct flights of Vietnam Airlines and VietJetAir, departing from Hanoi, Danang (Đà Nẵng) or Ho Chi Minh City to Lien Khuong (Liên Khương) airport (Dalat). Ticket prices range from 900,000 VND to 1.6 million VND, and the flight time from 50 minutes to 1 hour and 40 minutes.
Note: From the Lien Khuong (Liên Khương) airport, you can take the bus of the airport in Dalat (stop at the Hang Khong (Hàng Không) hotel, on Pasteur Street, near Xuan Huong Lake) for only 50,000 VND; or take a taxi about for 300,000 VND / turn.
2. Coach:
Phuong Trang (Phương Trang) and Thanh Buoi (Thành Bưởi) car brand has many trips for the route from Sai Gon to Dalat and vice versa. The fare ranges between 230,000 VND (beds) / ticket / direction. The buses run continuously, at frequencies of between 30 minutes and 1 hour.
Telephone number of car brands for traveling Dalat:
Phuong Trang (Phương Trang) brand Tel: +84 8.3837 5570 – +84 8. 3833 3468.
Thanh Buoi (Thành Bưởi) brand Tel: +84 8 3830 6306 – +84 8 3830 8090
3. Open bus: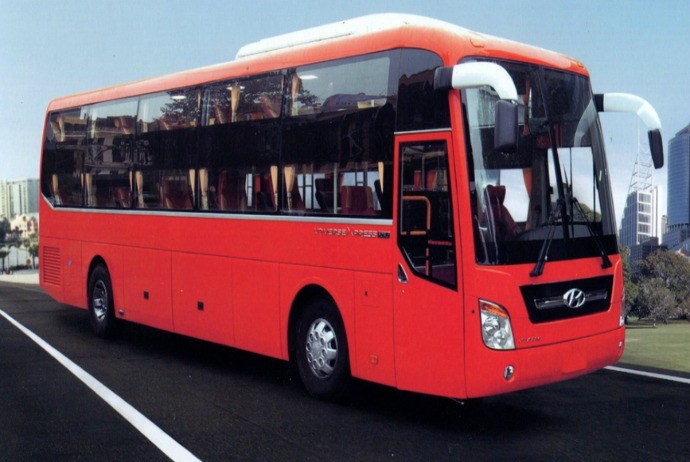 The famous Open Bus car companies are Phuong Trang (Phương Trang), Kim Travel, Hanh (Hạnh) Café, Sinh Tourist, T.M. Brother's Café. The price of one-way ticket ranges from 150,000 VND to 200,000 VND / person.
Telephone number of Open Bus for traveling Dalat:
Phuong Trang Tel: (+84) 8 3837 5570.
Kim Travel Tel: (+84) 8 920 5552.
Hanh Café Tel: (+84) 8-3920 5679 – 3837 6429.
Tel Sinh Tourist: In HCMC: (+84) 8.3837 6833
T.M Brother's Café Tel: (+84) 8-8377764 – 9120558
Vehicles in Da Lat:
Motorcycles: Price from 80,000-120,000 VND / day.
Double Bicycle: VND 20,000 / hour. To rent a bicycle or motorcycle, you need to bring your ID card.
Rental cars: Daytime rental (from 8:00 – 17:00) from 1 million VND or above, the price for those hours after 17:00 will be counted 100,000 VND / hour.
Bus: Bus routes from the bus station in the center of Dalat city following the roads to communes and districts of Dalat, Lam Dong (Lâm Đồng). Fares will be counted inclusive or under-by-turn route, from 4000-30000 VND / person.
4. Visit: Monument, Mountains, Other Dalat Attractions
Dalat Market and Hades Market: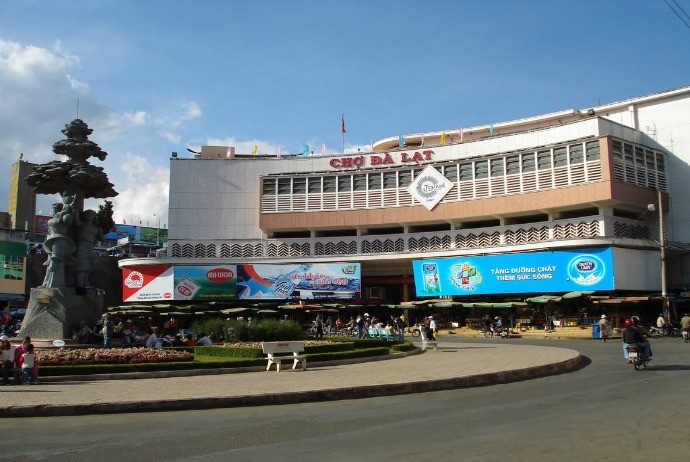 This is a not-to-be-missed destination when visiting Dalat. Here, there are beautiful second-hand warm clothes sold out along with specialties such as mulberry juice, artichoke tea, dried mixed fruits, jams, and so on.
Xuan Huong (Xuân Hương) Lake: this is the most famous symbol of Dalat tourism. Early morning and dusk are the moments when this Xuan Huong Lake is at its most beautiful state. Tourists can also take part in some games such as motor boating or sailing rubber boat on the lake.
Bao Dai (Bảo Đại) Palace: also known as the Palace III, which is a beautiful and elegant mansion situated on a high hill of 1539m. Location: On Trieu Viet Vuong (Triệu Việt Vương) Street, away Dalat center area about 2.5 km to the south.
Dalat Railway Station: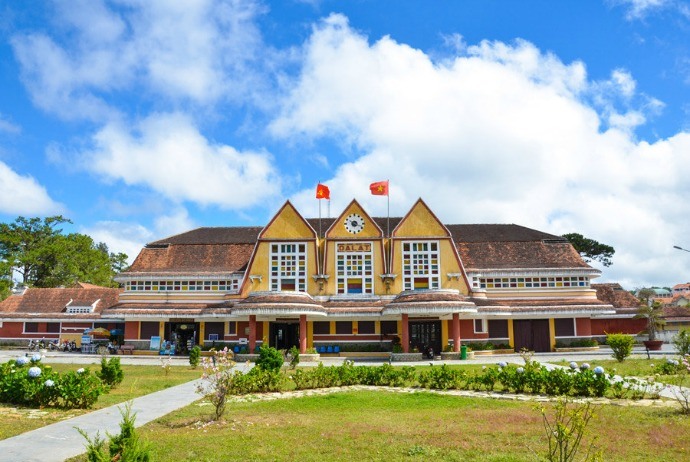 Located in No. 1 Quang Trung Street, Dalat. Da Lat Railway Station is a familiar site for the travelers to take photos.
Dalat Flower Park: located in Phu Dong Thien Vuong (Phù Đổng Thiên Vương) Street, about 2, 2km from the city center. Tourists traveling Dalat often visit gardens to admire the beautiful flowers and hunt memorable photos.
Chicken Church (Nhà Thờ Con Gà): this is a beautiful place for tourists visiting Da Lat to take pictures. Considered as the biggest church in Dalat, of which there is a statue of a big chicken on the top of the tower bell, Con Gà Church is one of the typical and oldest architecture establishment of the city built by the French. Address: on Tran Phu (Trần Phú) Street (near the Novotel).
Highlands Biology Institute (Viện Sinh Học Tây Nguyên) / Dalat Biology Institute (Phân Viện Sinh Học Đà Lạt): located on the hilltop Tung Lam (Tùng Lâm), about 10km away from the city center of Dalat. In addition to beautiful scenery, Biology Institute is also an animal museum and botanical garden.
Domaine de Marie Church / Notre Dame Territory (Lãnh Địa Đức Bà): also known as Mai Anh Church, located on Ngo Quyen (Ngô Quyền) Street, about 1 km away from the city center to the southwest. The church was built in the European style of the 17th century, having the harmonious combination between Western architecture with the architecture of the ethnic minorities in the Central Highlands.
Dalat Teaching College (trường Cao Đẳng Sư Phạm Đà Lạt):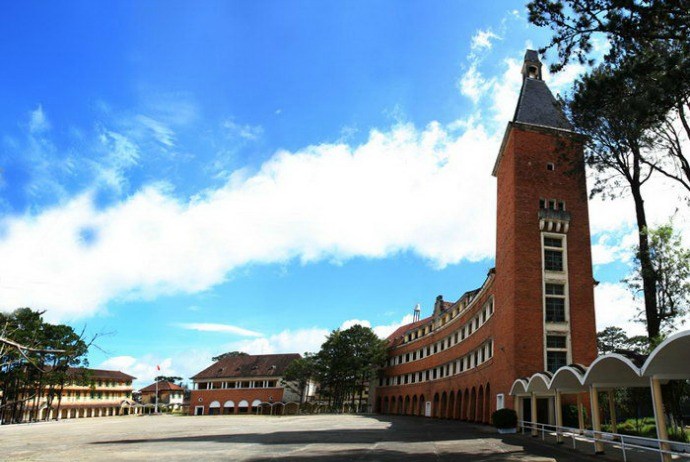 This establishment is recognized worldwide as one of the 1,000 unique constructions of the world in the 20th century by the Association of Architects. The highlight of arc-shaped blocks is the bell tower, called "Nhà Cong".
Muoi Loi (Mười Lời) peach valley: situated on Le Hong Phong (Lê Hồng Phong) Street, close to the Palace III. In addition to the beautiful peach trees, this peach garden is also famous for the delicious and unusual produce.
Trai Mat (Trại Mát) station – Linh Phuoc (Linh Phước) Pagoda: At Trai Mat station, there are some Dalat attractions such as the holiday camp of Emperor Bao Dai (Bảo Đại), Trai Mat market, or Linh Phuoc Pagoda. Linh Phuoc Pagoda has unique faience mosaics architecture. Especially, there is a dragon statue made of 12,000 beer bottles, so the temple is also known as the Ve Chai Temple.
Northern Area Of Da Lat Centre: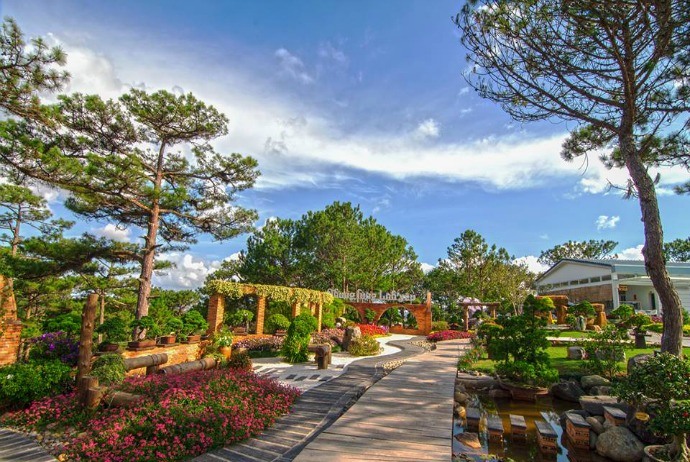 Is famous as the most poetic and lyrical destination of Dalat tourism, about 6km away from the city center to the northeast. Tourists can climb the Vong Canh hill to contemplate the panoramic view of the Valley of Love.
Suoi Vang (Suối Vàng) Valley / Suoi Vang (Suối Vàng) Lake: From the center of Dalat, to the north, to the 7th km Tung Lam turn left, pass about the road of 12km in length to Suoi Vang Lake. The routes to Suoi Vang are so beautiful; tourists should bring food and coverings so they can stop at any place they want.
Lang Biang Mountain: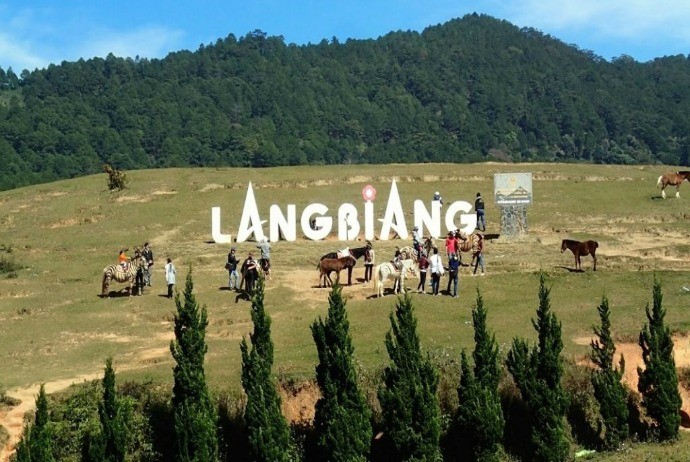 It is away the center area about 12 km to the north. When reaching the foothills, tourists have two choices: go hiking or going by jeep. To hire a full jeep, it costs 180,000 VND, if traveling as an individual, you have to wait until there are enough 6 people, 50,000 VND/ each, then traveling about 15 minutes you will reach the top. If you choose hiking (take the asphalt road to the top) you must go about 7-8 kilometers, taking 1 hour and 30 minutes to reach the top. The road up to the mountain top has wildflowers at its sides. On top of the mountain, you will see ravishing landscape, and can also enjoy the barbecue here.
Cu Lan (Cù Lần) Village: this is the brand new sight of Dalat tourism, which is beautiful small village, situated romantically between thousands of hectares of primary forest at the foot of the Lang Biang Mountain, 9 km away from Golden Valley, to the direction towards Suoi Vang (Suối Vàng) – Suoi Bac (Suối Bạc).
South Area Of Dalat Centre:
Tuyen Lam (Tuyền Lâm) Lake: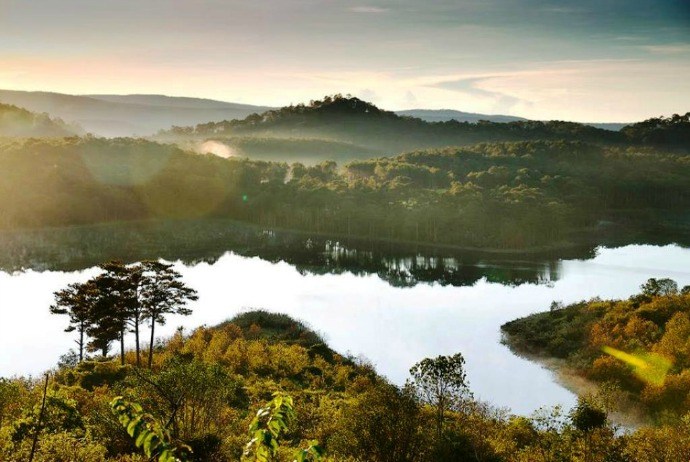 Located at an altitude of 1000 meters above sea level, 5km from the center to the south, on the road of Prenn pass. Here, you can hire a boat to travel to the island. A round trip is 200,000 dong, so you should rent with other guests to save money. Or, you can also go round the lake shore (turn left) along the road to the island. Then, after reaching the island, just feel free to enjoy bush meat. Remember to bring the sitting canvas so you can sit down when necessary. At noontime, you can hire hammock with 7,000 VND / hour to sleep on.
Truc Lam (Trúc Lâm) Monastery: Location on the Phung Hoang (Phụng Hoàng) mountain, above the Tuyen Lam Lake. This is not only the largest monastery in Lam Dong, but also fascinating sight of DlLat tourism. There is a cable car station opposite the monastery gate. Tourists can use the cable car to see the views of the city and pine forest (50,000 / round ticket).
Prenn waterfall: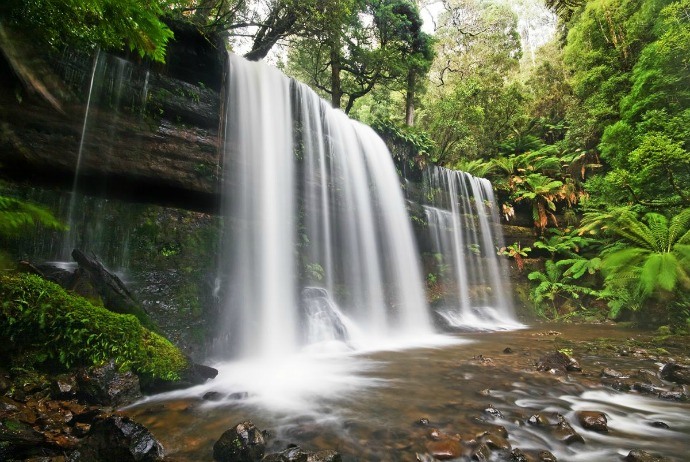 Located in the top of Prenn Pass, on the Highway 20 from Saigon (Sài Gòn) to Dalat, 10 km away from the center to the south. Visit Prenn Fall, in addition to watching the great waterfall and an enormous hill, visitors also have the chance to taste the specialty of snakehead fish porridge at just 160,000 – 200,000 VND per 4 people.
Datanla Waterfall: attracts tourists by the clear water stream flowing over 7 layers of rocky mountain before flushing it down the big, white foaming stone slabs. The waterfall is located 5km away from the center, in the middle of the Prenn Pass. From Highway 20, you turn 300 meters downhill to a small valley, then you will encounter Datanla waterfall with attractive and unspoiled landscapes.
Remote Area Of Dalat City Centre:
Cau Dat (Cầu Đất) tea village: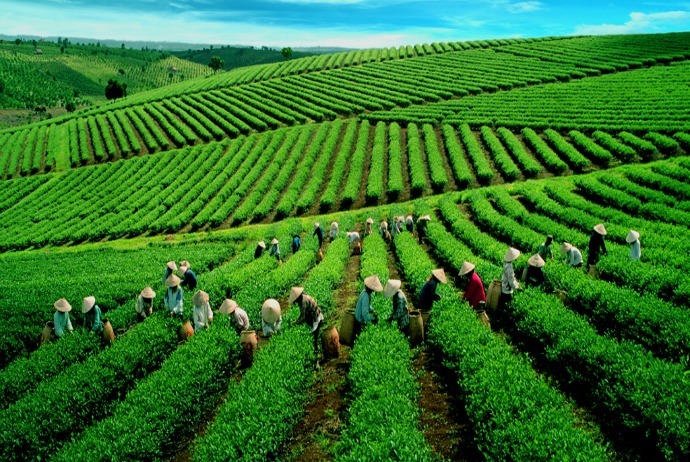 With green tea fields and especially wild sunflowers overshadowed the sky on the last months of the year. From the city center, just run straight along Tran Hung Dao (Trần Hưng Đạo) – Hung Vuong (Hùng Vương) and see the driving directions to Trai Mat (Trại Mát), from which you can ask any roadside local people to help get to Xuan Truong (Xuân Trường). Due to the location at the altitude of 1.650m above the sea level, the climate in this tea plantation is cool all year round. Tourists can visit a tea plantation for free without any fee or other charges.
Elephant waterfall (Thác Voi) – Linh An (Linh Ấn) Temple: located in the town of Ban Nam, Lam Ha (Lâm Hà) ward, 25km from Dalat city to the southwest. Lieng Rowoa waterfall, aka Elephant waterfall, is one of the beautiful waterfalls of the Highlands with the height of more than 30m, about 15m in width. Behind the white waterfall, there are mysteriously deep caves, such as the Doi (Dơi) Cave, Gio (Gió) Cave … Linh An Temple is located in area of Elephant waterfall. Within the precinct of the temple, there are many big sized Buddha statues which were elaborately carved.
D'ran town: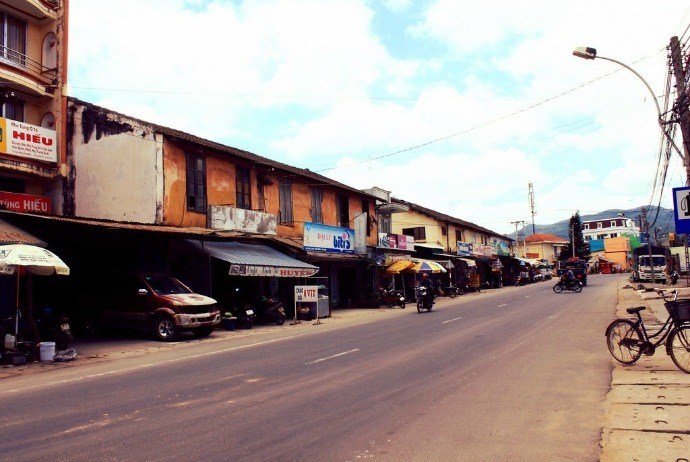 Located at the foot of the D'ran pass, in Don Duong (Đơn Dương) district, the town is famous for bright yellow wild sunflowers. There is also the specialty of baked rolls which have unforgettable taste.
Pongour waterfall: also called as the seven-storey waterfall, located in Duc Trong (Đức Trọng) district, about 50 km away from Dalat, Pongour is 40 meters in height, stretches nearly 7 floors and 100 meters in width. Pongour is the only waterfall in Lam Dong that hold annual Highlands ethnic festival on the full moon January.
Dambri waterfall: At a distance of about 100 kilometers away from Da Lat going down, 200km from Ho Chi Minh (Hồ Chí Minh) City going up along the Highway 20, Dambri waterfall (belongs to Dambri ecotourism area) is located about 18km north east of Bao Loc (Bảo Lộc). This is the highest waterfall in Lam Dong (Lâm Đồng) with height of above 40m, forming two extremely majestic high, low flows.
5. Eat: Restaurant, Snack, Specialty Of Dalat Tourism
Dalat Tourism is an opportunity for you to enjoy the specialties of Dalat including wine and Can wine, fruits (butter, peach fruit, strawberry, mulberry, …) , jams, Bao Loc (Bảo Lộc) tea, artichoke tea, and fruits and vegetables (cabbage, Chinese cabbage, spinach, cauliflower, artichokes, celery, peas, carrots, potatoes, chayote,)…
Highlight Eating Places Of Dalat: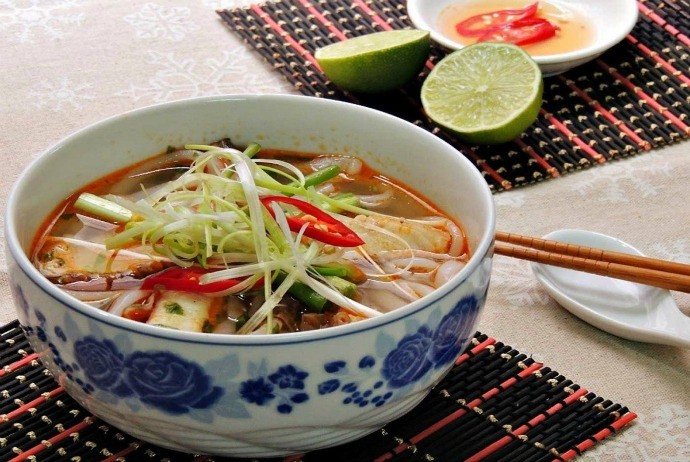 Also known as soup cake. The most famous place for this dish is Banh Canh Xuan An (Xuân An), located at no.15 Nha Chung (Nhà Chung), near the city's post office, Dalat. This shop sells "banh canh" only in the afternoon, in the morning it sells beef noodle and Quang (Quảng) noodle, price ranges 25000-30000 VND / bowl.
Banh Beo (Bánh bèo): the most recommended shop for this dish belongs to Mrs. Huong (Hường), now located at no.228 Phan Dinh Phung (Phan Đình Phùng) Street, near Hong Hung (Hồng Hưng) petrol station, serving from 11h00 to 20h00 each day, the price about 20,000 VND / serving (4 pieces).
Beef noodle at Anh Sang (Ánh Sáng) hamlet: Anh Sang hamlet is the street selling the famous Hue (Huế) beef noodle, next to Xuan Huong (Xuân Hương) Lake. Beef noodle soup here almost fully keeps the traditional flavors of the dish. Price ranges from 20,000-30,000 VND / bowl.
Grilled meat rolls (nem nướng):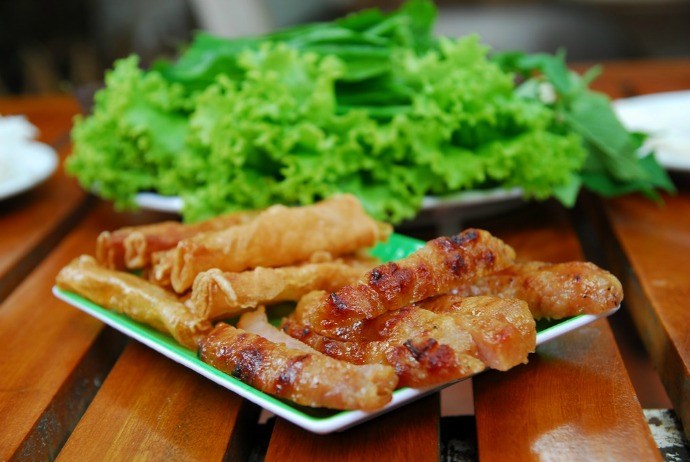 Tourists should try out this dish at Ba Hung, no.254 Phan Dinh Phung (Phan Đình Phùng) Street, Dalat. This shop just opens from the afternoon to the evening, the price is just 35,000 VND / serving. Also, you can consider Nem Nuong Mrs. Nghia (Nghĩa) – No. 4 Bui Thi Xuan (Bùi Thị Xuân) Street, which sold throughout the day.
Tai Ky (Tài Ký) Restaurant: located at no.1 / A2 Bui Thi Xuan (Bùi Thị Xuân) street, Dalat, from Xuan Huong (Xuân Hương) Lake upward about 900 meters. Famous for braising dishes such as chicken, pigeon, beef ribs, pork ribs, pork brains, … braised with ginseng and herbs. Price ranges from 35000 to 50000 VND / dish.
Cu Duc (Cu Đức) barbecue shop: Located at no. 6A Nguyen Luong Bang (Nguyễn Lương Bằng) – Ward 2 – Dalat City. The restaurant is famous for highland specialty dishes, from bushmeat chicken, grilled dishes …, price ranges from 59,000 to 119,000 VND, sold from dusk to midnight.
Lien Hoa (Liên Hoa) Cake Supermarket: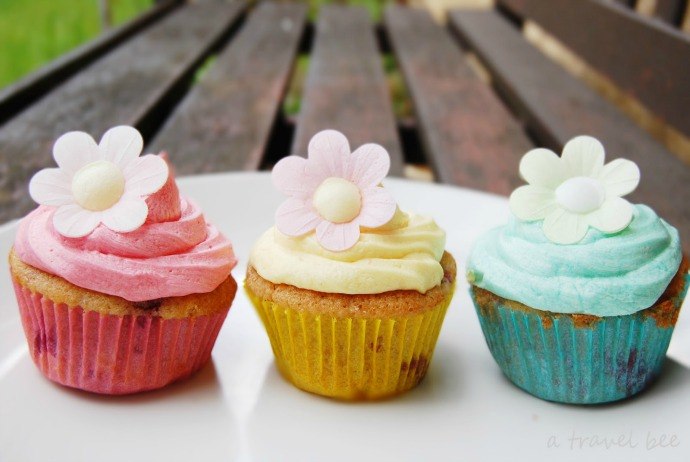 Located at 3/2 street, District 1, Dalat – Famous for beautiful, delicious little cakes, ranging from 5,000-20,000 VND. Here, there is "xíu mại" bread with different taste in compared with those in other shops. Besides, you also find grilled chopped meat and bread, beef noodles, wonton noodles …, on sale from 7:00 am to 11:30 pm.
"Chicken heart – wet cake" (Bánh ướt lòng gà) shop: located in Truong Cong Dinh (Trương Công Định), connecting with Tang Bat Ho (Tăng Bạt Hổ) (at right side of Hoa Binh (Hoà Bình) zone, near Dalat market). This shop is famous for delicious, exotic fish sauce, selling only from 2 pm to about 7, 8 pm.
Grilled Rice Paper (Bánh Tráng nướng) – located at no. 112 Nguyen Van Troi (Nguyễn Văn Trỗi). The shop is on the left, in front of the no.61 house, selling from 2:00 pm to 10:00 pm.
Strawberry cream: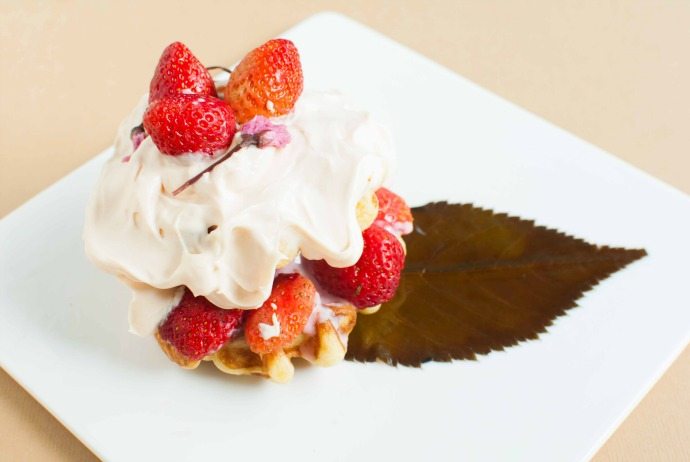 Located at no.242D Phan Dinh Phung (Phan Đình Phùng) Street, Dalat. The unique ice cream here is strawberry ice cream made from freshly picked strawberries, fresh milk, eggs and certain other materials. Price is 8,000 VND / glass.
Arrays of food in the central market of Dalat, also known as Hoa Binh (Peace) neighborhood. This food street operates mainly from the late afternoon until late nihy. The food here is plentiful, from the "banh căn", egg kneaded rice paper, crab soup to Hue beef, Quang (Quảng) noodles, ribs and vermicelli. The prices are not too high, only from 6,000 VND per soup bowl or pie to 20,000 VND a bowl of noodles.
"Bánh căn": when it comes to "Banh can", the best restaurants for this dish are mostly located on Tang Bat Ho (Tăng Bạt Hổ) Street. A pair of cakes has prices ranging from 3000 to 5000 VND depending on the stuffing. This dish should be enjoyed in the morning and evening to get the best experience.
Quang noodle: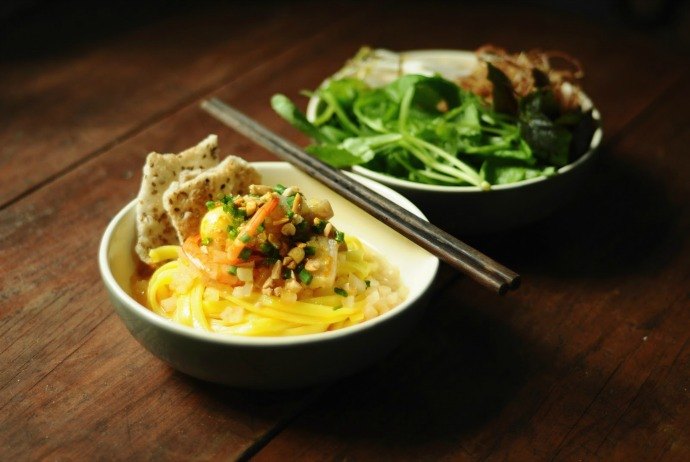 O Xi Quang Noodle (Mì Quảng O Xí) is located at lot A29, Mac Dinh Chi (Mạc Đỉnh Chi) Street, Dalat city. Quang noodle sold here has very different taste in compared with ordinary Quang Noodle. Open from 14:00 to 17:00 every the 16th day of the month.
Thanh Tri stuffed pancake (Bánh Cuốn Thanh Trì): located on Tran Quy Cap (Trần Quý Cáp) street. This dish is often served with pork bologna and barbecue. Price is 15,000d / plate.
Hotels in Dalat
Dalat hotels are varied, depending on the individual conditions you can easily choose for yourself a proper hotel. The following list of Dalat hotels include a wide range of hotels at different prices for you to select. Take a look:
Address: 74 Truong Cong Dinh (Trương Công Định ) Street, Dalat
Address: 59 Nam Ky Khoi Nghia (Nam Kỳ Khởi Nghĩa) Street, Dalat
Muong Thanh (Mường Thanh) Hotel
Address: 4 Phan Boi Chau (Phan Bội Châu) Street, Dalat
Tam Dung (Tâm Dung) 1 Hotel
Address: 18-A Nam Ky Khoi Nghia (Nam Kỳ Khởi Nghĩa) Street, Dalat
Hoang Anh – Dat Xanh (Hoàng Anh – Đất Xanh) Dalat Resort
Address: 3 Nguyen Du (Nguyễn Du) Street, Dalat
II. The Stunning Locations For Taking Photos In Dalat
1. Dalat Railway Station (No. 1 Quang Trung Street, Dalat)
This is considered the oldest station in Indochina. Dalat Railway Station was designed with an inspiration of the stylized image of the grandeur Lang Biang Mountain, with 3 unique pyramidal roofs. Combined with the basic white – black color tone, this is the perfect location for taking photos which are full of western vintage feature. Also, if you travel in the spring, along the way you will encounter cherry trees which are very poetic and romantic.
2. Dalat Cathedral (No.15 Tran Phu Street, Ward 3, Dalat)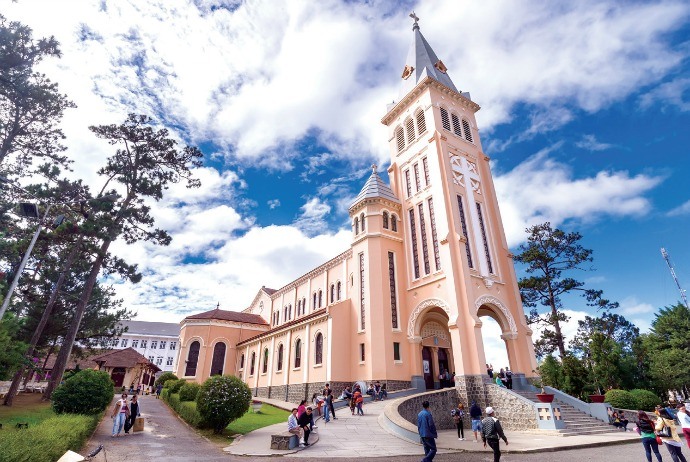 Located on Tran Phu (Trần Phú), Con Ga (Con Gà) church features the European architecture of the Middle Ages, from the design style to the archetypal patterns made according to the French church architecture. This is considered one of the best spots for taking photos in Dalat.
3. Ana Mandara Villas (Le Lai (Lê Lai) Street, Ward 5, Dalat)
As one of the beautiful villas in Dalat, Ana Mandara Villas is an ideal location for taking photos. The mansions were built in the 1920s bearing the old French architecture. Ana Mandara Resort Villas Dalat includes 17 villas spreading over a wide area of 07 hectares; including 72 rooms, each room is a separate living space, a separate experience. The rooms with luxurious furnishings, warm and ancient space will contribute to making your wedding photos more romantic and cozy.
4. Dalat Pedagogical College (No.29 Yersin, Dalat)
Being built in 1927 by the French, this building was designed by the architect Moncet. The unique architecture of Dalat Pedagogical College was certified as one of 1000 unique projects of the 20th century by the global architect Assembly. Pedagogical College Dalat was built in an arc. Taking photos here, you will have impressive photos with the base of ancient architecture and romantic atmosphere.
5. Xuan Huong (Xuân Hương) Lake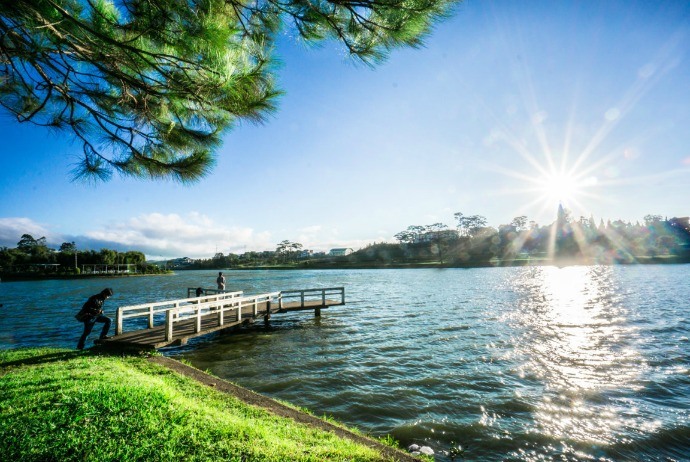 Located in the center of Dalat, Xuan Huong Lake is the symbol of Dalat with the scenery around quiet. In spring, the branches of apricot blossom, creating an impressive color covered a corner of the sky. Early morning and dusk are the times when Xuan Huong Lake is at its best.
6. Cau Dat (Cầu Đất) Tea Plantation
About 25 km away from the center of Dalat city, this is also the place that many couples choose to take wedding photos, or make an album of romantic images of green tea copper, the sparkling sunshine or dusky fog.
7. Valley Of Love (from the town center about 6km to the northeast)
With poetic scenery, Valley Of Love is a favorite destination for tourists visiting Dalat to take photos. Underneath the valley, there is Da Thien (Đa Thiện) Lake which is peaceful harmonizing in vast pine forests, creating an atmosphere of green and fresh. Also, this place also gathers a lot of beautiful flower types of Dalat, which contributes to make photos more beautiful and romantic.