Huong Sen (Nhà Hàng Hương Sen) is the leading Superior Seafood Buffet Restaurant in Hanoi, Vietnam. This is an ideal choice to celebrate wedding parties and buffets, particularly seafood buffets. The most prominent feature of the restaurant is probably the luxury, elegance and originality coming from its space and culinary style.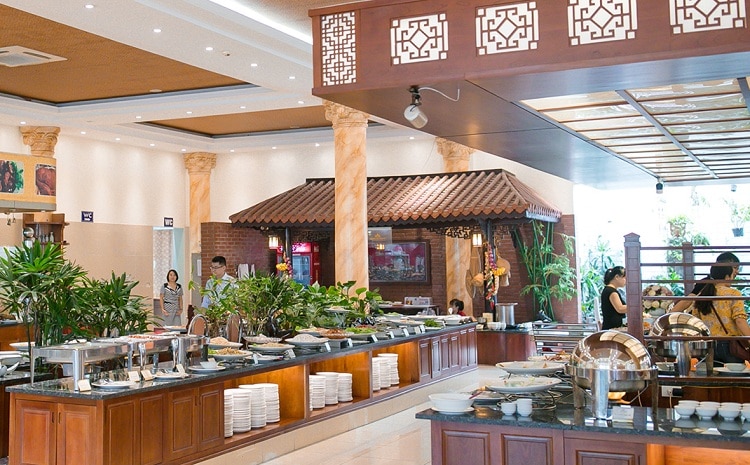 Located on a luxurious dining area of the capital Hanoi, Huong Sen Restaurant was designed in the classic European style and located behind the National Convention Center and adjacent to Pham Hung Street and Thang Long Highway. Customers choosing Huong Sen to dine in will surely be impressed by the elegant architectural style of Buckingham Palace combined with Vietnamese architectural style.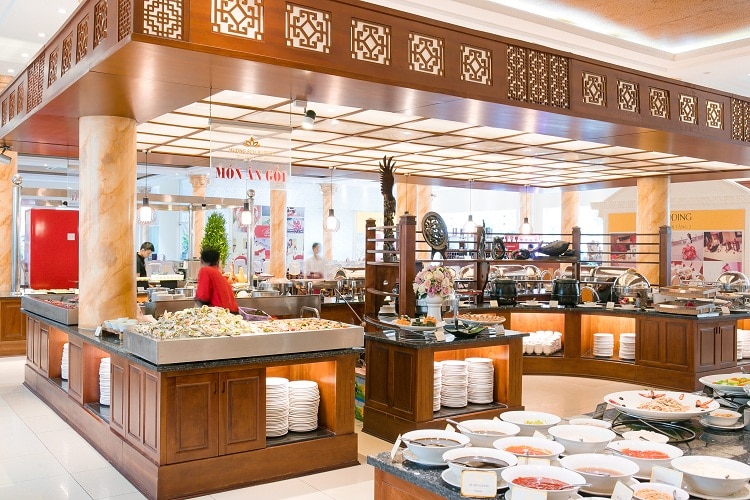 Huong Sen has a large area of about 3000 m2 with a capacity of nearly 1500 people. It is equipped with modern and advanced 5-star conference and banquet rooms, along with the most professional equipment in Hanoi. Thus, it is really the perfect choice for customers when it comes to holding wedding parties, conferences, finger food parties and outside catering services.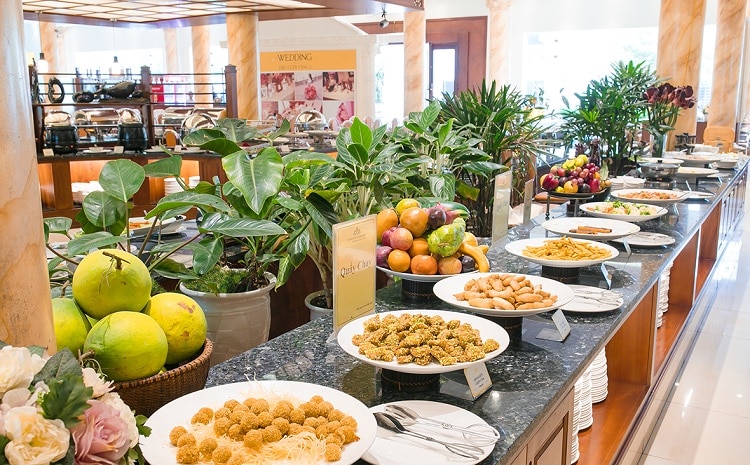 The unique feature of Huong Sen Restaurant's culinary style is the buffet, particularly premier seafood buffet. There are more than 140 fresh, delicious high quality seafood dishes in the restaurant. Coming here, customers will sense a subtle combination between traditional and modern dishes. Some can be named like Ha Long crabs steamed with beer, ocean tuna salad, and sturgeon steamed with salt, or milk oyster grilled with cheese to rustic dishes like rice vermicelli, fish, etc.
In parallel with organizing traditional wedding parties, Huong Sen also has a special "rural market" area right in the restaurant, which is both close and creative. In this market, customers can enjoy Vietnamese dishes, such as crab vermicelli, Chả (grilled chopped meat), etc. Particularly, people who are fans of vegetarian dishes can also have a chance to enjoy special delicious dishes (about 20 vegetarian dishes) in Huong Sen.
On top of that, the food quality in Huong Sen Restaurant is always guaranteed with 100% natural origin. There is no harmful food additives used during the cooking process in Huong Sen. All foods are inspected in accordance with strict procedures to ensure the standards of Food Safety Department of Vietnam.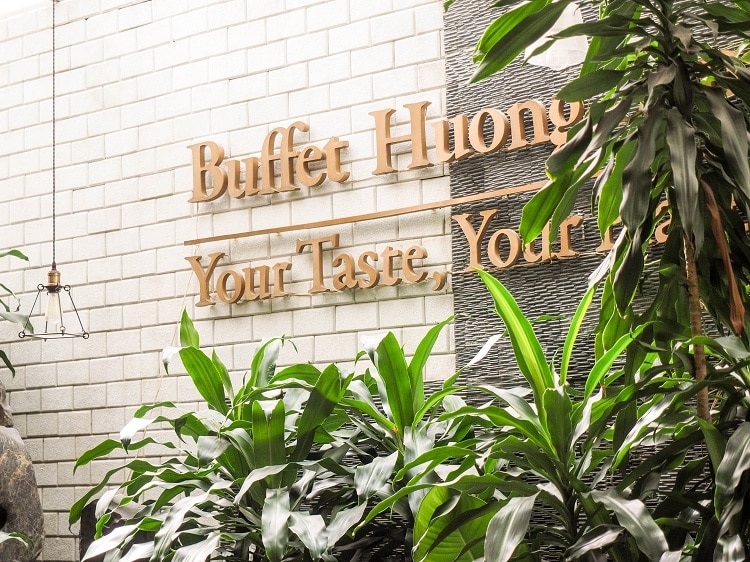 Huong Sen's team constantly improves the quality of their service and foods in order to increase the sophistication of dishes for diners.
Therefore, do not hesitate to visit Huong Sen to enjoy hundreds of delicious dishes in a space which is not only airy and spacious but also luxurious and cozy.
Points make Huong Sen outstanding from hundreds of restaurants in Hanoi: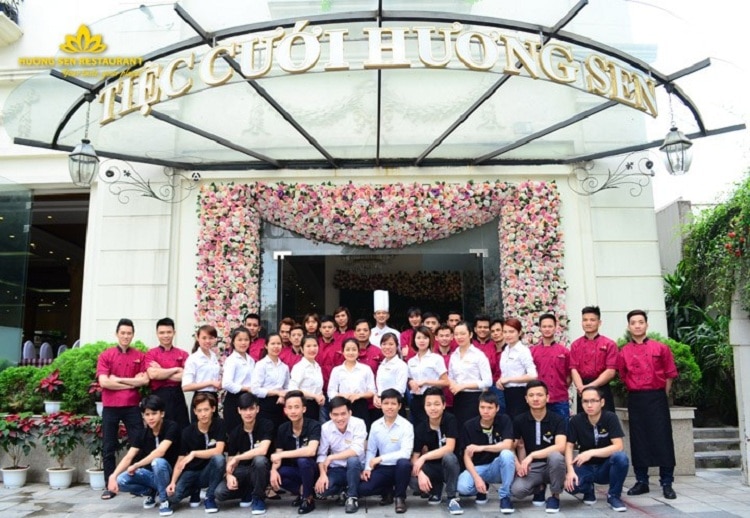 Huong Sen has an immense parking area that can accommodate up to hundreds of cars or thousands of motorbikes at a time.

Foods are diversifying and price is very reasonable in compared with other high-class restaurants in the city.

The staffs and managers are not only enthusiastic, thoughtful but also professional.

The space is dipped with classic European style which is very luxurious, spacious and beautiful. There is a separated entertaining area for children in the restaurant space.

The restaurant uses special methods to generate electricity instead of using the regularly electricity, which helps save the national electricity, and gives customers the comfort and peace of mind upon having meals without worrying about potential power outages (if any, especially in the summer months).
Buffet Menu of Huong Sen Restaurant: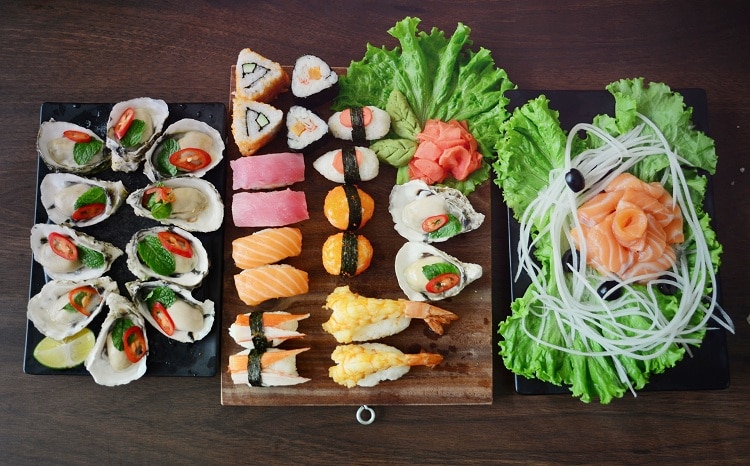 Soups: mixed seafood soup, salmon miso soup, chicken soup with mushrooms, salmon porridge, special lobster porridge, etc.

Salad: cucumber and tomato salad, Russian salad, fruit salad, Hawaii sea jellyfish salad, Huong Sen kimchi, salted figs, Japanese style salted ginger, etc.

Shushi – Kimbap: Norwegian salmon delight Salad, milk oysters delight salad, shushi seaweed, shushi crab eggs, etc.

Huong Sen Hotpot: shrimp hot pot, crunchy fish hot pot, squid hotpot, etc.

Traditional Dishes: snail noodle, crab noodle, vegetarian steamed buns, groundnut cake, Suse cake, etc.

Other dishes: spring rolls, Hanoi rolling noodles, fried seafood, turtle stewed with herbs, stir-fried sea cucumber, steamed clam, steamed fresh squid, frog fried with bamboo shoots, etc.
Huong Sen Buffet Price (update 2/2019):
For adult:
Buffet price from Monday to Friday:
Lunch: VND 289,000 / person

Evening: VND 320,000 / person
Buffet price Saturday & Sunday:
At noon: VND 320,000 / person

Evening: VND 350,000 / person
Note:  The above buffet price does not include taxes and drinks and applies to adult buffet.
 For children:
Children under 1.0m: Free.

Children from 1.0 m – below 1.3m: Calculate the price by 50% of adults.

From 1.3m and above: Calculate the price as an adult.
Contact Information:
Hotline: +84 904 988 999 to make a reservation at Huong Sen.
Please contact Huong Sen restaurant to make a reservation or to get the answers for your questions in the following ways:
HUONG SEN RESTAURANT – Premier Seafood Buffet, Wedding & Event Organizer
(Wedding party – Conference party – Mobile party)
Address: 52 Miếu Đầm Street – Mễ Trì Ward – Nam Từ Liêm District – Hà Nội (adjacent to National Conference Center)
Tel: +84 24 3732 0589 / Hotline: +84 904 988 999
Website: http://huongsen.vn – http://nhahanghuongsen.com.vn/
Email: nhahanghuongsen@gmail.com
For more information about Press Release on Vina.com, visit here.