Temple Of Literature By Vina.com
Which places and activities do you daydream for your vacation or holiday? An attraction with beautiful beaches and white sand or mountainous picturesque landscape? For many people, Hanoi vibrant city with an endless amount of history, mythical tales and cultural values appeals most of travelers and tourists. Talking about Hanoi, we often think of the hidden sites of serenity and peace. One of such treasures in Hanoi is the ancient Temple of Literature. This temple is considered as one of the most beautiful tourist destinations in Hanoi and the unique iconic symbol of Hanoi. Because of the convenient location, the Temple of Literature can be reached by taxi from Hanoi Old Quarter. If you are interested in this historical and beautiful spot, please continue to read the Temple of Literature travel guide below.
Temple Of Literature – A Historical Monument 
The Hanoi's Temple of Literature was found under Ly Thanh Tong's dynasty in 1070. It was the first university of Vietnam where students came to learn literature, poetry, and principles of Chinese philosophy. The university was known for the top academics that ranked the beginning of education system in Vietnam.
Today, the Temple of Literature in Hanoi honors the famous scholars of Vietnam and is a favorite tourist attraction for domestic and international tourists.
Temple Of Literature – Must-see Tourist Site In Hanoi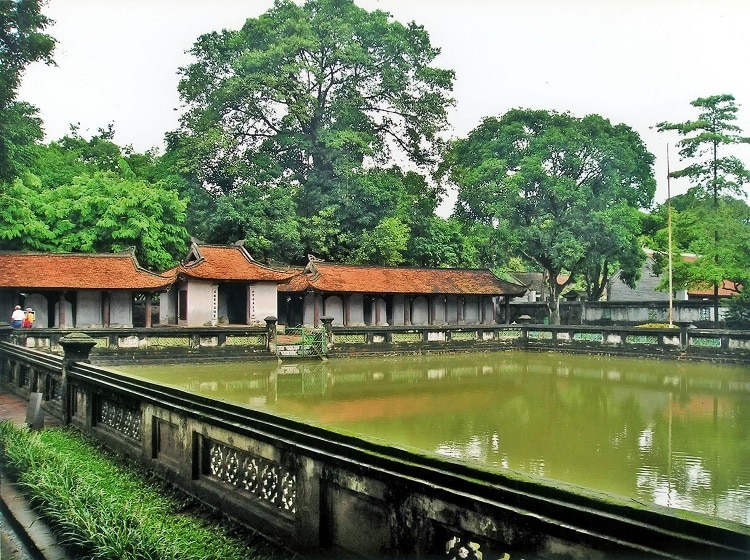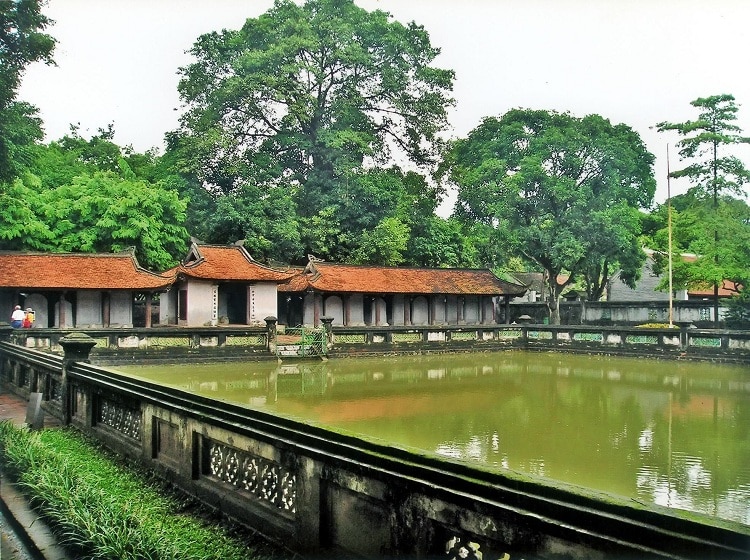 The Temple Of Literature in Hanoi was built as a studying place, not a religious landmark. This university ended the operation in 1779, but nowadays, many remnants, artifacts and historical documents remain.
Located at 58 Quoc Tu Giam (Quốc Tử Giám), Van Mieu (Văn Miếu), Dong Da (Đống Đa), Hanoi, the temple has five courtyards. The first two courtyards are places where students relax after a day of studying. When tourists enter the temple's main gates, they will be astonished at the beautiful gardens, topiary animal sculptures, ancient trees, and small ponds. The shades of green trees and quietness make you feel like you are being lost in the oasis of nature and escaping from the noise of the bustling city. If you have a chance to visit this temple, spend your time jogging through these courtyards. That is an excellent quiet retreat.
The second courtyard features red wooden pavilion, white stone columns and a brass bell under an elaborate roof with circular windows. On auspicious occasions, the brass bell will be rung. If you are lucky, you can listen to that sound.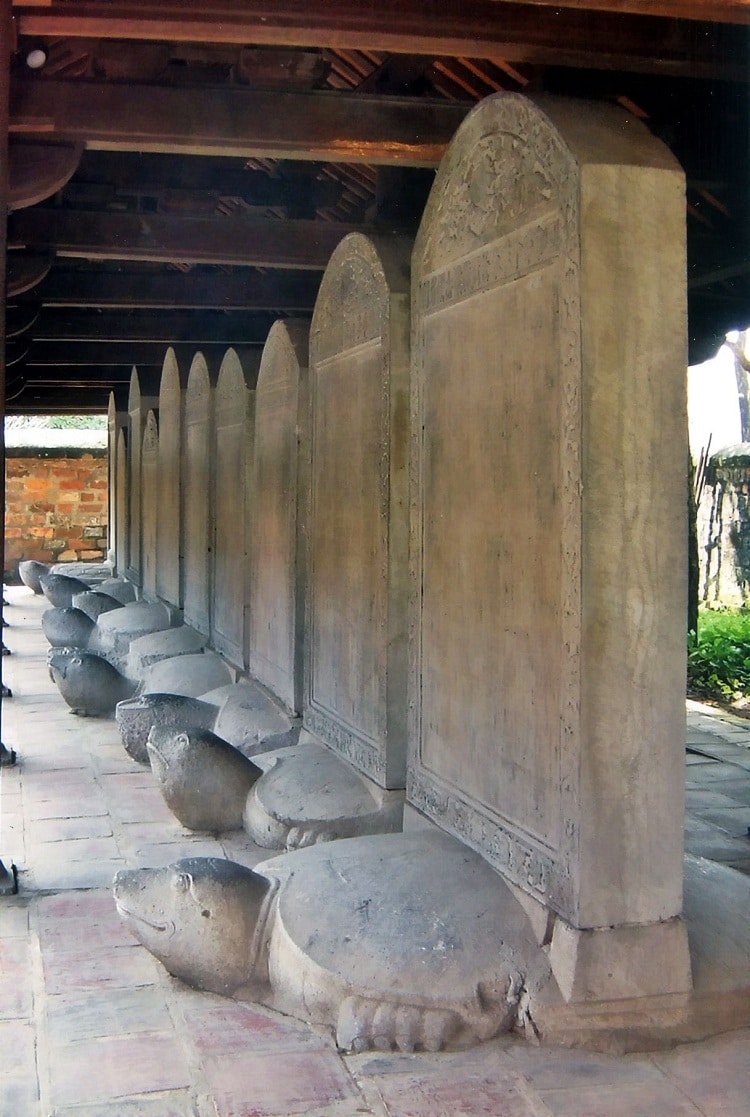 The remaining three courtyards of the Temple of Literature also have significant features and sightseeing. The third courtyard is known as the Well of Heavenly Clarity or Thien Quang Tinh (Thiên Quang Tỉnh). The first thing you will notice in this courtyard is a large water pool at the center. Inside the pool is a family of turtles. The turtle is a holy animal in Vietnam that represents wisdom. Therefore, this family of turtles who stay in the Well of Heavenly Clarity is the must-see thing in a temple of literature.
Aside from the well, you should come to see the Stelae of Doctors. In this attraction, you can see numerous stone turtles carrying slabs on their backs with listed names of students and scholars who passed the royal exams. In the past, the temple had 116 stelae, but today there are only 82. Some have a better shape than others. Some stelae still have legible Chinese inscriptions while some do not because of the time and weather damage. It is believed that rubbing the turtle's heads brings good luck to students. However, today, this act is forbidden, and students are only allowed to preserve the turtles.
The fourth courtyard features the House of Ceremonies. It is not only a place of worship but also souvenir shops. This House of Ceremonies is the most massive structure in the temple. You will be astonished at the wooden red column and beam ceilings as well as antique-style lanterns hanging. Besides the House of Ceremonies, the courtyard also has the sanctuary to Confucius. This place honors Confucius and philosophers. Coming here, you can make an offering or pray for a year of success and happiness. Students often visit the temple to wish for their high scores and performances.
The fifth courtyard that was the actual academy was not built until 1076 when Emperor Ly Nhan Tong (Lý Nhân Tông) ordered the construction of an imperial academy.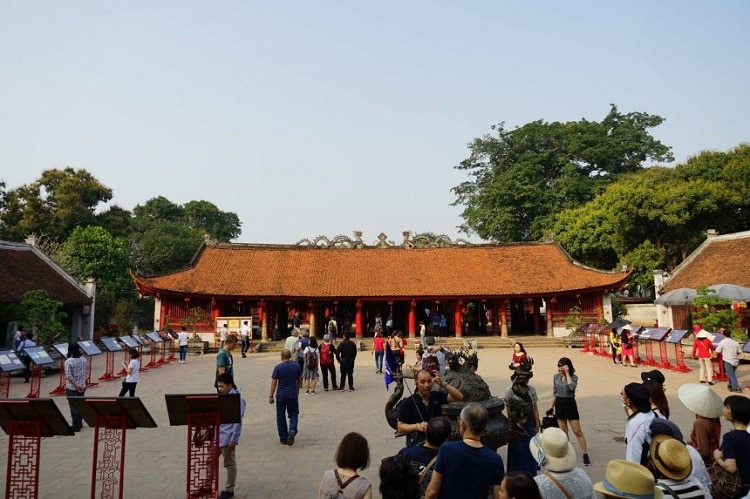 Nowadays, the temple has several exhibits and a statue of Chu Van An (Chu Văn An) that honor one of the academy's rectors in Vietnamese history for his contribution to teaching.
Numerous cultural events are organized at the hall in the fifth courtyard. Furthermore, there are some displays of old uniforms students wore when studying there.
The temple is open from 8:00 am to 5:00 pm (from November to March) and from 7:30 am to 6:00 pm (from April to October). To visit Hanoi's Temple of Literature, you have to pay the ticket price.
Tips For Temple Of Literature Travel Guide 
Bring at least 30,000 VND with you. You have to pay for the entrance fee if you want to visit the temple. The ticket price for tourists may be around $1.50.

Wear appropriate clothes. The temple does not have any strict rules about clothing like other religious sites. But dressing appropriately is the way you show your formal attitude to this historical place. It is recommended to wear clothes that cover your shoulders. You can wear long shorts or long pants when visiting the temple.

Visit the temple at opening time. If you want to experience the quietness, take beautiful pictures of sightseeing in the temple, arrive early. The temple gets crowded after 10 am, and it is difficult for you to enjoy the quietness.

Taking photos is allowed, but you need to respect the sanctuary. In the temple of literature, you can take pictures of people and sights. But it is not polite to annoy someone who is making offering for praying in the sanctuary.

Spend at least one hour for a visit. It takes you about an hour to visit all the courtyards of the temple. If you want to visit all the attractions, you should spend at least one hour in this place.

Get to the temple from Hoan Kiem Lake. It takes about 10-15 minutes to get to the temple from Hoan Kiem Lake on foot. If you do not want to walk, you can catch a cyclo – a three-wheel bicycle taxi. It is an excellent idea for you to discuss with the rider about the fee before getting in.
Where To Eat Near Temple Of Literature

 
After spending time in Hanoi's Temple of Literature, your stomach will feel empty. It is time to find an excellent restaurant to enjoy delicious meals.
Near the temple, you can eat at these following spots:
KOTO Van Mieu Training Restaurant – 59 Van Mieu, Dong Da District

PK Spice Restaurant – 10 Hang Manh (Hành Mành) Street, Hang Gai (Hàng Gai) Ward, Hoan Kiem (Hoàn Kiếm) District

Thich An Pho Restaurant (Thích ăn Phở) – 67 Quoc Tu Giam Street, Dong Da

Van Mieu Restaurant – 49 Van Mieu, Dong Da

Nam Trung Modesty Restaurant – 27D Quoc Tu Giam, Dong Da

Ngon Corner – 104 Nguyen Khuyen (Nguyễn Khuyến), Ngoc Ha (Ngọc Hà)
Where To Stay Near Temple Of Literature 
Hanoi has numerous hotels, motels, and homestays for tourists to stay overnight. The accommodations have different prices; tourists with any budget can find the best place to sleep and relax.
Here are the ideal accommodation suggestions you should consider:
O'Gallery Majestic Hotel – 38A Tran Phu (Trần Phú), Hoan Kiem District

Pullman Hanoi Hotel – 40 Cat Linh (Cát Linh) Street, Dong Da District

Somerset Grand Hanoi – 49 Hai Ba Trung (Hai Bà Trưng) Street, Hoan Kiem District

O'Gallery Premier Hotel – 122 Hang Bong (Hàng Bông) Street, Hoan Kiem District

Helios Legend Hotel – 2D Duong Thanh (Đường Thành) Street, Hoan Kiem District

Apricot Hotel – 136 Hang Trong (Hàng Trống) Street, Hoan Kiem District
Though experienced wars, damages, and restorations, the Temple of Literature in Hanoi remain its unique character and architectural style. Hanoi devotes effort in maintaining the elegant beauty of this place, and the gardens are well manicured. I hope that you will find this article useful and informative. Any questions can be left in the comment section, and we will answer them as soon as we can. If you are interested in our Temple of Literature travel guide, you may support our job by taking a peek in Vina.com.