Da Lat always 'knows' how to please tourists who come to this land with interesting things. Known as a land of green farms and charming scenes, it would be a pity if tourists missed the opportunity to visit Da Lat Sunny Farm, a new place in this mountain town.
Sunny Farm Da Lat is a complex area including extremely lovely cafés and homestays, located on the slope of 7, ward 11, about 7 kilometers from the center of Da Lat city.
In this article, Vina.com will reveal some exciting activities you can do and enjoy when coming to Da Lat Sunny Farm in Lam Dong.
Da Lat Sunny Farm: New Attraction in Lam Dong, Vietnam
1. How To Go To Da Lat Sunny Farm In Lam Dong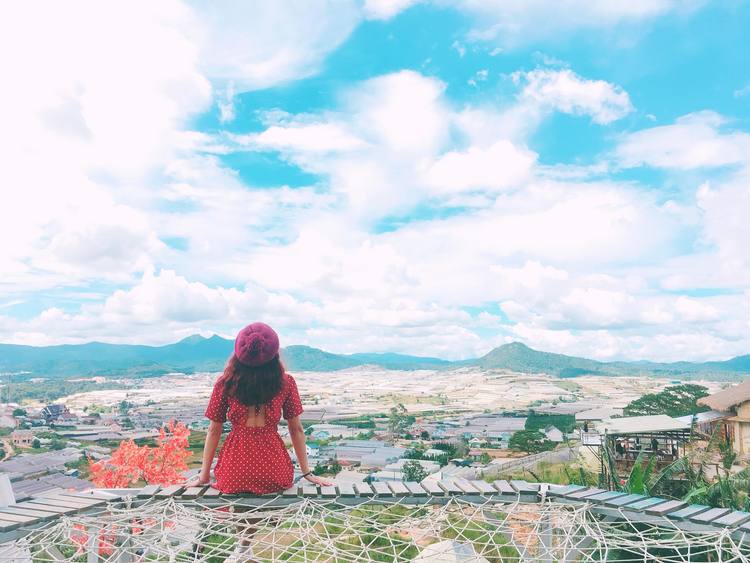 There is a simple way to travel from the city's center to Da Lat Sunny Farm:
Tourists can go to Hung Vuong (Hùng Vương) Street in the direction to Trai Mat (Trại Mát), then ask local people to the slope 7, and then go down the slope and go to the farm.
2. The Best Time To Go To Da Lat Sunny Farm
Da Lat Sunny Farm welcomes many domestic and foreign tourists in all seasons of the year. However, if you come here in November and December every year, you will be able to admire the golden sunflowers blooming 'all over the sky'. The vitality of this fresh flower will make any girl vibrate.
3. Where To Stay And What To Eat
+ Sunny Farm cafe is covered fully by transparent glass, allowing tourists to admire the immense space freely. The shop has a bright pink peach blossom tree in the corner of the yard, and a panoramic view of Da Lat city far away. The yard outside the restaurant is quite spacious, is ideal for tourists to make barbecues, or simpler, to take their eyes away while enjoying a cup of hot coffee. Cafe in the shop is originated right from the main red soil plateau here. Although the coffee served here is not too diverse, it has a good taste and quality, with an affordable price of only VND 25,000 to VND 35,000 for a drink.
Sunny Farm homestay is cute, colorful tents with new designs, including 3 transparent canvas panels, giving tourists extremely peaceful space to relax and restfully with friends or family – an exciting experience every tourist should try. You can enjoy a panoramic view of the romantic city Da Lat even when standing in a tent. The interior furniture inside the tents is decorated neatly, sophisticatedly, and simply, bringing a feeling of comfort and closeness to travelers.
4. What Are Activities For Tourists To Do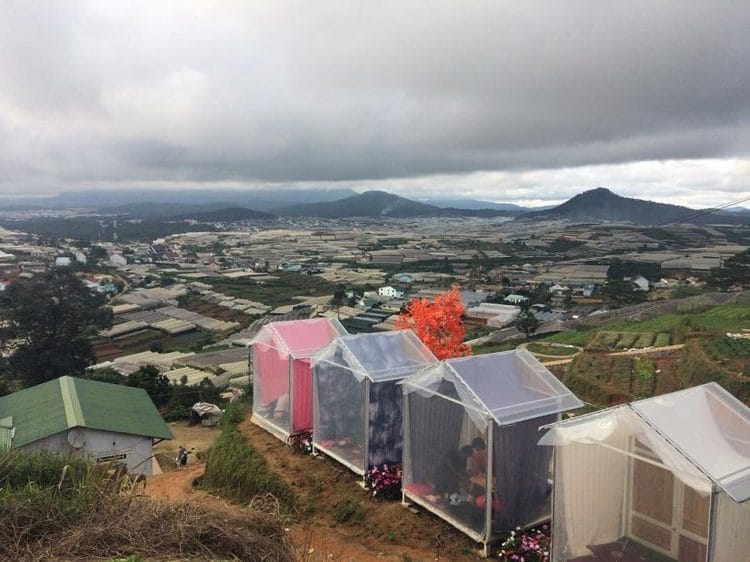 Stairway to heaven, or the infinite staircase: A white staircase that runs straight up into the sky. You will be gradually conquering the height of this place. Standing in this position, you can see the whole scene of Da Lat city. The feeling of floating in the real cloud makes people unable to leave. You can also look far away to admire the green space of the mountains and colourful flowers in the wind.

Transparent greenhouses or colourful wooden houses: Here you can unleash the joyful, vivid, colourful photos.

Also, Sunny Farm specifically designed a nursery for tourists to visit, take photos, and plant trees themselves, experiencing the feeling of farming right at the garden. The garden is relatively small, yet it has a variety of plants, such as tomatoes, carrots, strawberries, rosemary. This will be an extremely interesting experience for tree lovers.

Happy Da Lat Sunny Farm has a mesh that is stretched like a giant hammock so that you can capture the whole "flower city" into their eyes. There is nothing greater than sitting with a loved one in this giant hammock and admiring the sparkling, romantic city every evening like in Korean scenes.

Tourists can hold BBQ parties or drink coffee with friends and family.
Read more:
Da Lat Sunny Farm is brand new, yet it is becoming one of the best destinations in this city, especially for young travelers, contributing to drawing the entire beautiful picture of Da Lat. Taking a tour to this destination, you can take beautiful and colorful photos, as well as have a great time with friends and family. Try this place once and you will never regret it. Finally, if you have any personal experience in Da Lat Sunny Farm in Lam Dong, do not hesitate to share them with other readers by leaving your comments below.