Updated: 11/19/2019
Being an outstanding entertainment resort combined with advanced international standards, Vinpearl Land is comparable with other amusement parks in the region and the world. Vinpearl Land Resort is located on Hon Tre Island in Nha Trang Bay, Khanh Hoa (Khánh Hòa) Province. Not only does Vinpearl Land have traditional identity, but it also possesses modern beauty. Tourists will be impressed by famous spots and monuments. Besides, they surely have to pay attention to the 5-star hotel on the island with 485 rooms featuring stunning architecture. Among those rooms, there are 29 luxury rooms, a presidential suite a royal room. In Vinpearl Land Nha Trang, there are also independent villas which are claimed to satisfy even the most fastidious guests by providing them with privacy, comfort, convenient and satisfying services.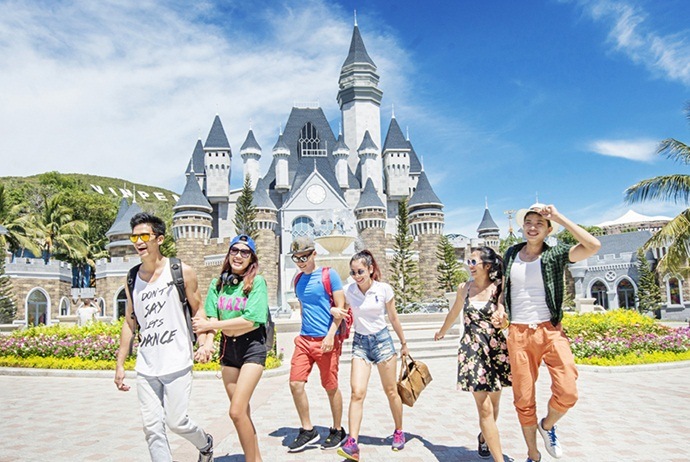 Source: dulichngon
There is a natural beach in Vinpearl Resort & Spa, which is 700 meters in length. Besides, you can also find several modern outdoor swimming pools spreading the area of 5,700 m2 which are covered with green grass, coconut trees, nice trees and plants.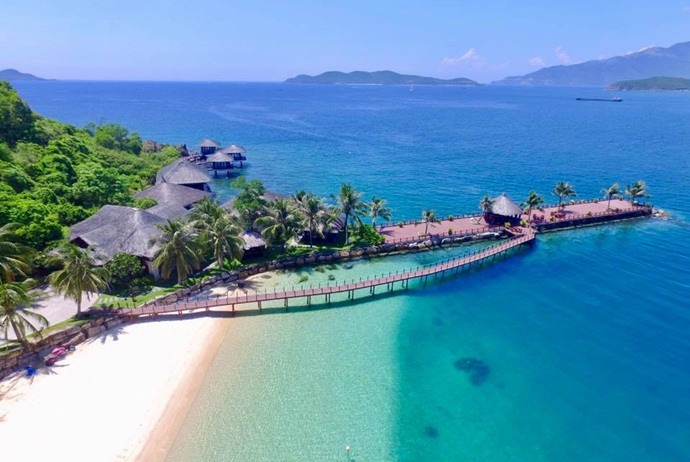 Source: bookingvinpearl
Visiting this destination, you can relax on a hammock in coconut forest then breathe fresh and cool air which blows from the immense ocean. Known as a "tropical heaven", Vinpearl Land offers many things that tourists can enjoy. However, most visitors go to Vinpearl Land for just one day and do not know how to fully enjoy it. That is why today we would like to share some travel experiences when traveling to Vinpearl Land Nha Trang, Vietnam.
How To Get To Vinpearl Land Nha Trang?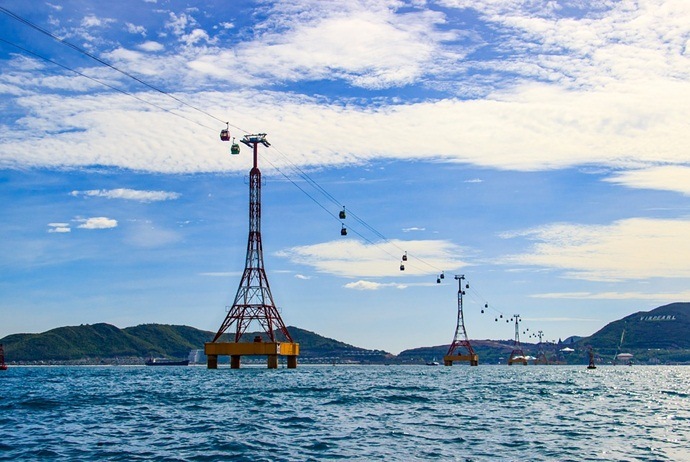 Source: pixabay
Vinpearl Land Nha Trang is located in the north of Hon Tre Island (Hòn Tre) so it is quite far from the mainland. It is about 4km off the coast of Nha Trang, Khanh Hoa province.
The most convenient way to go to Vinpearl Land is by waterway and cable car. Most travelers choose the cable car to save time with a cost of only 800.000VND/ ticket. It just takes from 5 to 12 minutes to get to Vinpearl by the longet cable car system or high speed boat. The cable car system is also one of the amazing things of Nha Trang tourism. From the system of cable car which is about 40 meters in height, tourists could enjoy the beauty of Nha Trang city or the panorama of brilliant flower on the East Sea Coast.
Some tourists say that, despite they are not afraid of heights, there were still something nerve-wracking about getting in a glass box high above the ocean.
When visiting Vinpearl Land, you will be surprised at the modern tuktuk cars which can take visitors to the interesting landscapes or hotels on a winding road that is harmonized with the spectacular mountain scenery.
What Are The Transportation Options In Vinpearl Land Nha Trang?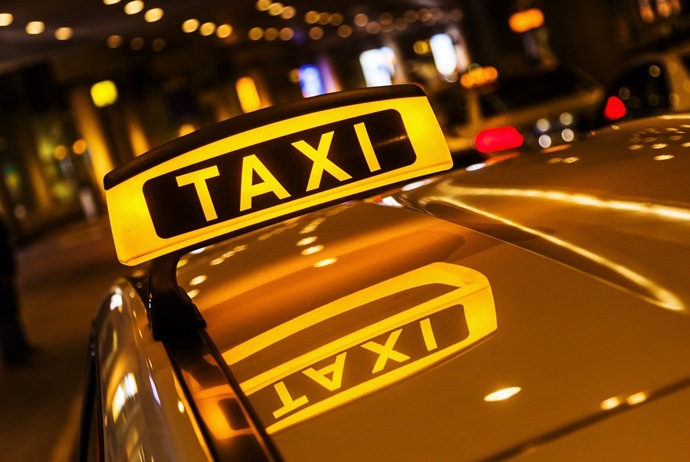 Source: 24h
You can travel by taxi with rates of around 10,000VND / km. Besides, you can also rent motorbikes for VND100,000-200,000 per day.
Where To Stay In Vinpearl Land Nha Trang?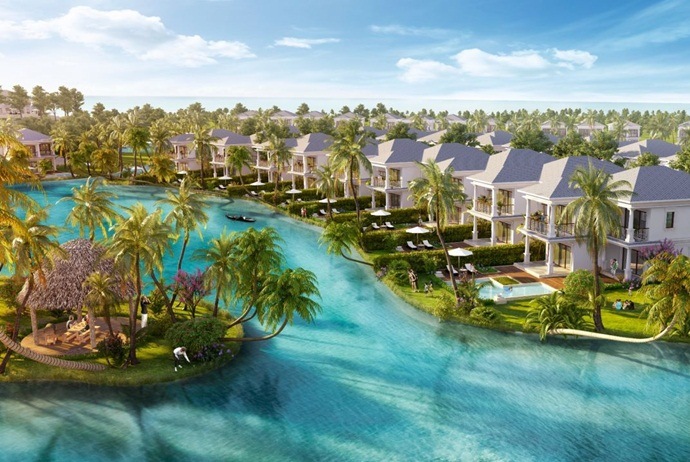 Source: holidaycheck

To rent a hotel room in Vinpearl Land Nha Trang, you can book directly from the resort. For more convenience, you can also refer to the price, service, and comfort of the hotel in the most detailed way on some online pages.
What To Do In Vinpearl Land In Nha Trang?
Freshwater Park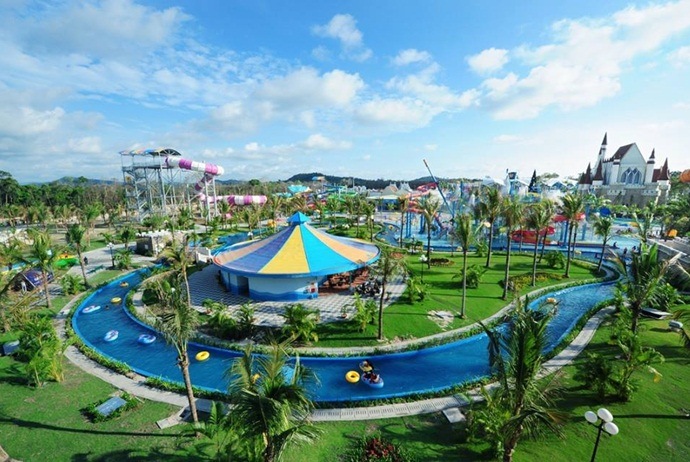 Source: honthomisland
Vinpearl Land Nha Trang has the first freshwater park in Vietnam. It is definitely an ideal place for tourists to spend a beautiful day. It is over 50,000m2 wide and has an artificial mountain system as well as many unique and attractive water games. The park features swimming pools for families and children, water slides, plenty of adventure games, "the black hole", and flying buoy.
If water park games do not satisfy you, you can choose to play other adventure games on the beach, such as watercraft, kayaks, sailboats, and parachutes. However, if you participate in these games, you will be charged separately with each game.
Aquarium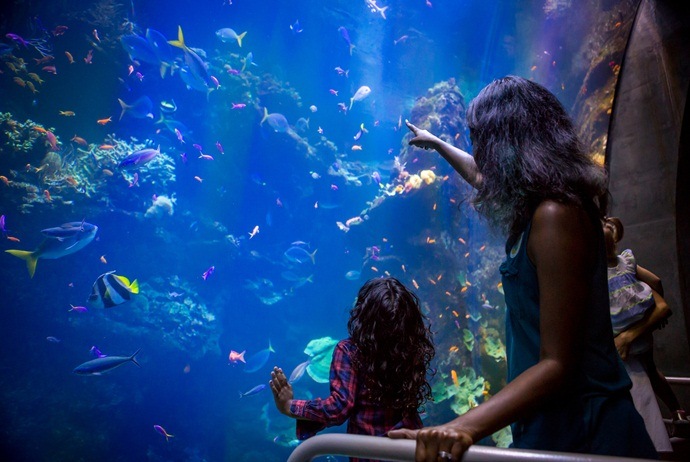 Source: calacademy
Considered a "miniature ocean", the aquarium has an area of 3400m2 with about 300 species of marine life. At this place, you will feel like being in the ocean because the tunnels are designed in escalator style; therefore, you can see a lot of fish swimming around you. The glass-covered walkway will help you watch the sea tortoises which are swimming beside you, the sea eels which are hiding beneath your own feet, and the sharks that are gliding above your head. I bet that this approximate 30-minute visit will give you abundant interesting knowledge about the endless undersea world.
Besides, do not miss the unique water musical show in which can you could admire an amazing combination of water and sound, laser and lighting. Each of performances is not just a successful output of technology, but a real worth-seeing work of art. You can also join the "Mermaid Fish" show (11h00 – 11h10 or 15h00 – 15h10). In this show, you will feel like seeing beautiful mermaids stepping out from fairy tales. More interestingly, there is also a program of feeding fish (10h00 – 10h15 or 17h00 – 17h30).
Aquarium is the area that most visitors find most attractive, especially children. Opening hours of the aquarium are from 9h00 to 21h00. The aquarium is really a worth-visiting destination that you should not miss when exploring Vinpearl Land Nha Trang.
Outdoor Amusement Games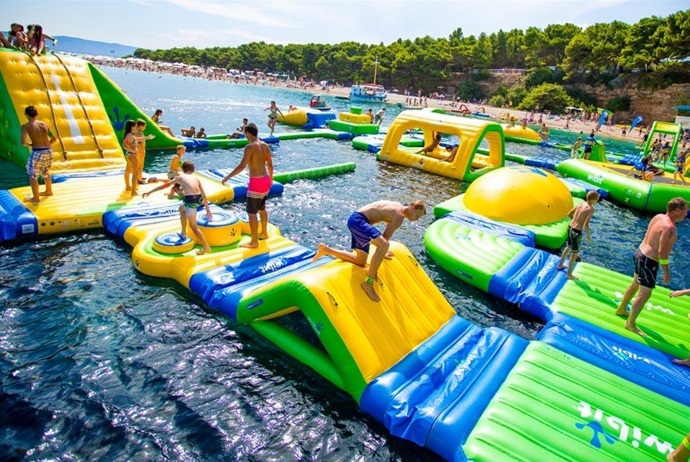 Source: nhatrangstreetfoodtour
Outdoor amusement games are has many exciting games, such as rope swing, elephant whistle, pirate ships, high-speed gliders, and rotating cups. In addition, there are performances of circus animals from 10h-10h30, 16h-16h30 and 17h-17h30.
Indoor Amusement Games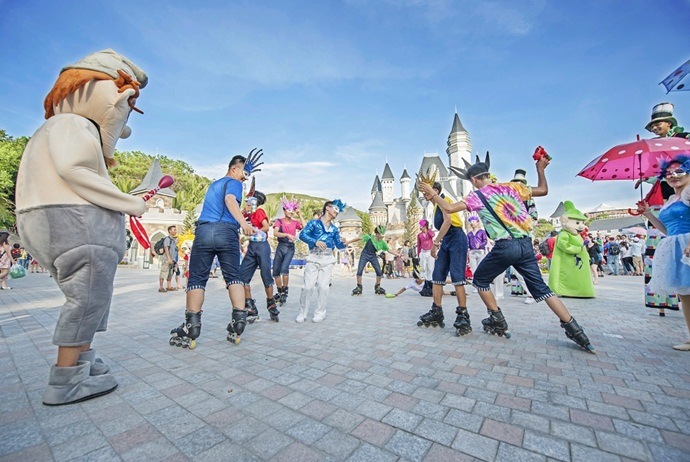 Source: vinpearlland
Beside the outdoor amusement games, the indoor game area, which is located in the artificial mountaintop, also has a lot of exciting and unique activities.
Indoor amusement games area includes many 3D games, fairy garden, 4D movie room, game supermarket, karaoke room, … This will be a favorite area for children during lunch break when outdoor temperatures begin to rise.
Shopping Street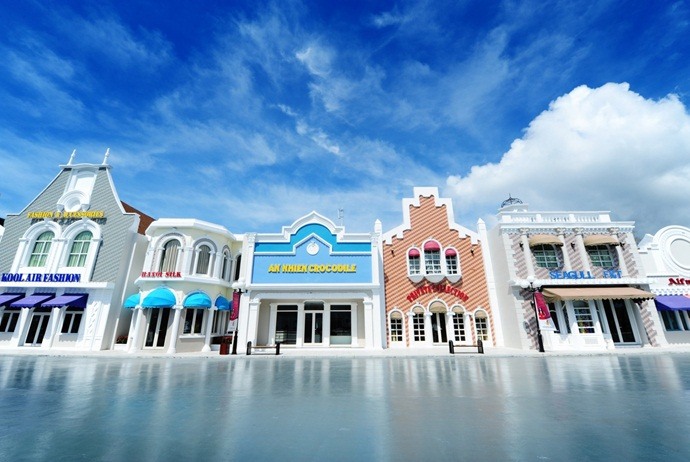 Source: viethousing
This street has a romantic, peaceful backdrop like that in the ancient town of Hoi An. It is located in the area of over 6,000 m2 and offers a wide range of fashion products, beachwear, souvenirs, handicrafts, and specialties from Vietnam's traditional villages. After travelling, you may want to buy something as a present for your loved ones or as a souvenir. This shopping stress will serve this demand of tourists. It is open from 9h00 to 21h00 daily.
Cuisine Village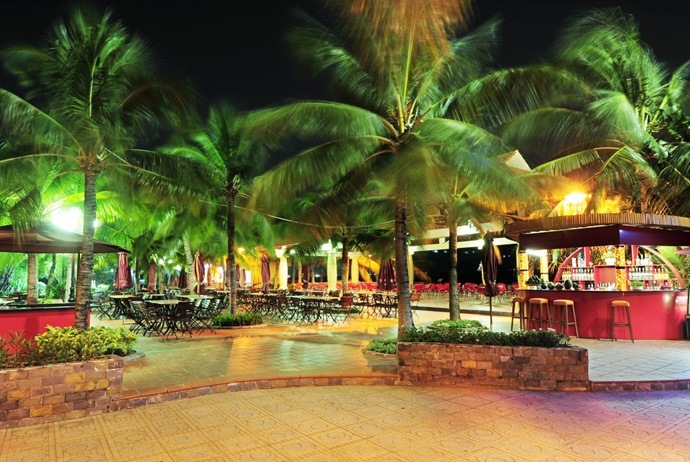 Source: indochinadaytours
Because you have spent most of your day at the park, you will get thirsty and hungry. If you do not plan in advance and bring food or snacks into the park, your option will be eating there. Fortunately, Vinpearl Land has a cuisine village with a peaceful and romantic space. This village serves during the tourist season (June, July, and August) from 9h-22h. In the remaining months, it is served from 10h-20h45 (from Monday to Thursday), and from 10h-21h45 (from Friday to Sunday). Cuisine Village will make your visit to Vinpearl Land Nha Trang truly perfect.
Water Music Stage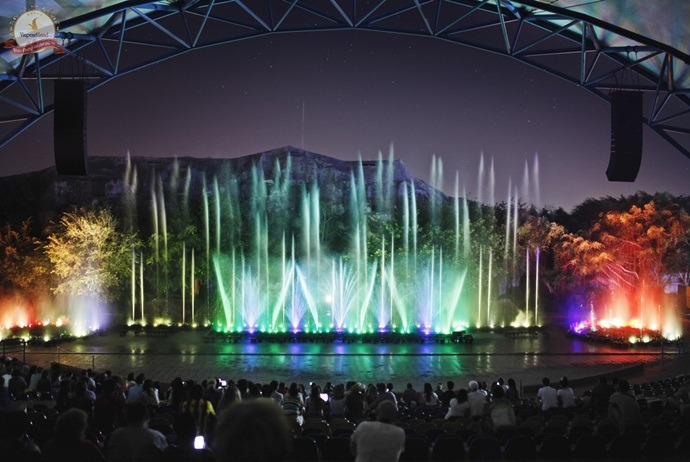 Source: nhatrangbeachreviews
Vinpearl Land Nha Trang has the most modern and beautiful water music stage in Vietnam, often the place of prestigious beauty contests. It can accommodate over 5000 seats and is equipped with the most modern lighting, sound, water and fire systems in Vietnam. The time to perform music from 19h to 20h and each performance lasts 25 minutes.
Besides the attractions above, when visiting Vinpearl Land, sometimes tourists also see some street performances and colorful and fun carnivals. Tourists can also visit Truc Lam (Trúc Lâm) Buddhist Temple located on the mountain to either enjoy tranquil and peaceful moments or contemplate the sunshiny circumstance of Nha Trang Bay.
Some Extra Tips When Visiting Vinpearl Land Nha Trang, Vietnam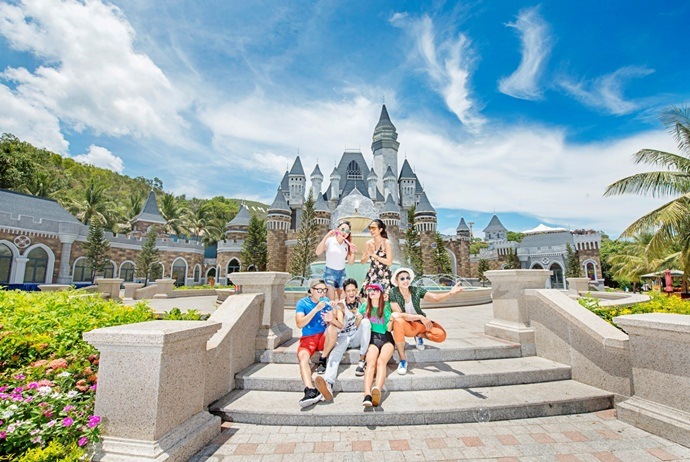 Source: dulichdaibang
When visiting Vinpearl Land, you should wear comfortably to be able to enjoy all the activities.

Don't forget to bring bathing supplies to play in the water park.

Because Vinpearl Lan does not allow you to bring food to the island, you can choose to eat in the cuisine village or buy fast food ticket (near the cable car) in the play area to recharge your energy.

There is a food court that serves the needs of tourists. In this zone, you will be able to discover the cuisine of Nha Trang. After experiencing leisure activities, you could come here to rest, relax and enjoy tasty food, which is made from talented, skillful chefs.
In a nutshell, Vinpearl Land Nha Trang will not let you down. Believe me, it offers a lot of surprises during your visit. Here, pressure of life and work seems to be removed and replaced by plentiful energy and happiness.
Hopefully, our article have provided you with necessary information to make your trip more satisfying. Remember that your experiences will be promoted if you arrive early to enjoy Vinpearl Land for a full day.