When it comes to Vietnam (Việt Nam), most tourists think of the famous landscapes like Halong Bay, Hoi An ancient town, Nha Trang coastal city, or Dalat romantic and foggy town. However, have you ever heard about sand dunes in Vietnam? This sounds intrigued, but it is really an unexpected landscape of Mui Ne (Mũi Né), Phan Thiet (Phan Thiết) City, Vietnam.
Near Hon Rom (Hòn Rơm) Island in Phan Thiet, Vietnam, there is a landscape that always fascinates poets, painters, and photographers called Mui Ne Sand Dunes. Located in Mui Ne Ward and 20km far from the center of Phan Thiet City, Mui Ne Sand Dunes is one of must-see Phan Thiet – Mui Ne attractions and stretches on an unspecified large area.
The breath taking red sand dunes in Mui Ne are called sandy paradise, which are just a few hours away from Ho Chi Minh City. There are two sand dunes that tourists can access from Mui Ne, which are Red Sand Dunes and White Sand Dunes. If you are about to visit Vietnam, then visiting Mui Ne Sand Dunes is definitely a highlight of your trip in this S-shaped country.
The article below will help you to fully explore this destination, so you do not miss anything.
What Is The Best Time To Visit Mui Ne Sand Dunes?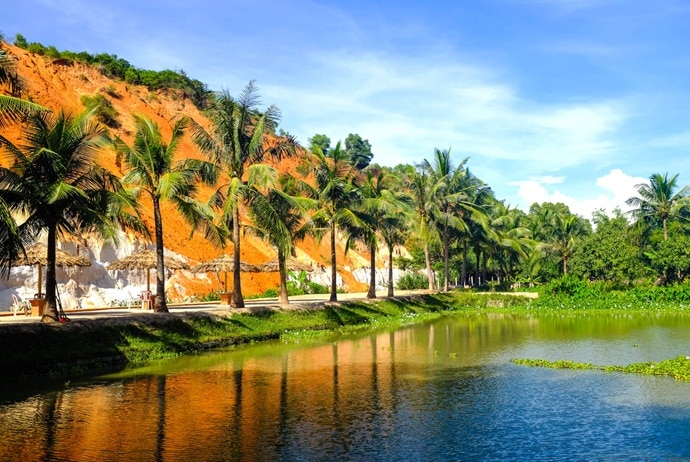 Source: tripgourmets

Because the sand absorbs heat from the sun very well, so when the temperature increases, the sand will become hotter.
Therefore, you should visit the Mui Ne Sand Dunes in the early morning or late afternoon to avoid being so hot. In the morning, the most appropriate time is from 5 AM to 8 AM and the appropriate time in the afternoon is after 5 PM.
What To Do In Mui Ne Sand Dunes?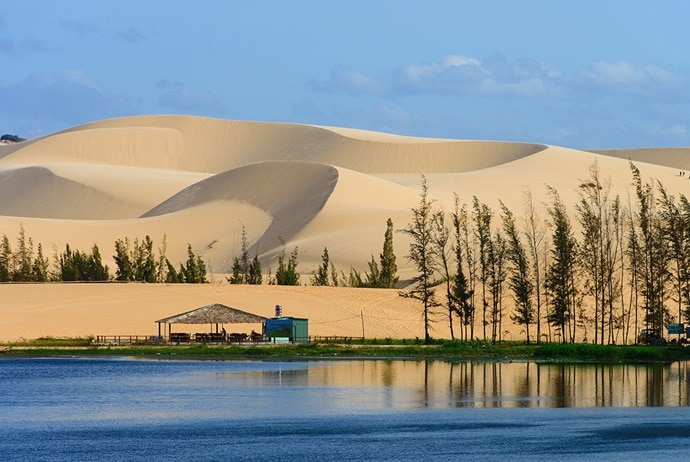 Source: muinetourhotel
Indeed, Mui Ne Sand Dunes are two wonders that tourists should never miss out on their travel to Vietnam. That is why a lot of tour operators in Mui Ne organized trips to these destinations.
The white sand dunes are larger than the red ones. It is called as Bau Trang (Bầu Trắng). Some small stands serving drinks and foods for tourists in the area, in addition to pine trees that offer essential shade. Bau Trang is about 26 km northeast of Mui Ne beach.
The red sand dunes are orangey-brown in color, making them more interesting in the eyes of tourists and photographers. That is why these sand dunes are more popular for photography than the white ones. Besides, since red sand dunes are smaller than the white ones, they are much easier to reach the whole. Red sand dunes are located about 17 km northeast of Mui Ne beach and about 20 minutes from the city center. It is a spectacular site especially during sunset.
Coming to Mui Ne Sand Dunes, all fatigue will disappear when you see the vastness of the sand world. Many visitors comment that this place is like a mysterious desert of Vietnam.
The most distinctive feature of Mui Ne Sand Dunes is that after each big breeze or overnight, their appearance is changed, different from the previous shape. This phenomenon occurs most clearly in the wind season. After each hour, you will hardly see what you have seen before. That is what creates the unique landscape of Mui Ne Hill.
The color of the sand is also attracting tourists when coming to Mui Ne Sand Dunes. The sand here is very colorful, mainly yellow, ivory white, gray, dark red, light red. They mix together and create a special color. Especially in the rainy season, sand dunes like to dress up a fanciful color, different from the colors you see in other seasons. Surely you will be embarrassed to find the color to describe these sand dunes.
From the top of the sand hill, you can easily see Mui Ne and the surrounding coastline. If you come here in the afternoon, you can watch the sunset on the sand hill and find a quiet place to relax.
On windy days, this place is filled with colorful kites. In the distance, the wind and the waves combine with each other, creating a sound that melts away the fatigue, tension in life.
Some interesting things to do in Mui Ne Sand Dunes include:
The most interesting thing to try when you visit Mui Ne Sand Dunes is to join the sand-board game. You can freely choose any of the sand dunes you like and join this thrilling game with slopes.
Don't worry if you do not know how to play because the "professional" trainers, who are leasers of slide pieces, will guide you the way to play. This game is suitable for all people. You should join this game early in the morning or late in the evening because the sand is not too hot at these moments.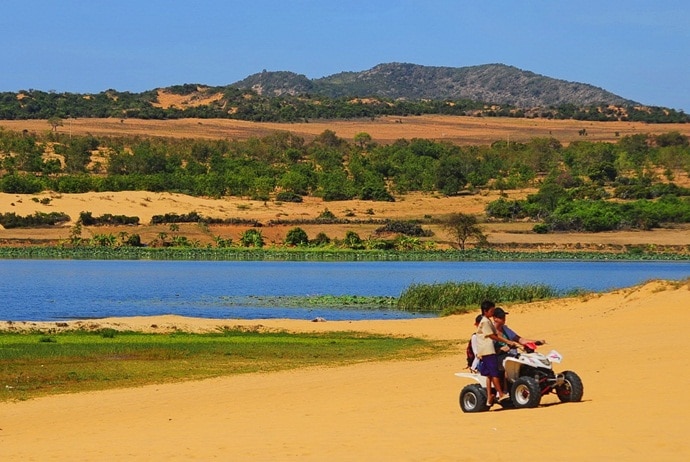 Source: diemthamquan
In addition, visitors can also participate in sports that refer strong feeling, such as ride all-terrain vehicle. This sport is only suitable for young people with good health and loving adventure. The price of all-terrain vehicle rental is as follows: 175.000 VND / 10 minutes; 350.000 VND / 30 minutes or 600.000 VND / hour.
If you join a tour, you may have a chance to walk in the fairy stream at the end of that tour. The surreal fairy stream is a peaceful water stream surrounded by impressive rock formations. Upon arriving, you should take off your shoes to feel the cold feeling of water running through your feet. This makes you feeling like embarking on such a pleasant walk of wonders.
Besides, you can also hike the rock to gain a panoramic view of the impressive whole area. Despite it is steep, but it is really rewarding after you are at the peak.
In the summer, Mui Ne Sand Dunes is the ideal place for families and groups of friends to picnic together. For those who like to take pictures, sand dunes are the ideal backdrop for a unique picture. Many young couples choose these dunes as their wedding venue.
The immense sand dunes with mysterious curves also inspire incredible artistic creation for many professional and amateur photographers. Y Lan artisan (Nghệ sĩ Ý Lan) is the one who blew her soul into the sand, turning them into unique sand pictures and giving birth to the art of sand painting in Vietnam.
What To Eat In Mui Ne Sand Dunes?
Mui Ne Sand Dune is famous for its extremely sweet coconut called Xiem Coconut (Dừa Xiêm). Coconut water in Mui Ne Sand Dunes is very sweet due to the sea typical climate. Xiem Coconut is a renowned type of coconut in Vietnam which is exported to some strictly countries like America and Japan.
Seafood in here is also considered to be quite delicious, various and cheap.
In addition, you can also enjoy street food such as tofu and Banh Trang (bánh Tráng).
So you just have explored essential information and helpful tips have a fun trip in Mui Ne Sand Dunes. If possible, when you come to Phan Thiet – Mui Ne, do not miss this exciting destination. Surely you will not feel remorse for that decision. Finally, if you have any questions, please leave a comment, we will reply as soon as possible.