Vietnamese sour fish soup (Canh Chua Cá) is a folk dish that provides a lot of nutrients. It becomes a unique food familiar in Vietnamese life, especially in the countryside or in places that are near rivers and lakes. Let's check out this delicious Vietnamese Sour Fish Soup Recipe below and enjoy your meal with your loved ones.
To cook a delicious sour fish soup and make it not to be fishy, it also requires some specific techniques. You can choose various types of fish such as snakehead, salmon, red tilapia and more. It is served with typical regional raw vegetables. All the versions of sour fish soup are nutritional with the unique flavour.
Vietnamese Sour Fish Soup Recipe – Traditional Food Easy To Do:
1. What to prepare: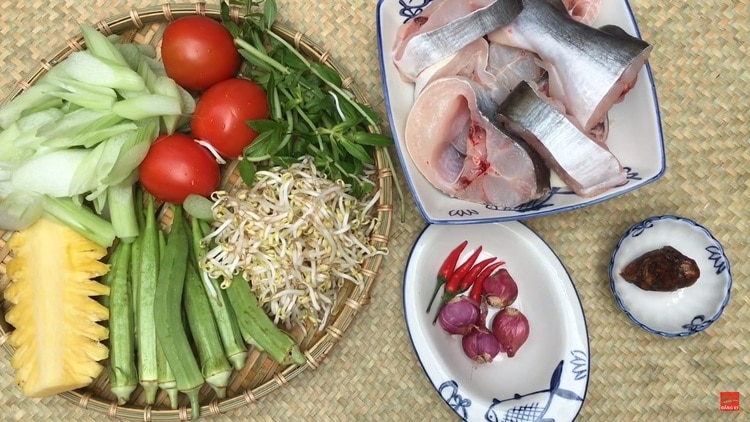 1kg fresh fish (wash and cut into 5 – 6 cm long pieces)
(You can choose freshwater fish like snakehead fish, salmon, snapper, carp, basa, lentils, sturgeon, etc. Or some other saltwater fish, such as grouper, rays, cobia, mackerel and more.)
1/4 of a pineapple

Tomatoes 3 fruits

100g bean sprouts, cilantro

Okras 10 bulbs

Dried tamarinds

Colocasia gigantea (giant elephant ear or Indian taro)

Spices for seasoning
Note: 
In this Vietnamese Sour Fish Soup Recipe, we use Pangasius krempfi fish which is similar to the river Pangasius. You should not choose a small fish. The small fish will have many small and crushed bones. These bones will bother you a lot when enjoying your dish. They are also really dangerous for children to eat.
2. How to cook 
 Step 1: Pre-processing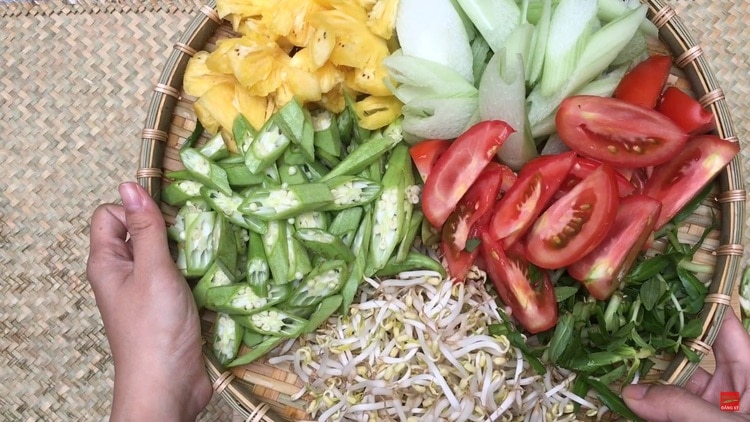 Wash and cut the colocasia gigantea, pineapple, okras, cilantro and tomato into small pieces then set separately.

Mince the shallots and chillies.
 Step 2: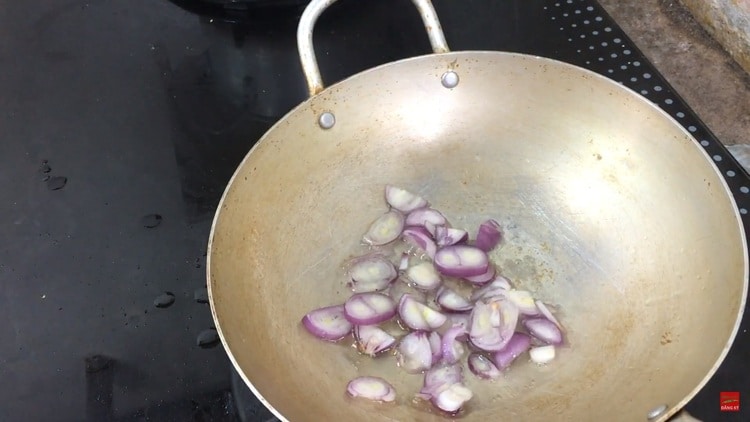 Turn on the stove and put the pan on. Add a little oil to the pan to stir-fry the shallots. Remember to stir it evenly or the shallot will be burnt. When the shallots turn golden, turn off the heat and put it aside.
 Step 3: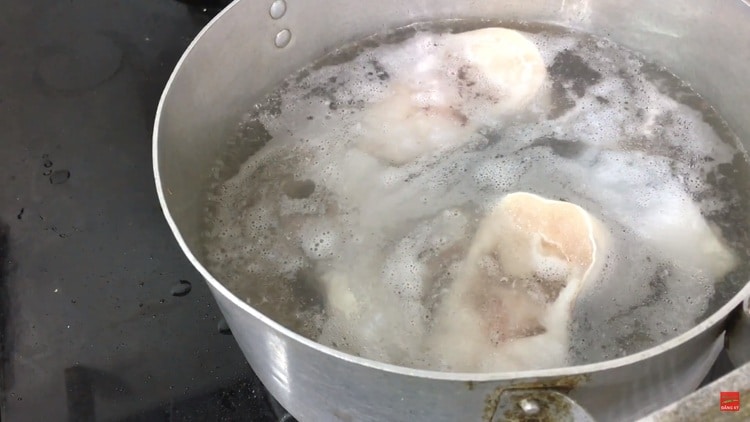 Put a pot of water on the stove. When the water is boiled, add the fish into the pot. Keep in mind that you must put the fish to boil water or it will become very fishy.

Seasoning the fish by adding: 1teaspoon MSG, ½ tablespoon salt, 3 tablespoons sugar.

Put a little boiling water to the dried tamarinds, mix for a while then you will get the tamarind sauce. Put the tamarinds sauce into the fish pot.
Step 4: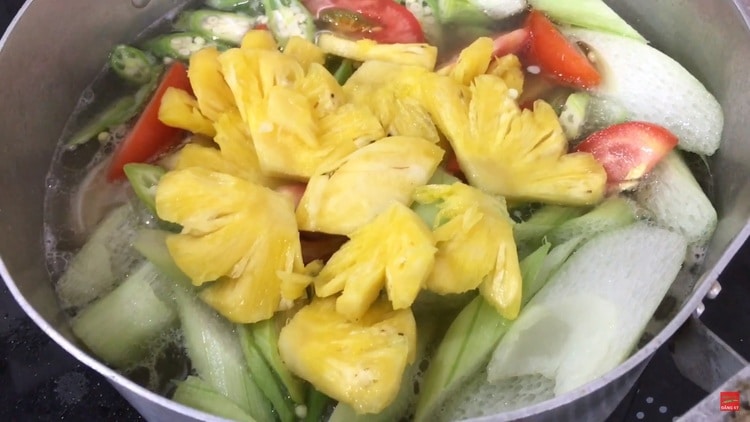 When the fish is cooked, you can take the fish out to make the soup or put all the vegetables to the pot to cook. If you put all the veggies to cook, you need to cook it quickly or the fish will be crushed.

Put the tomatoes, pineapple, okra and colocasia gigantea to the pot and cook together. You can add little chillies to make the soup spicier, it depends on your own taste.

When the soup is boiled, add the fried-shallot to the pot and turn off the heat. Then add bean sprouts and cilantro. You need to put the bean sprouts and cilantro later because they are cooked really fast. By adding it later, the bean sprouts and cilantro will be more crunchy.

Get a large bowl and to take the soup out. Take the fish out first then pour the soup with okra, bean sprouts and other veggies. Your soup is done.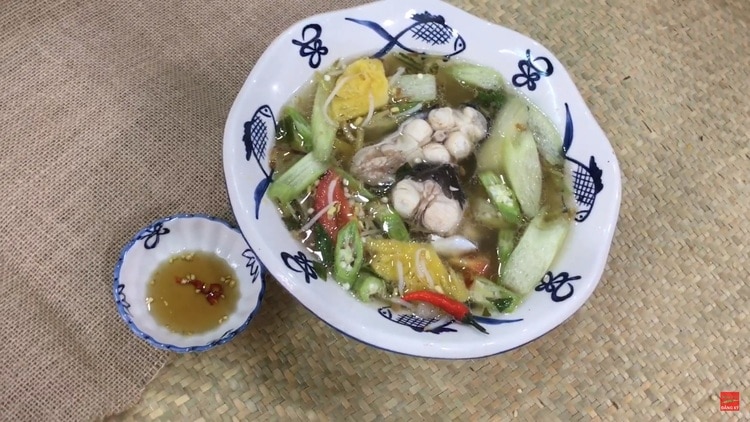 Note: If you want the soup to be sourer, add more tamarinds. Taste the soup and season for the right flavour. Gently stir the fish soup to avoid the fish meat being crushed.
Your delicious Vietnamese sour fish soup is done. Vietnamese sour fish soup – Canh Chua Cá is a very suitable and nutritious food for family's daily meals. The hot fish soup is usually served with rice or round rice noodles and raw vegetables. You can follow this Vietnamese Sour Fish Soup Recipe and try to cook it all around the year.
The sour fish soup has a sweet and sour taste that keeps you eating and enjoying your meal. In particular, it has no fishy smell and can boost out the smell of spices mixed together. Hopefully, you will have a fun time in the kitchen.
Let's visit our website to learn more delicious Vietnamese recipes.
Gook luck and have a happy cooking time!
View more: