Updated: 08/29/2019
Thien Cam Beach (Biển Thiên Cầm) is one of the most beautiful beaches in Central Vietnam (Miền Trung Việt Nam), which offers a pristine quiescent natural scenery. If you are looking for a place that can make you feel restful and relaxed after busy days, do not hesitate to visit Thien Cam Beach and enjoy your holiday.
A Romantic Love Song Of Ha Tinh – Wild Beautiful Thien Cam Beach
I. Some Features Of Thien Cam Beach
About 20 kilometers from the center of Ha Tinh City (Thành phố Hà Tĩnh), Thien Cam Beach is famous for its wild beauty. The beach is a 3-kilometer-long arch, surrounded by Thien Cam Mountain (Núi Thiên Cầm) and Elephant Head Mountain (Núi Đầu Voi). Coming to Thien Cam, you will first be overwhelmed by the spectacular majestic nature. Then zoom out, offshore you will see small fishing boats, sprawling mountainsides, and the vast skyline.
On Thien Cam Mountain, you will find an ambrosial chessboard and the left footprint of a giant impressed on a tablet for millions of years. There is also Cam Son Temple (Đền Cẩm Sơn), built before the 13th century, which is a popular spiritual show-place for tourists. With the altitude of 108 meters above the sea level, you can overlook the entire beach and nearby islands when standing at the top of the mountain.
A special feature of Thien Cam Beach is that the sea water here is clear all year-round and never opaque. As to harmonize with the peaceful atmosphere, sea waves are just fluttering. The blue shades of the sea and sky combine together can really make you fascinated.
With the sandy shelf stretching out to the sea, the amusement space becomes more widely, allowing you to perform different beach activities. Tourists will also feel more secure during their stay thanks to the spacious shelf.
The most picturesque time in Thien Cam Beach is sunset. It is difficult to accurately depict this beauty in words, but it is not too much to say that Thien Cam is the perfect and most wonderful sunset spot all over Vietnam. What can be better than sitting on the beach, sipping a piece of Cu Deux candy (kẹo Cu Đơ) with a cup of green tea while contemplating the sun goes down the sea?
(Cu Deux candy is a specialty of Ha Tinh, made from peanuts with honey or sugar, sandwiched between 2 layers of thin dry pancake. Cu Deux candy is sweet in flavor and crispy in texture.)
II. When To Visit Thien Cam Beach?
The climate in Ha Tinh is relatively harsh with 2 distinct seasons: Summer is extremely hot and winter is chilly. Therefore, if you intend to choose Ha Tinh in general and Thien Cam Beach in particular as a stopover for your trip, the ideal time is in April, May, September, and October, when the weather is cool and pleasant.
III. How To Get To Thien Cam Beach?
Now we will guide you the most convenient way to travel to Thien Cam Beach from Ha Noi. Depending on your needs and schedule, you can choose one of the following means:
1. Railway Train

Source: ilovevietnamtour
The Thong Nhat train (tàu Thống Nhất) departs at Ha Noi Railway Station (Ga Hà Nội) and arrives at Vinh Railway Station (Ga Vinh) after around 6 hours. When you get off the train, ask the staff to call you a taxi to Thien Cam Beach. You will have to go 34 more kilometers to the south to reach the destination. The price for a one-way train ticket ranges from 280.000VND to 330.000VND (seat) and 445.000VND to 555.000VND (bed). Taxi to the beach will cost you 300.000VND.
2. Coach

Source: hyundaithudo
We will introduce you 2 options, Hoang Long coach (xe khách Hoàng Long) and Cuong Cay coach (xe khách Cường Cày), both are sleeper ones.
Hoang Long coach departs at 23:00 at Luong Yen Station (Bến xe Lương Yên), the fair is 250.000VND per person and 50% discount for children from 2 to 4 years old. After arriving at Ha Tinh Station, you will also have to catch a taxi to Thien Cam Beach.
If you choose Cuong Cay coach, it will take you directly to Thien Cam tourist area without any extra fee. Every day there are 3 departures at 11:30, 21:30, and 23:00 at Nuoc Ngam Station (Bến xe Nước Ngầm), the fare is 210.000VND per person.
3. Self-Driving Car

Source: xe.nguoiduatin
Ha Tinh is more than 300 kilometers far from Ha Noi. Follow the National Highway 1A (Quốc lộ 1A) to Ha Tinh City, drive straight forward and turn left on the way to Cam Xuyen District (Huyện Cẩm Xuyên), then continue going to the end of the road TL4, you will see Thien Cam Beach.
IV. Estimated Costs For A Vacation At Thien Cam Beach
1. Accommodation
Tourism in Thien Cam is not so developed, the choice of quality accommodation is also quite limited. However, you should book in advance (via phone service or booking website) to ensure that you get the reservation confirmation. The 3 biggest and most comfortable hotels here are Trade Union Hotel (Khách sạn Công Đoàn), Hotel of Ministry of Public Security (Khách sạn Bộ Công An), and Thien Y Hotel (Khách sạn Thiên Ý).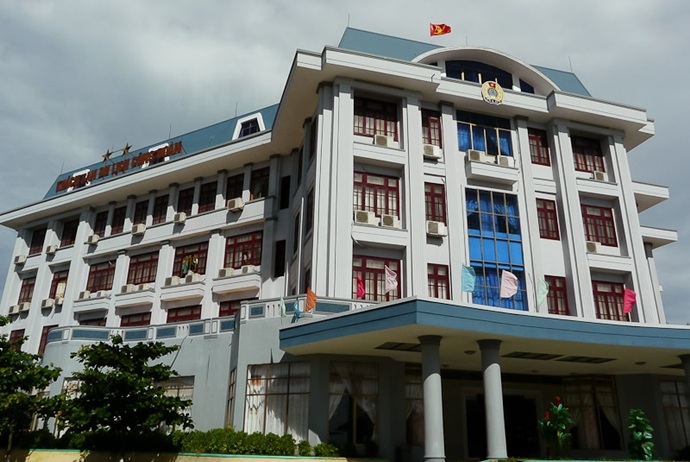 Source: thuonghieuvietnoitieng
Trade Union Hotel: Trade Union Hotel is only a few steps away from the beach. It consists of 110 newly renovated rooms with luxury equipment system. The hotel also has restaurants, coffee lounge, karaoke rooms, and conference hall.
Price: 900.000VND/night. Contact numbers: 023 9386 2226.
Hotel of Ministry of Public Security: It only takes you 5 minutes to walk to the beach from the hotel. MPS Hotel has a fully equipped room system with Wi-Fi connection, air conditional, TV, wardrobe, and mini-bar. The hotel premises are capacious, involving play area for children, coffee shop, tennis court, and more.
Price: 770.000VND/night. Contact numbers: 023 9386 2277.

Source: thiencam
Thien Y Hotel: Thien Y Hotel is designed in modern architecture with 94 cozy and elegant rooms. Located close to the coastline, surrounded by beautiful natural landscapes, this is an ideal place for relaxation.
Price: Up to 2.200.000VND/night on national holiday. Contact numbers: 023 9360 6665.
2. Eating

Source: sites
Thien Cam has a wide range of seafood caught and sold within the day, thus it is always fresh. The price is also very reasonable, for example, 400.000VND per 1 kilo of half-dried cuttlefish, 400.000VND per 1 kilo of prawn, 450.000VND per 1 kilo of crab, 20.000VND to 35.000VND per 1 kilo of shellfish, and so on. Besides, restaurants in Thien Cam also serve dozens of dishes made from goats, in which the most favored dish is grilled goat meat. On average, a meal for 5 people costs about 800.000VND.
3. Tourism Activities

Source: baibiennoitieng
Spend time in En Island (Hòn Én) and Boc Island (Hòn Bớc): If you want to undergo the feeling of living in the wild, catching and processing seafood yourself, request the hotel receptionist to book a boat to these islands. The price for a boat carrying 20 people is 500.000 to 600.000VND.

Source: topmountainbike
Ride a tandem: Bicycle is a flawless choice in the case you wish to visit the surrounding without being tired of walking. You can make the trip even more interesting by riding a tandem instead of a normal bike. It only costs 30.000VND for a 1-hour-hire.

Source: tepbac
Squid fishing at night: Squid fishing is an after-dark entertainment that you must take part in once you have arrived in any maritime areas. Each person will be provided with a fishing rod and a net to start trying your luck, and people whom fortune smile upon will get an extra snack. In addition to the fishing, chatting with others and watching the mysterious night sea is also a very exciting experience. You need to pay around 1.000.000VND for 1 boat.
See more: Top 15 ideal places for camping in Vietnam
4. Buying Specialties

Source: cudovinhvan
The most outstanding specialties in Thien Cam are seafood and Cu Deux candy, both of which are not expensive. You can ask locals for suggestions on what to buy and easily pick them up at every market.
At this moment, we hope you have found something attractive about Thien Cam Beach. Do not wait any longer to take advantage of the last days of October and reward yourself with a vacation at this beautiful beach. To get more information about other places to visit in Vietnam, go to our home page.