Tam Dao Photos By Anh Tuan Minh Pham
Updated: 08/29/2019
Tam Dao (Tam Đảo) is considered as Da Lat (Đà Lạt) in the North thanks to its beautiful and charming landscapes. Also, it is famous for the cool climate and delicious cuisines. Hence, many people choose this tourist destination for their summer vacation. If you are planning to visit the most beautiful sceneries of Vinh Phuc (Vĩnh Phúc) province, don't miss the Tam Dao travel experiences in detail below for an interesting trip!
Tam Dao Travel guide: Full Information about "Da Lat" in the North
1. General View Of Tam Dao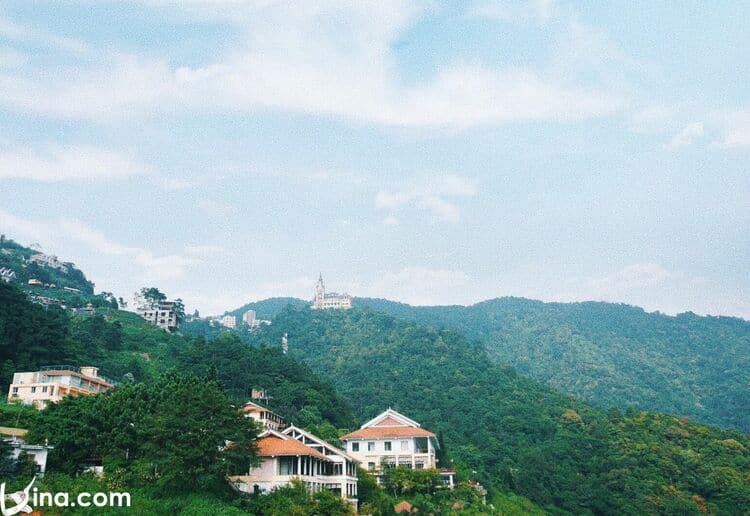 Tam Dao Photos By Anh Tuan Minh Pham
Tam Dao was discovered by the French in early 20th century. After that they built a resort here with many villas, hotels, restaurants, playgrounds, swimming pools, etc. Tam Dao town has an area of ​​over 214 ha, which includes two zones.  Most of the well-known tourist destinations are located in zone 1 Tam Dao village. Besides, this area is surrounded by the primeval forests, so it has a cool climate about 18o C. Moreover, the nature gives this area a romantic and poetic scene. Therefore, visitors will be very excited when standing in front of magical space with full of mists and clouds.
2. The Suitable Time Of Traveling To Tam Dao
Regarded as the Da Lat in the North, Tam Dao possesses the cool weather all year round. Tourists can go to Tam Dao in any season in a year due to its wonderful weather. Especially, the temperature in Tam Dao is always lower than the temperature in Hanoi. Thus, most of travelers come here to enjoy the pleasant and cool atmosphere in summer. In winter, you can see a romantic and quite beauty with thick mist in this place.
3. Transportation To Come To Tam Dao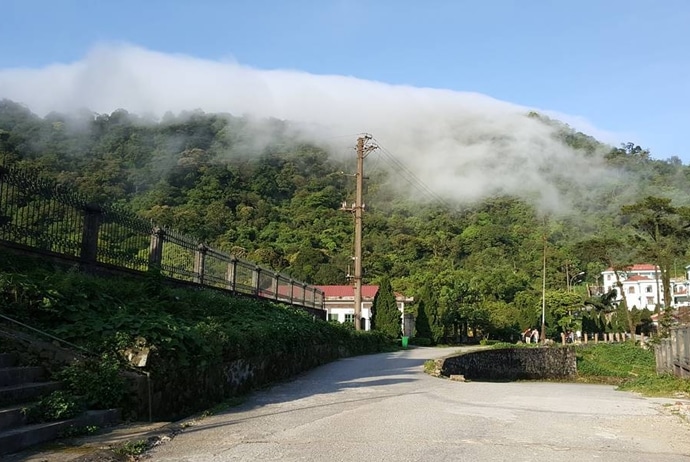 Source: foody
Tam Dao is about 80 km from Hanoi, so it takes you 2 hours to travel from the capital to this ideal destination. You will have many choices in means of transportation as below:
By car: From Hanoi, tourist can move to Thang Long Bridge (Cầu Thăng Long) in the direction of the way Noi Bai airport. At the crossroads between National Highway and AH 14 and Thang Long North Road, you need to turn left to Highway 2 about 500m, and then turn to the Ha Noi – Lao Cai highway about 25 km to the turning point of Tam Duong district. You have to follow Highway 2B about 20km to the center of Tam Dao resort.

By motorbike: Visitor can take the same route like the car. However, you should not travel to Tam Dao by motor scooter because the way to Tam Dao from the foot to the top of the mountain is very rough. It's quite dangerous. Hence, you need to be carefully when coming here by motorbike.

By bus: You should catch the number 58 bus (Long Biên transit point)) or number 07 bus (Cầu Giấy transit point) to Me Linh Plaza. After that you have to catch the bus 07 from Vinh Yen to Tay Thien. On the way to Tam Dao, you remember to ask driver to stop at the bus stops near Tam Dao resort.
4. Hotels In Tam Dao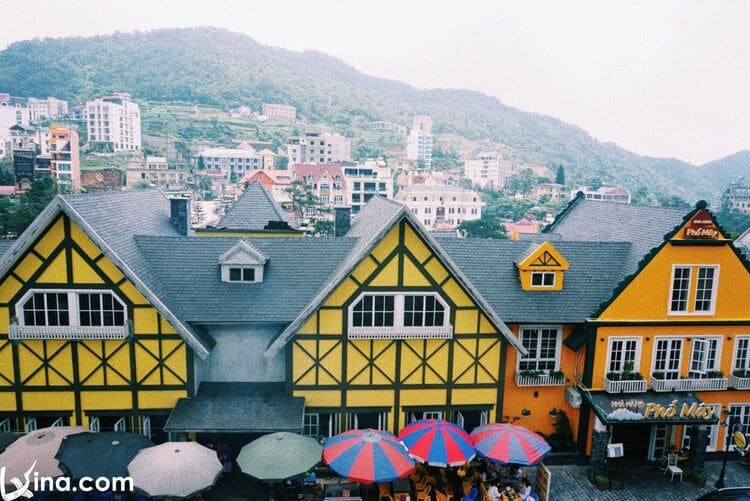 Tam Dao Photos By Anh Tuan Minh Pham
In Tam Dao, there are many hotels and guesthouses with the comfortable space and suitable price. Usually, the hotel's price is about 300,000 – 800,000 VND / a day. However, you will choose the room with cheaper price if you bargain and early book a hotel.
If you want to see a nice view, you should choose the hotels in the West direction from center up. You can book some hotels, such as Tam Dao Star Hotel (Khách sạn Ngôi Sao Tam Đảo), Phuong Mai Hotel (Khách sạn Phương Mai), Van Anh Hotel (Khách sạn Vân Anh, Kim Lien Hotel (Khách sạn Kim Liên, etc where you will easily view the whole city of Vinh Yen city from above, or watch the clouds and foggy layers in front of your face. Besides, you can refer to some famous hotels as below:
Belvedere Resort (Khách sạn Belvedere): This is a 4 star resort, the price is from 1,800,000 – 6,500,000 VND/ a room. Its price depends on rooms with swimming pool and tennis court.

Cay Thong Hotel (Khách sạn Cây Thông): The normal day's price is about 250,000-350,000 VND / room, but it is increased by 300,000 -5 00,000 VND / a room at the weekend. Tel: 0210.2824.271.

Ha Long 2-star hotel (Khách sạn 2 sao Hạ Long): The daily price is about 550,000-750,000 VND / a room, the weekend price is about 650,000 -950,000 VND / a room, tel: 0210.3824.206.

Hoang Anh Hotel (Khách sạn Hoàng Anh): Tel: 0211 3824259.

Phuong Vy Hotel (Khách sạn Phương Vy): Tel: 0211 3824 195 or 0977 606 558

Mimi Hotel (Khách sạn Mimi): Tel: 0211824231
5. The Famous Destinations In Tam Dao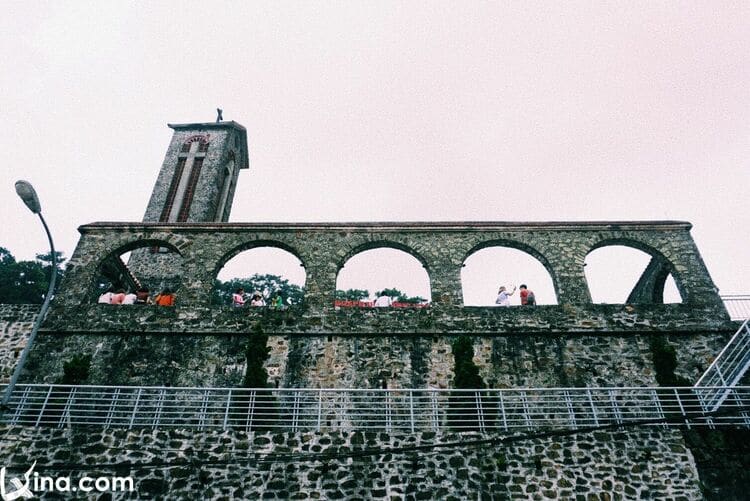 Tam Dao Photos By Anh Tuan Minh Pham
Sky Gate (Cổng Trời): From Tam Dao town, tourist goes straight to the church of French, turn left, and then go straight to Sky Gate. You will have a great chance to see the panorama and beauty of this small town when standing on the Sky Gate.
Silver Waterfall (Thác Bạc): This is one of the famous places in Tam Dao. From the center of Tam Dao town, you have to turn right along with a trail, go down to a deep valley. Visitors will be extremely surprised when seeing a beautiful waterfall with the high water flow of 50m hiding in the mountain. From silver water, you can see the beauty of the surrounding valleys. Moreover, tourists will feel very satisfied after conquering a hard and long road.
Television Station Tower (Tháp Truyền Hình): With the height of 93m, television station tower is a must – see place for tourists when traveling to Tam Dao. The way to this town is hard but romantic and poetic. Besides, you can see many flowers and butterflies along the road. After climbing up to 1,400 stone steps and standing on the top of Thien Nhi, you will reach the foot of the television station tower. This is a long distance, but it will be fun for you if you like the adventure.
Ancient Church (Chùa Cổ): Re-built in 1937 with the brick structure and solid stone, the ancient church is an interesting attraction that you shouldn't ignore when visiting Tam Dao. This place was built in a French architectural style with 26m in length and 11m in width. Travelers will see the natural landscapes of Tam Dao when standing on this church. You can also take a photo with your friends and relatives here.
Quan Gio Café (Quán Gió): This is a very unique café in Tam Dam. It is built up over the cliffs with no roof. From this café, tourists can watch the beautiful view over the valleys. Especially, tourists will experience the feeling of excitement here when being floated among clouds and enjoying the cool winds from the foot of mountain.
6. The Delicious Foods In Tam Dao
In this ideal attraction, there are many delicious dishes that you should try. For example: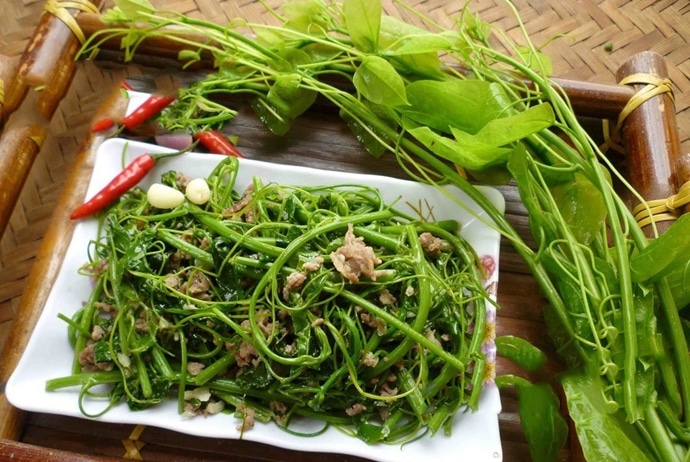 Source: kenh14
Chayote (Su Su): in Tam Dao, you can see this plant at everywhere. They cover the large space in front the house, in two sides of the road, on the sides of the mountain, etc. People in Tam Dao never use pesticides to take care of it, so the chayote is very clean. It can be mixed with garlic or beef to cook a good meal. When you eat chayote, you will feel softy but crispy and sweet. You can also buy chayote in Tam Dao as a gift for your friends and relatives, the price is about15,000 – 20,000 VND /1kg.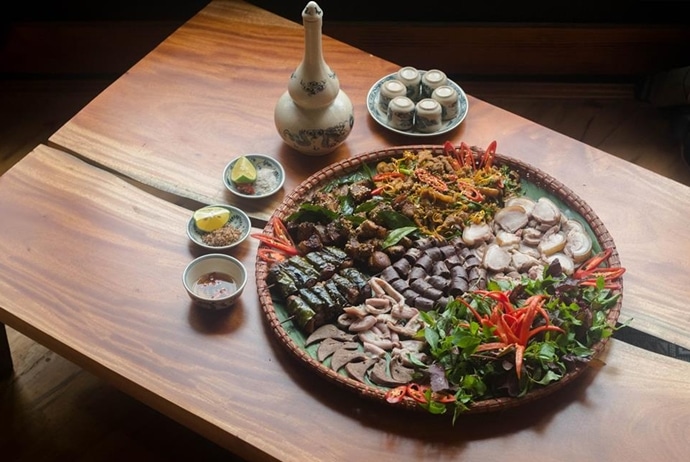 Source: lonmuongxin
Man Pig (Lợn mán): This is a delicious food that you shouldn't miss when coming to Tam Dao. Its meat is very tasty. Man pig is cooked into many dishes, such as baked, stewed, fired. If you visit Tam Dao with a big group, about 10-15 people, you should book a pig from 7-8kg with the price of 250-350 VND/ a kg.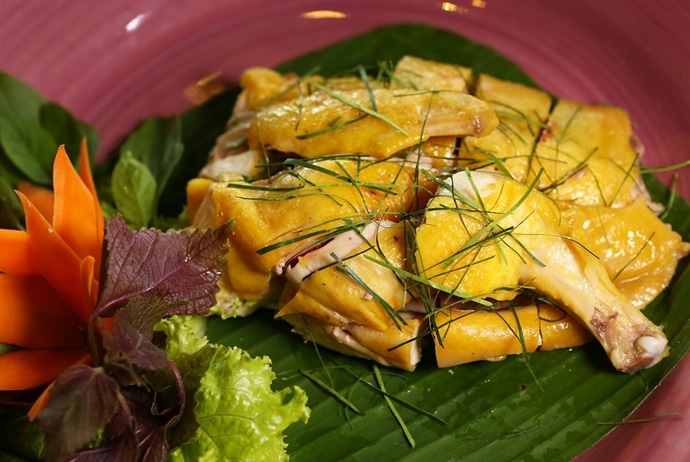 Source: giainhan
Hill Chicken (Gà Đồi): Tam Dao hill chicken with red or black feathers, yellow legs, red crest is naturally raised on the hill. Thus, its meat is very solid, sweet and fragrant. Also, it can be cooked in many delicious dishes, including baked, dried with salt. stewed, etc.
7. Must-Know Tips and Precaution
Tam Dao's weather at night is quite cool, so you should bring the thin jacket when traveling here.

You have to carry shoes or slippers for climbing up the mountain (television station tower, Ba Chua Thuong Ngan Temple, Silver Waterfall).

Visitors come here often buy chayote as a gift, you should go to the market to buy it because the price in the market is cheaper than other places.

You should ask for price before eating because food's price in Tam Dao is quite expensive.
Above is the Tam Dao travel guide – the detailed experience to travel to "Da Lat" in the North, Vinh Phuc, Vietnam that is worth a visit. We hope you find this article useful for your further journey to Vietnam. To get more information about other places to visit in Vietnam, go to our home page. Have a nice journey!