Landscape Photos Of Y Ty By Hieu Minh Hoang
Located in Bat Xat district (huyện Bát Xát), Lao Cai province (tỉnh Lào Cai), Y Ty (Y Tý) becomes an ideal attraction for local and international visitors due to its zig-zag slopes and beautiful landscapes. This is also an exciting challenge for the travelers who want to experience and explore the natural beauty. Why don't you choose Y Ty for your vacation in this autumn!  In this article, Vina.com will show you some of the basic knowledge of Y Ty that you should know before travelling to discover the beauty of Y Ty.
The Beauty Of Y Ty – An Ideal Attraction In Lao Cai, Vietnam
I. Suitable Time Of Traveling To Y Ty
Depending on your individual time, you can make an appointment with Y Ty at any time. However, you should refer to some following information for a nice trip:
The cloud hunting season is from September to April every year. When the weather is cold but dry, you will see the clouds here.

In late March and early April, you can see many beautiful flowers which make Y Ty colorful.

The ripe rice season of Y Ty is from the end of August to the end of September. In this season, the combination of the yellow color of rice, the brown color of postharvest fields, the green of grasses, and simple roofs of the small houses, all of which create a wonderful picture in Y Ty.

In winter, Y Ty is one of the possible snowfall spots with Sapa and Mau Son.
II. How To Get To Y Ty
Landscape Photos Of Y Ty By Hieu Minh Hoang
From Hanoi city, you can catch a passenger bus or take a train to Lao Cai or Sapa. It takes you 8 hours to Lao Cai by train and 5 hours to that place by car.
Although Y Ty is only 80 km from Lao Cai, it takes about 5-6 hours to this area without stopping along the road for sightseeing and taking the photos. The most popular means of transportation to Y Ty is motorbikes. Also, you can rent a motorbike in Sapa or Lao Cai.
III. Where To Stay In Y Ty
In fact, there are not many places to stay in Y Ty. Here are some popular hostels that are interested in by many travelers.
Mrs. My's house (Nhà chị Mỹ), Tel: 0214 3501320
Mrs. Si's house (Nhà cô Si), Tel: 0127 456667 (she serves meals for tourists)
Minh Thuong Hostel (Nhà nghỉ Minh Thương), Tel: 0916 729534 – 0948 840483
A Ho Guesthouse ( Nhà nghỉ A Hờ), Tel: 01255751173
Anh Thang Guesthouse ( Nhà nghỉ Anh Thắng), Tel: 0214 3501310
Thao Nguyen Xanh (Thảo Nguyên Xanh) Homestay, Tel: 098 506 75 68
IV. Restaurants In Y Ty
Like other Northwest highlands, Y Ty also has some delicious and easy-to-eat foods to enjoy, such as chickens, boar, Hmong borecole, etc. Before you come to Y Ty, it's best to call the owners of guesthouses to prepare some meals for you because most of the guesthouses will serve the foods for tourists. Or you can refer to famous restaurants as below:
Chi Le Restaurant (Quán ăn Chị Lệ, Tel:-01244413718
Vong Hang Restaurant (Quán Vọng Hằng), Tel: 0214 3501299
Hong Hoa Restaurant (Quán Hồng Hoa), Tel:  0912 365685
Yen The Restaurant (Quán Yến Thế), Tel: 01627 663 338
Minh Thuong Restaurant (Quán Minh Thương), Tel:  0916 729 534
Minh Hang Restaurant (Quán Minh Hằng), Tel: 01255 488 428
V. The Traditional Foods In Y Ty
Y Ty Mushrooms (Nấm Hương Ý Ty)
When the first rains appear to welcome a new summer, the mushrooms start growing up. According to the experiences of people in Y Ty, from April to May, after the rainy season, the mushrooms grow more. At that time, they go to the forests to find mushrooms. If you are hunting the clouds in Y Ty in this season, take a look at stalls of the roadside to buy some mushrooms!
Ha Sin Co Bulb (Củ Hà Sin Cô)
Called Ha Sin Co or Hoang Sin Co (Hoàng Sin Cô), this bulb looks very similar to the sweet potato, but it is light yellow, watery, crunchy, cool. You can eat the fresh Ha Sin Co bulb after peeling.
In Lao Cai, Ha Nhi is one typical ethnic group who produce the traditional handmade beer. When coming to Ha Nhi place, visitors will see many households producing beer for the holidays, Tet, and guests. Ha Nhi beer is made from sticky rice which is brewed from 15 to 20 days. Thanks to the complicated and unique brewery process, Ha Nhi beer is really interested in by many tourists. If you come to Y Ty for traveling, especially finding out the culture of Ha Nhi people, don't forget to try this type of beer!
VI. The Famous Tourist Attractions In Y Ty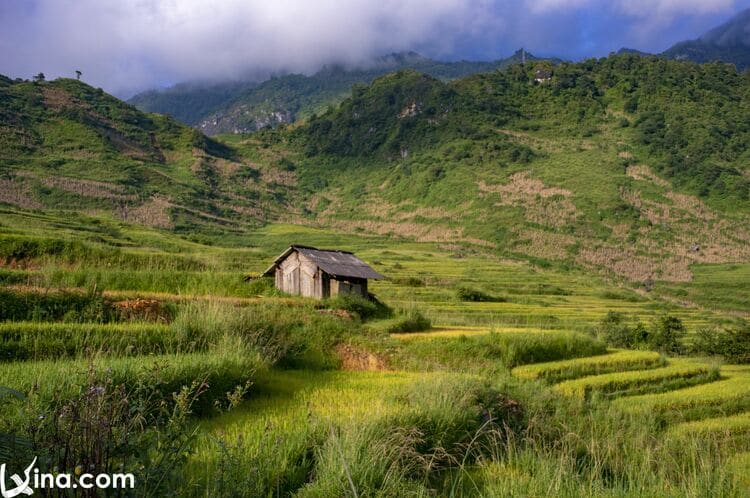 Landscape Photos Of Y Ty By Hieu Minh Hoang
1. Landmark 92 – Lung Po Junction (Mốc 92 – Ngã 3 Lũng Pô)
To discover the beauty of Y Ty, you should not skip some attractions in Y Ty, and one of them is landmark 92. Situated in a junction, where the Nguyen Giang River (Sông Nguyên Giang) meets the Lung Po River (sông Lũng Pô) in Vietnam, this landmark is a must-see place to visit in Y Ty. This place contains the landmark 92 (1), 92 (2) and 92 (3) on the borders of Vietnam and China. Among them, the landmark of Vietnam is 92 (1), two remaining landmarks are placed on the banks of the Chinese side.
2. Vietnam – China Border Demarcations (Các mốc biên giới Việt Nam – Trung Quốc)
Along the route from Bat Xat to Y Ty, you will be very excited when seeing many landmarks on the land border of Vietnam – China. If you are interested in the landmark, you can find out information about the coordinates of landmarks in the Vietnam-China border demarcation in Lao Cai for a perfect journey.
Read more: Trekking In Vietnam – Where And When To Go
3. Thien Sinh Bridge ( Cầu Thiên Sinh)
Thien Sinh Bridge impresses tourists at the very first glance due to its nice view. This bridge is situated at the end of Lao Chai village (thôn Lao Chài) about 10 km from the center of Y Ty commune. According to the language of Ha Nhi ethnic group, it is called Thien San Shu (Thiên Sân Shù), which means "Born By God." This is a very special bridge. The bridge is only about 1 meter in short. In the past, it was a natural, huge rock, crossing the deep gap under the Po Po stream. From thousands of years ago, through the geological movement, the huge stone was cracked to form this rock slit/bridge.
4. Hong Ngai Village (Thôn Hồng Ngài)
Hong Ngai village is also an ideal tourist destination to pick when visiting Y Ty. It is the most remote village in Y Ty about 20 km from the commune center. There are more than 50 households of H'Mong ethnic group (người Mông) in the village. Many visitors misunderstood that it is the Hong Ngai village in "A Phu Couple" by writer To Hoai. In fact, the Hong Ngai village mentioned by writer To Hoai is in Bac Yen district (huyện Bắc Yên), Son La province. Even though this is the most remote village of Y Ty commune, Hong Ngai people have a stable life because they grow a lot of cardamoms – a valuable agricultural product.
5. Sim San Village (Thôn Sim San)
Sim San is a famous village which is approximately 10 km from the center of Y Ty commune. It includes nearly 100 households. The main job of local people here is to grow rice and corn. With the terrain of over 2,000 m in height and low temperature, they just produce the crop once a year; thus, they have a lot of free time. Thanks to the typical soil conditions, the Dao people (người Dao) in Sim San village distil a very good wine type named Sim San wine. If you like wine, don't ignore this village to enjoy!
For all things mentioned above, the visitors can be easy to realize that Y Ty is really a paradise of nature to visit at least once in life. And for those who have ever come to this area, don't hesitate to come here again if you want to relax and conquer the mountain slopes to see the fantastic landscapes. Feel free to share your thoughts after reading the article "the beauty of Y Ty in Lao Cai, Vietnam"