Photo Of Da Lat Landscapes By Vina.com
Vietnam has recently become one of the top tourist attractions in Southeast Asia. This country has bustling cities and luxurious beach resorts, but it also offers ethnic villages as well as vistas of green rice paddies which have not changed for a long time. Apart from 7 destinations inscribed on the World Heritage List of UNESCO, there are so many places for tourists to explore in Vietnam.
In this article, we will show you 13 out of best Vietnam experiences, from north to south, which you should not skip when visiting this small but beautiful country.
1. Visit A Remote Hill-Tribe Market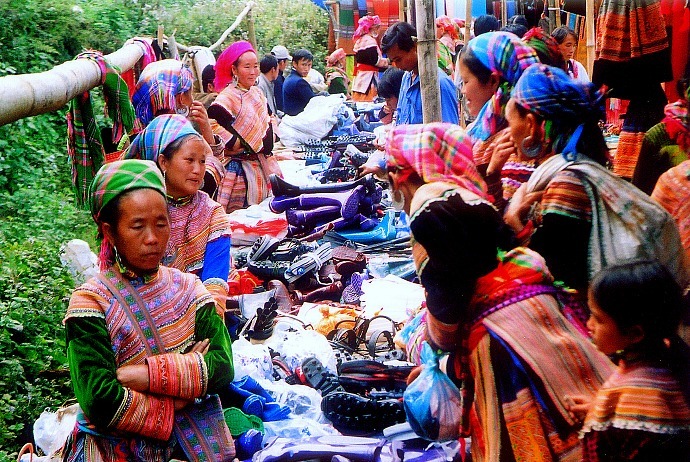 In the northern highlands of Vietnam (Việt Nam), ethnic tribes often descend from their home (on the mountainous areas) each week, tramping for a long distance to sell a water buffalo, medicinal herbs or pineapples which are not much bigger than your fist. There are some famous remote ethnic markets in Vietnam, which are Bac Ha (Bắc Hà) Market (gathering on Sunday), Coc Ly (Cốc Ly) Market (gathering on Tuesday), etc. At Coc Ly Market, people of the Flower Hmong ethnic group (usually women) will turn out in their finery with babies lolling on their small backs in complicatedly embroidered slings. It is the best for you to go with a local guide who could speak the local language in order to understand clearly about the meaning and activities of the market you visit. Coc Ly Market is open in the morning and last till noon. It is about 62 miles from Sapa – the famous tourist attraction, and about 37 miles from Lao Cai (Lào Cai) – the hub for overnight express trains departing from Hanoi (Hà Nội).
2. Kayak Amongst Mist-Shrouded Islands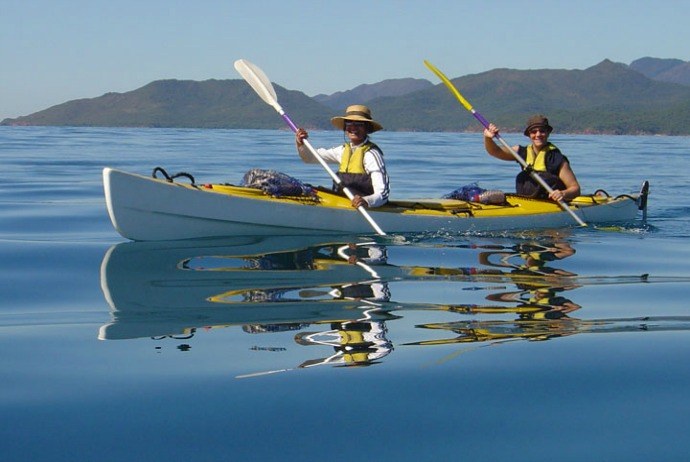 You can get away from the hustle and bustle of the crowded city by joining in kayaking amongst mist-shrouded islands in Ha Long (Hạ Long) Bay – a legendary of Vietnam. To do so, you need to contact with a tour company. The islands recommended are too far away to kayaking directly from the mainland.
Those companies focused on trips of kayaking will take joiners in escort boats and set up where the padding is ideal. Professional guides will instruct you to discover rock gardens and caves. Though day trips are common but you should also consider spending a night on the bay to experience the great mist and light around those magical islands. Don't' worry about sleeping accommodations because the escort boats all have varying sleeping accommodations, depending on your own budget.
3. Dine On Imperial Cuisine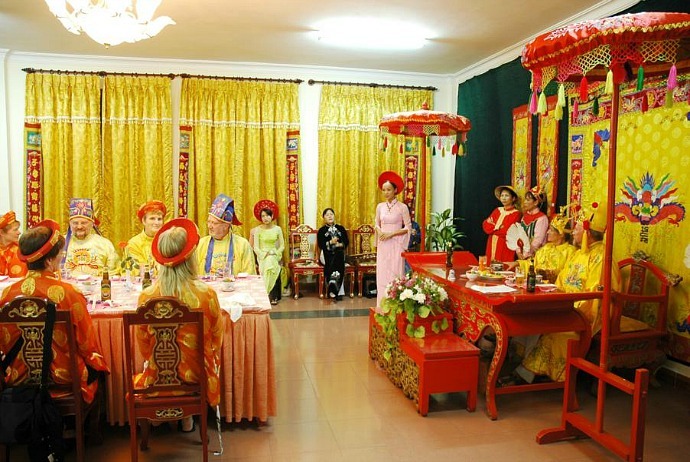 Date back to the 19th century, it was said that Nguyen (Nguyễn) Kings never had the same meal twice a year. They often had a number of chefs and each specialized in only one dish. In order to keep the royal palate from becoming bored, 50 exquisite little courses were respectfully served at dinner, yet special banquets can generate about 300 dishes. Veggies and fruits were carved into different animals, landscapes and flowers to decorate the plates.
The remnants of imperial cuisine have taken its step into the food of commoners. Those so-called banh beo (Bánh Bèo), banh nam (Bánh nậm), or banh khoai (Bánh Khoai), banh gion (Bánh Giòn) are listed in the menu of modest restaurants. The fare at fancier restaurants will be more elaborate, with the decoration of tables including a phoenix skillfully sculpted from a pineapple.
It is rather rare to find the imperial cuisine of Hue (Huế) outside this ancient city, so you had better take advantage of it whilst being there. You will find the famous dumplings inside many stalls of Dong Ba (Đông Ba) Market. For more upscale dishes, you can go to Tinh Gia Vien (Tĩnh Gia Viên) or Ancient Hue where the artistry seems to outside the original flavor.
4. Cycle Around The Mekong Delta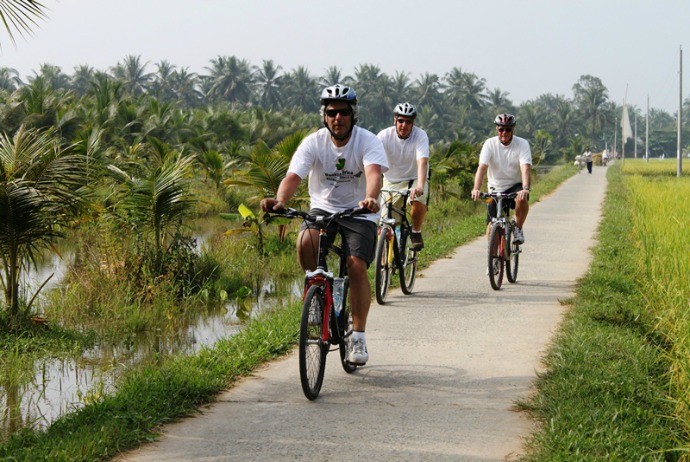 The Mekong Delta is considered a heaven for cycles: scenic and flat, with vistas of green rice paddies, fruit orchards, canals and jungle. There are some agents offering cycling trips of different length, mixing biking with the visits to some traditional houses, ethnic villages and floating markets.
You will ride along Mekong River and then have a boat trip on the river then. One of the most interesting features of this chance is being able to connect with local people, whom you will meet while riding bikes. The tours offered often include pick-up and return to Saigon (Sài Gòn), yet if you head on to Cambodia, you may want to schedule the trip to stop in Chau Doc (Châu Đốc), where you could take a quick boat upriver to the capital of Cambodia – Phnom Penh.
5. Stalk The Rare Birds In Cat Tien National Park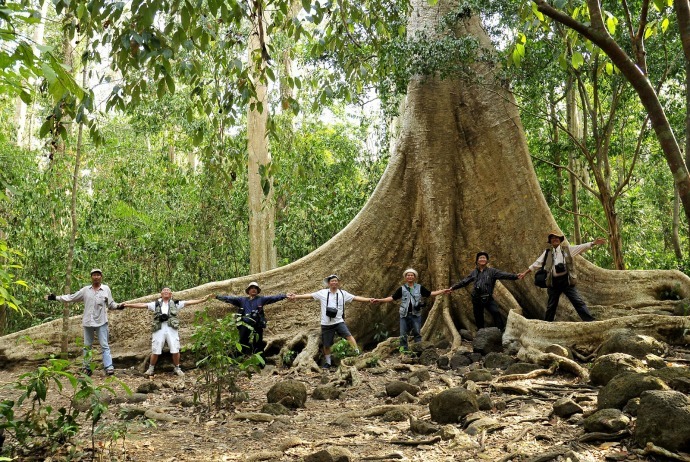 It is estimated that Cat Tien (Cát Tiên) National Park has an area of 300 square miles. This park is listed as a Biosphere Reserve Zone by UNESCO and is an ideal place to explore if you love nature. Situated about 90 miles north of Saigon, the park is a paradise of birders. It is home to about 348 species, such as pita, red jungle fowl, Siamese firebacks, and green peafowl. You could find hundreds of types of butterflies along with 79 species of reptiles, including crocodile and pythons. Tigers, leopards, and Asiatic black bears are also living here, yet the chances of spotting them here are rare. For macaques, gibbons, civets and deer will have higher chances of being seen here. However, sadly, in 2011, the highly endangered Javanese rhinoceros was confirmed extinct in this park.
To take part in this activity, you can either work with an outfitter such as Phat Tire in Da Lat (Đà Lạt) or Sinhbalo Tours in Ho Chi Minh (Hồ Chí Minh) City. If you travel on your own, you should look for a guide at the information counter of the park or take part in the activities like a gibbon trek or night safari. You could hike to Crocodile Lake in order to have a rustic overnight or have a more luxurious sleep at other accommodations on the perimeter of the park.
This park just permits a certain number of tourists per day, so if you travel on your own, you should make a phone call ahead for the good reservations.
6. See A Wild And Wet Water Puppet Show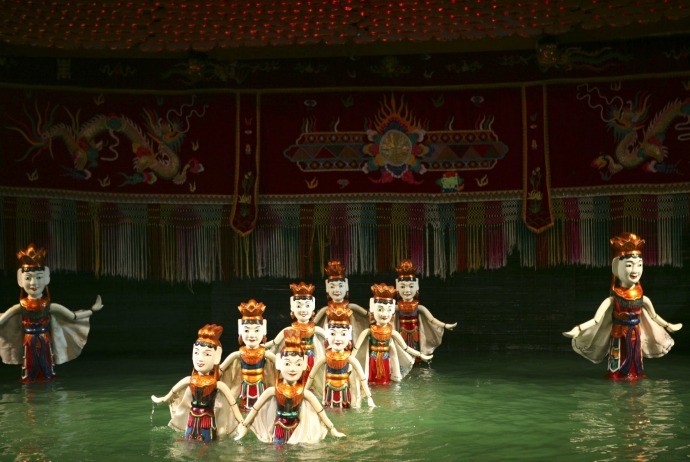 It may sound like an activity of children, yet it is a famous traditional art form of Vietnam. Do not miss a show at Hanoi's Thang Long (Thăng Long) Water Puppetry Theatre. About 1000 years ago, the stage actually is the surface of a water-filled tank. The unseen puppeteers will generate their puppets from behind a curtain while standing under water to the waist level. The water can help hide the mechanisms of the wooden puppets which are hand painted, creating wonderful effects.
The performances will present a few traditional tales of Vietnam, generating the puppets with amazing humor and subtlety. There are live musicians adding the soundtrack for the performances.
To see this show, you should go to Thang Long (Thăng Long) which offers 7 shows each day, with an extra show on Sunday mornings. It is the best to pick up the tickets at least several hours in advance because the shows will soon sell out.
7. Eat Your Way Through The Old Town Of Hanoi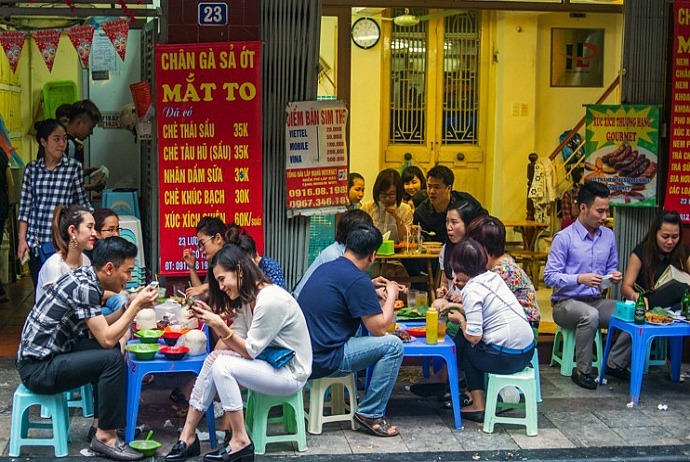 The old quarter in Hanoi (Hà Nội) features with French architecture, overflowing storefronts, buzzing motorbikes, and ancient temples. This area is where you can find a lot of famous street food that Hanoians are proud of. One of the most recommended dishes when visiting Hanoi is Bun Cha, in addition to Cha Ca (Chả Cá), Banh Cuon (Bánh Cuốn), Bun Bo Nam Bo (Bún Bò Nam Bộ), etc.
In essence, Bun Cha is a self-assembled meal which contains cold rice noodles, charcoal-grilled pork patties, fried spring rolls, pork belly, fresh ginger, chilies, garlic, vinegar sauce, and some Vietnamese lettuce plus with other herbs. Go to Bun Cha, no.1 Hang Manh (Hàng Mành) to enjoy the best of this dish.
About Cha Ca, this is made from turmeric-marinated fillets sautéed tableside with the heaps of dill along with scallions. Go to Cha Ca Thang Long (Chả Cá Thăng Long), no.31 Duong Thanh (Đường Thành) Street, Hanoi, Vietnam.
Talk about Banh Cuon (Bánh Cuốn), this is a delicate rice pancake which is stuffed with onions, pork, and mushrooms, then topped with the fish sauce and crispy shallots. Go to Banh Cuon Gia Truyen (Bánh Cuốn Gia Truyền), no.14 Hang Ga  (Hàng Gà) Street.
To enjoy Bun Bo Nam Bo (Bún Bò Nam Bộ), you can go to 67 Hang Dieu (Hàng Diệu), Hanoi (Hà Nội). This dish is made from chilled rice noodles topped with the bean sprouts, toasted peanuts, stir-fried beef, pickled carrots, crispy shallots, herbs and green papaya. When the dish is served, there will be sour hot beef broth poured over the top of the bowl.
8. Stay In A Fairy-Tale Hotel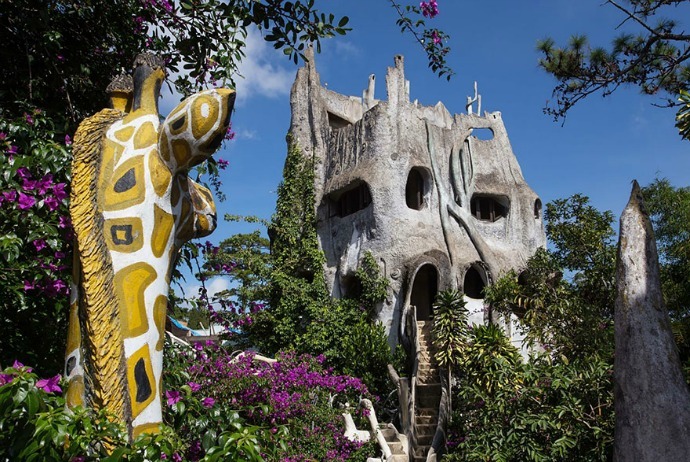 You can find such hotel in Dalat (Đà Lạt), situated in the Central Highlands of Vietnam. The Crazy House, used to be known as Hang Nga (Hằng Nga) Villa, is the pet project of the Vietnamese architect named Dang Viet Nga, who seeks to bring the visitors closer to the nature through her eccentric design. The exterior looks like the gnarled roots of the tree. Go inside, you may find windows inspired by the spider webs. The ceilings are compared with that of a cave. Quirky stairways, on the other hand, look like the stalks of bamboo or cross parts of tree trunks.
If the Crazy House is not enough crazy for you, then you can try Ana Mandara Villas Dalat, which is a French colonial villa that is lovingly restored. Da Lat used to be known as "Little Paris" which was the favorite relaxing place for French administrators. There are a lot of Art Deco colonial buildings in Dalat too. Besides, you can witness a lot of beautiful natural sceneries such as waterfalls and hills in Dalat, making it a favorite destination for Vietnamese honeymooners.
9. Go Night Fishing With A Squid Fleet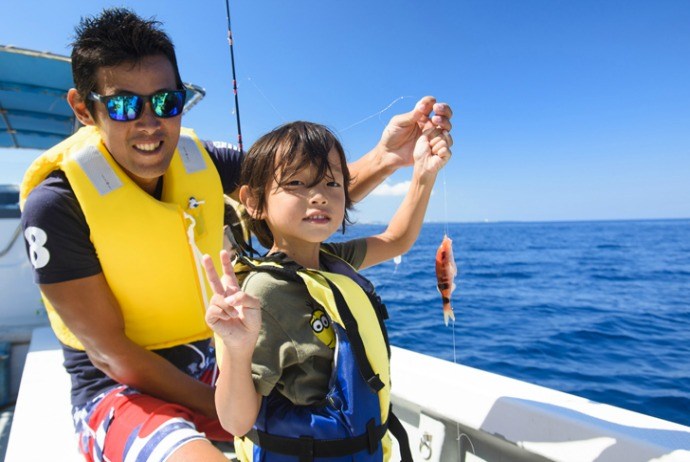 The ideal place for night squid fishing is Phu Quoc (Phú Quốc) Island, off the southern coast of Vietnam, which is famous for its beautiful beaches. To fish the squid, the fishermen will use the light and hook them. In Phu Quoc (Phú Quốc), most resorts offer a trip of squid fishing that include boating out to contemplate the sunset and fishing when the darkness sets in. You then can sample what you get, either in "squid porridge" or grilled.
If you want to discover more about fishy things, then you can consider visiting the fish sauce makers in Phu Quoc, where the fish sauce is carefully aged in those special wooden vats which are made from local trees. This island is well-known for its fish sauce.
10. Get A Tailor-Made Outfit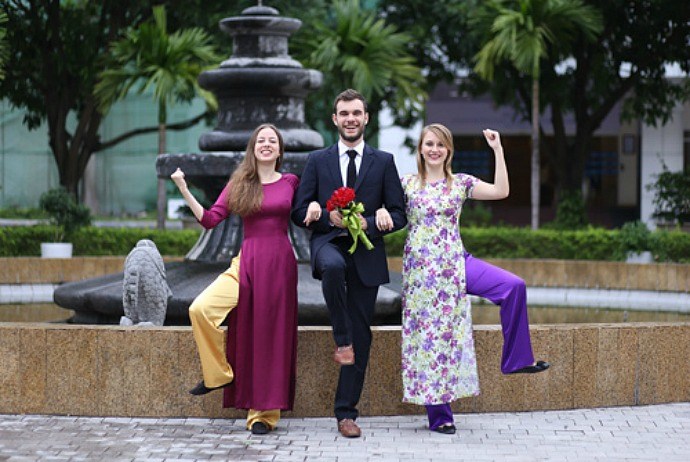 The ancient town of Hoi An (Hội An) is not only famous for its attractions, but also for their skillful tailors. If you have a few days staying in Hoi An, you could come away with a custom-made suit or "áo dài" – the traditional outfit of Vietnamese women – for a reasonable price.
There are a lot of shops serving you with this service, beckoning you with the windows displays, yet you should select carefully, and bargain hard. Do not spend your money until the garment is offered and you feel satisfied. Vietnamese fabrics for suiting could be cheap, yet the quality is lower than the pricy European fabrics which are imported. However, when it comes to silk, it is another story. You can choose from a lot of options coming from Vietnam.
11. Join A Cooking Class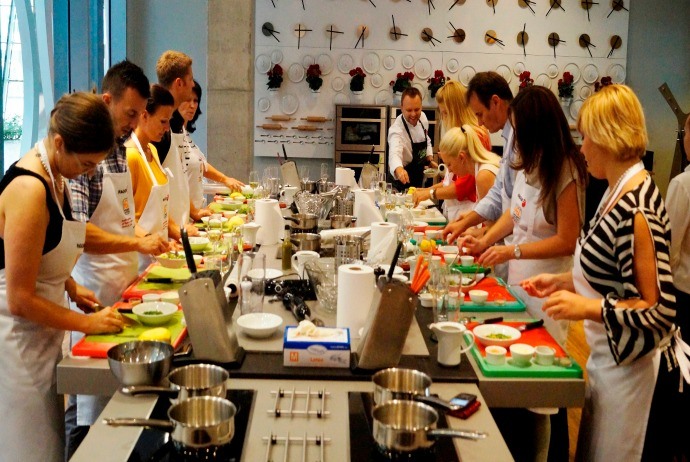 After visiting Vietnam, chances are, you will crave for its traditional food when you get home. The fresh ingredients, exotic flavors, and soul-satisfying soups will attract you till the last bite. So, why don't you learn how to cook some of the most favorite dishes of your choice?
It is easy to find a cooking class of Vietnamese food in Ho Chi Minh (Hồ Chí Minh) City or Hanoi (Hà Nội).  Consider the Saigon Culinary Arts Centre will offer you such trips with attentive assistants standing by to whist away the garbage or light a misbehaving stove burner.
12. Experience The Mystical Magic Of Ninh Binh Landscape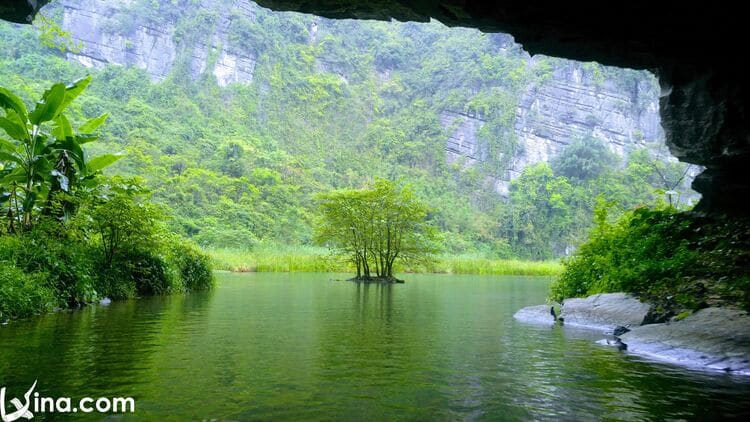 Photo Of Natural Landscapes In Ninh Binh By Quynh Thuy Dinh

Visiting Ninh Binh (Ninh Bình), you will see a countryside which is full of limestone karsts jutting out from the rice paddies. Just about 1.5 hours south of the capital of Vietnam – Hanoi, you will arrive in Ninh Binh. Here, you can visit some attractions, such as Tam Coc – Bich Dong (Tam Cốc – Bích Động), Trang An (Tràng An) Scenic Landscape Complex, Bai Dinh (Bái Đính) pagoda, Van Long (Vân Long) Nature Preserve, Phat Diem  (Phát Diệm) Stone Cathedral, Cuc Phuong (Cúc Phương) National Park, Mua (Múa) Caves to name a few.
Tam Coc – Bich Dong (Tam Cốc – Bích Động), also known as "Ha Long (Hạ Long) Bay on Land" is famous for its inspirational and poetic natural scenery of beauty. Basically, it is great complex of Bich Dong (Bích Động) pagoda plus with Tam Coc (Tam Cốc) grotto (having 3 caves). Ninh Binh possesses a number of caves tour, yet Tam Coc – Bich Dong is the oldest and the single place which still grows water rice. The best time to go to Tam Coc – Bich Dong is from late May to early June, in approximately 2 weeks, when the green rice fields turn into golden paddy ones and the area is harvested. This great moment brings a magical transformation of colors, creating the delight for travelers, particularly international ones. They were often overwhelmed by the beauty here, and wonderful landscape just on land of Ninh Binh.
About Phat Diem (Phát Diệm) Stone Cathedral, located in Kim Son (Kim Sơn), Ninh Binh (Ninh Bình), this is one of the most ancient, famous and beautiful churches in Vietnam with such a special architecture: built completely by stone, combined harmoniously between the style of Western church architecture and Vietnamese religious buildings. It is said that Phat Diem cathedral populations represents the reconciliation essence of between Buddhists and Catholics. The curved roof shape is designed like Buddhist temples. The cross statue is put onto a lotus, like the Buddha seated on the lotus. It could be reckoned as the most unique architecture worldwide.
Populations of Phat Diem Stone Cathedral was constructed with different items, like monuments, lakes, Phuong Dinh (Phương Đình), Cathedral, Chapel of Ro Co Bible, Chapel of Gie-su Bible, Chapel of God heart, Chapel of Phe-ro Bible and a few artificial caves.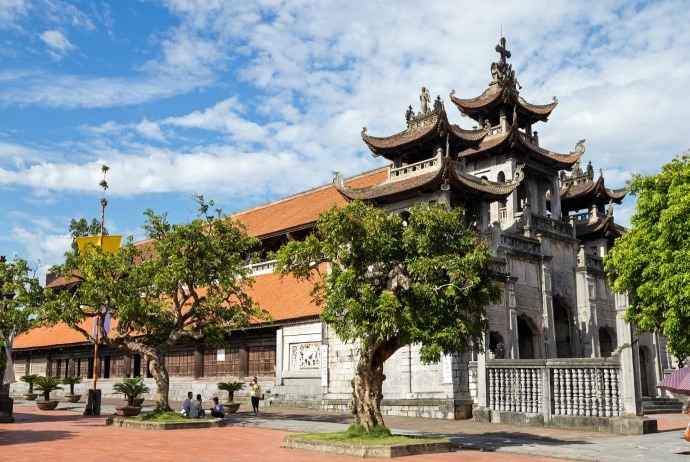 Cuc Phuong (Cúc Phương) National Park, located in Ninh Binh, is the first and largest national park in Vietnam. Considered the most important zones for biodiversity in Vietnam, Cuc Phuong with 25,000 ha of area is known as a huge nature museum of rich flora and fauna on t he limestone of Vietnam. Tourists could admire those thousand years old trees, plants survived from the third century, and various beautiful bird species. This park is home to many species of flora as well as fauna. It is estimated that there are 97 species of animals, 36 reptilian species, 319 species of birds, 17 species of amphibians, 2000 species of vascular plants, 11 species of fish, and 1800 species of insects. A large number of those species are listed on the Vietnam Red Book as those which are endangered. Some prominent places in the park you should not bypass are millennium Green Cho (Chò) Tree, Old Dang (Đăng) tree, ancient Sau (Sấu) tree, and the silver cloud.
Bai Dinh (Bái Đính) Pagoda, a famous spirituality tourist destination, is a large complex temple which is about 95km far from the capital of Vietnam – Hanoi. Situated at the western gateway to the renowned ruins of Hoa Lu (Hoa Lư) ancient capital, Bai Dinh pagoda used to hold the relic procession ceremony from Indian to Vietnam in 2010. Being hailed by the media all around the world as the famous temple with many records in Asia as well as region, it is estimated that this pagoda possessed 8 records up to 28/02/2012.
13. Trek Through The Jungles And Villages Of Dalat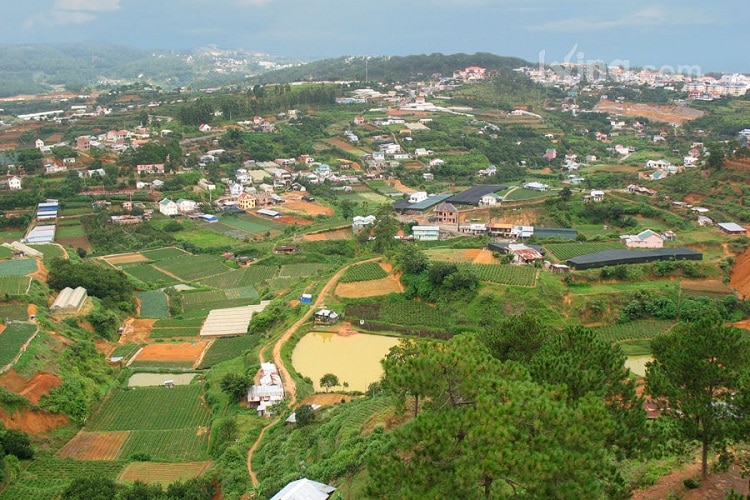 Photo Of Da Lat Landscapes By Vina.com
In addition to canyoning and abseiling, trekking is another interesting activity when traveling Dalat (Đà Lạt). Book a jungle trek with Phat Tire Ventures, and spend your day on hiking in the Da Lat mountainside through coffee plantations, villages, and thick jungle. The tour guide will help you discover interesting features of the jungle while walking through farmed fields and a village in the valley.