Thai Vi Temple By Vina.com
Updated: 08/18/2019
Ninh Binh (Ninh Bình) is well-known for many traditional festivals held throughout the year with the great participation of not only local people but also international tourists. The biggest festival for Ninh Hai (Ninh Hải) people is Thai Vi Temple Festival (Lễ hội Đền Thái Vi) that is worth a visit if you have a chance to travel to Ninh Binh. Held from 14th to 16th day of March of the lunar calendar at Thai Vi Temple (Đền Thái Vi), Van Lam Village (Làng Văn Lâm), Ninh Hai (Ninh Hải) Commune, Hoa Lu (Hoa Lư) District, Thai Vi Temple Festival is an occasion for not only domestic but also international visitors to enjoy the festive atmosphere and participate in many entertainment activities.
About Thai Vi Temple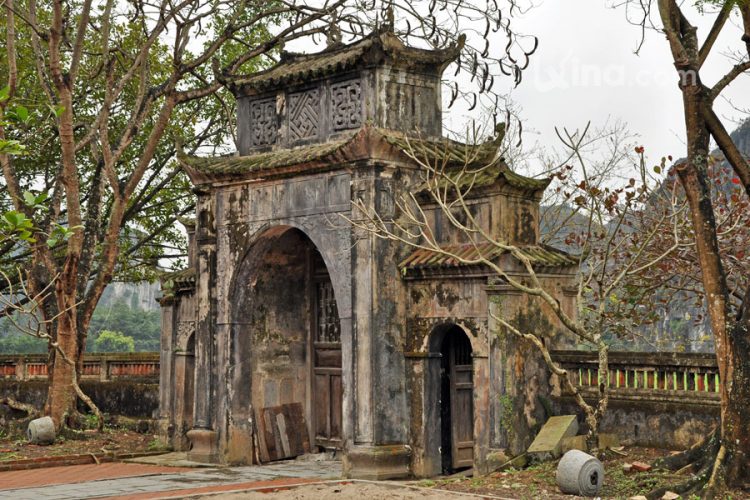 Thai Vi Temple By Vina.com
Set within Tam Coc – Bich Dong (Tam Cốc – Bích Động)  tourism site, Thai Vi Temple located at Van Lam Village, Ninh Hai Commune, Hoa Lu District worships Generals and Kings of Tran dynasty, one of the most prosperous and powerful dynasties in Vietnam. Tran dynasty lasting 175 years has outstanding and remarkable achievements in many aspects. The most outstanding event during this dynasty is the three-time victory beating Nguyen – Mong (Nguyên Mông) invaders.
After the Kings passed away, Thai Vi Temple was built on the foundation of ancient Thai Vi Hermitage to memorize and commemorate the merits and contribution of Tran Kings. The temple is called "Thai Vi Tu (Thái Vi Tự)." Its name means the place where King Tran gave up his throne and became a monk.
Thai Vi Temple draws the attention and interest of both domestic and international tourists because of its special sophisticated architecture. Various stones are arranged, built and carved meticulously in art way.
About Thai Vi Festival – The Unique Traditional Festival In Ninh Binh 
Held at Thai Vi Temple, Thai Vi Temple Festival is an occasion when people throughout the country gather to commemorate the contributions and merits of Tran Kings such as King Trang Thai Tong (Trần Thái Tông) who gathered people to build and establish Vu Lam  (Vũ Lâm) royal palace.
As the biggest festival of Ninh Hai people, Thai Vi Temple Festival is often organized and prepared solemnly and carefully before taking place. Like other traditional festivals of Vietnam, the Thai Vi Temple Festival also has two parts: ceremonies and entertainment activities.
In the afternoon of 14th March of the lunar month, a ceremony of opening the holy temple to get the incense takes place in Van Lam village. In the morning of 15th March of the lunar month which is the main festival day, villagers carry out all the sacrifices to the dragon's yard to clean. They also prepare offerings including fruits, Giay cake (bánh giầy), pig and chicken, bananas, sticky, etc. The white sticky rice is a symbol of purity and transparency. Besides these offerings, villagers also offer the king a bowl of lettuce vegetables and a bow of eight rice.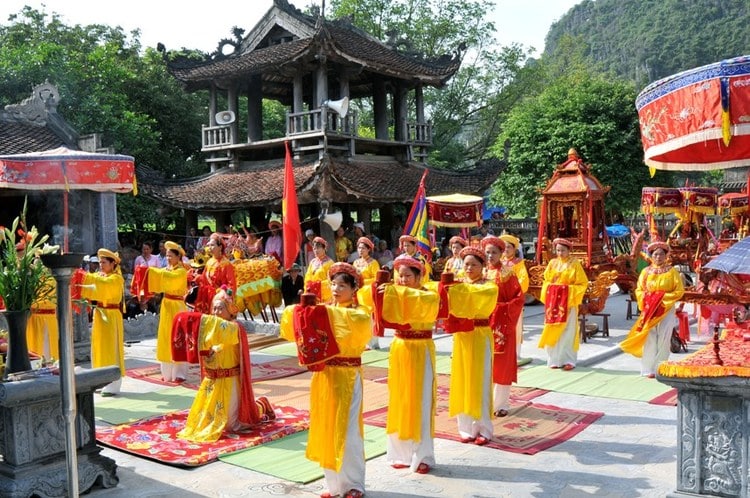 There are also ceremonies of procession and sacrifice. Particularly, men and women in traditional costumes carry out the palanquin painted with an impressive gold card to the temple. After that, they relay the torch and then offer the incense in the palace. The torch keeps burned out outside the dragon's yard during the ceremonies. Finally, the sacrifice will end the ceremony. The host of the festival reads an essay that praised the contribution and merit of King Trang Thai Tong.
When the ceremonies finish, locals, participants, and tourists can enjoy many entertainment activities and traditional games such as Kylin dance, Dragon dance, wrestling, human chess, boat sailing, etc.
Thai Vi Temple Festival is a chance for people to learn and maintain Vietnamese good morality "drinking water, you have to remember the source."
A visit to Thai Vi Temple Festival will not complete if you do not spend time admiring the beautiful scenery of Hoa Lu (Hoa Lư) ancient capital and going to other must-see sites here. It is great to immerse yourself in the sacred and joyful atmosphere in the assembly section.
Thai Vi Temple Festival in Ninh Binh has the powerful meaning, historical and cultural values that make it a unique and outstanding feature of Ninh Binh. People who travel to Ninh Binh want to explore the traditional festivals here. I hope that you will find useful information in this article. Any questions can be left in the comment section and we will answer them as soon as we can. Vina.com is loaded with useful information and detailed articles about Vietnam tourism and activities. If you are planning a journey to this S-shaped country, please do not hesitate to click the link.