Updated: 08/18/2019
Ninh Binh (Ninh Bình), Vietnam is a gorgeous destination for tourism development and growth thanks to the beautiful natural scenery and wonderful attractions. Traveling to Ninh Binh, you can not miss the Trang An (Tràng An) Complex that has been recognized as a World Natural and Culture Heritage and the mixed heritage of Southeast Asia and Vietnam. This place is well-known for Trang An Festival that is celebrated to honor and promote Trang An tourism. When you explore Trang An Festival, you can have a chance to enjoy the festive atmosphere and take part in many interesting ceremonies and activities of the festival.
Trang An Festival – Unique Traditional Festival In Ninh Binh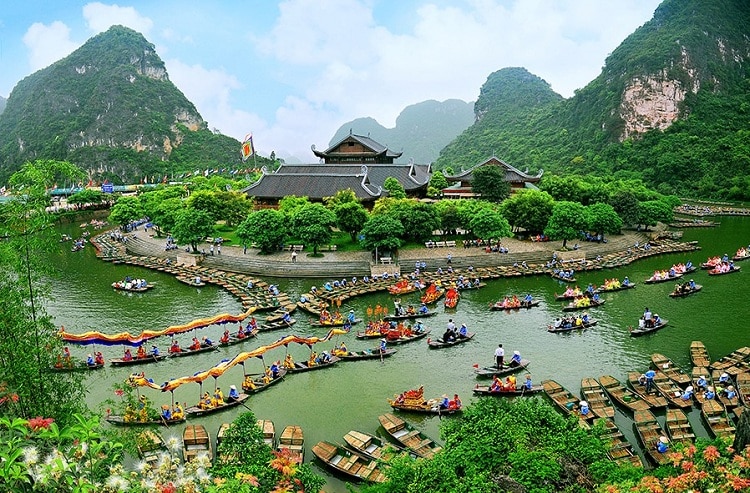 Trang An Festival in Ninh Binh is organized annually in the third lunar month. During the festival, there are water procession, dragons procession and palanquin procession with the goal of expressing the gratitude "Drinking water, you have to remember the source" to the Holy Quy Minh Dai Vuong (Qúy Minh Đại Vương) who contributed to protect the country and maintain the border.
According to the legendary, besides Quy Minh (Qúy Minh) Holy, there are two other brothers namely Tan Vien (Tản Viên) Holy and Cao Son (Cao Sơn) Holy who has the merit of maintaining and protecting Son Nam (Sơn Nam). Considered as the supreme god, Quy Minh Holy is worshipped by locals and people from many regions of the country.
During the festival, you can take a boat tour into the beautiful landscape to explore the masterpiece of Mother Nature and enjoy the beauty of Halong Bay (Vịnh Hạ Long). It is great to see the green water valley and caves with crystal stalactites that make the beauty and historic values of Hoa Lu Festival. Trang An is a complex with high mountain, peaceful river, and mysterious caves, which make tourists and visitors fall in love with the natural. It is recommended to see the shrines and temples hidden in the cool green. That all attracts tourists and visitors to explore the festival.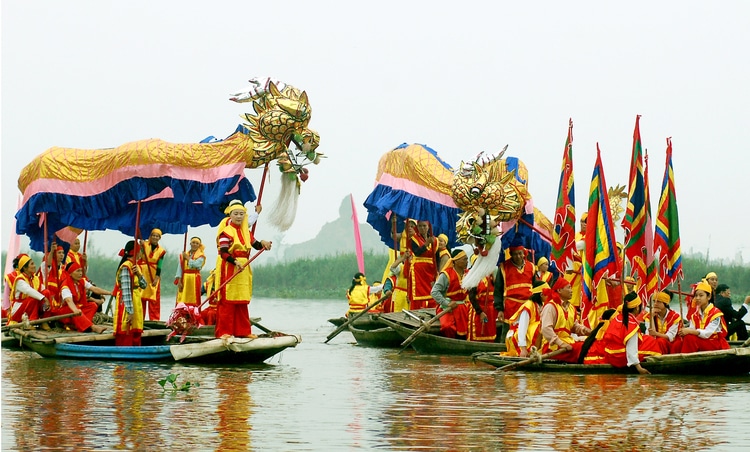 In this festival, you can also enjoy the great performances such as converging folk songs of many cities and provinces such as Tuyen Quang (Tuyên Quang), Ha Giang (Hà Giang), Bac Ninh (Bắc Ninh), Phu Tho (Phú Thọ), Hue (Huế) City, Nghe An (Nghệ An), Buon Ma Thuot (Buôn Ma Thuột), Can Tho (Cần Thơ), Thai Nguyen (Thái Nguyên), Nam Dinh (Nam Định), Ha Nam (Hà Nam), etc. Folk songs include "quan ho (quan họ)" singing, "xam (xẩm)" singing and nha nhac Hue (nhã nhạc Huế) as well as music of amateurs (don ca tai tu (đơn ca tài tử)), etc.
Furthermore, depending on the year the festival is held, it will have different themes and activities. For example, in 2018, because the Trang An Festival is in celebration of the 1050th anniversary of Dai Co Viet (Đại Cồ Việt) (968 – 2018), the festival was celebrated with the theme "Trang An Connected Heritage." During the festival, 1050 actors in various costumes reflecting the dynasties (ordinary people, soldiers, mandarin, and the king) parade along Trang An ancient street and Sao Khe River (Sông Sào Khê) to re-enact the battles of Dinh Bo Linh (Đinh Bộ Lĩnh). Visiting the festival, domestic and international tourists will be impressed by the beautiful land, and people living in Trang An – Ninh Binh.
Furthermore, Trang An Festival also has the participation of art troupes from countries in the ASEAN region to connect the relationship, exchange culture and enrich the activities.
Trang An Festival and Trang An Landscape Complex are going to become spiritual tourism and a must-stop destination for domestic and international tourists without doubts. I hope that this article gives you an overview of Trang An Festival and draw your interest to explore. Are you planning a journey to Vietnam and wondering where or which activities we can enjoy here? If yes, please do not hesitate to visit Vina.com.