Updated: 11/27/2019
Hue Festival is one of the most significant and marvelous biennial cultural events in Vietnam that is held to honor the valuable cultural heritage of Hue (Huế) city and spread Vietnam's national identity all over the world. Possessing a long history and offering fantastic performances from domestic and foreign artists, Hue Festival with the different distinctive festive theme each time always attracts millions of visitors to enjoy.
The Origin Of Hue Festival In Vietnam 
First organized in 1992, the festival's name was Vietnamese-French Festival. In 2000, it was renamed Hue Festival nowadays.
Promoting kinds of art, the festival draws the participation of 20 Vietnamese companies and 20 international companies. There are thousands of artists all over the world that come to Hue during that time to give 200 art performance shows in about 40 venues in Hue city. Most of them are performed every night at theaters at An Dinh Palace (Cung An Định), Citadel and outside theaters in towns and remote site of Thua Thien Hue (Thừa Thiên Huế). 
These art shows reflect the diversity of the nations and express the cultural and historical values of five continents thanks to artists from Vietnam, China, France, England, the US, Italia, Brazil, Korea, etc.
Also at the festival, fairs, competitions, exhibitions and scientific conferences take place. 
Enjoying the Hue Festival in Vietnam, you will have a chance to take part in many exciting activities.
Activities To Do At Hue Festival, Vietnam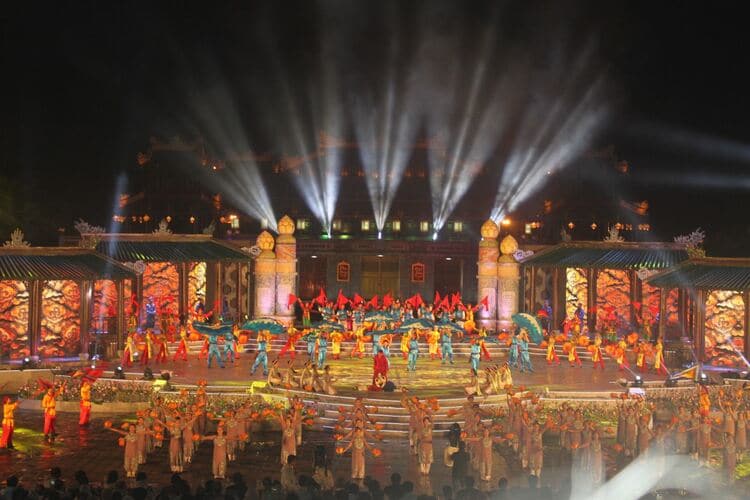 Hue Festival lasts six days with a fantastic array of shows, performances, cultural events and art exhibition. Here are the spectacular things you can do at the Hue Festival.
1. Ao Dai Fashion Show 
If you have a chance to enjoy Hue Festival, there is no way to forget the Ao Dai (Áo Dài) Fashion Show. In this show, several famous Vietnamese fashion designers express their creativity in remaking and renovating traditional Ao Dai of Vietnam. However, they remain the unique cultural features of Ao Dai like Hue folk art and Vietnamese silk.  That is the unique combination of modern and traditional style in Ao Dai Vietnam. 
2. Hue Citadel 
Hue Citadel is a place with a long Vietnamese history. As the ancient imperial city, Hue Citadel host spectacular concerts and performances taking place throughout the Festival. Therefore, enjoying the shows and performances in Hue Citadel is also one of the enjoyable things you can do at Hue Festival in Vietnam.
3. The Perfume River 
During the time of festival held, you should not forget to come to the Perfume River, especially after the sun sets. During the Hue nightlife, the river's scene becomes incredibly beautiful and vibrant with numerous artistic performances. 
You can hear the story of Hue's people in different periods of life, such as marriage, childhood, becoming mature. These stories reflect the life cycle of Hue people in tandem with Perfume River's flow. 
4. Hue Royal Inspiration 
Enjoying Hue Royal Inspiration performance is also one of the must-try things you can do at the Hue Festival. The show taking place inside the ancient citadel tells the Vietnamese history during the 19th century. 
It is depicted through a sequence of events in history. Furthermore, the performance also expresses five UNESCO heritages of Hue, including Royal Court music, Hue monuments, Imperial Archives of the Nguyen Dynasty, The Nguyen Dynasty woodblocks, and the Literature of Hue Royal Architecture. 
This story is told along with dramatic dance and music, which gives visitors and tourists a unique experience. 
5. The Opening And Ending Ceremonies 
If you explore Hue Festival, it is recommended to enjoy the opening and ending ceremonies that are held at the end of April and at the beginning of May. There are intense, exciting, and dynamic musical and dance performance in the opening ceremony while the cinematic closing ceremony has impressive concerts and fireworks displays. 
6. International Art Troupes 
Various international artists come to Hue to perform many anticipated performances during the festivals and exchange their cultural values with other people. 
In 2018, two shows that draw the interest of festival goers were traditional Colombian drumming from troupe Pambil and French beatbox from group Berywam.
7. Outdoor Displays 
To enjoy the festival performances and shows, of course, you have to pay for a ticket. However, if you are not in that mood, you can still immerse in the festive atmosphere by wandering on lovely streets.
You do not need to attend a ticketed show because there are many exciting activities you can enjoy outside such as dragon boat races, human chess games, and colorful displays. Many delicious food stalls decorate the city. 
8. Street Performances 
When wandering on Hue's streets, you can have opportunities to enjoy many entertainment street performances from musicians, dancers, and stilt-walkers. 
So, prepare your camera and take beautiful pictures of memorable performances during the Hue Festival.
9. Royal Banquets 
During the festival, you can join in some culinary feasts opening at 7:30 pm on the festival's days at the Duyet Thi Duong Royal Theatre (Nhà hát Duyệt Thị Đường) set within the Imperial Citadel. 
Having delicious royal meals inside the massive citadel, you can dress in royal clothing. That will be an excellent experience, giving you the feeling that you are a member of a royal dynasty family.
10. Life Art Installations
Hue Festival offers not only many outdoor art exhibits but also incredible art installations of famous artists.
Significant Achievements Of Hue Festival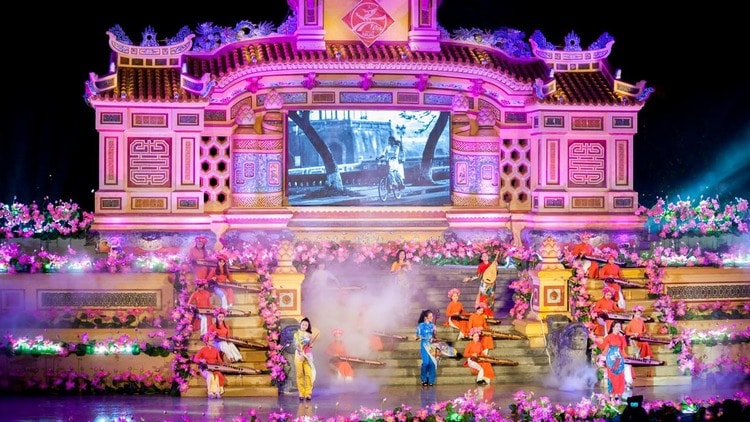 Over several times of preparing and organizing, the Hue Festival in Vietnam has won some notable achievements. For example, in 2010, it attracted about 70 art groups and 1906 musicians, performers, photographers, and painters from Vietnam and 27 foreign countries. Also in that year, the festival draws the attention of more than 3 million visitors taking part in festival activities. During the festival, the number of visitors and tourists going to Hue also increases sharply with 83,299 visitors to Hue relics.
In 2012, Hue Festival had the participation of more than 65 groups from Vietnam and international regions, attracting 180,000 tourists in which foreign visitors are more than 80,000. Also in 2012, the festival featured 189 performances and 60 sideline activities with the sold tickets of over 50,000. 
In 2014, there were 66 art units from 37 countries that gave the festival 2014 excellent atmosphere. 
With the theme of "710 years of Thuan Hoa, Phu Xuan, Thua Thien – Hue (710 Năm Thuận Hóa – Phú Xuân, Thừa Thiên – Huế) Cultural Heritage with Integration and Development", Hue Festival 2016 attracted the involvement of 36 units that include 23 international troupes from 17 countries around the world. That year's festival attracted about 600 reporters from about 100 media agencies in Vietnam and foreign countries. 
Hue Festival 2018 reflecting the theme "Cultural Heritage with Integration and Development, Hue – 1 place with five heritages" had the participation of over 15 Vietnamese art troupe and 24 international art troupes from 19 countries in the world.
Where To Stay 
As a beautiful city that develops tourism service, Hue has a full option of accommodations from romantic, luxurious art-deco mansions near the river, small and large hotels to family-run guesthouses. 
If you travel to Hue and explore Hue Festival, the recommended areas you can consider to play include:
  Le Loi (Lê Lợi) area. This area has beautiful sidewalks near the river and some colonial buildings 

  Pham Ngu Lao (Phạm Ngũ Lão)– Vo Thi Sau (Võ Thị Sáu)– Chu Van An (Chu Văn An) area. Staying here, you can visit the night market nearby. Furthermore, it is also near many

restaurants

 and café. 

  Lang Co Beach (Biển Lăng Cô), Phu Loc (Phú Lộc) District. Lang Co has some upscale resorts, spa retreats, and golf courses. 

  Thuan An Beach (Biển Thuận An), Thuan An town, Phu Vang (Phú Vang) District. This area has some accommodation options for someone who loves to stay by the beach. 
What To Eat 
If you have a chance to explore Hue Festival, do not miss some must-try dishes here. 
  Banh Khoai (Bánh Khoai): The fried pancake is made of rice flour with shrimp, pork, bean sprouts, and diced green onion. You can try Banh Khoai at Lac Thien (Lạc Thiên) restaurant or Hong Mai (Hồng Mai) restaurant on Dinh Tien Hoang (Đinh Tiên Hoàng) Street. 

  Bun Bo Hue (Bún Bò Huế): It is the rice vermicelli with beef cooked in Hue style. One of the best places selling delicious Bun Bo Hue is Tran Cao Van (Trần Cao Vân) on Hanoi (Hà Nội) street. 

  Banh beo – nam – loc (bánh bèo – nậm – lọc): These dishes are typical authentic food of Hue. You can try these delicious dishes at Hanh (Hạnh) on Pho Duc Chinh (Phó Đức Chinh) Street, Hang Me (Hàng Me) on Vo Thi Sau (Võ Thị Sáu) Street, Ba Do (Bà Đỏ) on Nguyen Binh Khiem ( Nguyễn Bỉnh Khiêm) Street, or Chi (Quán Bánh Chi) on Le Viet Luong (Lê Viết Lượng) Street. 
Hue Festival is gaining more and more popularity nowadays, and its success is a strong motivation to promote and develop economy-society and service tourism. I hope you will find useful information in this article about the Hue Festival travel tips. Any questions can be left in the comment section, and we will answer them as soon as we can. If you are interested in our article, please read more on Vina.com.
By Nga V