Updated: 08/18/2019
When you are planning a trip to Ninh Binh (Ninh Bình), which activities do you want to enjoy? Talking about Ninh Binh, most people may think of sightseeing, a visit to Hoa Lu (Hoa Lư) Ancient Capital, Trang An (Tràng An) boat tour and a visit to pagodas and temples in Ninh Binh. However, a journey to Ninh Binh will be less interesting and fun without exploring traditional festivals that help you understand the cultural and historic values and learn daily activities of residents in Ninh Binh. If you go to Nguyen Cong Tru Temple (Đền Nguyễn Công Trứ), do not forget to enjoy Nguyen Cong Tru Temple Festival, the biggest celebration of the residents in Kim Son (Kim Sơn) District, Ninh Binh.
Nguyen Cong Tru Temple Festival – The Biggest Celebration In Kim Son, Ninh Binh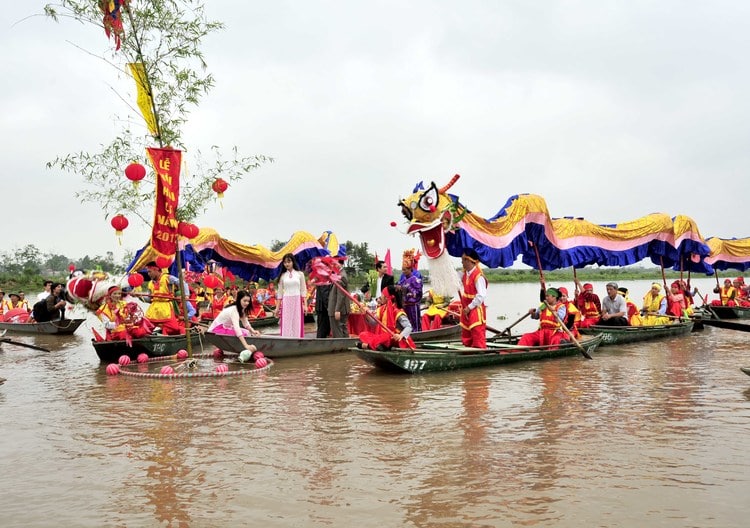 Nguyen Cong Tru Temple was developed to commemorate the merits and contributions of Nguyen Cong Tru in founding Kim Son District. The temple was built on the house of Nguyen Cong Tru where he lived for years. The important and special information is that the temple was still built when the founder of Kim Son District used to live here. This temple was used to worship him. There is a multi-religious area so that locals and tourists can come here to enjoy the festive atmosphere in this temple. Located along Highway 10, Phat Diem (Phát Diệm) Town, Quang Thien (Quang Thiện) Commune, Kim Son District, Ninh Binh, Nguyen Cong Tru Temple has attracted a large number of domestic and international tourists thanks to its historic and architectural values.
Visiting Nguyen Cong Tru Temple, nothing is greater than enjoying the Nguyen Cong Tru Temple Festival which is held from 14th November to 16th November of the lunar calendar to commemorate the day of Nguyen Cong Tru's death. This festival helps to memorize the merits and contribution of Nguyen Cong Tru who is not only a prominent poet but also an economist in Vietnam.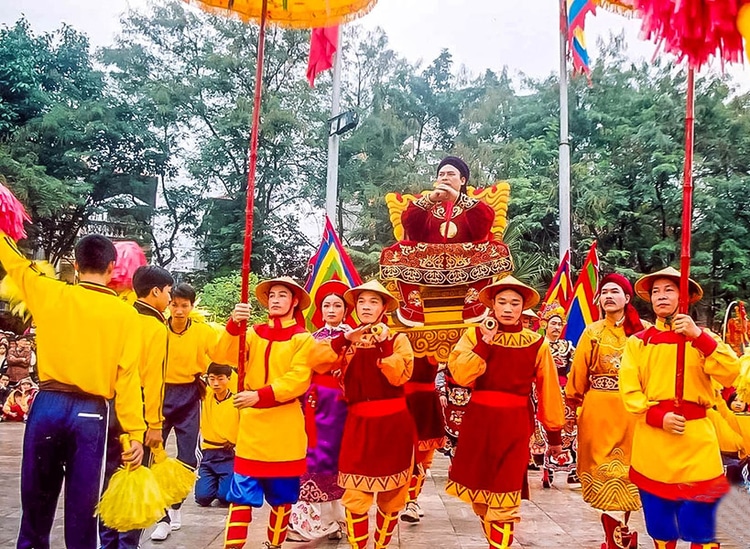 The festival is organized for three days. On the first day of the festival which is 13th November of the lunar calendar, villagers hold the opening ceremonies that come with the report to Nguyen Cong Tru about the success and achievements the locals have done during this year. The incense is burned and offered to Nguyen Cong Tru. That ceremony is called "yet cao (yết cáo)." On the next day – 14th November of the lunar calendar, they organize " chinh ky (chính kỵ)" worshipping. A procession is carried out with carved floats and beautiful flags to honor Nguyen Cong Tru. On the 15th there is worshipping "ta (tạ)." During the festival, locals dress in traditional old-fashioned clothes. The festival involves the participation of many villagers in Kim Son District. Furthermore, it also has the encouragement and involvement of both Christian and Buddhist.
Nguyen Cong Tru Festival is a great opportunity for tourists and visitors to enjoy the wonderful performance of singers with "phach (phách)" and "dan day (đàn dây)." They can also be astonished at "ca tru (ca trù)" performance, a traditional folk song of Vietnamese people.
Besides, during Temple Nguyen Cong Tru Festival, you can participate in many entertainment activities and folk games such as wrestling, Kylin dance, swimming competition, etc.
Nguyen Cong Tru Temple Festival in Ninh Binh is a special occasion when people not only in villagers of Kim Son District but also throughout the country gather to exchange culture, enjoy the festive atmosphere and know more about the history of Vietnam. I hope that the article about Nguyen Cong Tru Temple Festival will give you useful information about this unique traditional festival of Ninh Binh. If you have a chance to travel to Ninh Binh, do not forget to visit beautiful attractions and enjoy fun activities here. To prepare and know which activities and attractions you can come to Ninh Binh, you can visit Vina.com.