Updated: 11/27/2019
Sun World Ha Long Complex, an amusement park constructed by Sun Group, has attracted a lot of attention from locals and tourists across the world because of the innovative and exclusive features. Sun known as "Dragon Land" in Ha Long Bay (Vịnh Hạ Long), Sun World Ha Long Park is the largest recreational complex of Vietnam, the S-shaped country. A visit to Sun World Ha Long Park makes you feel like you are being lost in a mysterious world with beautiful landscapes and captivating attractions. Nothing is better than spending your time sightseeing, enjoying entertainment activities and hanging out with your family and friends, which is great medicine for restoring your energy.
The Best Time To Visit Sun World Ha Long Park 
To enjoy all the attractions and activities in Ha Long Park Vietnam, the weather should be nice without rain. Therefore, the best time for you to enjoy a great time in this park is the Spring (from March to May) or the Autumn (from September to November).
This is because the weather is pleasant, not too cold and not too hot. During this time especially in for months including April, May, September, and October, the average temperature is about 25°C and it has a lot of sunshine for you to take beautiful pictures and enjoy outdoor activities. Visiting Sun World Ha Long Park at this time will give you wonderful experiences without making you sweat too much.
However, the summer season is also a good time for you to enjoy activities and games in the Sun World Ha Long Park with your family because it is the time students take a long holiday.
Keep in mind to avoid the winter because it is a bit uncomfortable because of the coldness and soft raining.
Sun World Ha Long Park – A Complex Of International Amusement Park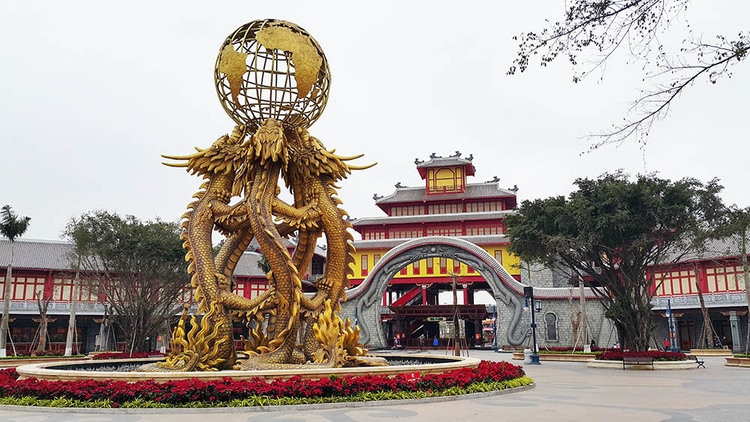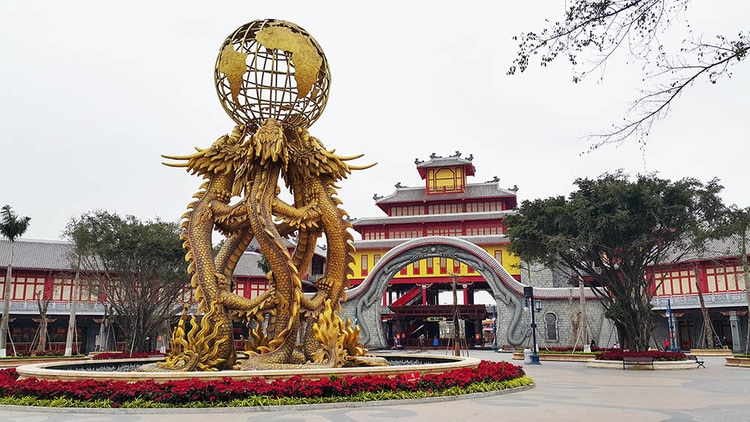 Address: Ha Long (Hạ Long) Street, Bai Chay (Bãi Cháy) Ward, Ha Long City, Quang Ninh (Quảng Ninh), Vietnam
Opening hours: Monday and Friday (3 pm – 10:30 pm), Saturday, Sunday and Holidays (8 am – 11 am, 3 pm – 10:30 pm)
Covering the area of 214 hectares, Sun World Ha Long Park located on Ha Long Bay is an international class amusement complex of Sun Group. Visiting Sun World Halong, you will discover the best entertainment and beautiful landscapes of Ha Long Bay.
This park is divided into the two major areas including Mystic Mountain Complex and the Beach Amusement Complex. These two areas are connected by a stunning 2 km cable car line crossing the sea. The Beach Amusement Complex located on Bai Chay Beach features many thrilling games while in the Mystic Mountain Complex, there is the captivating and mysterious world for tourist to explore. Enjoying your time in the Mountain Complex, you should visit its highlights such as Sun Wheel, Queen Cable Carr, Zen Garden, and Fun Park. Furthermore, if you are interested in adventurous games and water sports, you can have enjoyable experiences in Dragon Park and Typhoon Park. If you are not in a tight budget, the luxury Sun World Halong Beach is a wonderful place to go.
Constructed by Sun Group Corporation, Sun World Ha Long  Park is said to own the leading quality and best facilities similar to other resorts and amusement properties of Sun Group like Asia Park, Ba Na Hills, or Fansipan Legend. We can say that this high-class park is contributing to the Halong Bay tourism development and growth.
Buying tickets for each zone is required if you want to enjoy these amusement areas. The park is quite crowded; however, there are always tickets available for you. The prices for these tickets are affordable, so do not worry about your budget.
The Best Things To Do And Enjoy In Sun World Ha Long Park 
Beach Entertainment Complex 
1. Dragon Park 
Located on the stunning and picturesque Bai Chay Beach, this entertainment zone features a large area and many interesting games such as Dragon Park.
If you like thrilling and adventuring experience, Dragon Park with plenty of adventure games will make you satisfied. Let's enjoy the wonderful and exciting moments with Tru Phi Long Express which is the roller coaster in Vietnam. Furthermore, Pirate Ship, and Follow The Dragon Footprint are also the stunning games you should try out.
If you go to the park with your family, the highly recommended attractive games are a Magic umbrella, Mystery Journey, Reptile Army, Cyclone Dance.
You can also find a number of restaurants that serve many delicious dishes like Pizza Temple, The Dragon's Food Temple, Lotus Kiosk, etc.
Here is the ticket price if you come to Dragon Park:
  Adult: 699,000 VND

  Children with a height under 0.9 m: Free

  Children with the height from 0.9 m – 1.3 m: 255,000 VND

  The elderly aged 65 years: 255,000 VND
2. Typhoon Water Park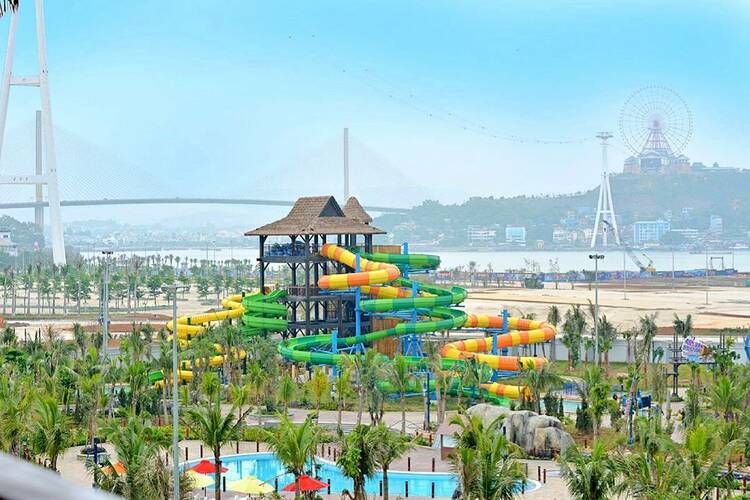 The typhoon water park is also one of the special things in this complex you should not miss when visiting here. This water park is characterized as "impressive and unique. Being in this park makes you feel like you are being lost in a world of water sports. This park with an area of 20 hectares is divided into three special game zones for kids, family and adventurous people.
If you are looking for the challenge or fun, its underwater game system and aquatic sports will make you satisfied. The most popular games are Tropical Storm, Swirling Rhinoceros, and Riding the Dragon Falls
If you are fans of water games, you will find many energizing activities. When you feel hungry, you can eat the great food from the surrounding restaurants like Long's Pool Bar, Typhoon Grill or Pizza Cove.
Furthermore, if you have time, please do not miss the Sea Village where you can learn about the cultural features of Ha Long Bay and enjoy a walk along the coast with fine white sand and clear blue water.
Queen Cable Car System 
After enjoying the wonderful blue sea, golden sunshine and amazing water sports activities, you should go on the queen cable car journey that connects two major areas of the complex, taking you to Ba Deo (Ba Đèo) recreational Complex.
The journey linking Ocean Station and the Sun Station is pleasant and wonderful as sitting on the two-way cable system featuring two-story cabin and two Guinness records, you can enjoy the leisurely time sightseeing and taking beautiful pictures.
Here are the tickets to for queen cable care system:
  Adults: 300,000 VND

  Children with a height under 1m: Free

  Children with the height from 1m to 1m3: 200,000 VND
 

Ba Deo Mystic Mountain Complex 
1. Mystic Castle 
Mystic Castle located on the foot of the Sun Station. It is an impressive building with a Japanese building style. These following attractions of Mystic Castle are worth a visit:
The first one is Wax Statue Galleries – Meet The Idols. Visiting here, you will have a great opportunity to meet and take pictures with famous celebrities. Each wax statue made by the efforts and talent of famous artisans who have to work hard over 90 days is the perfect copy of the famous celebrities in the world like Angelina Jolie, Brad Pitt, Jackie Chan, etc. Taking pictures with your order will give you the most wonderful feelings and experiences. The fare for tourists to come to this zone is about 100,000 VND for adults and 50,000 VND for children with the height from 1 m to 1.3 m.
KIDOLAND children's play area: children will definitely be interested in many interesting motivative games like ball houses, sliding gates, etc.
2. Zen Garden 
Japanese Garden named Zen Garden is surrounded by Mystic Castle. The garden features the sophisticated and delicate design made by Japanese professionals and artisans. Zen Garden is an ideal destination for someone who loves photography and enjoy taking pictures.
3. Sun Wheel 
Located on the top of Ba Deo, the Sun Wheel at 215 meters above sea level will give you the highest tour in the world and here you will be able to see the panoramic view of Ha Long Bay. Nothing is greater than sitting on the wheel and then enjoy the beautiful and magical view of Ha Long, right?
It is recommended enjoying your time in the Sun Wheel at night when ten thousands of lights lit up and the Sun Wheel will look like a shining and brilliant sun in the night of the city.
Where To Eat When You Visit Sun World Halong Park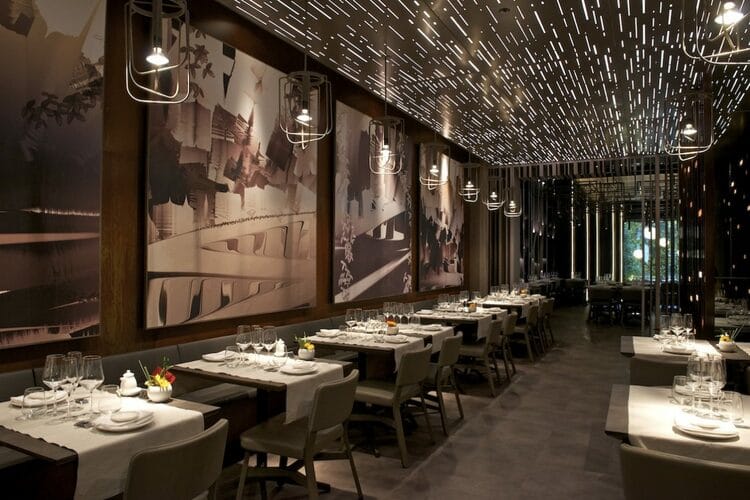 You do not need to bring food with you when you go to Sun World Ha Long Park as there are a number of restaurants and food stores throughout the play areas that are always ready to serve visitors.
If you want to enjoy lunch or dinner, the best recommendation would be Taiyo restaurant at Ba Deo Hill serving a la carte menu or set menus and Dragon's Food Temple at Dragon Park where you can enjoy the buffet with affordable price. Besides, the Pizza Temple is also a good choice when you feel hungry and want to eat fast food and pizza combos.
Furthermore, there are more other eating options you can find in this complex.
Accommodation Nearby 
This Sun World Complex is large and has a lot of activities and games to explore; so people often spend more than one day playing and relaxing in this park. But the problem is where we can stay inside or nearby the park.
Do not worry because in the Bai Chay tourist area, there are a number of motels and hotels from 3 star one to the budget you can easily look for.
On the holidays or weekends, the parks and hotels are easily full; therefore, it is a great idea for you to book the room in advance to avoid the running out of.
Extra Notes Before You Enjoy The Trip To Sun World Ha Long Park Vietnam 
Here are some useful tips and techniques you should remember before the trip:
  Drink and food here are available and reasonable. So, you do not need to bring drinks or food with you.

  The Sun World Ha Long Park has a very large parking lot. You can park your motorbike and then use the tram service to reach the park gate with the cost of about 5,000 VND per time.

  The park has a wide area; therefore, it is recommended wearing your sneakers, slip-ons, soft heeled shoes or anything that make you comfortable during the journey.

  If you want to buy souvenirs, you can shop at Nhat Anh and Da Cham souvenir shops which provide hundreds of various product designs and models. They are the ideal places for you to find interesting and special gifts for your friends and family.
See more:
I can say that the trip to Halong Bay in particular and Vietnam, in general, won't complete without your enjoyable experience in the Sun World Ha Long Park. The travel to this international high quality impressive spacious park will give you a lot of excitements and restore your energy. You have useful information after reading this article, do you? For any questions you want to ask, you can leave them in the comment section and we will answer them as soon as we can. If you want to visit Vietnam but do not know the best attractions and things to do in Vietnam, you should visit Vina.com.