Updated: 08/21/2019
Ninh Binh (Ninh Bình) is a great destination that has gained popularity nowadays with a large number of tourists and visitors coming each year. If you are planning a visit to Ninh Binh City, you may hear about the Bai Dinh Pagoda (Chùa Bái Đính) and the special traditional festival held here. In addition to sightseeing, a visit to Bai Dinh Pagoda at the time of the festival, tourists can enjoy the festive atmosphere and take part in wonderful cultural activities here. Every year, in spring, thousands of tourists and visitors have rushed to the ancient capital of Hoa Lu (Hoa Lư) to join in Bai Dinh Pagoda Festival.
About Bai Dinh Pagoda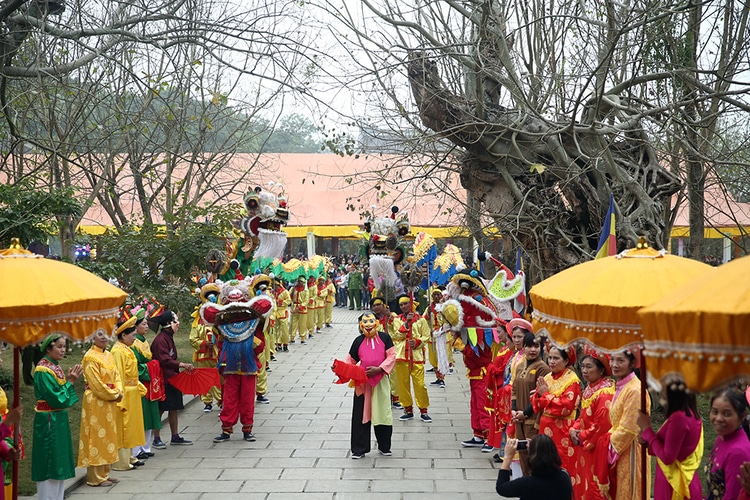 Bai Dinh Pagoda set within on Bai Dinh Mountain, Gia Sinh, Ninh Binh, Vietnam is a complex of pagoda including an old temple and a new one built in 2003.
Situated in the ancient relic Hoa Lu, Bai Dinh Pagoda attracts a lot of tourists not only because of  the historical and cultural values but also many impressive records it has. For example, according to the Vietnam Record Center, Bai Dinh Pagoda is the largest pagoda of Vietnam with an area of 107 hectares. It also owns the largest bronze Buddha among the countries in Southeast Asia with 100 ton Buddha Tathagata Statue and three Tam The (Tam Thế) statues with 50 tons per statue. It also has 500 largest Arhat statues of green stone with 2m high. Furthermore, Bai Dinh Pagoda is also known for the largest well of Vietnam and the largest Bodhi trees of Vietnam with 100 bodhi trees originating from India.
About Bai Dinh Pagoda Festival – The Unique Traditional Festival In Ninh Binh 
Celebrated from the first day of the Lunar New Year, Bai Dinh Pagoda Festival in Ninh Binh lasts from the sixth day of the Lunar New Year to the end of the third lunar month. In the past, the festival was held only for one week but in recent years, thanks to the high attention of national Government and local authorities, the festival lasts throughout the whole spring with the hope of helping tourists and visitors enjoy the great time and festive atmosphere of this festival and beautiful scenery in Ninh Binh.
This festival is organized to worship the Gods and Buddha and commemorate the important historical events associated with heroes such as Ding Bo Linh (Đinh Bộ Lĩnh), Quang Trung (Quang Trung). It is a reason why the Bai Dinh Pagoda Festival is considered as the solemn traditional festival in Ninh Binh.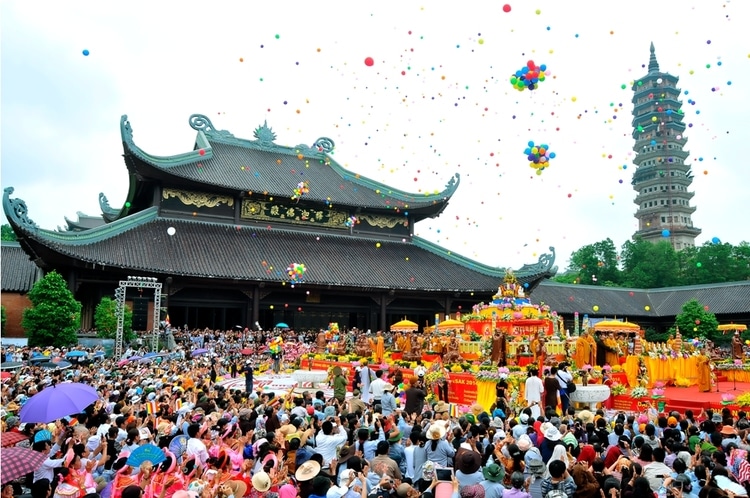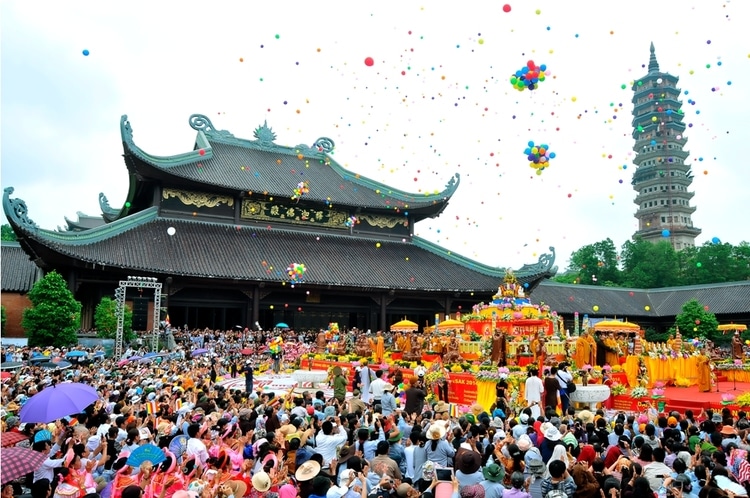 The festival of Bai Dinh Pagoda has two parts including ceremonies and entertainment activities. During this festival, there are ceremonies of offering incense to Buddha, commemorating the holy Nguyen Minh Khong (Nguyễn Minh không), worshipping Cao Son (Cao Sơn) and the Thanh Mau Thuong Ngan. At the beginning of the festival, there is a palanquin procession of Cao Son, Thanh Mau Thuong Ngan (Thánh Mẫu Thượng Ngàn), and the Holy Nguyen (Nguyễn) to the new temple from the ancient one.  The ceremonies of Bai Dinh Pagoda Festival express the religious belief system of Vietnamese peoples including Vietnamese folk religion, Buddhism, Taoism, and Confucianism.  Visiting the Bai Dinh Pagoda Festival, you can pray for happiness and prosperity.
The next notable interesting part of Bai Dinh Pagoda Festival is the entertainment activities include visiting the cave, folk games, enjoy impressive performances of Cheo (chèo) singing, Tru (trù) singing and Xam (xẩm) singing. There are theatrical performances with the replay of sacrificial ceremonies of Dinh Tien Hoang (Đinh Tiên Hoàng) and King Quan Trung.
Furthermore, tourists and visitors can enjoy the enjoyable activities such as chess playing, wrestling, chicken kicking, rice cooking, tug of war.
As a traditional Vietnamese festival, tourism Bai Dinh Pagoda Festival is recognized as the cultural heritage that reflects the cultural and spiritual values. Traveling to Ninh Binh, do not forget to participate in this festival which can give you exciting experiences. I hope that you will find useful information in this article. Any questions can be left in the comment section, and we will answer them as soon as we can. To know more Vietnamese traditional festivals, please visit Vina.com.