Updated: 08/18/2019
Mui Ne – Phan Thiet (Mũi Né – Phan Thiết) attracts a large number of domestic and international tourists because of the fine sand and pristine beaches. If you have a chance to travel to Mui Ne – Phan Thiet, do not miss Forgotten Land, a stunning Sand Sculpture Park situated in Phan Thiet. Since the opening, this sand sculpture park is becoming increasingly popular around the world, including in developed countries such as Europe, America, and Asia, as well.
Where Is The Forgotten Land Sand Sculpture Park?
The Forgotten Land Sand Sculpture Park is near the University of Phan Thiet, on Nguyen Thong (Nguyễn Thông) Street, Phu Hai (Phú Hải) Ward, Phan Thiet City, Binh Thuan (Bình Thuận) Province.
When Can You Visit The Forgotten Land Sand Sculpture Park?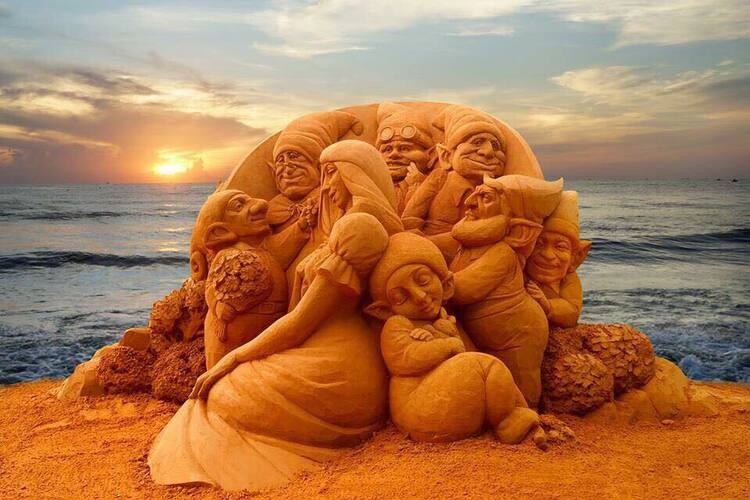 The great time to visit Mui Ne – Phan Thiet in general and the Forgotten Land Sculpture Park, in particular, are the months from August to April of the following year. In these months, the weather is pleasant, and Mui Ne will look amazing with blue water, yellow sand and clear sky. Visiting the Phan Thiet Sand Sculpture Park during this time is perfect for sightseeing and taking beautiful photos. This park opens for visitors and tourists from 7.30 am to 6 pm from Monday to Sunday.
Special Things About The Forgotten Land Sand Sculpture Park 
At the beginning of 2017, to prepare for the Sand Sculpture Art Festival held in Phan Thiet City, three international sand artists designed and carved the first sand sculpture placed in Sports Training Center Branch No.2, Nguyen Thong Street, Phu Hai Ward.
Sand sculpture is a stunning impressive art that becomes more and more popular around the world. The sand sculpture art festivals are held in many developed countries including Japan, Australia, the USA and Denmark that have appealed the attention of visitors, specialists and local people. Thanks to the creativity and skillful hands of the professional sculpture artists, the impressive and unique sand sculptures are made from the formless dunes.
Phan Thiet City is a chosen place where the first event of introducing impressive sand sculptures in Vietnam took place. These stunning and impressive artworks were exhibited in Forgotten Land Sand Sculpture Park, and this park was officially opened to visitors and tourists on 29th January 2017. The park was built because of the idea of delivering a new kind of art to Vietnam. In the park, there are 17 sand artworks designed and carved by professional artists coming from 12 countries including Brazil, Belgium, Czech Republic, Canada, Japan, Italy, Netherlands, Lithuania, Russia, the USA, and Singapore.
As the paradise of sand air sculptures, this park has some impressive masterpieces including a rooster, castle, tale characters, a huge dragon, etc. These sculpture's sizes are about 5 meters wide, 20 meters long and 3.5 meters tall.
Made of natural materials, these sculptures are firm, awesome, solid and stable thanks to the extraordinary sculptor's techniques. Therefore, these sand statues stay in place and keep their form in spite of strong winds.
The park is especially very crowded during the festival when people around the world come to admire these spectacular works made of sand and enjoy many interesting activities.
Where To Eat Near Sand Sculpture Park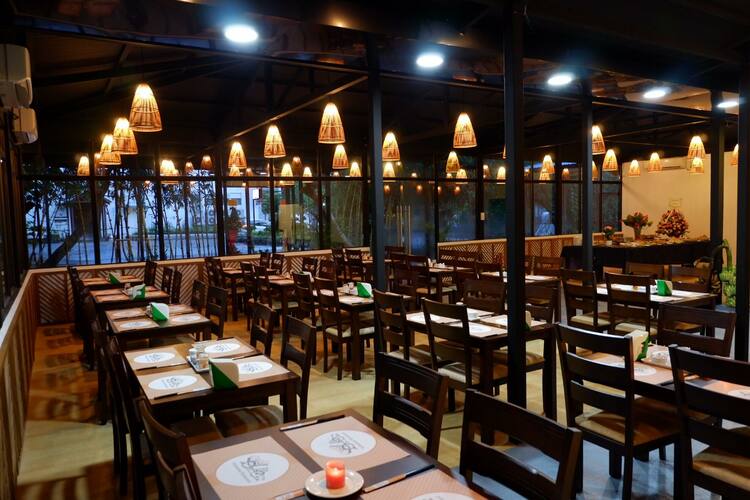 After visiting the Forgotten Land Sand Sculpture Park, you can enjoy the meals at the nearby restaurants such as L'Oceane Restaurant (0.6 km far away from Forgotten Land Sand Sculpture Park), Mui Ne Deli Restaurant (0.6km far away from the park), Cyclo Restaurant (0.6 km), The Terrace Restaurant (2.2 km), etc.
Where To Stay Near Sand Sculpture Park 
Phan Thiet is developing tourism services; therefore, it is easy for you to find the best options for accommodations when you travel to Phan Thiet. Near Forgotten Land Sand Sculpture Park, you can choose the hotels and resorts like Bamboo Village Beach Resort & Spa, The Cliff Resort & Residences, Victoria Phan Thiet Beach Resort & Spa, Anantara Mui Ne Resort, etc which offer you the luxury services and high quality. If you are in a tight budget, the best choice would be Friendly Hotel, Palmira Beach Resort & Spa, Swiss Village Resort & Spa, 1001 Nights Hotel, etc.
These are interesting and important facts associated with the sand sculpture art and the charming of the Forgotten Land Sand Sculpture Park. A visit to this park will give you an incredibly memorable experience. So, you do not miss the trip. I hope that this article gave you useful information. We are willing to answer the questions you leave in the comment section. On Vina.com, there are more other interesting articles that would be helpful if you are planning a trip to Vietnam and attractions in Vietnam. If you are interested in our articles and information, you should feel free to click on my website.