About 120 km from Ho Chi Minh City (Thành phố Hồ Chí Minh), Ho Tram Beach (Biển Hồ Tràm) is one of the most popular places to visit in Vung Tau (Vũng Tàu). Coming to this beach, you will have fun with swimming, walking along sandy beaches, enjoying the cool air, and listening to the waves at night, and taking part in many exciting entertainment activities. Read on now on Vina.com!
I. General Information About Ho Tram Beach
Ho Tram Beach is a long beach in the middle of Long Hai and Binh Chau. It is located in Xuyen Moc District (Huyện Xuyên Mộc), Ba Ria – Vung Tau Province (Tỉnh Bà Rịa – Vũng Tàu).
The distance from Vung Tau City to Ho Tram beach is about 30km. Owing to a clear blue beach, fine sand and quiet space, tours to Ho Tram is the perfect choice for short vacations. More interesting, Ho Tram Beach has been recognized as the most beautiful and pristine beaches in the world by a famous American TV channel recently.
Tourism activities in the Ho Tram beach are increasingly developing. That is why there are many hotels and resorts built around Ho Tram area in order to meet the needs of tourists.
II. What Is The Best Time To Visit Ho Tram Beach?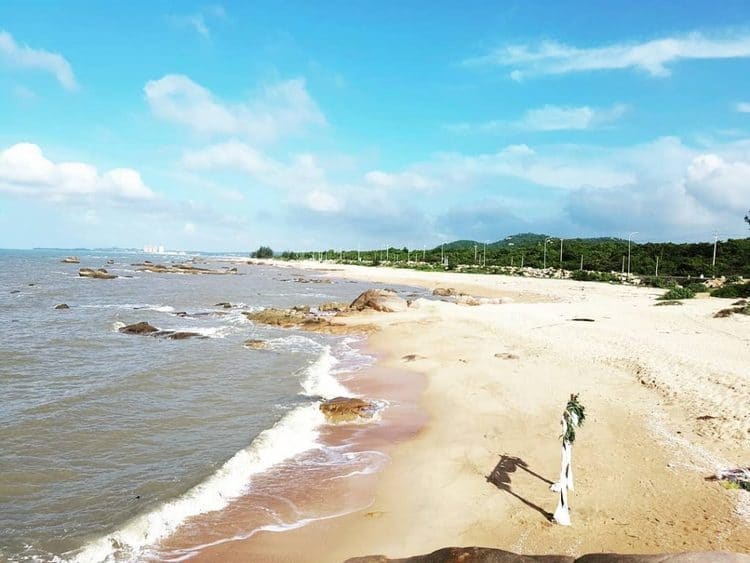 Vung Tau is home to Ho Tram beach. This city has a tropical monsoon climate which is divided into two distinct seasons: the rainy season (from May to October) and dry season (from November to April of the following year). However, thanks to the sea breeze, the weather in Ho Tram is cool all year round, making it an ideal destination for tourists to visit at any time. Each season brings its own beauty for tourists to explore, but to sum up, the best time to visit Ho Tram is June and July. These months are most suitable for swimming because of the beautiful sea, cool seawater, and favorable waves.
Nonetheless, the period from June to late July is the peak tourist season, so if you want to avoid the noise, do not come here during these months. Furthermore, as the number of visitors increases day by day, avoid coming here on weekends to help save money and stay away from the nose.
III. How To Go To Ho Tram Beach?
From HCMC, there are many ways to go to Ho Tram, in which the most popular are motorbikes, coaches, and hydrofoils:
1. Travel By Motorbike
If you choose to travel by motorbike, you only need to follow the following directions: Start at National Highway 51, follow the National Highway 55 to head to Xuyen Moc and then Ba To market (chợ Bà Tô) in Phuoc Buu Town (Thị trấn Phước Bửu), Xuyen Moc. Afterwards, you will see a signpost indicating how to get to the Ho Tram Beach. Just follow the instructions, you will easily reach this destination.
For many people, the road to Ho Tram Beach is a quite special way, leaving many unforgettable experiences for visitors when crossing through. The quiet road from Vung Tau to Ho Tram stretches about 30km. Along this road, there are cherry blossoms always blooming, making the road more romantic.
2. Travel By Coaches
At the Mien Dong Bus Station (Bến Xe Miền Đông), you will see a lot of coaches to Vung Tau City with a fare of 100.000VND / ticket. You should contact the coach's hotline in advance to make a reservation. After arriving in Vung Tau, take a taxi to reach Ho Tram Beach (about 20km), traveling time is estimated of about 30 minutes.
3. Travel By Hydrofoils
It is a high-speed ship with a fare of 200.000VND – 250.000VND / adult and 100.000VND / child, and a travel time of about 90 minutes. You can buy a ticket at the port or make a reservation in advance and also book a return ticket. There are two piers where you can find the ship to Ho Tram:
Bach Dang Pier (Cảng Bạch Đằng) in 1A Ham Nghi (Hàm Nghi), District 1, Ho Chi Minh City – Tel: (08) 3821.8061 or 3821.5609.

Cau Da Pier (Cảng Cầu Đá) at 120 Ha Long (Hạ Long), Vung Tau City – Tel: (064) 3810.202 – 3510.720.
IV. Where To Stay In Ho Tram Beach?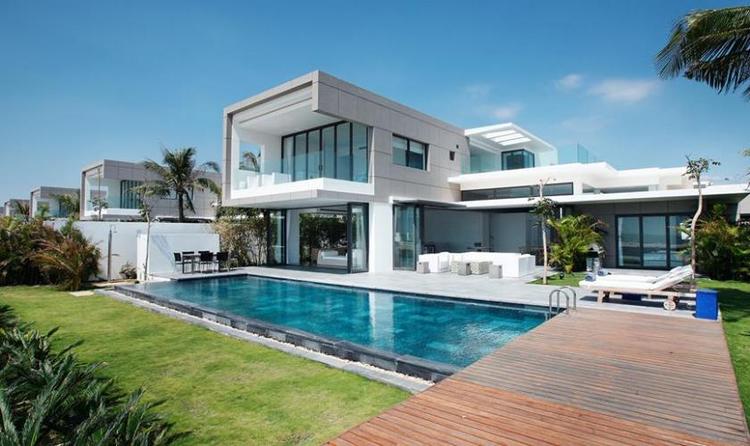 In Ho Tram Beach, you have many choices when looking for accommodation. If you travel for the purpose of relaxation, you should choose the luxury hotels or ideal resorts to enjoy the best moments in Ho Tram. But if you have a limited budget, you can choose budget hotels or motels which are also great and fully equipped.
Here are some hotels and resorts in Ho Tram that you can refer to:
Tan Duy Hotel at 208, 27/4 Street, Phuoc Buu, Xuyen Moc, Vung Tau: the lowest room price is 15.40USD.

Loc An Resort in Loc An (Lộc An), Dat Do (Đất Đỏ), Vung Tau: the lowest room price is 32.93USD.

River Ray Ecotourism Resort in Ho Tram, Xuyen Moc, Vung Tau: the lowest room price is 33.84USD.

Ho Tram Beach Resort & Spa in Phuoc Thuan, Xuyen Moc, Vung Tau: the lowest room price is 179.90USD.

Carmelina Beach Resort in Ho Tram Beach, Vung Tau: the lowest room price is 131.35USD.

The Grand Ho Tram Strip Resort in Phuoc Thuan, Xuyen Moc, Vung Tau: the lowest room price is 129.82USD.

Viet Tram Ho Tram Resort in Ho Tram Beach, Vung Tau: the lowest room price is 93.01USD.
V. What Are Attractions In Ho Tram Beach?
Ho Tram Beach is a beautiful place that will surely attract you at first sight. It is a continuation between Long Hai Sea and Binh Thuan. Coming to this beach, in addition to being fun and swimming under the blue sea, visitors also have the opportunity to see the casuarinas and acacia trees. All of them create a sense of peace and relaxation, helping you forget all the anxiety and fatigue.
Many visitors commented that Ho Tram Beach has beautiful scenic beauty with attractive beaches, clear blue water and fine sand stretching in the golden sunshine. How interesting it is!
Ho Tram Beach is also attractive with abundant seafood from fishing boats and nets. Here, you can visit the simple beachfront hut, relax and enjoy all kinds of fresh seafood such as shrimp, squid, crab, clams, shellfish, and sea snails.
Because Ho Tram Beach is only 120km from Ho Chi Minh City, it is very suitable for daytime swimming if you are a busy person, but it is best to stay here overnight to immerse yourself in the quiet nature here. This experience will bring you a lot of fun.
After having fun in the Ho Tram Beach, if you still have the time, do not miss the Ho Coc Beach which is only 10km from the Ho Tram Beach. Being a recently exploited beach, it still retains the pristine beauty with blue water and sandy beach.
Ho Coc Beach is more than 500m long with the sea on one side and a forest and poplar trees on the other side, giving a sense of serenity. This beach has Ho Coc tourist area opening for all visitors to visit and swim throughout the day.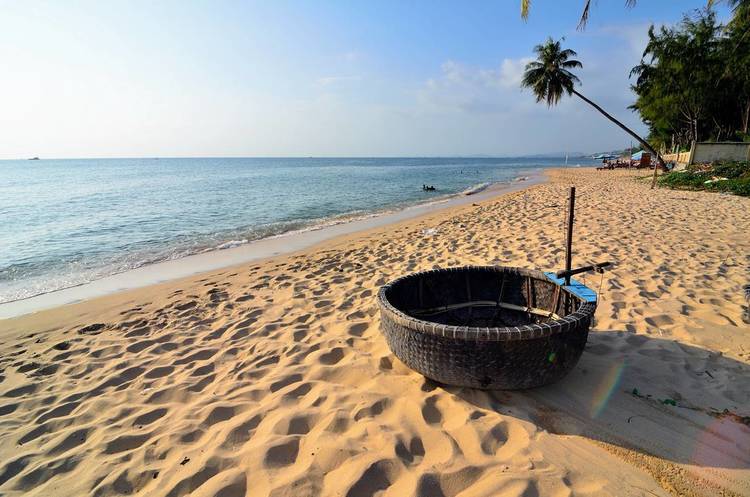 VI. What To Eat In Ho Tram Beach?
During the trip in Ho Tram, you should not miss tasting some delicious seafood dishes such as fresh shrimp, fish, crab, and squid caught in the day.
The Ho Tram seafood market is located on the beach, so it is easy to be found. Here, you can choose a lot of fresh seafood. You can buy ready-to-eat foods or buy fresh seafood and ask the seller to process it (processing price is from 30.000VND to 50.000VND).
Some famous seafood restaurants in Ho Tram that you should try:
Phuong Trang Seafood Restaurant (Nhà hàng Phương Trang) at 11/13 An Hoa Hamlet (Ấp An Hòa), Loc An Commune, Dat Do District.

Hai Phung Seafood Restaurant (Nhà hàng Hai Phụng) at 6/65 Phuoc Hiep Ward (Phường Phước Hiệp), Ba Ria Town.

Rice Spaghetti Long Huong Restaurant (Nhà hàng Long Hương) at Ba Ria – Vung Tau Junction.

An Nhut Restaurant (Nhà hàng An Nhứt) on National Highway 55, Long Dat District (Huyện Long Đất), Ba Ria – Vung Tau.
VII. Some Tips for Ho Tram Beach Arrival
If you visit Ho Tram Beach during the peak tourist season, you should book a hotel room in advance.

The Ho Tram Beach has reefs so you can swim within the allowed area only.

Bring sunscreen and a wide-brimmed hat to avoid sun exposure.

Do not forget to bring some medicine for headaches and abdominal pain. You may have headaches because of sunstroke or stomach aches because of eating a lot of seafood.
Read more:
Surely after sharing, you are feeling very excited about the trip to Ho Tram Beach. Beautiful scenery and friendly people here always welcome you, so come to this beach for your next vacation. Finally, if you still have questions about Ho Tram Beach, leave a comment below. We will respond as soon as possible.
By Van Tran