Updated: 11/19/2019
One of Nha Trang attractions – Hon Tam Island (Hòn Tằm) (also known as Thuy Kim Son (Thủy Kim Sơn)) is one of the largest and most beautiful islands out of 19 large and small islands off the coast of Nha Trang, Vietnam (Việt Nam). This island is located in the southeast of the city, about 7km from the city center. Having an area of 110 ha, Hon Tam Island is likely a silkworm which is lying in the blue sea waiting for tourists to visit. This island is an ideal destination for people who love ecotourism because its beauty is still pristine and pure, not to mention its terrain located in the clear blue sea with sun and wind all year round.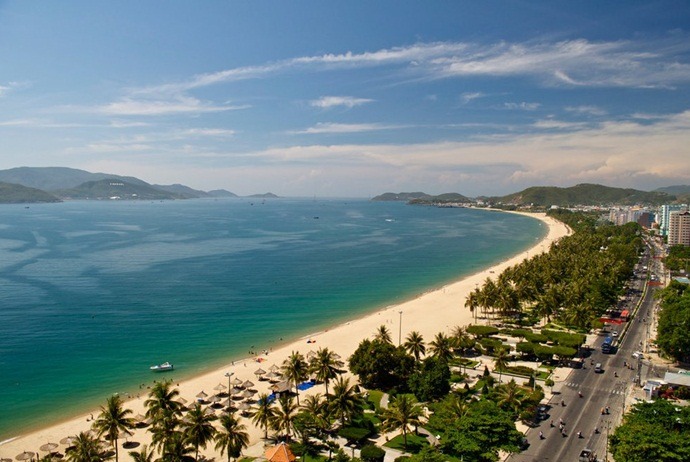 Source: theshutterwhale
Actually, being a one of famous tourist destinations in Nha Trang, Hon Tam has all potentials of a class resort with deep blue sea harmonized with the golden sand and green tropical forest. All of them create a picture with a lot of vibrant colors.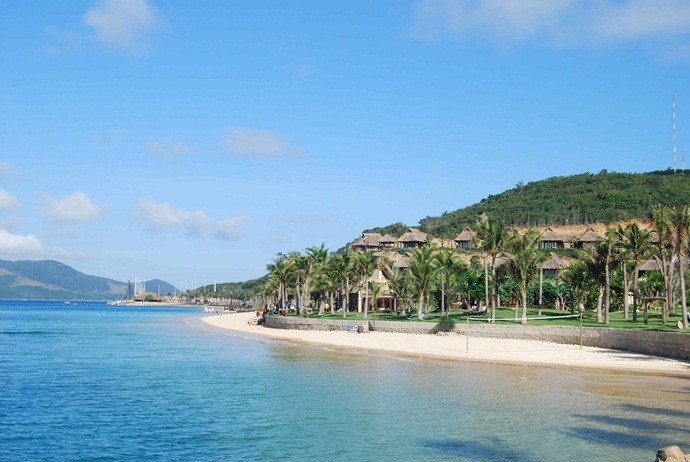 Source: baodongnai
To get there, you have to move through Nha Trang pier by canoes or boats (this pier is also very near the location of Vinpearl cable car ticket, from here to Vinpearl Land Nha Trang is also very convenient).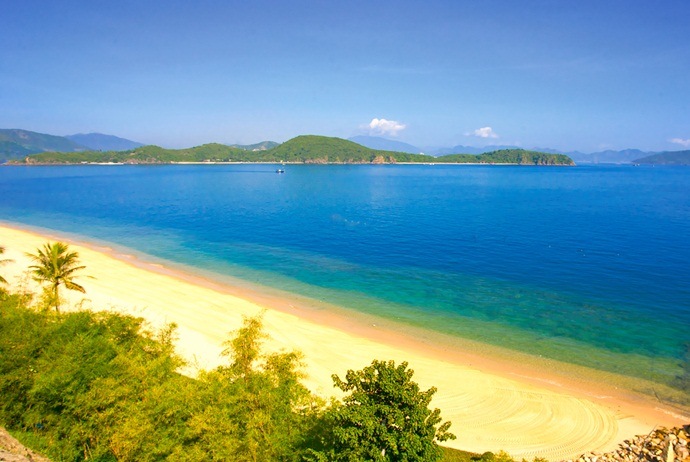 Source: citypassguide
Want to travel to Hon Tam Island in Nha Trang for a day? Let's start planning a trip to this beautiful island. In this article, we will share with you helpful tips on travelling to Hon Tam Island. Hope the following useful information will help your trip.
What Is The Best Time To Visit Hon Tam Island?
An advantage of Hon Tam is its mild climate all year round, which is very convenient for tourism. The annual average temperature of this island is about 26.3 ºC. In Hon Tam Island, the winter is not as too cold and long as that in the northern area of Vietnam. The summer in Hon Tam usually lasts longer in compared with other areas with the highest temperature in August of about 29.3 ºC, and the lowest in February of about 23.9 ºC.
Because the temperature in Hon Tam is not too high so you can travel to this island regardless of season or month of the year. However, the best time to visit Hon Tam Island is from February to September since the weather here is the most beautiful during this time.
How To Get To Hon Tam Island?
Source: simflight
If you depart from Cam Ranh, you have to move to Nha Trang to be able to get to Hon Tam Island. There are many options for you to go to Nha Trang. Here are some of our tips:
Take a taxi from Cam Ranh airport to Nha Trang which costs about 300-350.000VND. You can compare the prices of different taxi companies at the airport to get the most economical price. It takes about 40 minutes to complete a distance of about 35km from Cam Ranh airport to Nha Trang.
If you start from the city center, there are many different ways to move, such as buses, taxis, or motorbikes:
If you take a bus, you can take the No.4 bus to get to the pier quickly (the terminals of this route are located in the roads of the city center, which are very easy and convenient for moving).

If you take a taxi or motorbike, you can go along Tran Phu (Trần Phú) road to the end of the road. The southernmost part of the city is Hon Tam pier. It takes 15 minutes to complete a distance of about 7.2km.
Then, you can take the boat to Hon Tam Island at a cost of about 20,000VND / per person. If traveling by high-speed canoes, the cost is 200.000VND / person and time will be 4 times faster than moving by the boat. There are about 20 round-trips with a maximum of 25 passengers/trip/20 minutes.
You should go early for about 10-15 minutes before the canoe runs:
Time of boat / canoe from the pier to Hon Tam Island: 8:00 – 9:00 – 10:00 – 11:00 – 12:00 – 13:00 – 14:00 – 15:00 – 16:00.

Time of ship / canoe from Hon Tam Island to mainland: 8:20 – 9:20 – 10:20 – 11:20 – 12:20 – 13:20 – 14:20 – 15:20 – 16:20.
What Is The Detailed Ticket Price In Hon Tam Island?
Fare package tour to Hon Tam Island for adults: 585.000d / adult.
Fare package tour Hon Tam Island for children: 410.000d / child.
Children under 1m – 1.3m: free.
The cost of visiting Hon Tam does not include high speed trains: 450.000d / adult – 310.000d / children.
The price for sightseeing Hon Tam island does not include lunch and boat: 360.000d / adult – 250.000d / child.
The price list of entertainment services at Hon Tam Island:
Kayak service fee: 500.000VND / time

Single paraglider ticket price: 600.000VND / round / 10 minutes

Paralympic ticket price: 1.000.000VND / 2 persons / 2 rounds / 15 minutes

Single maneuver ticket: 600.000VND / pass

Ticket price for two-tone motorbikes: 1.100.000VND / pass

Canoe fare: 800.000VND / way

Canoe service ticket for windsurfing: 950.000VND / 6 persons / 15 minutes

Seabreacher ticket price: 1.100.000VND/ visit

Windsurfing ticket: 600.000VND / time

Service fee for diving: 900.000VND / 30 minutes

Snorkeling ticket price: 300.000VND / 30 minutes

Golf service ticket: 130.000VND / 20 balls.

Ticket price for walking services under the sea: 800.000VND / adult – 720.000d / child

Service charge for pulling banana float: 1.000.000VND / 6 persons / 15 minutes
Also read: 7 Islands Nearby Nha Trang That Have Clear Water
What To Do In Hon Tam Island?
Hon Tam has a lot of interesting things for tourists to discover. It is home to an extensive eco-resort along with a 5-start hotel. The bungalows here are designed to keep with the overall setting and all of them have ocean views. Its amazingly harmonious combination of traditional and modern style will help satisfy most tourists.
Visiting Hon Tam, you can enjoy a number of activities and explore many attractions. Here are some of great suggestions:
Go Swimming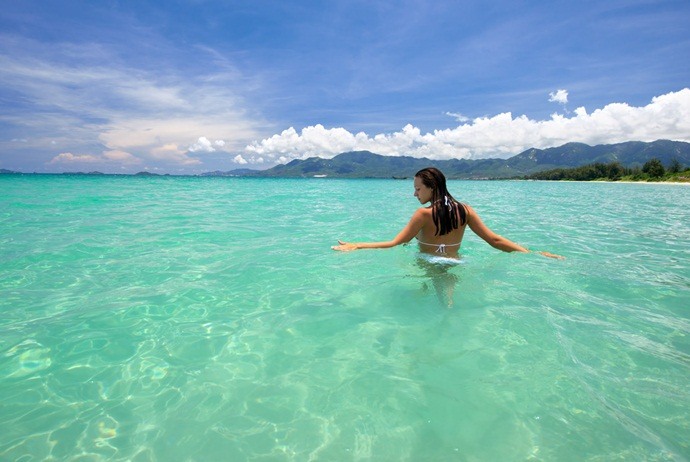 Source: solncetur

The beach in Hon Tam is considered one of the best beaches in Vietnam. The sea water in Hon Tam Island is very clear and blue and the sand is warm and smooth. Therefore, you can swim freely and relieve stress after hard working days. The beach at Hon Tam Island is quite deep so if you do not know swimming, you can still wear free life jackets to play sports on the water.
Being a popular tourist resort in Nha Trang, the service infrastructure in Hon Tam Island is well built and beach is always kept clean.
Discover Ancient Tradition Space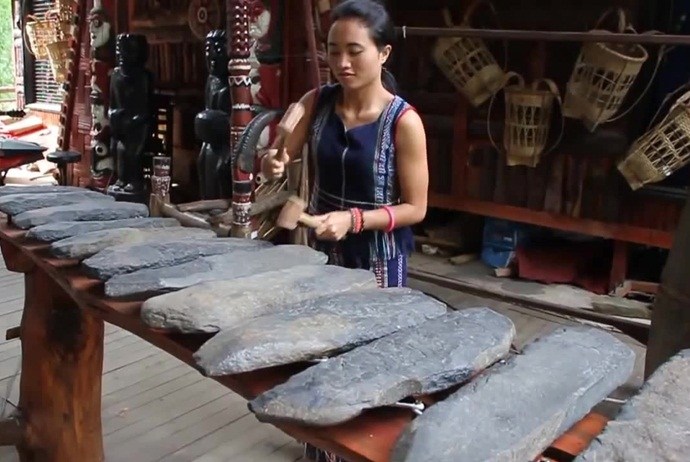 Source: coub
This place is also suitable for you if you like ancient space. You can visit the old buildings (there is Hoang Hoa Thon (Hoàng Hoa Thôn) with five houses over 100 years old), play the "Đan Đa" (Đàn Đá – Lithophone), watch the artist weaving brocade, or make pottery art.
Several major festivals are held annually on this island, such as the incense offering of the Hung King (Vua Hùng), the Cherry Blossom Festival, and the Cau Ngu Festival (Lễ Hội Cầu Ngư).
Enjoy Buffet Dishes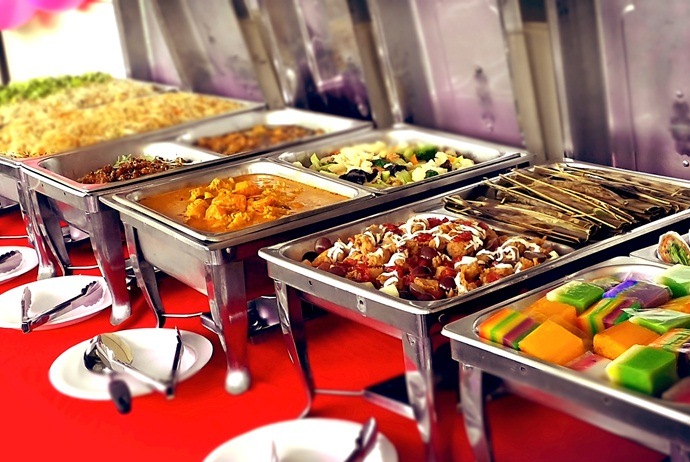 Source: naturevegedelights
Buffet dishes at the island (included in the tour price of Hon Tam Nha Trang) are elaborately processed bearing specialties Nha Trang Sea.
Take Pictures With Hon Tam Wooden Bridge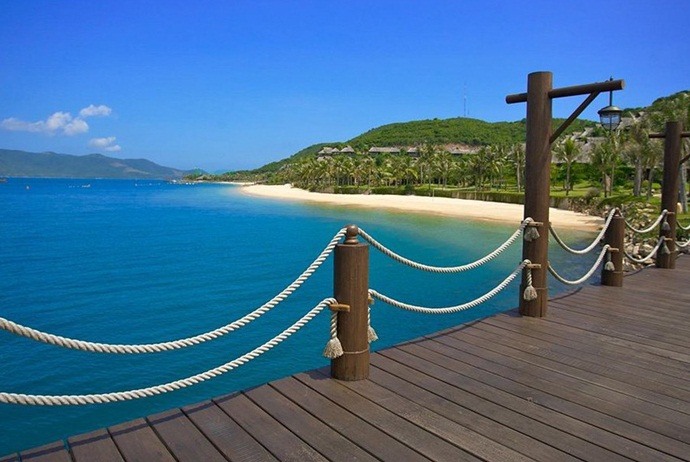 Source: destinia
Taking pictures with Hon Tam wooden bridge will help you capture the most memorable moments in your trip. Normally, when arriving at Hon Tam Island, all visitors will check in on the Tam island wooden bridge.
Play Water Sports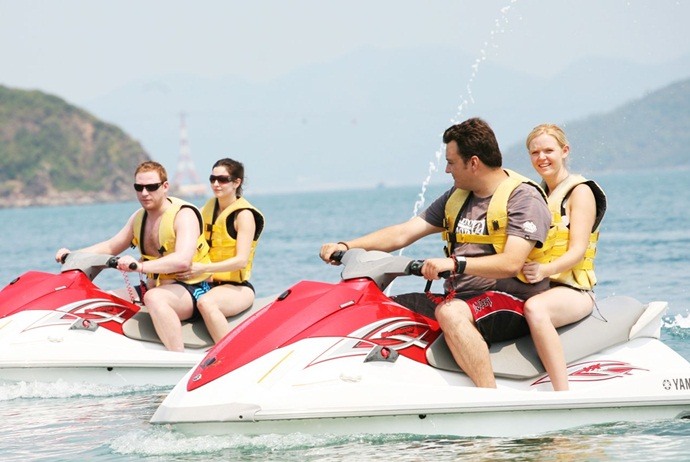 Source: vintagecorporation
On this island, there are also entertainment areas named Sparkling Waves and Sunset Villas which are designed in harmony with the surrounding landscape.
Having the beautiful beach, Hon Tam Island is known as an ideal destination for scuba diving. You can enjoy diving adventure and admire seductive colorful coral reefs along with many marine animals which swim around. Other water sports are also offered in this island, including boating, windsurfing, biking and parachute pulling, etc. Other than that, tourists could also enjoy camp-fire nights on the island.
Visit Traditional Vietnam's Craft Villages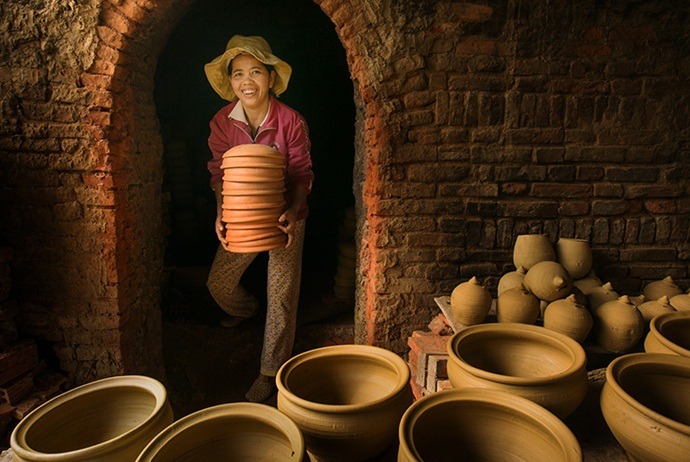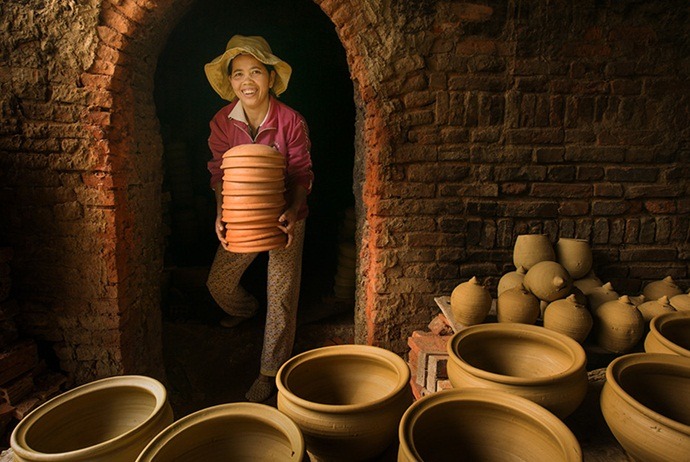 Source: getyourguide
Also, many traditional handicraft villages in Vietnam have been replicated at Hon Tam Island to serve tourists who want to learn about Vietnamese culture. These villages are specialized in pottery, embroidery work, wine-making and handicraft. When visiting Hon Tam, you can see the artists who are weaving Brocade, enjoy the sound of "Dan Tranh" (Đàn Tranh – a plucked zither of Vietnam) and learn how to make fine art pottery and wine. If possible, you can also make such art products with the guidance of the local artisans.
Beside the mentioned-above activities, it is a great ideal to rest and relax your mind in the peaceful and fresh atmosphere by lying down on the deck-chair under the trees' shade and listen to the sound of waves and sea winds.
The above are the Hon Tam Island travel experiences that you should know. Visiting Hon Tam Island is surely one of the best things to do in Nha Trang. If your purpose is mainly relaxing, Hon Tam Island Resort is worth a destination you should not miss in your journey to Nha Trang.