Dubbed as the "green oasis" of Saigon (Sài Gòn), Can Gio(Cần Giờ) is an ideal eco-tourism destination for short weekend trips. If you want to explore this land for the most worthwhile experiences, do not miss the following parts. With our exciting travel experiences shared on Vina.com, a great trip is in your hands.
I. Some Information About Can Gio
Can Gio is a coastal district located in the southeast of Ho Chi Minh City (Thành phố Hồ Chí Minh). It is located about 50km from the city center. Its terrain is divided by rivers and canals. The special thing that will definitely make you surprised is that there is no fresh water in this district.
Can Gio is known as a green oasis with vast green vegetation, intermingled with lush orchards. Along the 13-km coastline of Can Gio, there are clam fisheries that are raised in the natural environment.
Every day, Can Gio receives large amounts of silt from big rivers such as the Dong Nam River (Sông Đồng Nam) and Soai Rap River (Sông Soài Rạp). Not only the lush and natural scenery, but the delicious dishes made from local seafood are also attractive to visitors. Many of them say that the taste of seafood in Can Gio is so impressive and fresh.
With these characteristics, travelers from all over the country, especially from Saigon, and also foreign travelers often come here at the weekend to escape from the hustle and bustle of the city and enjoy nature.
II. What Are Attractions In Can Gio?
1. Vam Sat Tourist Area (Khu Du Lịch Vàm Sát)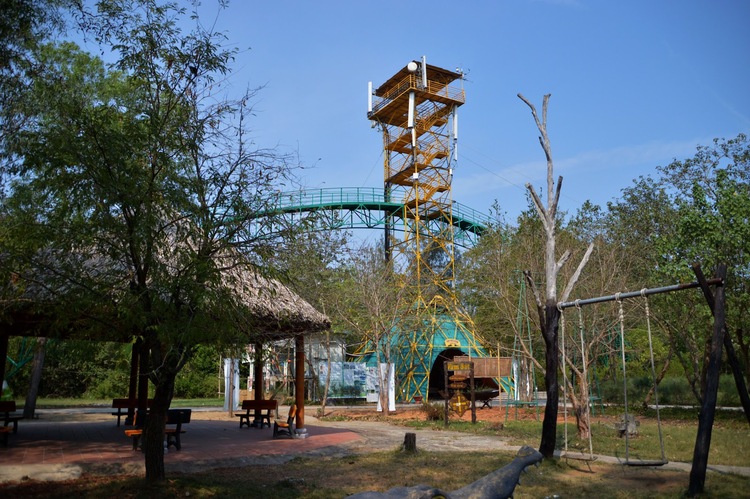 Vam Sat tourist area was recognized as the most sustainable ecological tourism destination in the world by the World Tourism Organization.
As one of the largest biosphere reserves in the country, the Vam Sat tourist area is a place where people can "stray" in the vast majestic forests, observe the birds looking for prey and breathe in the fresh air. In addition, you will be immersed in nature here through activities such as crab fishing, and rowing.
To get to Vam Sat, you have to go on a canoe or boat. Here you will have the opportunity to visit many interesting destinations such as bat swamp, crocodile farm, and wildlife sanctuary. Do not forget to climb to the top of Tang Bong tower to see the whole river view which is like a piece of soft green silk among the large forests.
2. Thanh An Island (Đảo Thạnh An)
If you are looking for a peaceful stopover in Can Gio, Thanh An will be an ideal island for you to enjoy the peaceful and pure nature that separates you from the hustle of everyday life.
ThanhAn Island is more populated than other islands in Vietnam but still poor due to the geographical distance to the mainland. Local inhabitants earn a living mainly by fishing, salt-making and forest planting. This island still retains the peace and the origin of creation.
Coming to Thanh An, you will feel the serenity in the midst of the scenery of clouded grasslands, white salt baths, wild and rustic rocks, and simple life of local fishing village.
Seafood in Thach An Island is very fresh and cheap, some households on the island serve barbecues. Most seafood is octopus, squid, and shrimp; therefore, when visiting the island, you should try these dishes to feel the special feature of the cuisine here.
Unlike other islands in Vietnam affected by storms, this weather in this island is harmonizing in general, so you can visit in any season. However, do consider the weather forecast before going to avoid the rain.
3. Monkey Island (Đảo Khỉ)
Monkey Island is one of the most attractive tourist destinations in Can Gio. On normal days, there are about 400 to 500 visitors on this island, while on weekends the number of visitors may increase to 1,000 – 1,500.
This island is actually a forest with two sides of green trees and is "home" to thousands of lovely monkeys. Coming here, you will have a chance to play with the mischievous monkeys, feed them and enjoy the cool fresh air of nature.
But, remember to not bring too many accessories or come too close to the monkey because the "naughty" may probably grab your stuff and run away.
4. 30/4 Beach Or Can Gio Beach
Located in Can Thanh Town, Can Gio Beach is the only beach in Ho Chi Minh City. Unlike other beaches, Can Gio Beach has a lot of silt, so it is black. The water is not green, but Can Gio Beach has a unique stone path leading to the sea, which is very attractive to tourists.
If you do not like swimming, then you can have fun on the beach with your friends. Not only that, you can also sit in the coastal shops to rest while watching the sea.
Can Gio Beach is a reasonable choice if you are "craving" a bit of sea taste but do not want to move too far from Saigon.
5. Can Thanh Town
Can Thanh Town is only 8 km away from the 30/4 tourist area. It is a small and spearhead town not too far from Vung Tau. From Can Thanh, overlooking Vung Tau, you will see the big and small mountains along with the coastal road lights glittering in the night.
Away from the crowded urban crowded, Can Thanh is a peaceful and quiet coastal town. Coming here, visitors seem to be entering another world. Just relax on the small alleys, visit Can Gio Market, and feel the peaceful pace of the locals, all tired and anxious will disappear.
6. Thieng Lieng Island (Đảo Thiềng Liềng)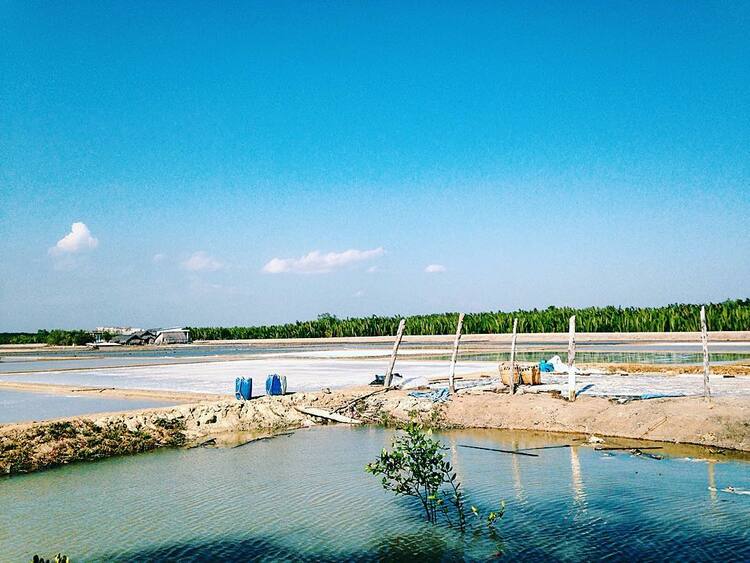 Although Thieng Lieng is one of the islands in Can Gio, it is less well known than others. This is because the road to this island is not convenient.
From Thanh An Island, you have to boat for nearly an hour to see the Thieng Lieng Island which is hidden in the forests near the coastline.
Located in the system of river and canal network, Thieng Lieng Island is a rare and pristine island with traditional salt-making villages. Just like Thanh An Island, Thieng Lieng Island does not provide any travel services. However, those who have come to the island are always attracted by the salt fields.
7. Hang Duong Seafood Market (Chợ Hải Sản Hàng Dương)
Coming to Can Gio, do not miss the Hang Duong seafood market to buy fresh seafood at very reasonable prices. You can also ask the sellers to process the delicious seafood right at the market. This market is only 50 meters from the 30/4 Beach, so you will not have any difficulties in moving.
8. Ca Ong Mausoleum (Lăng Cá Ông)
Ca Ong Mausoleum, also known as Ong Thuy Tuong Mausoleum (Lăng Ông Thủy Tướng), is a worshipping place of whale skeleton with the length of 12m. Can Gio people believe that the whale is an emblem of Ca Ong God (Đức Ngài Cá Ông), and he will support fishermen's fishing trips.
Therefore, every year on August 15-17, people of Can Gio held the Nghinh Ong ceremony with traditional local customs.
III. Where To Stay In Can Gio?
Oftentimes, travelvers only visit Can Gio in one day, so if you want to stay here overnight, there are not many options to choose from. If you are traveling in large groups, you can stay at the hotel or beach resort on 30/4 Beach. Some hotels do not accept reservations, room rates are about 300,000VND or higher.
If you go with your family, you should go to the Can Thanh Town to rent rooms. Room rates range from 200,000VND. You can refer to some guesthouses below:
Thai Duong Guesthouse (Nhà nghỉ Thái Dương) in Street 1, Can Gio District (contact (08) 3874 3985).

Tam Tam Guesthouse (Nhà nghỉ Tâm Tâm) in Street 1, Can Gio District (contact: (08) 2214 4899).

Bao Hung Guesthouse (Nhà nghỉ Bảo Hưng) in Street 1, Can Gio District (contact: (08) 3874 4122).
IV. How To Get To Can Gio?
1. Travel By Motorbike Or Car
If you depart from Saigon, go along Huynh Tan Phat Street (Đường Huỳnh Tấn Phát), then get on Binh Khanh Ferry (Phà Bình Khánh) with ticket price of 6.000VND / ticket (for 1 motorbike and 2 people) and go straight ahead to get to Can Gio.
The road is quite easy to go. All of Can Gio's attractions are on the same route so you will not have any trouble finding the way.
Note:
The road from Can Gio to Can Thanh Town (Thị xã Cần Thạnh) is very deserted, large but not flat and has many gravel, stones. Therefore, do not forget to bring necessary repairing tools in case of unexpected incidence.

Remember to fill the gas tank before departure because there is no gas station along the whole distance of 50km.

Along the way, there are many traffic police, so it is best to obey the traffic law.

Do not forget to bring your driver's license and identification.
2. Travel By Bus
If you do not want to go by car or motorbike, you can take the bus no.75 (Saigon – Can Gio).
If you depart from Ben Thanh Market, take bus no.20, then stop at Binh Khanh Ferry. Here, buy tickets and get on the ferry. Finally, take bus no.90 to arrive at Can Gio.
Note:
With buses in Can Gio, there is no picking up or dropping off a passenger, so if you want to stop at any tourist destination, please inform the bus driver.

Don't forget to take note of the time to catch the last bus to Saigon.
V. What To Eat In Can Gio?
Can Gio has a long coastline and receives a lot of silt from the big rivers, so the seafood here is abundant. The options are diverse, including shrimps, lobster, crabs, clams, shellfish, and sea snails. These kinds of seafood are processed into delicious specialties making you unable to resist.
When coming to Can Gio, you definitely have to eat sweet mango at least once. Mango here is very sweet. Due to the soil and care of local people, this type of mango becomes a special fruit of Can Gio conquering all visitors.
VI. Some Tips On Visiting Can Gio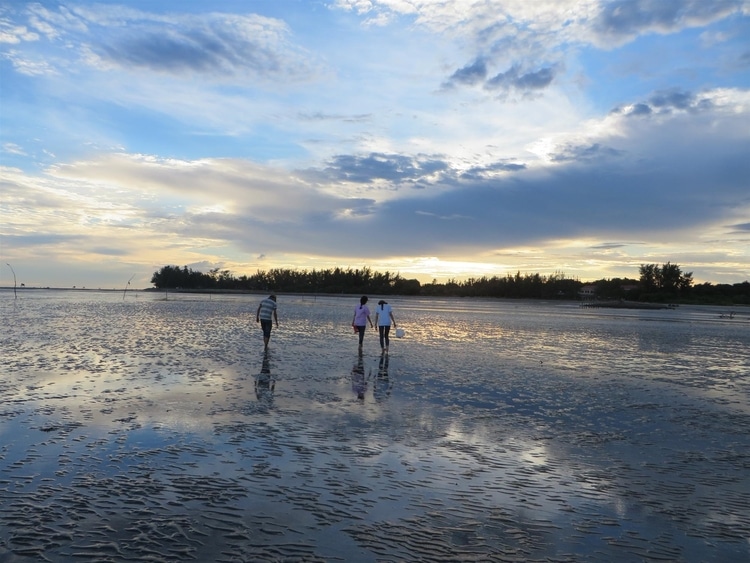 To make your Can Gio trip more meaningful and secured, you should consult the following tips:
When crossing a river, absolutely follow guidelines to ensure your safety.

If you want to swim, do not swim too far off the coast.

If you want to visit the temple or mausoleum, you should wear long clothes.
Finally, before you leave, make sure you are ready for the exciting things that are waiting for you in Can Gio.
What do you think of a trip that makes you forget all worries and is worth every minute? Yes, you will definitely not be able to resist that trip – the trip to Can Gio. Come and enjoy. Wish you happy!
By Van Tran