Con Dao Island Photo By Du Hoang
Con Dao (Côn Đảo) – the unknown paradise of Vietnam – was voted by famous Travel & Leisure magazine as one of the ten most beautiful and mysterious islands in the world. Much more than that, this is also the place imprinting the heroic history of the Vietnamese revolution, especially in Con Dao prison (Nhà tù Côn Đảo).
Con Dao has become the most attractive tourist destination in Vietnam in recent years. To have the best traveling experiences in Con Dao, do not skip our guidelines on Con Dao Island tourism on Vina.com.
I. General Information About Con Dao Islands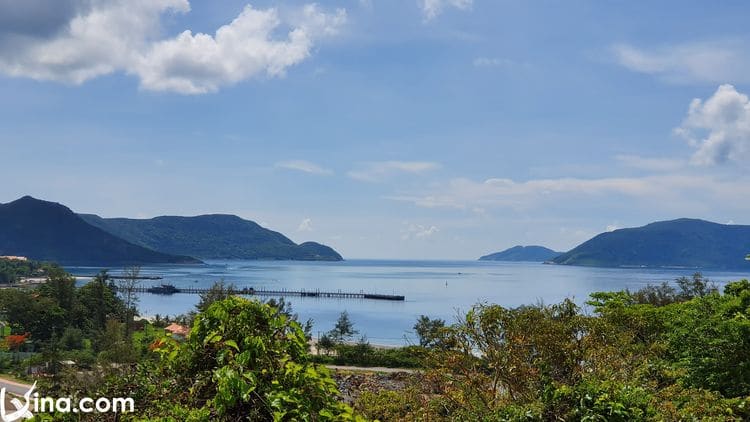 Con Dao Island Photo By Du Hoang
Con Dao is a famous archipelago of Ba Ria – Vung Tau province (Tỉnh Bà Rịa – Vũng Tàu). It is 45 nautical miles from Hau River (Sông Hậu) and 97 nautical miles from Vung Tau city. Known by various names such as Con Son (Côn Sơn), Con Lon (Côn Lôn), or Con Non (Côn Nôn), this island is also called Koh Tralach among the Khmers. In the English and French documents, Con Dao is known as Poulo Condor.
This is the place where French colonialists detained Vietnamese heroes and about 20.000 Vietnamese people sacrificed to gain independence. That explains why this archipelago was known as hell of the world.
Being one of the most famous tourist destinations in Vietnam, Con Dao has drawn a lot of attention from tourists worldwide. In 2011, it was voted as one of the 10 most mysterious islands in the world by Lonely Planet magazine.
The majority of visitors to Con Dao have commented that it is the most beautiful and safest island that they have ever known. In particular, an impressive thing here is the safety of Con Dao. Thefts seem to disappear here.
II. What Is The Best Time To Visit Con Dao Islands?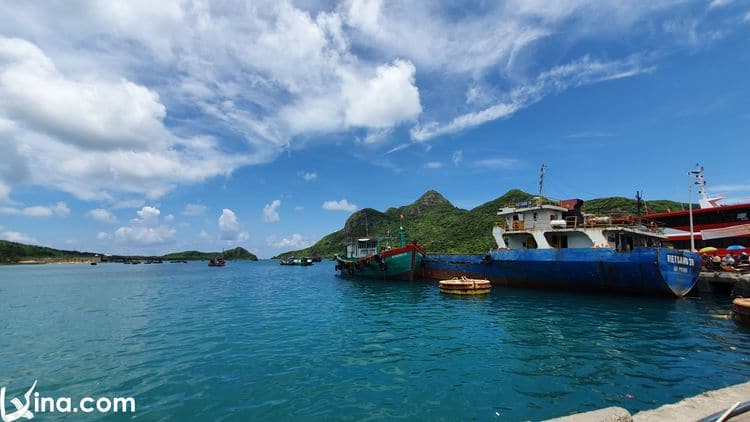 Con Dao Island Photo By Du Hoang
The weather in Con Dao is quite similar in Saigon (Sài Gòn), with two distinct rainy and dry seasons. Although Con Dao has its own beauty in each season, to avoid any unexpected problems happening to your trip, you should visit Con Dao Islands at the following times:
From March to September: During this period, small rains often occur in Con Dao, and last only 30 minutes to an hour. After the rain, the scenery of Con Dao will become fresher and cleaner while sunshine becomes milder. In particular, you will have the opportunity to watch the sea turtles spawn when visiting Con Dao during this time, especially in June. From March to September, Con Dao beach is calming, which suitable for sightseeing and exploring activities.

From October to February: During this time, sea waves are often big and service cost is very high. You cannot swim in this time, but you will have the opportunity to visit the famous historical sites, burn incense for the national heroes or explore the primary forest in return. In short, it is best to visit Con Dao Islands in these months if you really have good health. .
III. What Are the Attractions In Con Dao Islands?
1. Dam Tre Bay (Vịnh Đầm Tre)
Dam Tre Bay has beautiful and simple natural beauty, which can melt the heart of all tourists. Coming here, you will not only be immersed in the beauty of the clear river but also explore the mangrove forest and watch birds nest in the breeding season.
2. Con Son Bay (Vịnh Côn Sơn)
A place you cannot ignore is Con Son Bay. This bay consists of a system of 14 small islands of varying sizes. You will easily notice that there are islands that reunite as a large family and there are islands that stand out from the sea. These islands are dreaming and vibrant with colorful coral reefs that will surely make visitors unable to take their eyes off.
3. Lo Voi Beach (Bãi Lò Vôi)
Situated in the northeast of Con Dao, Lo Voi Beach and An Hai beach are the most beautiful beaches located at the two ends of the Con Son Islands. Coming here, visitors can feel the fresh air and wild nature of Con Dao with clear water and blue sky. This feeling is like you are lost in paradise.
4. An Hai Beach (Bãi An Hải)
Situated in the heart of Con Dao district, An Hai beach is one of the most beautiful beaches in Con Dao. The sea here is soft, and the sand is white and smooth. So if you have a chance, do not miss a picnic on this beach.
5. Hon Cau Island (Đảo Hòn Cau)
Con Son Islands has only two islands with groundwater, one of which is Hon Cau Island. In front of this island is a stretch of white sand embracing the mountain, creating a beautiful arc. This creates the special feature of this island.
6. Tre Lon Island (Hòn Tre Lớn)
It is believed to be the primary breeding ground for sea turtles and is also a good place to look for coral. In addition, it is also home to the forests with extremely rich vegetation, creating a paradise in Con Dao.
7. Bay Canh Island (Đảo Bảy Cạnh)
Bay Canh Island is the second largest island of all the islands in Con Dao. Covered by primeval forests, this island is cool all year round. If you want, you can bathe and enjoy the colorful coral reefs. It is definitely an experience that you will never forget.
8. Ong Dung Primary Forest (Rừng Nguyên Sinh Ông Đụng)
Ong Dung primary forest is famous for its clear blue water and the image of boulders stacked. Here you can experience exceptional services such as canoeing, catching plaice and diving to watch stunning coral reefs.Especially, when you come here, you will have the opportunity to participate in exciting trekking activities.
9. Con Dao National Park (Vườn Quốc Gia Côn Đảo)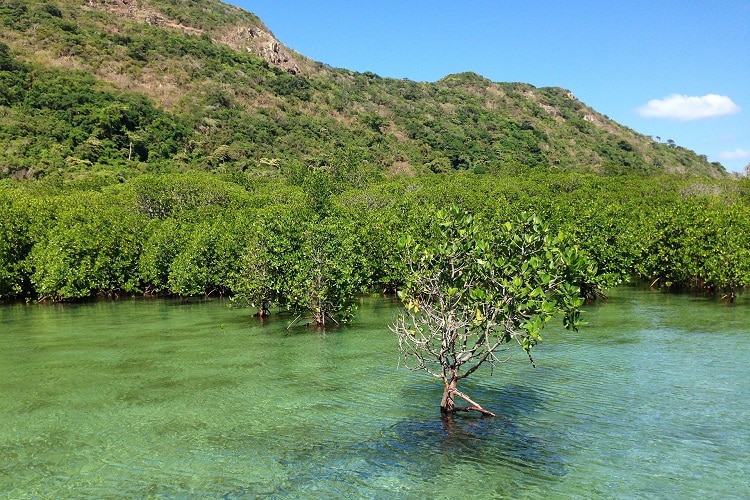 With a total area of nearly 6000 hectares on land and 14,000 hectares under water, Con Dao National Park still looks unspoiled because human activities have not significantly changed the nature of marine ecosystems. The ecosystem here is very rich, so if you are a nature lover, you should come here at least once.
Besides the above places, you should visit some other destinations such as Dam Trau Beach (Bãi Đầm Trâu), Hon Ba Island (Đảo Hòn Bà), Ca Map Cape (Mũi Cá Mập), Nui Mot Pagoda (Chùa Núi Một), and Con Dao Museum. They all have their own special features waiting for you to come and feel.
IV. How To Get To Con Dao Islands?
There are two types of vehicles to go to Con Dao, they are ship and plane:
To get to Con Dao, take Kumho Coach from Mien Dong bus station (Bến xe Miền Đông) to Cai Lo port (Cảng Cái Lở). Here, buy a ship ticket to Con Dao. Ships will depart at 5 pm and arrive at 5 am the following morning. There is only one ship per day, so you should go to Cai Lo port before 5 pm to not to miss the ship.
There is a canteen serving food (mainly boiled eggs and noodles) on the ship, but it is only served until 12 pm, so it is best to bring extra food. Besides, if you are seasick, you should buy a ticket in the basement. Lie down on your side and bend your knees to feel better.
Another travel experience is that you should bring your own motorbike because the ship to Con Dao allows you to carry your motorbike. This will save you money on car rental on the island. Fill the tank with gasoline and carry some to spare, because the price of gasoline on the island is very high.
On New Year's Day or the holiday season, ticket prices may increase.
Currently, only Vietnam Airlines and Air Mekong have flights to Con Dao. Normally you will have to transit in Ho Chi Minh City, though on Wednesdays and Fridays, Air Mekong flies directly from Noi Bai Airport (Sân bay Nội Bài) to Co Ong Con Dao Airport (Sân bay Cỏ Ống Côn Đảo). The reason is that the number of passengers may be less, so they have to transit in Ho Chi Minh City to get more guests.
The transit time is very fast, so you should sit in the lobby or waiting room and listen to the speaker on the plane.
V. Transportation On Con Dao Islands
From Co Ong airport to Con Dao town center is about 12km. Therefore, you can take a taxi or motorbike (if carrying a motorcycle when traveling). If you have booked a hotel room, when you arrive, call the hotel for them to pick you up.
You should choose motorcycles as the means of transport on the island, because it is not only cheaper than the taxi but also help you actively choose the destination you want.
There is only one gasoline station on the island, so pay attention to your gasoline mileage and carry a spare gasoline bottle. The rent of motorbikes on the island is from 100.000 VND to 120.000 VND (depending on the type of the motorbikes).
In addition to motorbikes and taxis, you can rent a bicycle or go hiking around the town. Some hotels and resorts may have trams for you to hire if you go in large groups, but the price is quite high.
VI. Where To Stay In Con Dao Islands?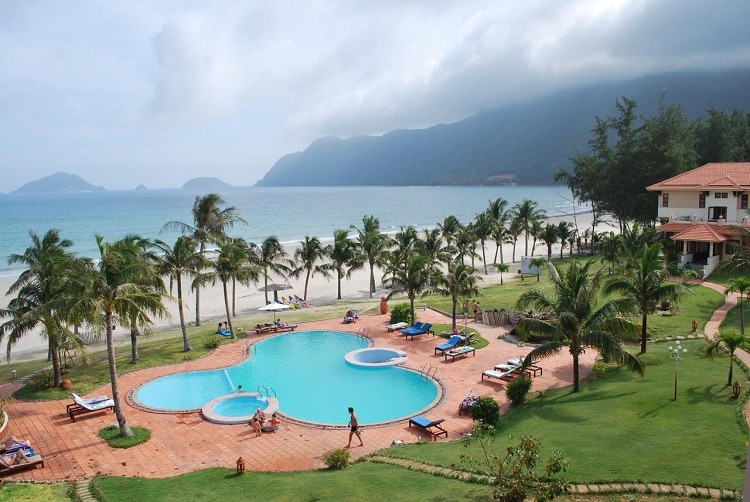 In Con Dao, there are many hotels, motels, and resorts with reasonable prices and good quality services for you to choose. You should select the hotel based on your purpose and needs. It is best to choose one located near the center to facilitate travel and eating.
If you want to choose resorts, you should refer to some good quality resorts such as Six Senses Con Dao Resort, Con Dao Vung Tau Resort, Con Dao Camping Resort, and Saigon Con Dao Resort.
And if you want to choose the beautiful hotels and motels with reasonable prices, here are the choices for you:
Hai An Hotel (Khách sạn Hải An) – Tel: 064.3508077 or 01644683866.

Thien Tan Hotel (Khách sạn Thiện Tân) – Tel: 064.3630123 or 0919888929.

Phuong Thao Hotel (Khách sạn Phương Thảo) – Tel: 01237599977 or 064.3830526.

Tan An Mini Hotel (Khách sạn mini Tân An) – Tel: 064.3830257 or 0907844747.

Thanh Xuan Hostel (Nhà khách Thanh Xuân) – Tel: 064.3830261.

Thanh Ngoc Hostel (Nhà khách Thanh Ngọc) – Tel: 064.3830219.

Ba Doan Hostel (Nhà khách Ba Đoàn) – Tel: 0983567153.
The above is the experience of Con Dao tourism that you should know before starting your travel trip. Do not hesitate any more, package your baggage and go to explore this famous island right now. Con Dao always welcome you.
By Van Tran