Source: letsflytravel
Updated: 08/26/2019
Situated in front of Nhon Hai (Nhơn Hải) Commune, Quy Nhon (Quy Nhơn) city, Hon Kho (Hòn Khô) is a small rocky island that features beautiful sandy beaches, blue water, and mountain cliffs. Although no one lives here, Hon Kho (Hòn Khô) Island still attracts the visitors and tourists who want to discover the pristine and peaceful beauty and conquer the imposing mountain of this island.
How To Get To Hon Kho Island Quy Nhon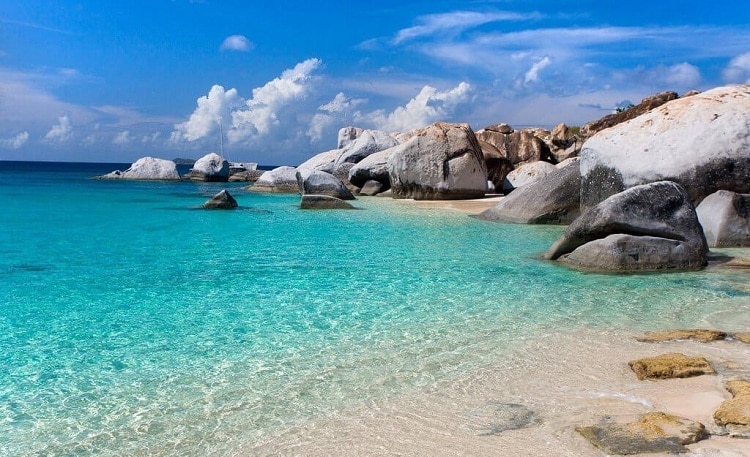 Source: bloganchoi
From Hanoi or Ho Chi Minh City to Quy Nhon
Hon Kho Island is about over 1,000km far from Hanoi and about 500km from Ho Chi Minh City (Thành phố Hồ Chí Minh). From these big cities, Hon Kho Island can be reached by any transport. For instance, you can travel by plane. At the airport, you can take a taxi with the price of 400,000 VND – 500,000 VND to leave for the center town of Quy Nhon city. Alternatively, going by bus will cost you 50,000 VND/person.
Furthermore, you can travel from Hanoi and Ho Chi Minh City by motorbike to Quy Nhon City, Binh Dinh (Bình Định) by going along National Highway 1A to Nguyen Hue (Nguyễn Huệ) Street, Ninh Binh (Nình Bình) and then crossing Tran Hung Dao (Trần Hưng Đạo) Street.
From Quy Nhon To Hon Kho Island
Hon Kho Island or Dry Island is about 16 km far from Quy Nhon center town. Therefore, to reach Hon Kho Island, you can catch a taxi or motorbike from Quy Nhon to a fishing village in Nhon Hai commune and then hire a boat to visit Hon Kho Island with the cost of about 200,000 VND. That will take you about 10 to 15 minutes to get there.
The Best Time To Visit Hon Kho Island Quy Nhon, Vietnam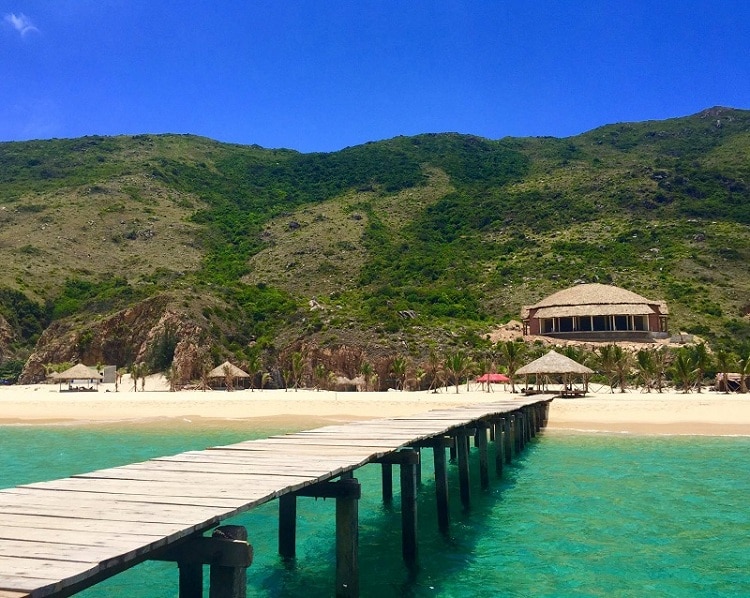 Source: anhduongtours
In Hon Kho – Dry Island in Quy Nhon, Ninh Binh, tourists will take part in a variety of interesting and funny water activities and admire the beautiful scenes of blue water, white sandy beaches and imposing mountain cliffs. Therefore, the best time to visit Hon Kho Island in Quy Nhon is from March to September as, during this time, the sea is calm and peaceful. It is also the time Hon Kho Island welcomes thousands of visitors and tourists coming here for Hon Kho Island adventure.
What Do You Do In Hon Kho Island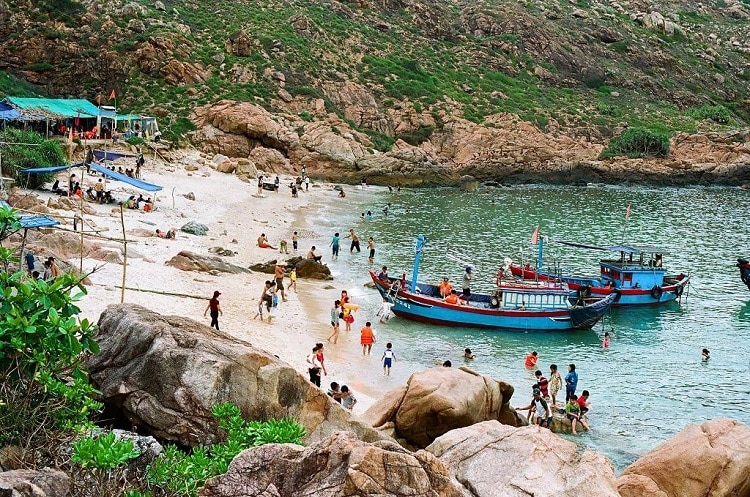 Source: travel
As its name suggested, Hon Kho Island is dry with no tree. No one lives here. This island is so small and wild that any kind of tourism service cannot be developed here but this island attracts a large number of adventurers and tourists because of its pristine, untouched and peaceful beauty that allures visitors to conquer. Immersing in white sand, cool wind and blue sea gives you fascinating experiences. Coming here, you will have a chance to enjoy sunbathing on the beach and taste delicious seafood dishes cooked by the local people.
I am sure that every tourist likes to walk around this island to discover the unique and spectacular beauty of nature. There are big stones blocking Hon Kho Island, which makes the road hard and rough to go. It seems a real challenge that will boost your desire to discover and conquer Hon Kho. But if you stand on the mount of the mountain, the panoramic view of Quy Nhon city, beautiful ocean and images of boats, which create a poetic and wonderful picture, will definitely make you astonished.
If you have a chance, you should ask the boat owner to take you to the sea and then dive into the seawater to admire the colorful and beautiful coral reef. The sea water level is not too deep but if you cannot swim, you can wear glasses and lifejackets to discover a wonderful marine life.
Furthermore, Hon Kho Island is also well-known as the preservation area of turtles. If you stay overnight here, you will have a great opportunity to see the reproduction of turtles that come to this small island.
Besides, Mai Huong (Mai Hương) Pagoda that has the panoramic view of Hon Kho in the front is a recommended stop for tourists and adventurers who come to Hon Kho. This pagoda with its mysterious and sacred beauty is located in Nhon Hai Commune and is about 1km far from Hon Kho.
If you cannot dive, you can take part in beach camping activities, catch fish or just relax on the smooth sand quietly. The young may love taking beautiful and wonderful pictures of the small island. Sometimes, you can follow the fishermen to experience fishing on boats.
Accommodations For Tourists In Hon Kho Island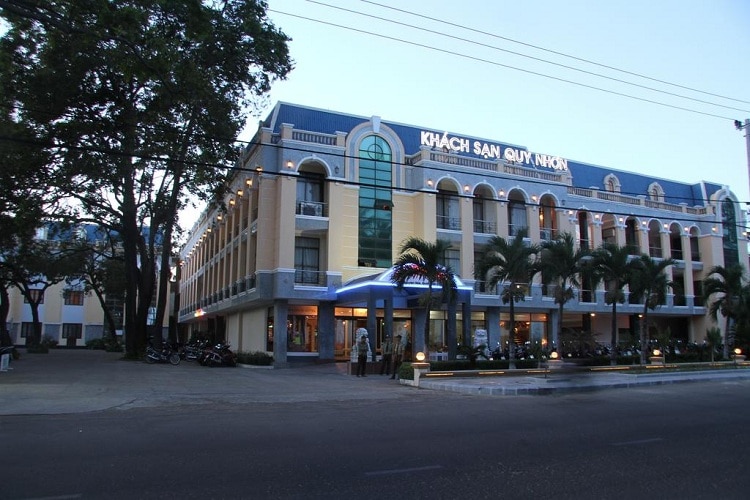 Source: booking
Hon Kho Island is not developing tourism services; therefore, you need to go back to the city center and then stay in the hotels or homestay nearby. There are a number of options such as Quy Nhon (Quy Nhơn), Hoang Yen (Hoàng Yến), Y Linh, Thien Hai (Thiên Hải), Phuong Dong(Phương Đông)… with the price ranging 400,000VND – 800,000 VND. Staying in these accommodations is convenient for tourists not only taking Hon Kho tour but also wanting to visit other Quy Nhon's attractions.
What To Eat In Hon Kho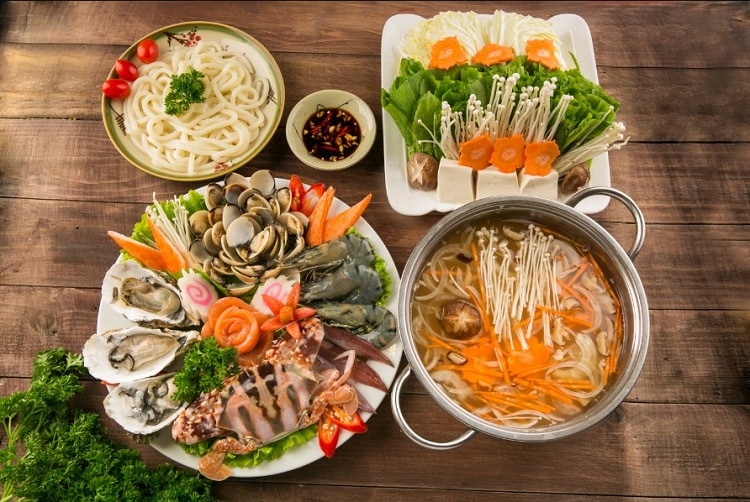 Source: danangz
Visiting Hon Kho, tourists can enjoy the familiar seafood dishes such as grouper, golden rabbit fish , eel, etc. This island also has snails, lobster, and many other seafood kinds.
If you have a chance to coming here, it is impossible not to eat different dishes made from Cau Gai (Cầu Gai) that is also known as sea-urchin in Hon Kho. Loaded with nutrients, Cau Gai can be cooked in a variety of ways: for example, eaten raw with mustard, grilled with chili salt, baked with onions, steamed or fried, etc.  Cau Gai has become a specialty in this island.
Nothing is greater than sunbathing on the beach for hours and enjoying the delicious tasty seafood dishes cooked by the local people in Hon Kho.
That is all you need to know before taking the tour to Hon Kho Island, a small beautiful untouched island in Quy Nhon that will be a great place for tourists to relax and conquer. Please remember to bring your lifejacket and swimsuits to have fun and enjoy the activities on the beach. To know more about Vietnam travel, visit our Vina homepage.