Updated: 08/26/2019
Cu Lao Xanh Island (Cù Lao Xanh) that is 12km far from Quy Nhon (Quy Nhơn) is considered as a peaceful paradise and a green island which attracts tourists and travelers coming to discover. Having an area of about 5sqm, Cu Lao Xanh with its impressively blue beauty and picturesque landscapes used to be an unrecognized site on Vietnam's map but now it is receiving a lot of interests and tourist investment to become a promising tourist destination in Vietnam.
When Is The Best Time To Visit Cu Lao Xanh Island Quy Nhon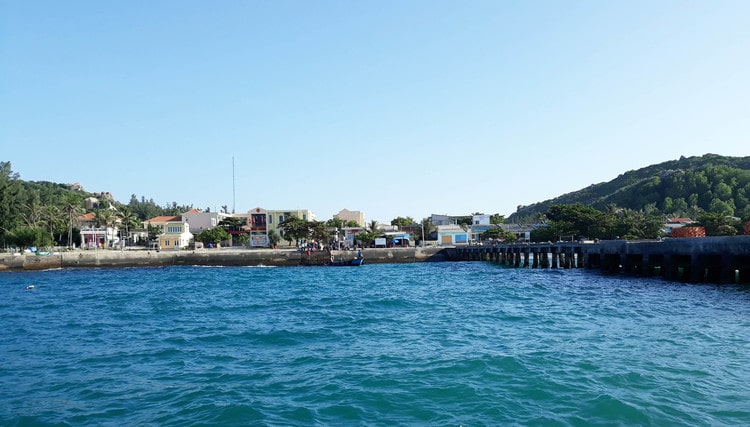 As an area of tropical climate, Quy Nhon has less the rainfall in winter than in summer with an average temperature of 26.8 °C. The dried month of the year is March while the warmest month is August. The average temperatures during the year vary by 7 °C. Because the weather of the year always is pleasant, you can visit Cu Lao Xanh at any time of the year. However, to ensure safety, you should avoid the time of typhoons and storms. According to tourists and travelers who came to Cu Lao Xanh, the best time to visit this green island is from February to June, and September or October.
What Can You See And Do In Cu Lao Xanh Island
Cu Lao Xanh or Van Phi (Vân Phi) Island is known for its green, peaceful, untouched and unique beauty you cannot find anywhere. This island that is situated near the Xuan Dai Bay (Vịnh Xuân Đài) in Nhon Chau (Nhơn Châu) commune, Binh Dinh (Bình Định) province is about 17km away from Quy Nhon city. Departing from Ham Tu Harbour (Bến Hàm Tử), it will take you two hours to reach Cu Lao Xanh by boat.
First, you will stop at Cu Lao Xanh Light Station that is parallel to the Lighthouse with the length of 119 meters located on the top of the hill. During the anti-French war, this two-storey building with unique architecture was a pleasant house where a French official lived. Looking at the back of the Cu Lao Xanh Light Station, you will see a 19-meter lighthouse named Plogam Bir with the structure being a combination of Asian elements and Western Gothic. Since 100 years ago, Cu Lao Xanh Lighthouse standing firm and high above the sea has become a belief and symbol of fishermen in Cu Lao Xanh Island when they row the fishing boats, conquering the many strong waves and sea storms all year round.
If you have a chance to visit Cu Lao Xanh, nothing is greater than climbing up to the top of the mountain and by the foot of the lighthouse, looking over the whole beauty of this island below. The Cu Lao Xanh Island look like a grand green picture with coconut trees and almond trees scattering along the seashore.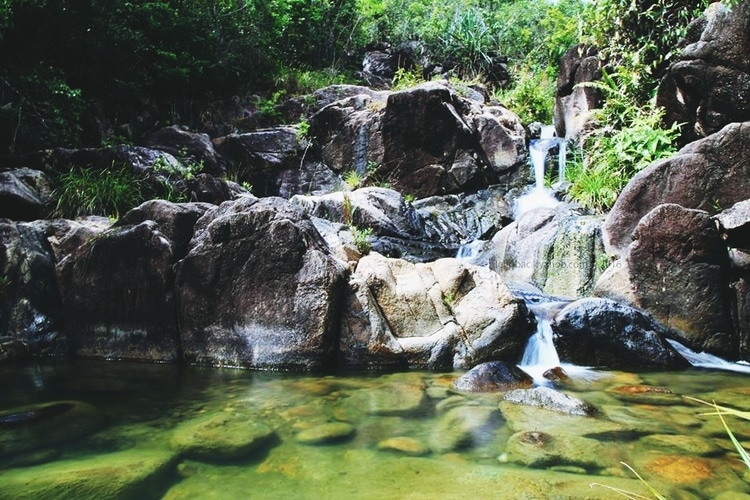 From the lighthouse, now you move down toward the northwest of the island to reach Gieng Tien (Giếng Tiên) Stream. The name Gieng Tien (Fairy Well) derived from the legend in which on moonlit nights, many fairies would descend, playing around, enjoying the scenes, and bathing in the stream before flying back to the sky. For most visitors and travelers, bathing in pure fresh water with salty smell is great and memorable experiences.
Leaving the Gieng Tien, tourists can move down to the foot of the mountain, following the paved road 3km to the north of Cu Lao Xanh Island, Quy Nhon. Here tourists will be astonished at the impressive piles of rocks with different strange shapes. In Cu Lao Xanh travel guide, I highly advise you to stop at small dunes, seeing the sea turtles laying their eggs or crawling on the sand.
If you like fishing, it is really a wonderful chance to sit on the rock cliffs and catch fishes. You can find vu nang (vú nàng) snails in the water. It can be interesting to enjoy vu nang snail dishes, a local specialty of Cu Lao Xanh Island and other seafood you catch and grill with your friends or family. So, do not forget to bring a fishing rope when you discover the Cu Lao Xanh Island.
To the west of the island are beautiful beaches that are ideal for someone who likes swimming, admiring the blue water, seeing the colorful coral reefs and walking along the white sand.
If you are lucky to come to Cu Lao Xanh Island in the Cau Ngu (Cầu Ngư) Festival, a traditional festival in the coastal community, which are often organized in the middle of the March (Lunar Calendar) to celebrate fishermen's union and express their gratitude toward their guardians and ancestors. In two days of the festival, tourists can take part in many traditional games such as a racing boat, running or tug of war.
Cu Lao Xanh is still unrecognized widely; therefore, there are not many accommodation options for you to choose from. Besides a few homestays that open for tourists to stay overnight, you can ask local people for staying in their fishing village. The local people and fishermen here are very friendly and open. They are willing to help and treat you a simple meal of delicious seafood and local specialty in Cu Lao Xanh.
In spite of remaining unknown widely, Cu Lao Xanh Island with its blue sky, green beauty, and blue sea is gaining a lot of interest and curiosity from the investors and tourists. I believe that this green island will soon become a famous tourist destination after some tourist projects finish in a few years. Do you find all the necessary information after reading this article? I hope so. Any questions or opinions can be left in the comment section. We will answer them as soon as possible. To know more about Vietnam travel, visit our Vina homepage.