Updated: 08/26/2019
Situated in Trung Luong (Trung Lương) village, Cat Tien (Cát Tiên) commune, Phu Cat (Phù Cát) district, Trung Luong camping site (Khu dã ngoại Trung Lương) or Trung Luong Picnic Area near Nui Ong (Núi Ông) Pagoda is a wonderful tourist area for picnic activities with friends and family. Tourists coming to this site for camping will have a great chance to enjoy the fresh and peaceful atmosphere, admire beautiful beach and immerse in nature. Therefore, it will be a regretful omission if you travel to the famous Quy Nhon's attractions without stopping in this campsite.
When Is The Best Time To Visit Trung Luong Camping Site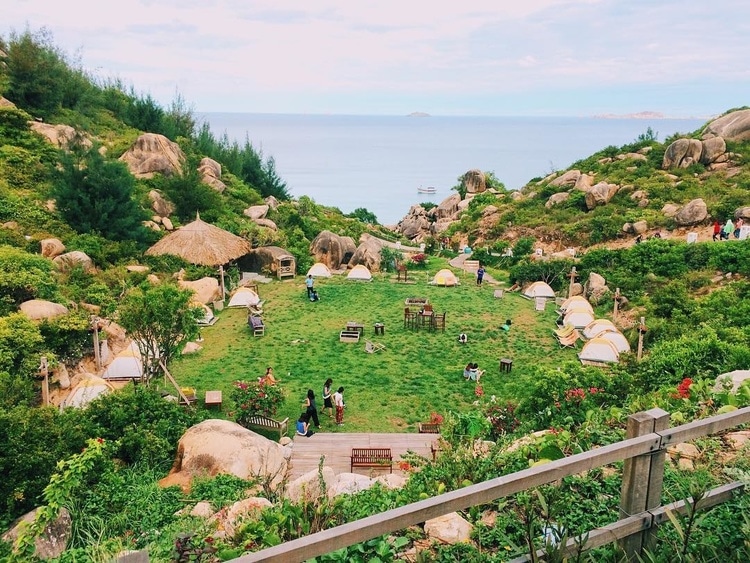 Traveling to Quy Nhon, Binh Dinh (Bình Định), tourists often combine Trung Luong camping site with other attractions of this beautiful city which is gifted with the beautiful beaches, dense forests, impressive mountains and wonderful landscapes that make this city look like a beautiful painting. Most people come to Trung Luong Quy Nhon for camping and picnic, relaxing and spending time with their friends and family. Therefore, the best time for tourists to discover this site is from April to September. Because, during this time, the weather is pleasant with many beautiful natural colors that make tourists feel like they are in a fairy tale story.
What Do You Do When You Visit the Trung Luong Camping Site
This camping site is about 30km away from Quy Nhon City, in Trung Luong village: therefore, it is not difficult for you to find a way to get there. Trung Luong has wide beauty with strange shapes of limestone, salty fresh air, green lawns, and the sunny weather. Visiting this camping site, you can take part in many water and outdoor activities like snorkeling, camping, exploring coral reefs and scuba diving.
In the campgrounds, there are colorful rows of chairs and red tents that are scattered around the picnic site.  At night, tourists can fire camp, watch the stars, listen to the sounds of waves, sing with friends and sleep in the red tents that will be great and memorable experiences.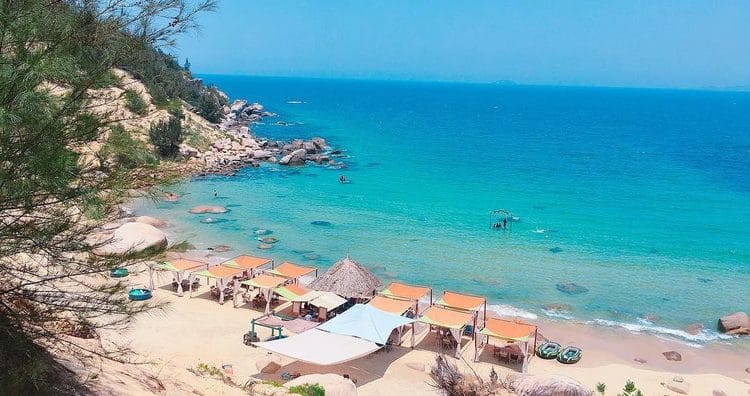 Trung Luong Beach (Biển Trung Lương) is also a special place where you should not miss if you have a chance to visit Binh Dinh. From the camping site, you can go to this beach by following the paved road. Tourists can swim in the clear blue water or walk along the beach paths where you can see many large rocks with strange shapes.
Trung Luong Camping Site is near Nui Ong Pagoda, Thien Hung Monastery (Chùa Thiên Hưng). Therefore, it will be an omission if you do not visit these attractions.
In Trung Luong Camping Site, tourists can enjoy many delicious dishes of the sea at restaurants such as squid, shrimp, fish, crab which are fried, baked smoked or steamed.
Furthermore, you can buy fresh seafood caught by fishermen and taste many specialties of Quy Nhon.
This is a peaceful tourist destination in Vietnam, where you will be immersed in its nature. It is also an ideal place for spending time with your friends and family. Now you know the complete travel guide for tourists who come to Trung Luong Camping site, a peaceful destination in Quy Nhon. I hope that you can find useful information in this article. If you have any question, do not hesitate to leave them in the comment section. We will answer them as soon as we can. Let's visit our Vina homepage to get more information about Vietnam travel.