Con Phung (Cồn Phụng) Island, also known as Tan Vinh (Tân Vinh) Island, belongs to Tan Thach (Tân Thạch) commune, Chau Thanh (Châu Thành) district, Ben Tre province (Bến Tre). It is famous as a homeland of fresh fruit gardens, tasteful local specialties, unique handicrafts, and beautiful natural scenery.
If you still do not have the option for the upcoming holiday, do not hesitate to add Con Phung Island to your itinerary which promises to bring you deep express and comfortable mind. Now, let's get started with Vina.com!
I. General Information About Con Phung Island
Con Phung Island is situated on a floating islet right amid My Tho River. This island was initially not as large as today with the total area of 28 ha. However, because of annual abundant silt deposits, Con Phung Island is steadily expanded to more than 50 ha.
Con Phung Island means phoenix and is one of 4 islands situated on My Tho Rive. The others are Con Rong Island, Thoi Son Island, and Con Quy Island, which respectively mean dragon, unicorn and turtle.
On Con Phung Island, there are a museum, many southern garden-style houses, and monkey bridge. Indeed, Con Phung Island is a place where tourists could see the holy land of the Coconut Congregation and witness the daily life of Mekong Delta locals.
II. What Is The Best Time To Visit Con Phung Island?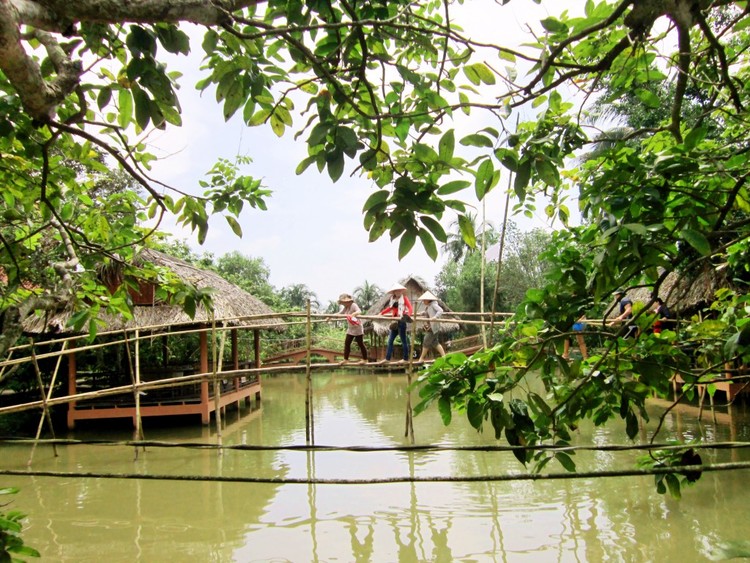 You can go to Con Phung at any time of the year thanks to the all-year-round peaceful climate.
However, to have the best traveling experiences, you should visit the island during the summer months (June, July, and August). During this time, you can enjoy many fruits at their best state mangosteen, durian, and rambutan.
III. What Are the Attractions In Con Phung Island?
In general, in Con Phung tourist area, the most prominent attraction is Dao Dua relic with an area of up to 1500 square meters, including garden architectures, Hoa Binh tower and a large communal house.
This island was named from the day when Mr. Nguyen Thanh Nam (Nguyễn Thanh Nam) came here to build Nam Quoc Pagoda. When the pagoda was completed, a construction worker found an ancient cup shaped like a phoenix. That's why this place is called Con Phung.
In Con Phung Island, visitors will have the opportunity to visit the unique architectural works of the Dua Dua holy land. Besides, if you have time, pay a free visit to the handicraft villages producing materials from coconut trees and learn how to feed the bees.
Other attractions in Con Phung are the orchards of fruits and flowers available all year round, garden houses of coconut land with a green space surrounded by waterways. Especially with the continuous movement of urbanization, they still retain characteristics of Western villages from leaf-made houses to traditional craft villages.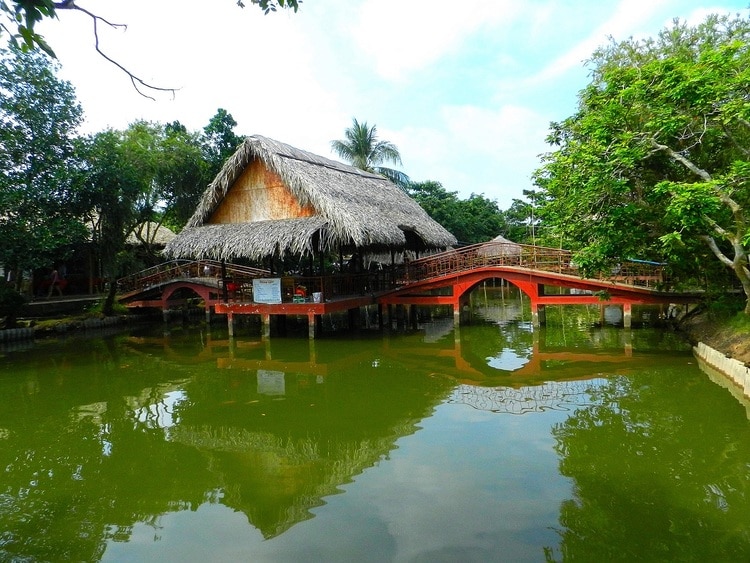 What makes many visitors excited upon visiting Con Phung Island is that they can enjoy the fruits freely in local fruit gardens (with a little entrance fee). There, you will find Jackfruit, durian, strawberry, rambutan, etc. Eat as much as you want.
After tasting the fruits, visitors can visit coconut candy producers to experience the real local candy production process. Attractive aroma of coconut candy is sure to make it difficult for visitors to leave.
Arriving in Con Phung, visitors also have a chance to wander through narrow waterways surrounded by green coconut trees on small canoes, or travel on bicycles and horse-drawn carriages along small roads to explore the countryside scenery.
A unique type of traditional art in Mekong Delta region in Vietnam is the art of Đờn ca tài tử (southern amateur music). In the space of the river, the sweet voices of the artists resound and tell you the beauty of this land, leaving an unforgettable aftertaste in the mind of listeners.
Con Phung also has many other recreational activities that always attract tourists, namely going fishing, going on water motorbikes, and so on.
IV. What To Eat In Con Phung Island?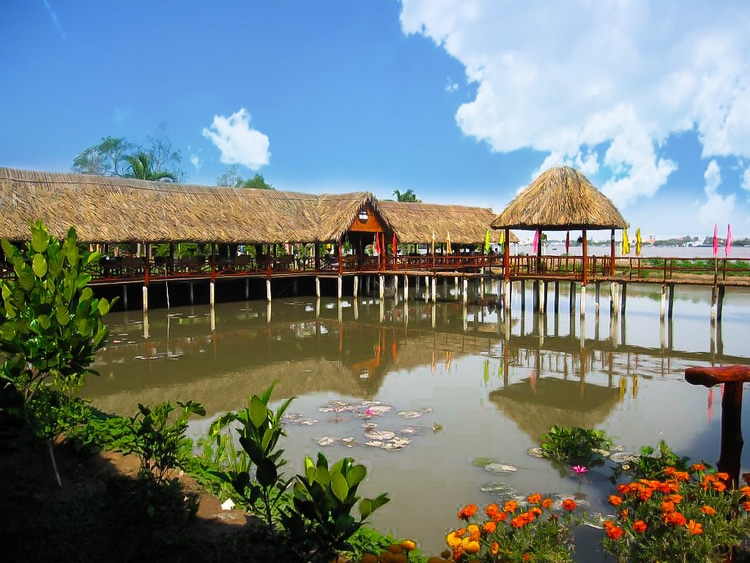 The cuisine here is also very attractive. Specialty dishes of the garden, such as watery pancake, fried sticky rice, grilled chicken, and butter fried coconut, are all meticulously processed with locally available ingredients to ensure their freshness. You can enjoy these dishes at most restaurants in Con Phung.
V. How To Get To Con Phung Island?
There are 4 directions to get to Con Phung: Saigon  (Sài Gòn), Southern, Central, and Northern provinces. Nevertheless, most tourists gather in Saigon to make their trip as smoothly as possible.
To go from Saigon to Ben Tre, you can choose one of two ways:
You can easily catch coaches to go from Saigon to Ben Tre in Mien Tay bus station (bến xe Miền Tây) with one-way fares ranging from 50,000 VND to 100,000 VND.
From Saigon, you go towards Phu Lam (Phú Lâm) roundabout, Nguyen Van Linh (Nguyễn Văn Linh) Boulevard or Trung Luong highway (Cao tốc Trung Lương) for about 01 hour to reach Ben Tre. By this way, you can save a lot of costs and take the initiative in speed and time.
Some other roads that make your trip to Ben Tre even more interesting are:
Saigon – Long An (Long An) – Vinh Long (Vĩnh Long)- Ben Tre

Saigon – Vinh Long – Ben Tre

Saigon – Ben Tre – Can Tho (Cần Thơ)

Vung Tau – Saigon – Long An – Ben Tre
VI. Where To Stay In Con Phung Island?
Normally, visitors to Ben Tre often do not stay overnight here, so the options of motels and hotels in Ben Tre are not diverse. The price is only from 100,000 VND to 350,000 VND / night.
However, if you want to stay overnight here, you can refer to some motels or hotels near Con Phung below:
Vietnam – Australia Hotel: 144 Hung Vuong (Hùng Vương), Ward 3, Ben Tre City

Ben Tre Riverside Resort: 708 Nguyen Van Tu (Nguyễn Văn Tư), Ward 7, Ben Tre City

Ham Luong (Hàm Luông) Hotel: 200C Hung Vuong, Ben Tre City

Forever Green Resort: Phu Khuong (Phú Khương) Hamlet, Phu Tuc (Phú Túc) Commune, Chau Thanh (Châu Thành).
VII. What To Bring When Traveling To Con Phung Island?
Clean clothes if you want to join the games here.

Sunscreen and mosquito cream.

To minimize costs, bring your own food and water prepared in advance.
Read more:
The above is some useful experience and tips related to Con Phung tourism that we would like to introduce to you with the hope that you have added this destination into your upcoming vacation.
Don't forget to record your memorable moments and share with us!
By Van Tran