Mentioning Hue, people think about pictures of Ngu Mount, Trang Tien Bridge, Huong River and royal tombs of Nguyen Dynasty's Kings. Yet, the unforgettable thing in both domestic and foreign tourists's mind is probably "nón bài thơ" – the icon for the graceful and charming beauty of Hue in general and women in particular. Especially, to succeeding the tradition of making "nón lá", My Lam handicraft village in Hue has been working tirelessly to remain the value of this craft – making "nón lá".
Setting foot on Hue, tourists not only admire the magnificent architecture of royal tombs, castles, temples and taste famous Hue cuisines but also see the picture of elegant young woman in "áo dài" and wearing "nón bài thơ" (Palm-leaf conical hat which poems are written on". Through hundreds of years, craftsmen in villages of Hue ancient imperial capital have been passionately devoting their life to unique beautification of their homeland, Hue.
Location:
Located in Phu My commune, Phu Vang district, Hue, My Lam handicraft village lies on the Nhu Y riverside, along 10A road, about 8km far from Hue city on the Eastern. This village had remained the traditional "nón lá" from the ancestors for decades.
History: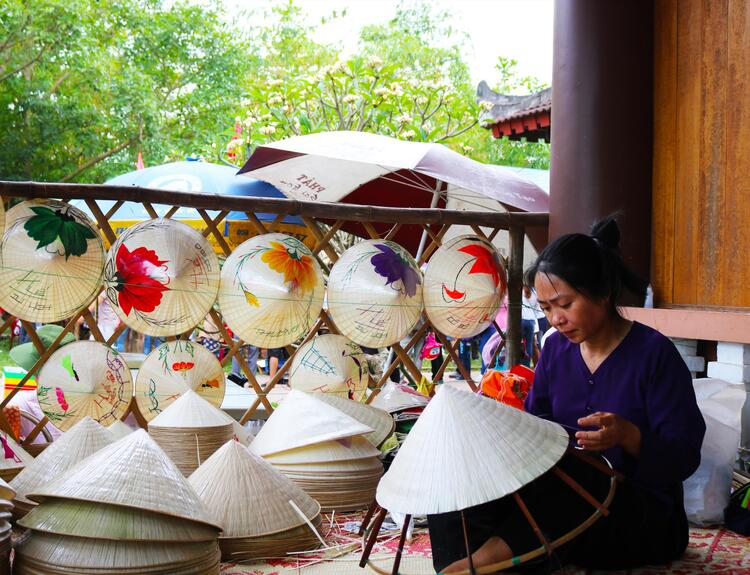 Making "nón lá" has kept accompanied with My Lam local people since 1860. Passing through ups and downs of historical events, the "nón lá" making craft has been raising from generations to generations for the past 150 years. Until now, My Lam village still keeps the craft well developed with around 80% households when leisure in the harvest time comes. Therefore, "nón lá" products are known as the brand child of famous and professional craftsmen in the village featuring Le Thi Cuc, Le Thi Ngoc and Le Thi Yen, whose creativity and talent make distinctive products "nón lá bài thơ" (Palm-leaf conical hat which poems are written on), "nón lá cỏ, hoa" (Palm-leaf conical hat printed with flowers, grass), "nón lá 1 lớp" (white Palm-leaf conical hat with one coat), "nón lá hai hoặc ba lớp" (white Palm-leaf conical hat  with two or even three coats).
Despite modern life and dramatic development, "nón lá" is not familiar daily belongings of rural or urban women; "nón lá" still play an essential role in promoting tourism and culture. They are unique souvenirs for both domestic and foreign tourists when visiting Hue. Hence, My Lam handicraft village has increased steadily with around 500 labours and provides the market with approximately 1000 items to serve tourism, festivals and meet customers demands.
How To Make "Nón Lá":
"Nón lá Huế" especially "nón lá bài thơ" is not a simple hat but the artwork to show the meticulousness and talent of the craftsman. To make a faultless conical hat, Hue craftsmen have to carry out the process with many steps which requires skillfulness and sophistication. From choosing the frame, curling the brim, tiling palm leaves to create patterns. That is the reason why "nón lá Huế" is internationally and locally famous for its unique production.
Forming the frame is the most crucial step to the convex and circle shape, size and figure of the conical hat. The frame is made of light wood and has the symmetrically arranged roofs with different sizes. One frame produced can be used for tens of years without any change of appearance in the market. The brim of "nón lá" is made of "lồ ô" (a kind of bamboo trees), or "mung" (popular plant species in Hue). Each conical hat has 15-16 brims which were traditionally compared to "16 full moons". Leaves to make hats are simple ones but they are picked and processed in many steps: steam, dry, exposure in the dew, and iron to determine that the face of the leaf is still white-blue colour. Next, this is the way to tile leaves, put patterns and symbols between two coats of leaves harmoniously to make sure that when the hat is shone in the sunlight, symbols and patterns look well-proportioned. The hidden symbol in each conical hat is often the pictures about Trang Tien Bridge, Ngu Binh Mount, Thanh Toan Tile Bridge coupled with famous Vietnamese poems about Hue. Those poems cut by five-colour glazed paper appear outstanding in the white and blue background of the hat.
Preservation Of "Nón Lá":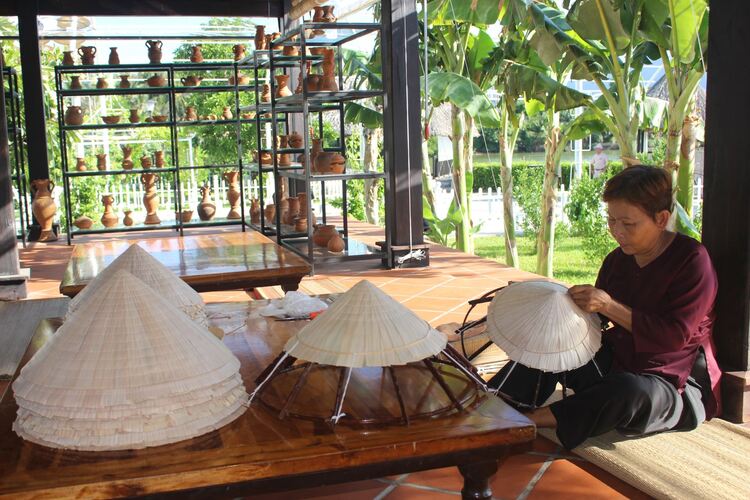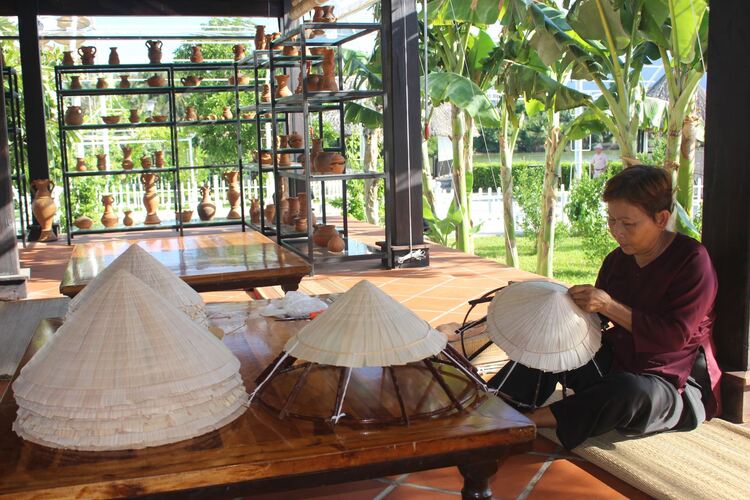 Opening the stall in Hue traditional craft festival 2017 was the occasion to promote and introduce the conical hat products of My Lam handicraft village to tourists, and expand the market, business scale, also raise the position of Hue to people everywhere. In this festival, tourists can see the picture of older adults, young women, girls with a happy smile sitting and sewing conical hats, which brings an unforgettable impression in our mind. Ms Le Thi Yen in My Lam village said: "nón lá" craft is the traditional one from ancestors. Although the income from this craft is not high, it can partly cover the daily needs and support their children's tuition fee".
Traditional And Cultural Values:
"Nón lá" is the icon of Vietnam, a friend attaching to industrious and hard-working farmers. In art, the white conical hat represents the graceful and reticent personalities of Vietnamese women. "Nón lá bài thơ" appears in every corner and get familiar with women in daily life. Women preserve their hat as a jewellery item, sometimes as a thing to express their feelings.
There are hundreds of conical hats in a variety of sizes, colors or figures, but the picture of My Lam conical hats are closer to Vietnamese people. To foreigners, "nón lá" symbolizes the unique costumes and the elegance of Vietnamese women. In a more profound understanding, Hue conical hats show full of vitality about life and art. "Nón lá" in general and "nón lá" of My Lam handicraft village in particular, bear the rustic simplicity, pastoral scenery of traditional craft villages in anywhere.