Updated: 11/14/2019
Impressive, mysterious, interesting is three adjectives describing the beauty of Cu Lao Cau Island (Cù Lao Câu). This destination is suitable for those who love to explore the beauty of the sea and stone, and experience adventure. Therefore, if possible, if you have a chance to visit Phan Thiet (Phan Thiết), Binh Thuan (Bình Thuận) province, Vietnam (Việt Nam), do not skip this island to feel and preserve the masterpieces that nature has given us.
However, remember that Cu Lao Cau Island is under the control of the border guard posted in Lien Huong (Liên Hương) town; therefore, you have to ask for their permission before entering the island.
If you have more questions about Cu Lao Cau Island tourism, the article below will provide you with the exact answer.
What Is The Best Time To Visit Cu Lao Cau Island?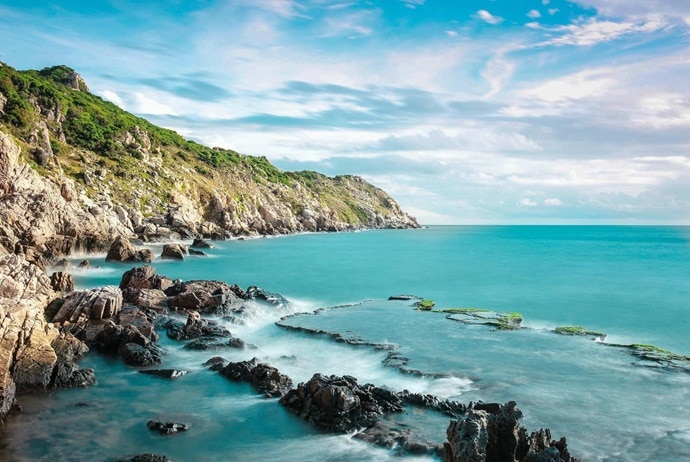 Source: puolotrip
The weather in Cu Lao Cau Island is divided into two distinct seasons: the south wind season and the north wind season.
The best time to visit Cu Lao Cau Island is from January to June of the lunar calendar. During this time, the weather is cool with light wind and calm sea. This creates favorable conditions for tourists to visit.
In addition, there is a festival at Nam Hai Temple (Đền thờ Thần Nam Hải) on the 15th-16th in April of the lunar calendar. If you are interested in spiritual festivals or folk beliefs, you should visit the island at this time.
The dry season lasts from June to December of the calendar month. There will be storms during this time, so it is not suitable for traveling to Cu Lao Cau. Not only that, the trees on the island are highly shed very much, and the scene is not as beautiful during this time as in other months.
How To Get To Cu Lao Cau Island?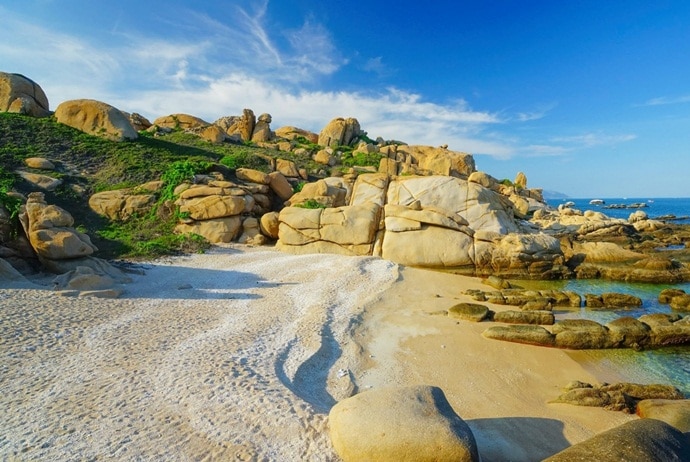 Source: youvivu
Cu Lao Cau, also known Cau Island, is an island located in Tuy Phong District, Phan Thiet City, Binh Thuan province. It í about 110km northeast of Phan Thiet city. This island has a length of over 1.5 km. From Ho Chi Minh City, you can go by motorbike, car or coach to Cu Lao Cau Island.
If you travel by a motorbike or car, you can follow this route: Ho Chi Minh City – National Highway 51 – Ba Ria Vung Tau (Bà Rịa Vũng Tàu) – Lagi – Ke Ga (Kê Gà) – Phan Thiet city (Thành Phố Phan Thiết) – the coastal road – Bau Trang (Bàu Trắng) – Phan Ri (Phan Rí) – Tuy Phong.

If you want to take a coach, you need to go to Mien Dong Bus Station (Bến Xe Miền Đông). There are two coaches to Cu Lao Cau Island: Minh Nghia (Minh Nghĩa) and Dong Hung (Đông Hưng). They will start at 5 AM and 7 AM respectively. The time for each trip will be 6 hours. Ticket price per trip is 135.000VND. You can purchase tickets directly or online.
When coming to Tuy Phong District, in order to get to Cu Lao Cau, you can depart from some spots, including Ca Na Port (Cảng cá Cà Ná), Phuoc The Port (Cảng cá Phước Thể) or Lien Huong Wharf (Bến Tàu Liên Hương).
Ca Na Port: You will need about 1 hour and 15 minutes on the boat to get to Cu Lao Cau Island. This port has a parking site and many other services.

Phuoc The Port: You can take a boat of the fisherman or a boat which carries water and food to get to Cu Lao Cau Island. After 30 minutes, you will arrive at this island.

Lien Huong Wharf: Here, you can take a canoe of the sea conservation center to get to the island. A Round trip ticket is about 250.000VND / person.
Note: If you do not join a tour, but travel by yourself, then you should remember that all canoes and boats are not allowed to get into the parking area, but have to park at a distance and you need to take a basket boat to get to the shore. It is because there is just military wharf.
Also read: Phan Thiet – Mui Ne Attractions – 17 Must-See Places For Tourists
 

Where To Stay In Cu Lao Cau Island?
As mentioned earlier, since Cu Lao Cau Island is small and under the management of the border guard, so you need to have their permission if you want to spend the night here. It is difficult to find a hostel or hotel on the island, so you should bring a tent or sleeping bag. You can ask for sleep at the border station. The soldiers here are quite friendly and always help people.
What Are Attractions In Cu Lao Cau Island?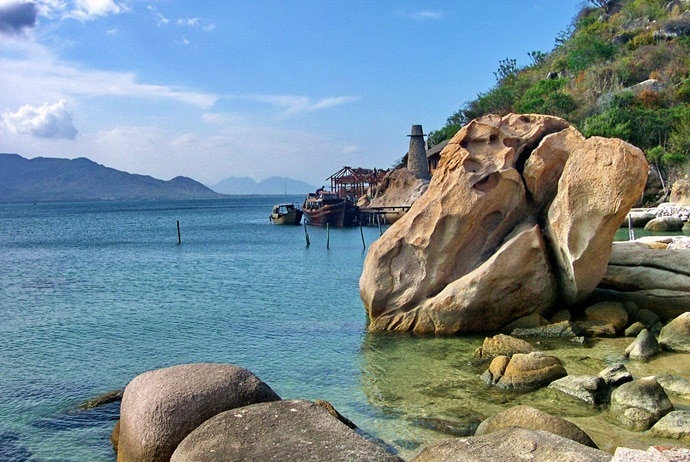 Source:  vngender

In Cu Lao Cau Island, you will have an opportunity to enjoy the beauty of the sea, play on smooth white sand and swim in blue water. Due to clear blue seawater, you will be able to witness different colors of the sea.
The island has a wild look with rich and varied vegetation. Due to fresh and cool air, this island is very ideal for picnicking, so you should prepare essential items like tents, hammocks, and food. However, if you like getting close to nature and enjoying new experience, the flat rock on the island will be your perfect resting place.
The beauty of Cu Lao Cau at night is interesting. Since the space is quiet, you can feel the sound of wind and waves. Looking up at the sky, you will see tens of thousands of stars and hundreds of colorful lights of fishing boats anchored near the coast.
There is an infantry platoon on the island. They regularly patrol, so you do not have to worry about the safety. Some interesting activities you should take part in when visiting Cu Lao Cau Island are:
One of must-try activity on Cau Island is snail catching as there are many kinds of sea snails.
Go diving to see the "coral reef"
Thanks to well-preserved coral reefs, tourists can contemplate them by diving down for just a short distance. Like its name, there are a lot of kinds of beautiful coral with diverse shapes and different colors. It is also the habitat of many rare aquatic species.
It is worth noting that upon swimming or diving, you should prepare yourself a pair of the sandal to prevent your feet from being scratched.
In Vinh Tan Commune (Xã Vĩnh Tân), there is a tourist company organizing the activity of scuba diving, coral viewing, and fishing for visitors. The company has its own cruise ship that can carry 12 people to the island with $ 200 per trip. You will be provided with all necessary equipment for diving. Early in the morning, tourists will be taken to the island and engage in interesting activities. In the evening, tourists will return to the mainland.
If you want to go diving yourself, you can prepare essential equipments. Diving is free, but remember to not damage the nature.
There is a sacred Nam Hai Temple (Đền Thờ Thần Nam Hải) on Cau Island. According to local fishermen's belief, Nam Hai is the God who has repeatedly saved fishermen from accidents. No one knows when and by whom this shrine was built, but the customs and beliefs of the God are preserved and handed down from immemorial time.
Visit Yen Cave and Ba Hon Cave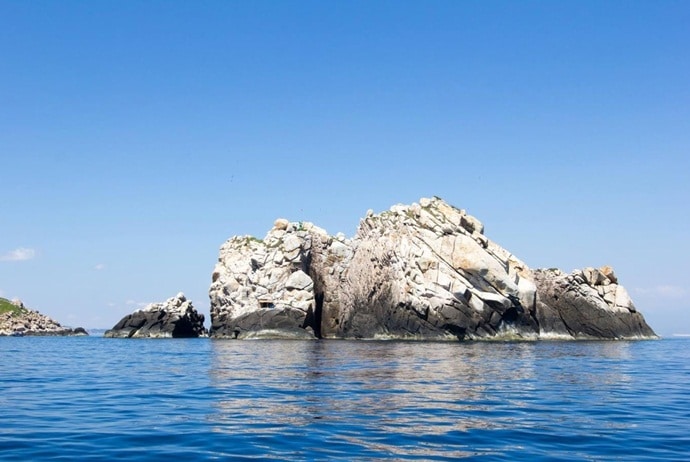 Source: travel
One of places you should not miss during your trip to Cu Lao Cau Island is Yen Cave (Hang Yến). It is the bird's nest habitat and strictly controlled by the border guards to prevent over-exploitation of eggs and nets of salangane. Thus, this cave still retains its inherent pristine beauty.
In adjacent to Yen Cave, there is Ba Hon Cave (Hang Ba Hòn) made up of three steep large stone blocks, with the unique and strange shape. This is a beautiful and ideal place to take photos in Cu Lao Cau to keep great moments.
Due to there is no tree shade, shop, restaurant on the island, Ba Hon cave is considered a stop for tourists to rest, avoid the sun, and feel the vast of the sky, land and sea.
Don't skip: Doi Duong Beach, Phan Thiet – One Of The Best Beaches In Vietnam
What To Eat In Cu Lao Cau Island?
On the island, there are only two small restaurants: Tu Huu (Tư Hữu) and Ba Giu (Bà Giữ). The seafood here is very tasty and fresh. The restaurant owners are also cheerful and friendly. Some of Cu Lao Cau Island's specialties that you should not miss are Vu Nang sea snail (ốc Vú Nàng) and Moon crab (Cua Mặt Trăng) and Cui Clam (Cùi Sò).
A Few Things To Keep In Mind
Bring your life jacket because you may also need to travel by basket boats, in addition to traveling by boat or canoe.

You can go to the army barrack here and ask for fresh water if you need.

There are many poisonous snakes on the island. They usually lie under the grass and in the bushes, so it is difficult to detect them. If you want to stay on the island overnight, camp in open spaces. Be sure to set a campfire to avoid snake's access.

Do not leave trash on the island. Before leaving, clean up the place where you have just camped.

However, Cu Lao Cau is also home to many types of snakes. Thus, according to the advice of local people, it is best to go along the available path, and avoid going on the grass or in the bush to prevent being bitten by snakes. Especially, during the hot weather, snakes will crawl on the trunks to avoid sun, so if visiting Cau Island on summer, you should not sit under the tree.
The above is the Cu Lao Cau Island travel experiences that you need to know before you start your journey to Phan Thiet – Mui Ne. Surely you are now very excited about this trip.
Finally, if you have any questions about this island, please leave a comment, we will reply as soon as possible.