Around August to November, water from the upper Mekong River (Sông Mekong) flows into the provinces of An Giang (An Giang) and Dong Thap (Đồng Tháp), creating a picturesque flooding season. Although carrying along so many worries and hardships, the flooding season in Vietnam's Mekong Delta still has its own fascinating characteristics. Now, let's find out how to go to this attraction.
From Ho Chi Minh City (Thành phố Hồ Chí Minh), you can start in different directions to reach the Western region, but the route to explore the flooding season is separate. You should follow the provincial road 10 (tỉnh lộ 10) to the territory of Hau Nghia town (thị trấn Hậu Nghĩa), Long An province (tỉnh Long An) to get to Tan Lap floating village (làng nổi Tân Lập). Then you continue going on N2 road through the districts of Thanh Hoa (Thạnh Hoá), Moc Hoa (Mộc Hoá), Vinh Hung (Vĩnh Hưng) to Dong Thap province. You will stop in Hong Ngu town (thị xã Hồng Ngự) and go on a ferry to An Giang province, in which you can find Tra Su cajuput forest, Chau Doc floating village (làng nổi Châu Đốc), and Vinh Te canal (kênh Vĩnh Tế).
Experiences In The Flooding Season In Vietnam's Mekong Delta
1. Rowing In Tra Su Cajuput Forest
Being 30 kilometers far away from Chau Doc town (thị xã Châu Đốc), Tra Su cajuput forest (rừng tràm Trà Sư) with an area of 850 hectares belongs to Van Giao commune (xã Văn Giáo), Tinh Bien district (huyện Tịnh Biên), An Giang province (tỉnh An Giang). The forest possesses the unique beauty of the flooding season in Vietnam's Mekong Delta. It is a waste if you are in the Western region without spending time immersing in nature here.
Under the shade of cajuputs, among the pristine and fresh atmosphere, sitting on the boat gliding slowly on the green duckweed carpet, you will feel like being in a fairy tale. Waving in the wind is the passionate scent of cajuput flowers, mingling with the chirping of birds.
During the journey, you will be able to touch the water mops, watch the golden common sesban flowers and pleasing purple water lily. If you go rowing in the early morning or late afternoon, you will see flocks of birds flying back to their nets, forming a majestic spectacle.
2. Watching Sarus Cranes In Tram Chim National Park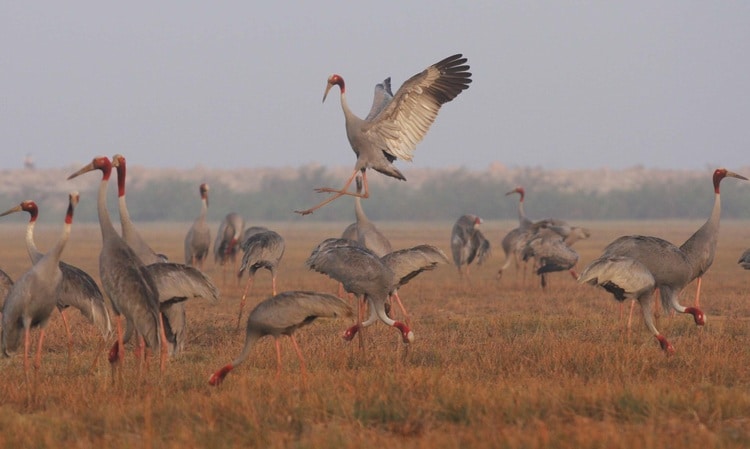 Deep in the sunken area of Tam Nong (Tam Nông), Dong Thap (Đồng Tháp), Tram Chim National Park (Vườn Quốc Gia Tràm Chim) is one of eight most important bird conservation areas in Vietnam with over 130 species of precious birds. This is also the last grassland flooding system of Vietnam, which is famous for Sarus cranes (normally known as red-headed cranes) – a rare bird species in the Red List of Threatened Species.
In the flooding season, Tram Chim turns into a green oasis, dotted with thousands of white storks on the blue sky. Stepping up to the watchtower, zooming out to the horizon, you will embrace the whole impressive scenery.
3. Catching "Linh" Fish
"Linh" fish is a product that nature bestows on people in the Western region in the flooding season. It will take half of the meaning of the flooding season experiences if you have not enjoyed dishes from "linh" fish. If the conditions permit, participate in the fishing; no matter what method, your trip will definitely be more interesting and memorable. Some great dishes made from "linh" fish are crispy fried fish, crispy fried fish with common sesban, fish stew with sugarcane, and hot fish pot.
4. Hunting Voles
In the flooding season, the voles will scatter to seek refuge. They often choose high mounds, bushes, treetops, and anywhere as long as the water cannot approach. The farmers just need to guess and go for a place that the voles are most concentrated. There are many ways to catch the voles, for example, using hunting dogs, digging caves, shooting slingshots, fumigating, and so on. Because the meat of the voles in this season is delicious and greasy, this hunting has been more and more popular.
5. Picking Common Sesban And Water Lily
Common sesban (hoa điên điển) grows much along the banks of the canal and close to the edge of the river in this period. Just visit the boat near the shore and shake the flower stems a little bit, you will easily get the intact flowers. After removing excess leaves and stalks, you can use the flowers to make several dishes such as "canh chua" (canh chua) – a kind of sour soup, "goi" (gỏi) – a salad-like Vietnamese dish, "banh xeo" (bánh xèo) – Vietnamese crepe, and "dua muoi chua" (dưa muối chua) – a pickled dish.
In addition, another flower that is equally attractive is water lily (hoa súng). You will see purple, and white water lily appeared everywhere. The flower's stems are long and fat, which is suitable for preparing lots of typical dishes that you can only find in the Western region.
6. Harvesting Water Caltrop
During the time when the fields are flooded and cannot be cultivated, people in some localities usually planted water caltrops (củ ấu) to make the most of the fields. Water caltrops have an ugly black look, but they are white inside and taste savory. It may be somewhat difficult since you need to wade into the fields to pick up water caltrops; but in return, it is nothing better than enjoying a fragrant soup pot after all.
7. Trying Specialties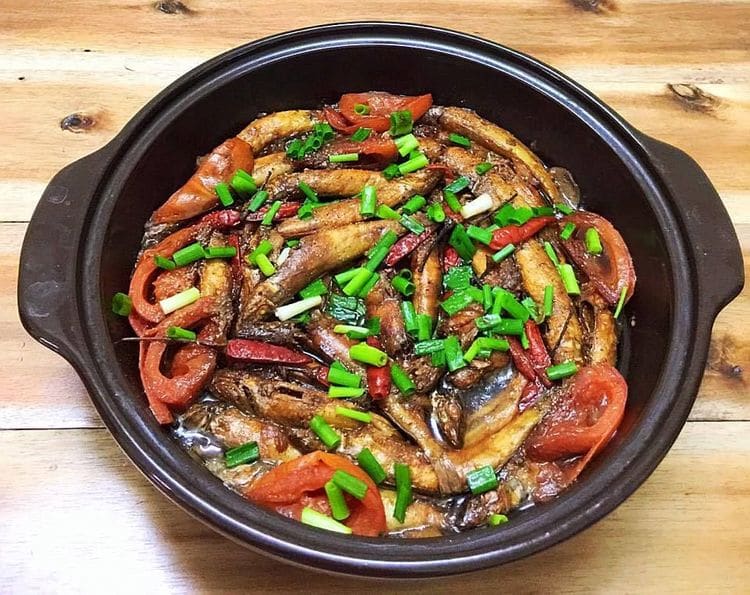 Besides admiring the natural scenery and participating in interesting outdoor activities, the processing and tasting of the specialties of the flooding season in the Western region is an experience you should not miss.
The most famous specialty in this season as mentioned above is "linh" fish, which is the key ingredient of various delicacies. We also must pay attention in other dishes such as "lau mam" – hot pot with the based soup consists of diverse fish sauce types, grilled voles with "chao" ("chao" is fermented tofu), goby stew in clay pot, "banh xeo" with common sesban, hemibagrus stew with pineapple, grilled snakehead, and so forth. The dishes are frugal but will make you remember forever of a rich and prosperous Western region.
The Western region has an idyllic, peaceful, and rustic beauty, and local people are also extremely friendly and hospitable. Hopefully, the above information can answer your question: "What to do when traveling to the flooding season in Vietnam's Mekong Delta?" If you still have something to ask or simply want to share with us your story, do not hesitate to leave a comment below. For more articles about other activities to do in Vietnam, please go to our Vina homepage.