Lan Vuong tourist area (Lan Vương) is an attractive eco-tourism resort in Ben Tre (Bến Tre), Vietnam that compiles trees, shades, ornamental flowers, rowing boat, coconut-lined space, and thatched huts. This tourist area empowers you a chance to enjoy the fresh air, take part in many interesting recreational activities, and taste loads of delicious dishes as well as specialties of Ben Tre.
So, what makes Lan Vuong tourist area a worth-visiting destination in Ben Tre – a province in southern Vietnam, which is the homeland of coconuts? Just read on this article to find out the answer.
I. General Information About Lan Vuong Tourist Area
Located in Hamlet 2, Phu Nhuan (Phú Nhuận) commune, Ben Tre city, about 5 km from the center of Ben Tre, Lan Vuong tourist area is a paradise of entertainment with large space, pure nature, and a vast river.
Initially, this resort is a piece of land designed in the style of cultural, sports and tourist areas, including a small river stretching over the whole area. After that, it was built and promoted to become an attractive tourist destination in Ben Tre that is appealing to both domestic and international tourists.
Here, you will not only have the opportunity to enjoy delicious food, but also immerse in the fresh space, taste numerous delicious fruits such as plum, mango and Siamese coconut; admire the bonsais; and paddle the boat.
II. What Are Attractions And Activities In Lan Vuong Tourist Area?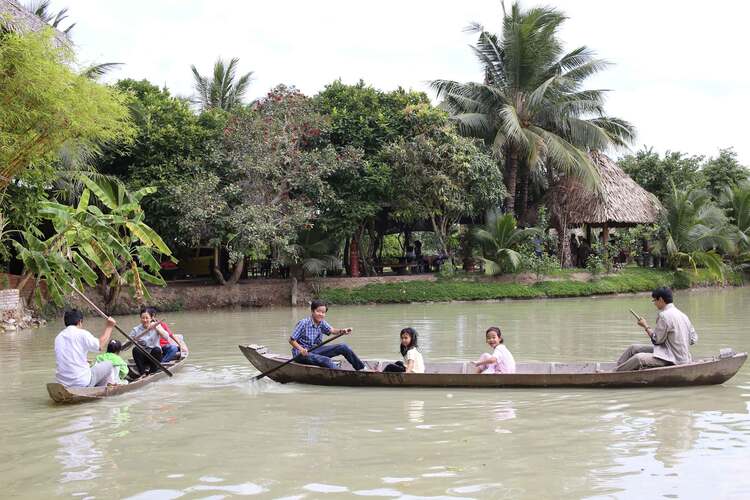 In Lan Vuong tourist area, visitors will have a chance to soak in the ecological environment and participate in picnic activities and exciting games.
Here, you will have the opportunity to participate in many interesting games like:
Sailing on a 750m long river branch

Singing Karaoke, listening to the guitar concert

Catching fish, crabs, and snails in fields and ditches

Recreational Fishing

Watching bonsai, especially yellow apricot

Visiting green pomelo garden

Visiting breeding pig farm, goat farm

Picking fruits such as An Phuoc (An Phước) plum, Taiwanese mango, Tu Quy (Tứ Quý) jackfruit, etc.
Not only is the place where entertainment activities take place, but Lan Vuong tourist area is also gradually becoming an ideal site for organizing seminars, arts, sports, and competitions involving coconut.
In addition, there are also unique handicraft items that are hardly found elsewhere. You can buy some as gifts for relatives and friends after your trip.
If you want to go camping for 2 days and 1 night, you can stay in Lan Vuong tourist area to burn campfire, sing, and listen to the art of Don Ca Tai Tu (Đờn ca tài tử) – which was recognized by UNESCO as an Intangible Cultural Heritage of Humanity.
Recently, Lan Vuong eco-tourism resort has become an ideal place to organize art festivals, camps, sports, conferences, seminars, traditional festivals and contests of coconut – the cuisine of Ben Tre.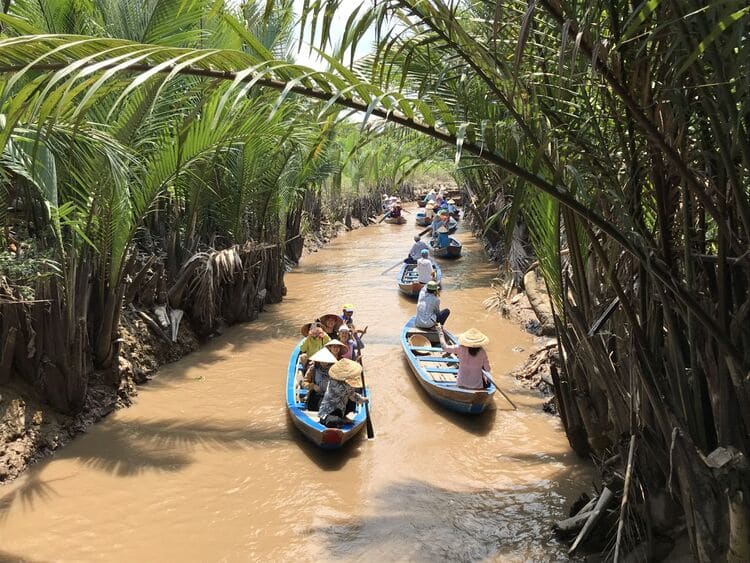 III. What To Eat In Lan Vuong Tourist Area?
After a long day of traveling, just tickle your taste buds with some famous as well as traditional dishes here.
Ben Tre, as one of the most famous provinces in Mekong Delta, is a laid-back and sleepy region famous for not only friendly locals but also coconuts, sweet coconut candies, and other exotic cuisine. Thus, when visiting Lan Vuong tourist area, you can taste a variety of foods and specialties, which are:
Coconut, pineapple coconut (grown right at the resort).

Special dishes such as hybrid boar pork, grilled fish, and rice cooked from rice grown in shrimp farming area.

Roasted shrimp with coconut.

And many seafood dishes from nature.
The prices of local cuisine are quite reasonable, people are friendly and always ready to support when visitors need. All contributes to make Lan Vuong tourist area one of worth-visiting destinations in Ben Tre province.
IV. How To Get To Lan Vuong Tourist Area
Lan Vuong tourist area is only about 85km away from Saigon (Sài Gòn) so you can go there by motorbike, car or coach.
If you choose to go by motorbike or car, follow this route: Highway 1A – Tan Tao (Tân Tạo) – Night market (Chợ Đêm) – turn into Highway 01 – Highway 60 – Lan Vuong tourist area.
If traveling by a coach, you can take one to go Ben Tre bus station. Then, from this bus station, take a taxi to Lan Vuong tourist area.
V. Entrance Fee At Lan Vuong Tourist Area
Lan Vuong tourist area does not cost you any penny in terms of entrance fee. However, if you want to participate in any game, you need to pay different fees. Some games and services are fishing, going on a boat, wearing traditional clothes of Ben Tre (Bà Ba), etc. with the cost ranging from 10,000 VND to 800,000 VND.
In case you want to campfire, go camping or participate in some group-styled games, the ticket price will be calculated based on the number of players.
VI. Some Notes During Your Trip To Lan Vuong Tourist Area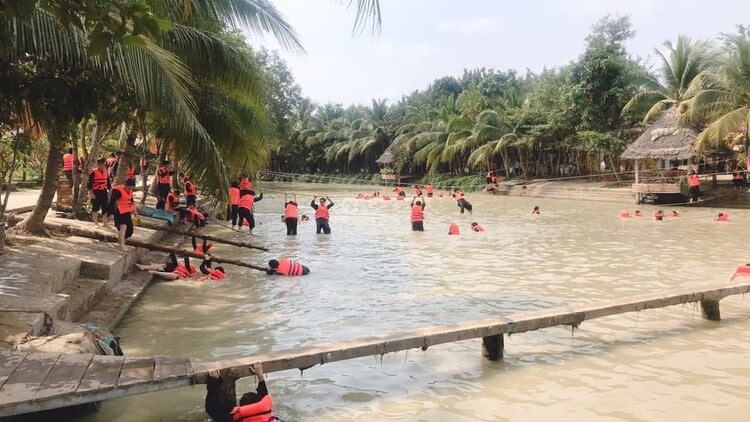 On weekends or public holidays, the number of tourists coming here increases significantly, so if you go with a large group, you should book in advance.

Don't forget to bring shampoo and shower gel to use after having wading mud and river bath.

Bring slippers and clean clothes.
After all, Lan Vuong tourist area, in particular, and Ben Tre, in general is really a worthwhile destination to visit that promises to give you memorable experiences. Let's come and feel its great features now!
Besides this article, we also have a lot of other articles introducing other tourist attractions in Ben Tre. So if you are planning on a trip in the future, don't ignore them because there are many interesting things waiting for you to discover. Wish you have a good day!
 By Van Tran