Con Dao National Park (Con Son) (Côn Sơn) – a national park in Con Dao Island (Côn Đảo) is rich in marine and terrestrial natural resources. As the most important natural reserve of Vietnam, this park features a wide range of plants and animals. Visiting this park, you can discover the diverse world of fauna and flora. Furthermore, you can also take part in the trekking and many beach activities in the park.
I. Why Should You Go To This Place?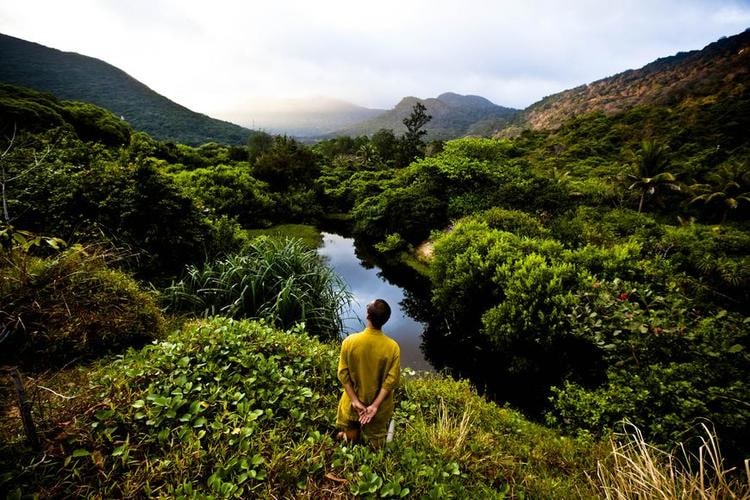 1. Diversity Of Flora And Fauna
a. Diversity Of Flora
Con Dao National Park features an extensive system of fauna and flora consisting of many marine creatures, like sea turtles and coral reefs. In 2006, the park was recognized as a cultural and natural heritage by UNESCO[1]. With a diverse ecological system, the national park is home to marine species like dolphins, turtles, sea cows, etc.. 882 species of vascular plants exist in the park, including 30 species of orchids, 371 woody species, 202 species of herbs, and 103 species of vines. Scientists also found firstly 44 species of plants in the park such as Manikara hexandra, Chukrasia tabularis, etc. Thanks to diversity, Con Dao National Park is attracting more and more visitors to come to explore.
b. Diversity Of Fauna
This park has not only the rich flora but also the diverse fauna system. One hundred forty-four species have been recorded including 69 species of birds, 28 species of animal, eight species of amphibians and 39 species of reptiles. Exploring Con Dao, you can easily see the endemic animals such as Callosciunis finlaysonii, Rattus niviventer condorensis, black squirrel, and Con Dao geckos.
The marine ecosystem in Con Dao is also plentiful and diverse with 1,321 marine species consisting 23 of species of mangrove plants, 7 species of seagrass, 127 species of seaweed, 115 species of planktonic and 157 species of plankton plants, 219 species of corals, 5 species of reptiles and animals and 37 species included in the Red Book of Vietnam. In the park, you can also find rare marine animals like dugongs, blue whales, and Dugon dugong.
Con Dao National Park is one of the best marine conservations of Vietnam, as it has set up the regulations of limiting fishing activities and prohibiting destructive fishing.
II. What To Know About It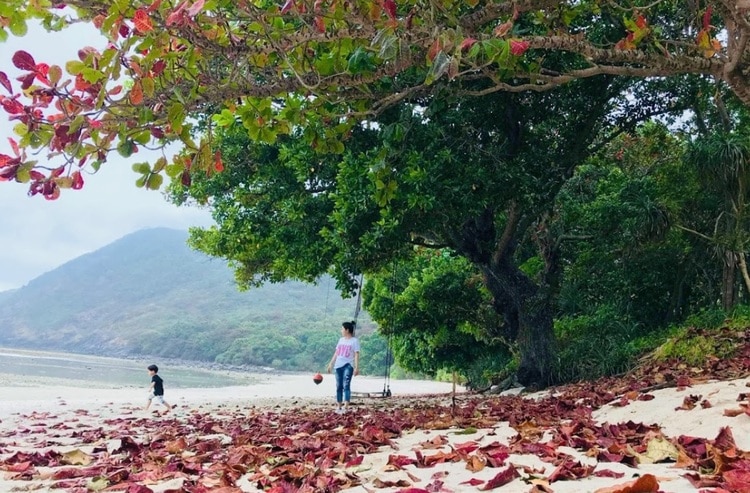 1. Location
Situated in the north of Con Dao District, Con Dao National Park is a natural reserve with the total area stretching from island area to sea area. On March 31st, 1993, the Prime Minister of Vietnam decided to build the park covering the area of 15,042 ha including 9,000 ha in the sea area and 6.043ha in the island area.
2. The Best Time To Visit Con Dao National Park 
From June to September, Con Dao Island with attractive features is likely to get rain while from November to February, Con Dao Island undergoes the drier months of the year. So if you are planning to visit Con Dao in general and Con Dao National Park in particular, the ideal time to visit is from March to June. During that time, the weather is more pleasant, and the beach is calmest. Therefore, you can have opportunities to enjoy the best trip.
3. Things To Do In Con Dao National Park
Exploring Con Dao National Park, you will have a chance to enjoy many exciting activists that create a memorable trip to this park. For instance, you can trek through the jungle and go sightseeing at Thanh Gia Mountain (Núi Thánh Giá). Especially, you can enjoy the panoramic view of Con Dao island when you are standing on the roof of Thanh Gia Mountain with a height of 577 meters.
Hiking in Con Dao National Park is an unforgettable experience for tourists and visitors coming here. When you are planning for a hiking trip, make sure that you wear comfortable clothes with sports shoes. Think about the hydration and then bring enough water with you. During the dry season, the forest is likely to get fired, so do not smoke or light a fire. If you hike in the rainy season, you should ensure the trail conditions and always keep in mind your time. Furthermore, avoid nightfall.
The monkeys are the problem when you hike in Con Dao National Park because they can steal your bags and other possessions. Therefore, do not let monkeys get close to you.
When you travel to Con Dao National Park, do not forget to take a walk along Ong Dung beach and participate in many exciting beach activities. If you are healthy enough, you can snorkel and enjoy the scene of colorful coral reef under Ong Dung Beach (Bãi Ông Đụng). Ong Dung Beach will become more exotic and fanciful at sunset.
Besides Ong Dung, Nhat Beach (Bãi Nhát) is another famous beach located in Con Dao. After a day of exploring nature, nothing is more excellent than taking a rest, relaxing and watching the sunset on Nhat Beach.
III. Where To Eat And Stay In Con Dao National Park 
Con Dao National Park is an ideal place for you to have a picnic with your friends and your family. Set the fire, eat deliciously prepared meals, organize exciting activities, and sleep in the tent. So, prepare what you need before the trip.
Con Dao National Park is attracting not only tourists but also scientific researchers because of the beautiful landscape and ecological diversification. Enjoying the picturesque seascapes on this island will give you memorable experiences. I hope that this article gave you useful information. Any questions can be left in the comment section, and we will answer them as soon as we can. On Vina.com, we have amazing articles about Vietnam's tourism. Therefore, if you are interested in the strip to this S-shaped country, please do not forget to visit our website.
By Nga V