Famous Landscapes Photos In Hue By Thong Hoai Nguyen
Updated: 11/27/2019
Lap An Lagoon also called An Cu Lagoon is located near Phú Gia Bridge of Lang co town. This place is about 800 hectares large and considered as one of the most beautiful brackish water lagoons of Hue city.
Hue is famed for the complex of monuments, palaces, temples and tombs or magnificent but poetic destinations such as Ngu Binh mount, Bach Ma national park, Huong River, Lang Co bay, Tam Giang lagoon. Besides these attractions, a romantic Hue land allures tourists by its amorous Lap An Lagoon – a new 'tuyet tinh coc' of central Vietnam.
Lap An Lagoon – The Muse Of Hue
A lagoon is compared with graceful and charming beauty due to its purity and peace in natural landscapes. Lying on a peaceful Lang Co and magnificent Bach Ma mountain, Lap An Lagoon always makes tourists deeply passionate with its enchant. Its alluring beauty has been recently explored by citizens through charming and picturesque scenery that few places treasure. In the sky are the sapphire blue clouds, under the water surface are schools of fish swimming in the freshwater, behind is the vaporous clouds of mist spreading out before us. All of them are like a gift from Mother Nature, giving lovely Lap An Lagoon –make it a perfect "water-colour" painting. Lap An Lagoon is like the bashful Muse of Hue walking softly from the dreamland and making travellers' hearts stirred, which brings strange unforgettable feelings and a sense of amazement.
The Beauty Nestling Beside Lang Co Bay
Lap An circled by a magnificent and tremendous Bach Ma mountain hides next to a beautiful and luxurious Lang Co. Here, a small path curving the mountain foot is like a soft and graceful string of silk. It appears like the burnished hair of the beauty Lang Co falling to her shoulders. Notably, in sunny days, Lap An is shone by sparkling sunlight, looks like a giant mirror reflecting the sunshine. This mirror also reflects glittering landscapes and an alluring Hue.
The Natural Beauty Of Lap An Lagoon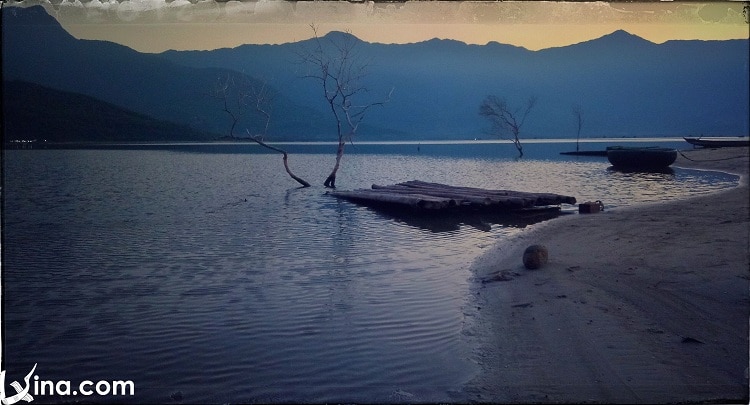 Famous Landscapes Photos In Hue By Thong Hoai Nguyen

The most special thing in Lap An Lagoon is revealed when the tide goes down. At that time, the lagoon lines a white path dotted with lovely shells (it is so-called an extended sandbank). Poetic and picturesque landscape coupled with this charming "strange" path makes Lap An more attractive. Similar to other places, Lap An allures people at first sight by its most beautiful moment from dusk to dawn. At the moment of transferring from day to night, the water surface seemingly becomes the "barrier" of light and dark that matches up and is faded away.
Local People's Life
Tourists can feel the serenity of life in Lap An Lagoon when experiencing and exploring the sea culture of this place. Seemingly the breathtaking pastoral scenery and various sea species are "the heavenly gift" from Nature Mother giving to Lap An lagoon. Walking through old fishing villages, tourists may immerse themselves in a peaceful and simple life of local people with fresh air. The sun shines all the lagoon and the fishing village becomes busier  with working, which is a marvellous feeling like you have just walked from the heaven on earth. Perhaps, the pictures of fishers with friendly smiles, spreading the net to catch fish or coming back with fishing boats full of fish, oysters are always in mind.
View more: Stunning And Famous Landscapes Photos – Top Attractions In Hue City / Quang Loi Lagoon Photos In Hue
Suitable Time For Travelling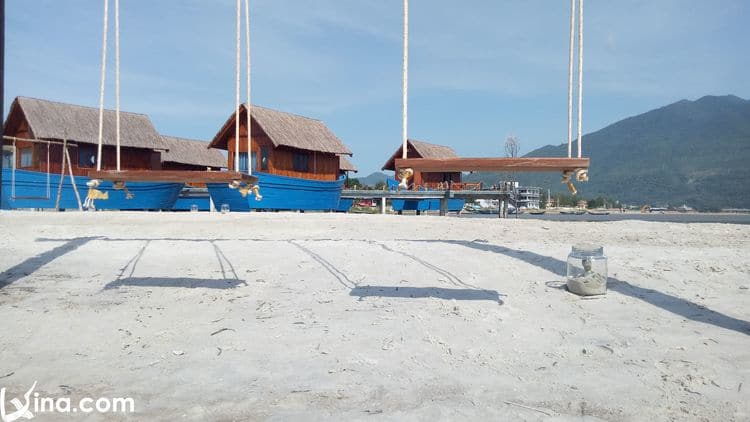 Famous Landscapes Photos In Hue By Thong Hoai Nguyen
In any season, Lap An lagoon brings its unique beauty. Yet, the most appropriate time to travel is in April to mid July, because there are more sunny days than rainy days at this time. Sunshine associated with the fresh water surface is like opening abroad and deep space running along the sky. Furthermore, Lap An lies on Lang Co Town, so you can combine with visiting Lang Co Bay – one of the most beautiful bays in the world. In Lang Co town, there are many places to stay with a range of suitable prices for tourists.
"Visitor- Tempting" Dishes
Besides poetic landscapes, Lap An Lagoon is the home of many aquatic animals and plants. So it is hard to ignore a variety of dishes in this place. Especially, Lap An treasure the "heavenly present"–oysters because oysters in this place bring nutritional value and unique taste. You must try this dish if visiting Lap An lagoon.
Ways To Get Here
There are many ways to get to Lap An. If you start from the Huong River, you can follow the route Hue to Da Nang (Doi Cung-Ben Nghe- Hung Vuong- An Duong Vuong-Nguyen Tat Thanh- 1A National road). You ride along 1A national road by Ly Thai Tong road until you see the sign towards to Phuoc Tuong, turn along this side. Go straight to Lang Co town, turn Vi Thu An road, and continue to go straight to Lap An lagoon.
Written by M.Phuong
Proofread by Hang Pham