Many tourists have praised Phu Quoc Island as one of the most ideal destinations in  Vietnam since it has rivers, mountains, streams, primeval forests, beautiful landscapes and beaches. The nature here has a morphological diversity. Thus, visitors come here not only to relax but also to discover interesting things that no longer exist on other islands. Bai Khem Beach is one of the most stunning beaches on Phu Quoc Island. When coming to Bai Khem Beach in Phu Quoc, visitors will be immersed themselves in nature and have an opportunity to communicate with friendly, rustic, sincere, and hospitable fisherman. 
Bai Khem Beach – A Worth-Visit Destination In Phu Quoc, Vietnam
I. How To Get To Bai Khem Beach
Bai Khem beach is situated in the south of Phu Quoc among other beaches, such as Bai Dai beach and Bai Sao beach, which is 25 kilometers from the center of Duong Dong town. You can take a taxi from Duong Dong town to reach the beach. You can also take a taxi from the airport straight to the beach that will cost you around 300.000VND. You can also rent a motorbike from the local people to drive to the beach.
II. Overview Of Bai Khem Beach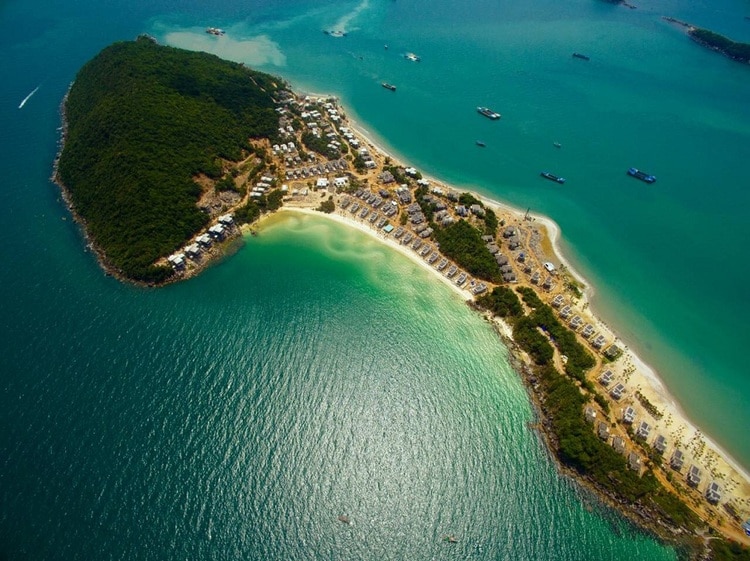 Bai Khem Beach is the calmest and most beautiful beach in Phu Quoc Island with the white sandy beach. This place is home to a lot of kinds of ocean and fish creatures. According to the reader's vote of Forbes magazine, Khem Beach is one of the world's most beautiful islands. Khem Beach attracts visitors with no noise like the other beaches in Phu Quoc and wild beauty. It is also easy to grasp and captivate travelers by its romantic scenery and discrete space. 
III. What Makes Bai Khem Beach Beautiful
Bai Khiem is considered as one of the gorgeous beaches in Phu Quoc Island with beautiful crystal clear water. Although it is not large and long like other beaches on the island, it attracts travelers due to its poetic landscapes and tranquil space. Hidden behind a green forest, Bai Khem Beach offers an ideal hideaway for people who want to stay away from crowded and noisy destinations.
Near the beach, you can visit the pearl cages of local people on the island. This place is very well-known for the high quality pearls. This is a place you must visit if you're a jewelry addict. 
There is an old well on the beach known as Fairy Well (Gieng Tien) at the southern tip of Bai Khem beach. The water here is totally fresh water and is not salty when the tides rise high.
Next to the beach, you can visit Ong Doi cape (Mũi Ông Đội). The cape is the only place where visitors can watch the sunset and sunrise in the same location.
Currently, in Bai Khem Beach, there are many cafes, bars, restaurants, especially restaurants with hammocks mushroom with tidy and clean services, interesting eating spots, and fresh seafood cuisine. Besides, tourists can get in boats to purchase fresh shrimp, fish, snails, or oysters, all of which have been recently caught up.
Besides, when coming to Bai Khem Beach, visitors will have a chance to pop in famous attractions in Phu Quoc, such as Phu Quoc Prison.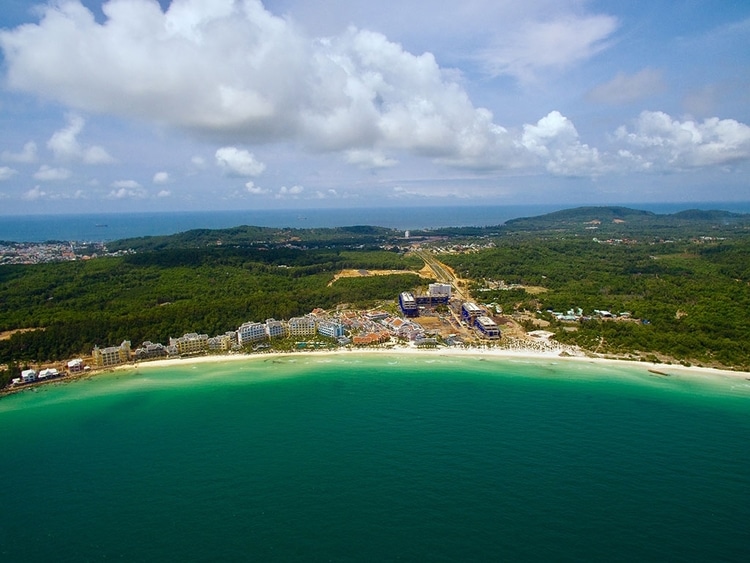 IV. What To Eat In Bai Khem Beach
The seafood in Bai Khem Beach is really tasty and fresh since it's located near the fishing village. The most famous and delicious dish, however, here is herring salad. This salad dish here is not only delicious but also is cheaper than in other destinations. Herring salad is a traditional dish in Phu Quoc Island with fish sauce, garlic and chilly; the oysters are very delicious and big. If tourists have the opportunity to travel to Bai Khem Beach, don't forget to enjoy themselves at the beach and taste herring salads.
V. Where To Stay In Bai Khem Beach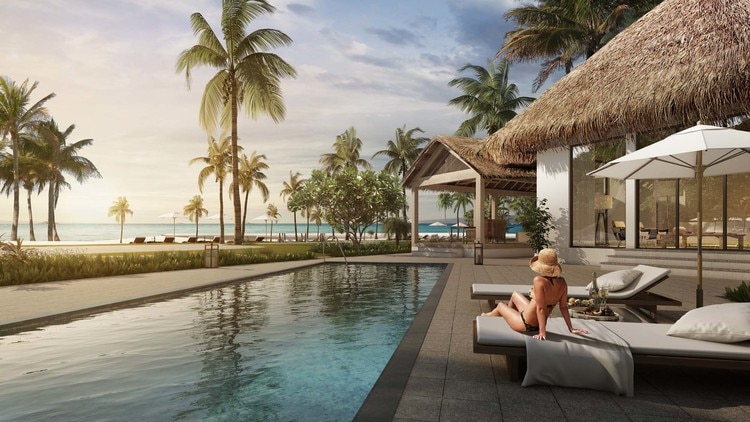 When coming here, visitors can stay at Sun Premier Village Kem Resort. With the rustic beauty of Asia combined with European architecture, this resort promises to provide you with the ideal place to stay. This resort is located just 35 kilometers from Duong Dong town, 25 kilometers from Phu Quoc airport and is built by Sun Group Corporation. Besides, it is very easy to go to the An Thoi Island, Fairy Well, and Mui Ong Cape nearby. 
Let's visit this beautiful Bai Khem beach when coming to Phu Quoc Island. If you have any queries or questions, please share with us by leaving your comment in the box below. See you soon!
By Mai Cao