With its charming landscape, Nghinh Phong cape is considered as one of the most  deserved destinations to travel in Vung Tau, Vietnam. This cape welcomes travelers with its harmonious wind and blue sky that is suitable to the individuals who love the strong feeling from strong waves and is also suitable for water skiing and fishing. So, the desert and natural landscapes here will definitely make you really attractive and excited. Let's see and try to visit this cape as much as you can. 
Nghinh Phong Cape – A Must Visit Destination In Vung Tau, Vietnam
I. Overview Of Nghinh Phong Cape
Nghinh Phong Cape is located in the southern part of Vung Tau peninsula. It is called Nghinh Phong (Cape of greeting the wind) because this place welcomes the wind throughout the four seasons. This cape created two beaches, Huong Phong Beach and Vong Nguyet Beach, two large bays in the East and West. It is more sacred and unique with huge white Kito God statue, stretching out his arms to embrace the whole sea to his heart. 
Not only brings the extremely attractive and peaceful beauty, Nghinh Phong Cape makes visitors unable to leave their feet because of its deep blue sea and magnificent mountains and forests. Behind the cape are shady trees, majestic mountains, bringing peace and fresh air for relaxation. With charming landscapes and unique quiet space, this cape becomes a must-visit tourist destination when you set foot on the coastal city of Vung Tau.
II. How To Get To Nghinh Phong Cape?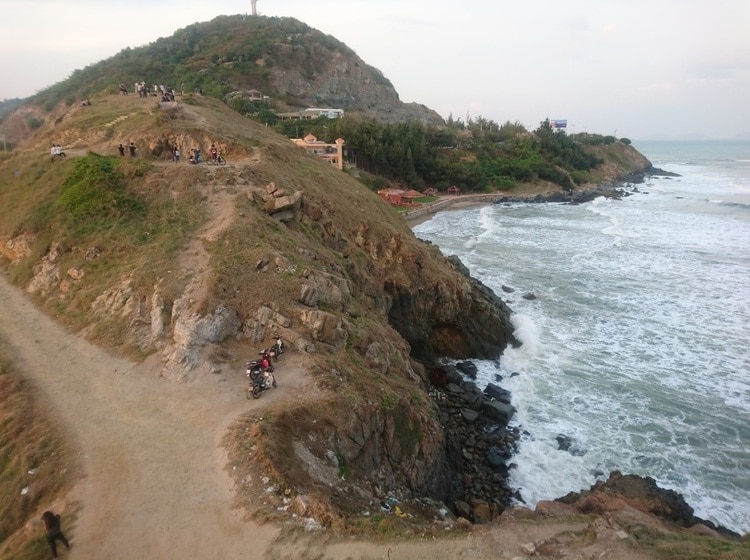 Nghinh Phong Cape is located at no. 1 Ha Long Street, Vung Tau City. The location of the cape is very easy to find because it is near the Kito God statue with stretched out arms and Vong Nguyet beach. From martyr's memorial in Vung Tau, visitors follow Le Hong Phong Street to reach Sau beach, then turn right to Thuy Van Street. Tourists continue to follow Thuy Van Street towards the Kito God statue to reach Nghinh Phong Cape.
Heaven Gate is located right at Nghinh Phong Cape. To reach the Heaven Gate, visitors will have to move through a trail. Although the road is quite difficult to go, every visitor wants to pass to see the Heaven Gate of the coastal city of Vung Tau.
Thuy Van Street is one of the two most beautiful coastal roads in Vung Tau, so tourists should choose a motorbike to travel to Nghinh Phong Cape. Tourists can also rent a motorbike to move to Nghinh Phong Cape with prices ranging from 100,000 to 200,000 VND per day. 
Near Nghinh Phong Cape, there are also many entertainment places in Vung Tau, such as the Kito God statue, Vong Nguyet beach, Dua beach, Vung Tau lighthouse, etc. 
III. Discover The Magnificent Beauty Of Nghinh Phong Cape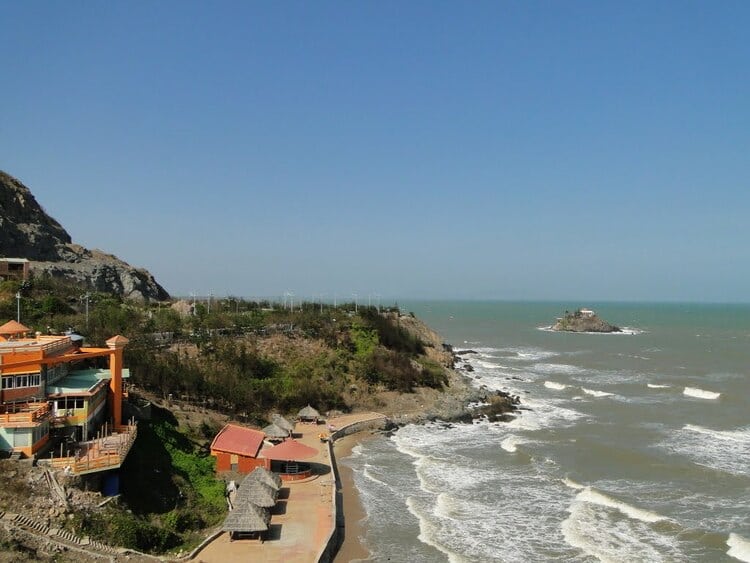 When coming to Nghinh Phong Cape, you are excited by the breath – taking landscape. This is the reason why this place has been one of the worth-see destinations during your journey to the coastal city of Vung Tau. Apart from enjoying the charming nature, visitors certainly immerse themselves in the cool fresh breezes and the pristine blue sea water of Vong Nguyet Beach.
Besides, when you set foot in the Heaven Gate, you will hold a panoramic view of the beautiful sea together with the dynamic life of Vung Tau. In addition to this, this heaven gate grasps the attention of travelers by the untouched beaches, spectacular mountains, and the immense blue sky.
Apart from that, Vong Nguyet Beach is an ideal place to attract visitors because the beach is an unspoiled bay with clear water, many waves, and white sand. It can be said that the place is only for people who love exploring and experiencing. The beach is neither as dynamic as Sau Beach nor as noisy as Truoc Beach; it is alluring by its own poetic and mysterious beauties. 
It is also easy to find eyes-catching corners to take impressive pictures in the cape. Standing at the Heaven Gate, you can observe the whole mainland. 
IV. Fun Activities At Nghinh Phong Cape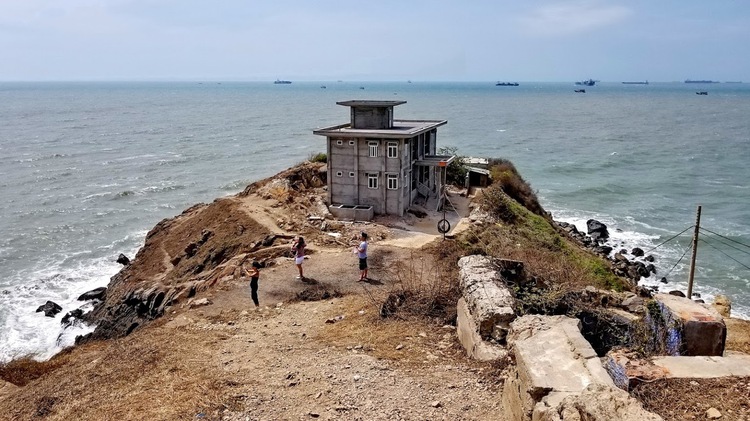 1. View Stunning Landscapes
When traveling to Nghinh Phong Cape, with its charming beauty, golden sky gate, and clear blue sky, you'll be amazed by many beautiful landscapes where you can take a lot of stunning photos for your lifetime gallery. For beautiful photos, visitors should move and discover all the beauty here. However, remember to take your jacket to avoid catching a cold, as the wind is very strong. The temperature here will be lower than the temperature on the mainland.
2. Ideal Camping Spot
This is also the ideal camping site for those who want to escape the noise in a busy city, enjoy feelings of peace. The camping site at Nghinh Phong Cape is quite narrow with only 7-9 tents, divided into many different angles. It is best to fix the tent tightly to secure it in high winds.
From the tent, visitors can see Vung Tau city at night, watch the sunrise and sunset, and enjoy the fresh air. 
3. Have A Picnic Party
Picnic parties are indispensable on the trip to Mui Nghinh Cape. Visitors should prepare their food at home because there are no shops here. If you are planning a party in the evening, you should prepare a flashlight, because there are no light bulbs in the evening. After eating and drinking, don't forget to collect garbage to help protect the environment.
With charming scenes and romantic beauty, Nghinh Phong Cape is becoming more and more popular and well-known, attracting numerous visitors to visit.  Therefore, the number of people coming to Vung Tau city increases day by day. Do not skip this beautiful place in your list this summer!
By Mai Cao