Can Tho city have been recognized as craft villages such as Thuan Hung rice paper village, Thom Rom fishing net weaving village. Besides, Pho Tho – Ba Bo (Phó Thọ – Bà Bộ) flower village in Can Tho is famous for a variety of flowers creating beautiful landscapes. It is ideal for tourists to travel and contemplate this place.
Ba Bo ornamental flower village is located in Binh Thuy district, Can Tho city. It is said that the flower village has gone through hundreds of years of developing from small to large scale.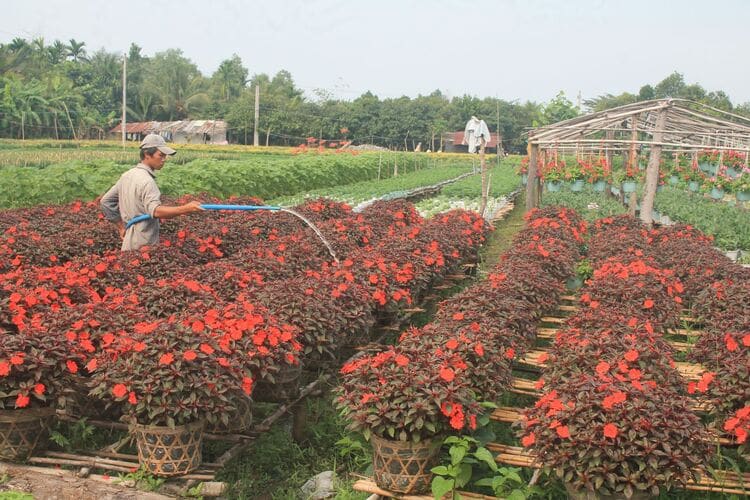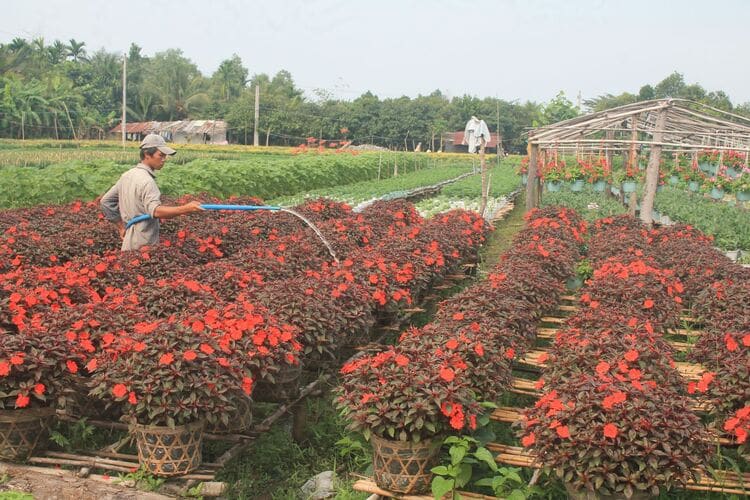 In the springtime, people in the ornamental flower village become busier with harvesting flowers to serve Tet holiday. The scene of noisier trucks transporting flower products to everywhere and smile on villagers created the bustling atmosphere along with a beautiful dreamlike picture of Delta region. There are a variety of flowers in full bloom each occasion of spring. Ba Bo's beauty is illustrated by the diversity of colourful flower species that run along with the lasting fields. Especially, you will figure out that Chrysanthemums are regarded as the most crucial flower of Ba Bo flower village during Tet holiday. So, it is not surprising that this flower is the best-selling in the harvest season.
Ba Bo flower village brings uncountable values for not only local people but also Can Tho, the Delta city. In each special occasion as Tet Holiday or festivals, Ba Bo flower village is a leading supply of flowers. When Lunar New Year festival is coming, gardeners have been busily nursing their flowers for trading. Each year, gardeners grow new varieties of flowers to meet customers' demands for Tet or special events. For example, in 2018, the flower village supplied more than 100,000 flower pots for domestic trading. Due to increased demand, the price of flowers may be raised by 20-30% in the next few years compared to previous years. Therefore, economically, planting flowers can bring a more generous and stable income for the residents in the village.
Besides, Ba Bo flower village helps maintain and preserve the traditional craft village for centuries. Ba Bo is known as an ornamental flower village with a rich 100-year history. Growing flowers sticks to people through ups and downs. So, it is not easy to abandon the traditional trading which has been passed down from generations to generations. The picture of gardeners providing meticulous and skilful care for their gardens of flowers as their brainchild is really lovely and admirable. On busy days of Tet Holiday, watching growers displaying and wrapping their flowers carefully made us realize how they nurture and respect the ancestors' craft.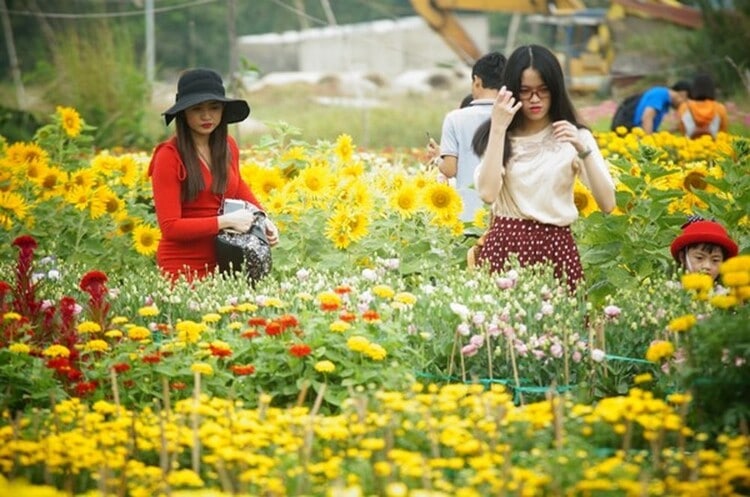 In particular, the flower village has been a popular destination for visitors for many years when they travel to Can Tho. Ba Bo village is considered as one of the tourist attractions contributing to enrich the orchard tours at Binh Thuy District. Recently, gardeners have grown various kinds of flowers featuring marigolds, sunflowers, ixora species, apricot blossoms and roses. In the harmonious natural beauty of bright and colourful flowers in full bloom, tourists can leisurely contemplate and take shots to capture memorable moments in the flower village. Tourists can give their eagerness to learn about different flowers and history of Ba Bo flower village. It is such a great experience!
Written by M.Phuong / Proofread by Hang Pham