American cuisine is always considered to be suitable and close to everyone's tastes all over the world. Most dishes are extremely simple, but still flexible to change depending on available ingredients. Right now, let Vina.com introduce you a list of best American restaurants in Hanoi, vietnam!
Top 5 Best American Restaurants In Hanoi, Vietnam You Can't Go Wrong With
1. The Moose & Roo Smokehouse
Coming to the Moose & Roo Smokehouse, diners will be amazed by these beautiful American delicacies including beef burger, roasted sausage, and grilled ribs served with fresh salad. 
The signature dishes are the appetizer called nachos and American-style fried chicken in excellent blue cheese and honey mustard sauces. Notably, because the restaurant is located inside the American Club of the US embassy, it may close if there is an event of the US Embassy in several weeks of the year.
Location: American Club. 21 Hai Ba Trung street (Phố Hai Bà Trưng), Hang Bai, ward (phường Hàng Bài), Hoan Kiem District (Quận Hoàn Kiếm), Hanoi
Tel: 024 3939 2470
Price ranges: 150.000 – 250.000 VND/person
2. S & L's Diner Restaurant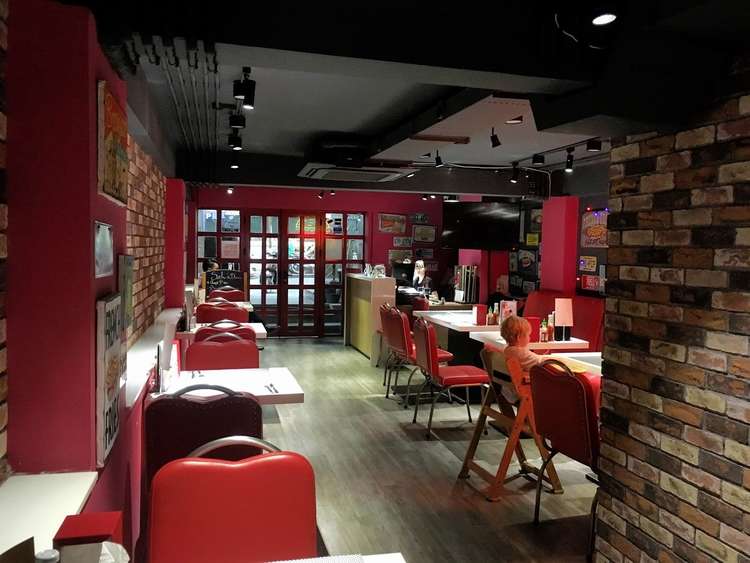 As one of the most impressive American restaurants in Hanoi with the modern design, the S & L's Diner Restaurant offers a list of delicious American cuisine. The highly recommended dish is the medium-rare steak in pepper sauce and red wine. In addition, BBQ grill ribs and fried chicken served with a green salad, crispy waffles in moderate sweet corn syrup are also worth a try. Overall, with such great food quality and a reasonable price for a luxurious American-style restaurant, customers will surely stop by S & L's Diner again!
Location: 22 Bao Khanh street (phố Bảo Khánh), Hang Trong ward (phường Hàng Trống), Hoan Kiem District (Quận Hoàn Kiếm), Hanoi
Tel: 024 3710 0529
Price ranges: 70.000 – 250.000 VND/person
3. Chops Tay Ho Restaurant 
If you want to experience unique American cuisine instead of traditional Hanoi dishes, don't forget to visit the Chops Tay Ho – a small but high-quality restaurant located in Tay Ho district. The menu of Chops provides customers with a lot of options for American-style burgers. Indeed, the beef burger here is so unique that it deserves to be the best-selling dish of the restaurant. It is served with delicious, aromatic beef in yellow mustard sauce, and ketchup. Especially, Chops Tay Ho also serves authentic American fried onion with several excellent side dishes, such as chips and fresh tomato salad.
Location: 4 Quang An street (phố Quảng An), Tay Ho District (Quận Tây Hồ), Hanoi
Tel: 024 6292 1044
Price ranges: 50.000 – 100.000 VND/person
4. Rockstore Bar & Restaurant
Rockstore is one of the best rock music restaurants in Hanoi, serving a lot of American-style food. Here, you can find many American dishes such as burgers, tapas, steaks, even traditional Vietnamese dishes. The 1st floor of Rockstone is arranged as an on-site bar to provides customers with alcoholic drinks, including wine, cocktails, mocktail, beer, and snacks. Normally, Rockstore will perform gentle music in the daytime. However, in the evening, this place turns into an awesome rock paradise for rock fans in the city centre.
Location: 61 Ma May street (phố Mã Mây), Hoan Kiem District (Quận Hoàn Kiếm), Hanoi
Tel: 0165 333 6087
Price ranges: 300.000 – 1.100.000 VND/person
5. Cowboy Jack's – American Dining Restaurant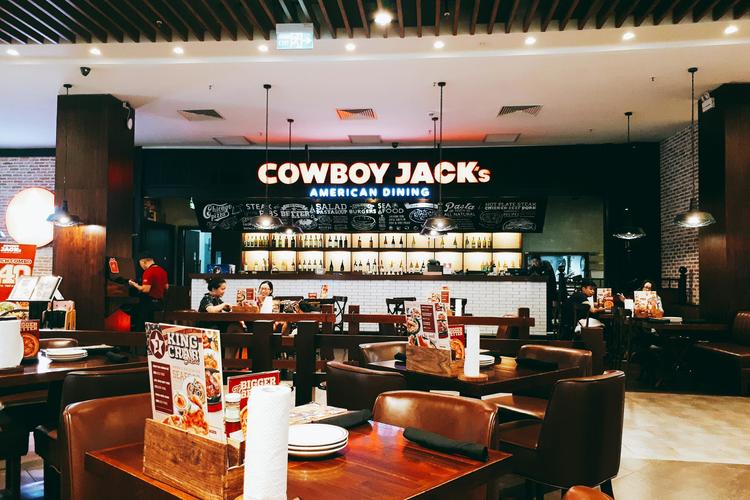 If you're a big fan of American-style pizza, try it in the Cowboy Jack's restaurant to admire the paradise of great pizzas in Hanoi. In general, the menu of Cowboy Jack's – American Dining is very varied. In addition to famous cheese stuffed crust pizza, diners can try side dishes such as fresh salads and hot vegetable soup. Also, Cowboy Jack's grilled dishes such as grilled ribs and steaks are favored due to the delicious flavors of wonderful sauces.
Location: Mipec Tower, 229 Tay Son street (phố Tây Sơn), Dong Da District (Quận Đống Đa), Hanoi
Tel: 024 3577 9696
Price ranges: 100.000 – 200.000 VND/person
Read more:
We have compiled the top 5 best American restaurants in Hanoi, Vietnam. If you know more good restaurants in Hanoi, share it with us by dropping words below this post.