Ninh Kieu pier is considered the prominent beautiful icon of Can Tho city. It is worth planning a trip to Ninh Kieu, one tourism attraction in Mekong Delta because it is famed for not only alluring landscapes but also fascinating market nightlife.
1. History
In the 18th century, Ninh Kieu pier was constructed under Emperor Gia Long of Nguyen Dynasty. It played a role as a dock of Can Tho market. It used to be called "Ham Duong pier" because a lot of Populus have been grown along there. Since 1876, when the French troops occupied Tran Giang, Ham Duong Pier was the location of bustling trading activities with busier boats. Ham Duong pier was developed and expanded quickly. Around 1957, it was renamed Ninh Kieu Pier under the Republic of Vietnam.  
2. Location
Ninh Kieu pier is situated in the centre of the Can Tho city, on the right of Hau riverside – one of the two largest rivers in the Mekong Delta. It is such a fantastic thing for you to watch the whole view of the river by spending some time on the dock. 
3. Development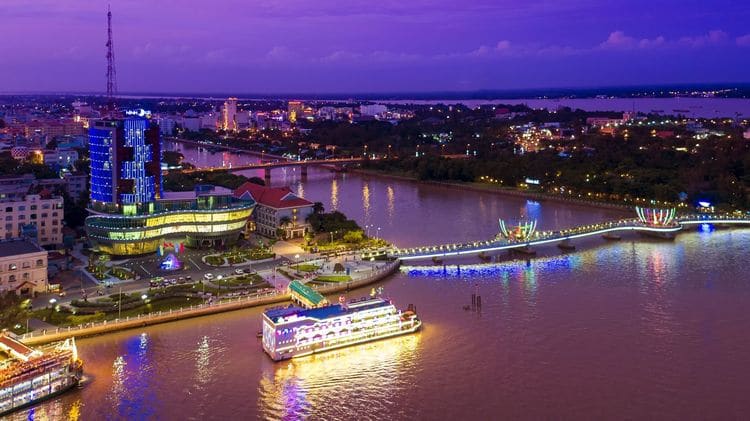 Starting as a berth of Can Tho city, Ninh Kieu pier has been gradually improved thanks to calling the massive  investment to repair and restore the structure. Ninh Kieu dock has markedly developed into a tourist park owning the area of about 7,000 square meters. The beauty of this park becomes more magnificent and sparkling when it was installed a modern lighting system in the evening; therefore, every night the park is thronged with people hanging out and enjoying the atmosphere here.. There is also the statue of President Ho Chi Minh with the height of 7 meters and the basement of 3 meters.
4. Activities
Ninh Kieu pier is the place for creating a sense of amazement when immersing in natural beauty here. It is such an unforgettable experience for you to roam around to go sightseeing and enjoy the comfortable atmosphere here in the early morning. People often come here to take morning exercises because of the fresh air. Morning time is great for tourists to start the trip to the floating market by renting a boat available anywhere along the dock.
Besides, nightlife in Ninh Kieu market attracts you. The food stalls with a variety of Vietnamese food are ready to serve any tourists. Especially, watching the river at night associated with enjoying food on the tables put along the dock is a great moment. Every night, Can Tho bridge with the twinkle lighting system, which is the most remarkable thing in the dark, can be seen clearly from here.
5. Nearby location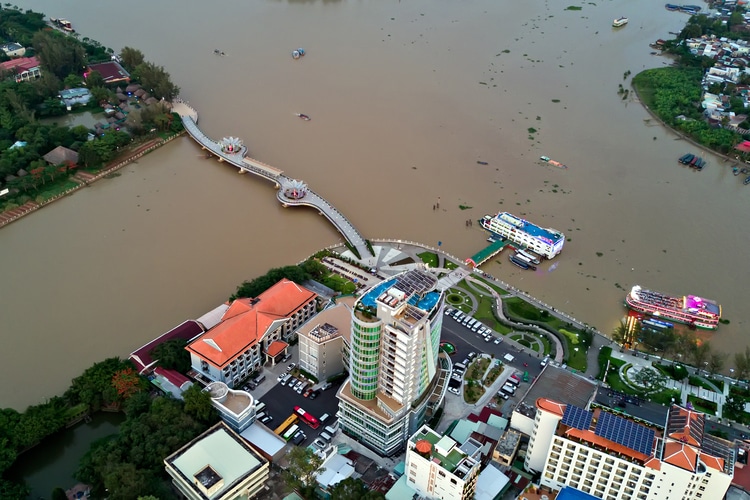 You should not ignore some other places near Ninh Kieu pier. Can Tho market is the large business centre in the Southwestern of Vietnam. Busy boats are up and down carrying a great number of goods from Mekong Delta on the waterfront. Especially, you can also see Can Tho bridge, a large cable-stayed bridge in the region of Southeast Asia. From Ninh Kieu pier, tourists may explore a fishing village, Xom Chai and Au island. 
Furthermore, from the fishing village, you can enjoy a bird's eye view of the street in Ninh Kieu. Recently, many floating restaurants, markets with local specialities have developed rapidly in this pier. Cai Rang floating market is also an ideal nearby attraction for tourists when visiting Ninh Kieu.
Read more:
6. Transport
The suggested means of transportation to serve you to go sightseeing in Ninh Kieu pier are usually small boats. You should note that there are ferries for going to nearby areas available from two stations at Ninh Kieu dock. If you want to have a trip on the river, you can rent a private boat at Ninh Kieu pier. In particular, you wish to have a great time in Ninh Kieu and enjoy life of local people here, and you can roam around, go sightseeing, and enjoy the surrounding view in the morning.
By M.Phuong