Updated: 08/18/2019
Visiting Can Tho (Cần Thơ) City, you will have a chance to explore many beautiful attractions and one of the must-visit places that has a fascinating beauty and various ecotourism is Bang Lang Bird Park. Situated in Thoi Binh (Thới Bình) Hamlet, Thoi Thuan (Thới Thuận) Commune, Thot Not (Thốt Nốt) District, Bang Lang Bird Park (Vườn cò Bằng Lăng) also known as Bang Lang Stork Sanctuary allows tourists and visitors to immerse themselves in great nature.
When Is The Best Time To Visit Bang Lang Bird Park 
Can Tho has a monsoon and tropical climate; therefore, there are two seasons within the year. From May to November, there are a lot of rains while months from December to April are dry. The best time to visit this city is during April, May, and June.
However, I also suggest you visit the park in the spring because it is an excellent chance for you to take the boat race, admire the blooming Lagerstroemia flowers and see many beautiful birds flying in the sky.
From August to January, the majority of birds gather in the park while ghost birds make net and give birth during the months between February and April of the lunar calendar.
Bang Lang Bird Park – The Largest Bird Park in Mekong Delta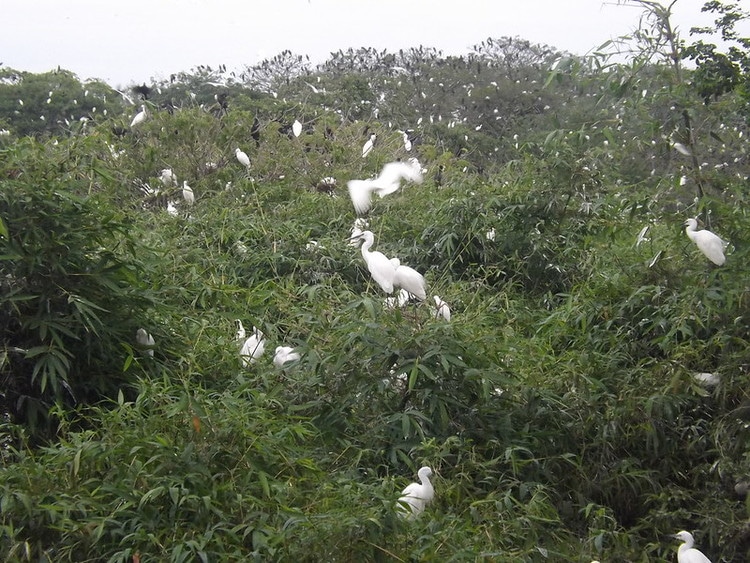 The Bang Lang Bird Park dates back in 1983, and it is believed to form naturally. According to Nguyen Ngoc Thuyen (Nguyễn Ngọc Thuyên), in January 1983, a flock of hundreds of black and small birds with grey and white wings flew to the garden. After resting for a not so long time, they flew away. And after one year later, they came back with a new flock of birds with different colors and sizes.
Gradually by 1994, more and more storks and birds have inhabited here, developing and getting crowded.
Nowadays, the park with an area of 1.5 hectares is seen as the largest bird park in Mekong Delta that houses over 300,000 storks of more than 20 kinds of storks. The smallest kind of stork weights 150 grams while the biggest kind weights up to 1.2 kg. Other types weight 400 – 500 gram. The storks lay eggs four times a year, and it takes about six months for a baby chick to grow up, becoming a mature stork.
The storks living inside the sanctuary still keep their habit of looking for food in couples or groups. Because the area of Mekong Delta is good land with rice fields, nipa, bamboo trees, calophyllus, and tamarind, therefore, there is plenty of food for storks to look for food by themselves. However, during the dry season, the park owner has to provide an extra meal every day. He also upgrades and restores bird's houses annually, provides more fish, plants trees, and deepens the river or watercourses to make sure the park is always a favorable environment for birds.
Not only adults but also children enjoy the best time in Bang Lang Bird Park. It is an excellent opportunity for them to learn about the habits and activities of birds, which gains their awareness and knowledge of protecting our environment.
To enjoy the unforgettable experience in the Bang Lang Bird Park, you should visit here at 6 am or 7 am because it is the time stork and bird flocks fly out to look for food. Furthermore, at around 5 pm, you can also see the birds flying back and call each other. Visiting the park, you can also have a chance to listen to traditional folk music performed by local people. The beauty of nature, folk music, and subtle sounds of bird flocks have become a unique attractiveness of this park. And do not forget to take the boat ride along the river while immersing yourself in nature with beautiful birds and blooming flowers.
What To Eat In Bang Lang Bird Park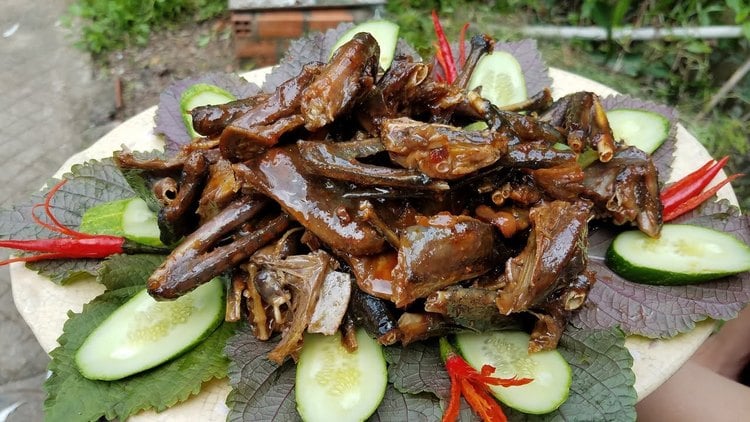 When you travel to Bang Lang Bird Park, you should enjoy tasty, delicious food made from storks like stork soup, fried stork, toasted stork, etc. Many visitors and tourists coming to the park like to have meals in huts surrounded bamboo trees and the fabulous and lyrical scene. They can eat while listening to the bird's song.
Where To Stay In Bang Lang Bird Park 
You can have a picnic in Bang Lang Bird Park. Moreover, near this sanctuary, there are several accommodation options for you to choose, including Van Phat Riverside Hotel, Nam Bo Boutique Hotel, Fortuneland Hotel, Nesta Hotel, etc.
Bang Dang Bird Park is a beautiful tourist destination for people who love nature reserve and adore the beauty of the countryside with bamboo trees, rice paddies, and herons. I hope that you will find useful information in this article. Any questions can be left in the comment section, and we will answer them as soon as we can. On Vina.com, we have more informative articles about Can Tho and Vietnam's tourism. So, take a look if you have time.