Updated: 08/25/2019
Phu Yen (Phú Yên) is a coastal province in the South Central Coast of Vietnam. It is the easternmost province of Vietnam's mainland. Arriving in Phu Yen, tourists will be lost in the paradise of water, mountains, trees, and high blue sky. Today, Vina will describe top 8 famous tourist attractions in Phu Yen, Vietnam that you definitely have to check out when traveling to this province.
Top 8 Famous Tourist Attractions In Phu Yen, Vietnam
1. O Loan Lagoon
O Loan Lagoon (Đầm Ô Loan) is a tourist destination that you cannot miss in Phu Yen. It has the water surface area of 1570 hectares and is 20 kilometers far from Tuy Hoa city (thành phố Tuy Hoà). The lagoon has the shape as a phoenix which is spreading wings to soar into the sky. This is a wonderful place for visitors to watch the dawn and sunset. During your excursion at O Loan Lagoon, you will have a chance to try the most famous specialty here – blood cockle as well as various types of seafood like shrimp, crab, jellyfish, squid, and oyster.
2. Bai Mon And Bai Xep Beaches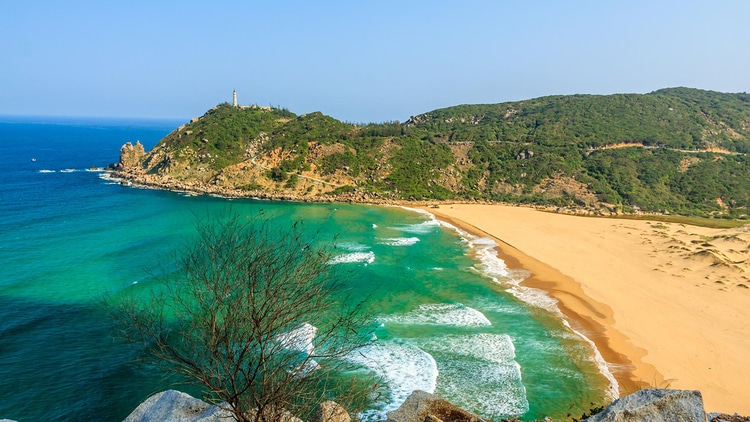 Bai Mon (Bãi Môn) and Bai Xep (Bãi Xếp) are the two most popular beaches in Phu Yen with golden sunshine, turquoise sea, and white sandbank. If  Bai Mon is known as the beauty queen among all beaches of Phu Yen, then Bai Xep is likened to a peaceful sleeping fairy. These are ideal places for tourists to relax, play, and enjoy fresh seafood. In addition to Bai Mon and Bai Xep, Phu Yen has many other beautiful beaches such as Tuy Hoa (Tuy Hoà), Long Thuy (Long Thuỷ), Bai Tram (Bãi Tràm), and so on.
3. Xuan Dai Bay
Xuan Dai Bay (Vịnh Xuân Đài) is one of the first places where Vietnamese exiles in Phu Yen arrived more than 400 years ago. With charming scenery, numerous unspoiled islands and beaches, visitors to Xuan Dai Bay still can feel its inherent nature. The bay possesses a stunning beauty, captivating every people having the opportunity to come over. In particular, not only is a typical landscape of Phu Yen but Xuan Dai Bay is also on the nominated list of most beautiful bays in the world.
4. Vung Ro Bay
If you are unable to visit Xuan Dai Bay, you can choose Vung Ro Bay (Vịnh Vũng Rô). This is also a well-known bay of the central coastal area. Located at the foot of Ca Pass and adjacent to Van Phong Bay (Vịnh Vân Phong) – Khanh Hoa province (tỉnh Khánh Hoà), Vung Ro Bay is the stop of legendary "numberless" trains (tàu không số). Similar to Xuan Dai Bay, Vung Ro is gradually becoming an attractive holiday destination for tourist around the world.
5. Hon Nua
At 105 meters above sea level, Hon Nua (Hòn Nưa) is like like a pillar dividing the southern door to Vung Ro Bay. To Hon Nua, visitors will be surprised by a small beach running about 500 meters in the arc shape, with fine white sand and clear sea water. You will not only be able to immerse yourself in the cool water, have fun with your friends and family but can also enjoy a new feeling by bringing a fishing rod, sitting on the rocky cliffs fishing and watching the surroundings at the same time.
6. Dai Lanh Cape
Dai Lanh Cape (Mũi Đại Lãnh), also called Dien Cape (Mũi Điện), is a branch of Truong Son range (dãy Trường Sơn), crashing into the sea. Here you will find the Dai Lanh lighthouse, which is 110 meters high and have the ability to transmit signals up to 27 nautical miles. Inside the lighthouse is a 110-step spiral staircase made of wood. It is not too much to say that Dai Lanh Cape is the most suitable place in Phu Yen to watch the sunrise.
7. Ghenh Da Dia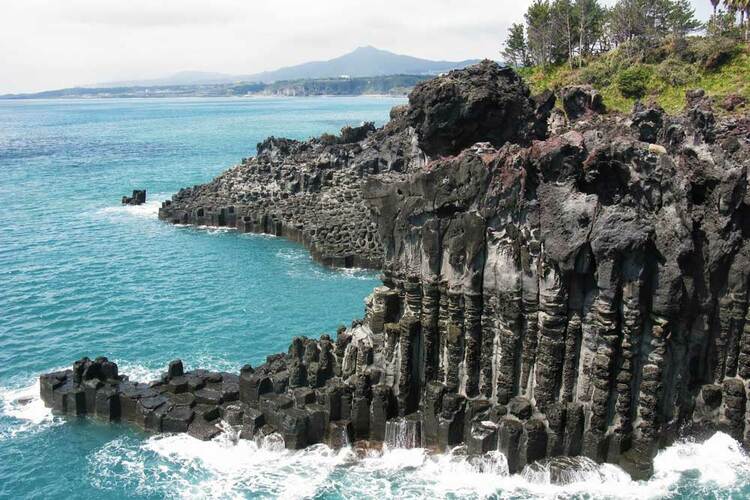 One of other famous tourist attractions in Phu Yen to visit is Ghenh Da Dia (Ghềnh Đá Đĩa). Being in Tuy An district (huyện Tuy An), about 40 kilometers from Tuy Hoa city, Ghenh Da Dia – literally means The Sea Cliff of Stone Plates – is a unique landscape of Phu Yen. Looking down from above, Ghenh Da Dia is like a giant honeycomb with pentagonal and hexagonal stone blocks lined up together. This place has become a beauty spot attracting lots of domestic and foreign tourists due to its specific structure.
8. Van Hoa Plateau
Van Hoa Plateau (Cao nguyên Vân Hoà) is considered as Da Lat (Đà Lạt) of Phu Yen with the location at an altitude of 400 meters. The plateau is renowned for its specialties: pineapple, jackfruit, and fish sauce made from these two kinds of fruits. At Van Hoa Plateau, the characteristic products of Phu Yen are sold everywhere, especially in Don market (chợ Đồn).
We hope this article "top 8 famous tourist attractions in Phu Yen, Vietnam" has given you an overview of tourist sites in Phu Yen. Do not hesitate to leave us a comment if you have questions and feedbacks or want to share with us your experience. For more information about other places to visit in Vietnam, please go to our Attractions page.