Nha Trang is one of the most beautiful coastal cities in Vietnam with amazing landscapes and white sandy beaches. If you have a chance to visit Nha Trang, do not miss Van Phong Bay (Vịnh Vân Phong) located in between two districts which are Van Ninh and Ninh Hoa (Ninh Hòa) of Khanh Hoa province. It is about 80km away north of Nha Trang city center and 40 nautical miles from the sea. However, if going from Tuy Hoa (Tuy Hòa) town, it just takes about 35 km to arrive at Van Phong Bay.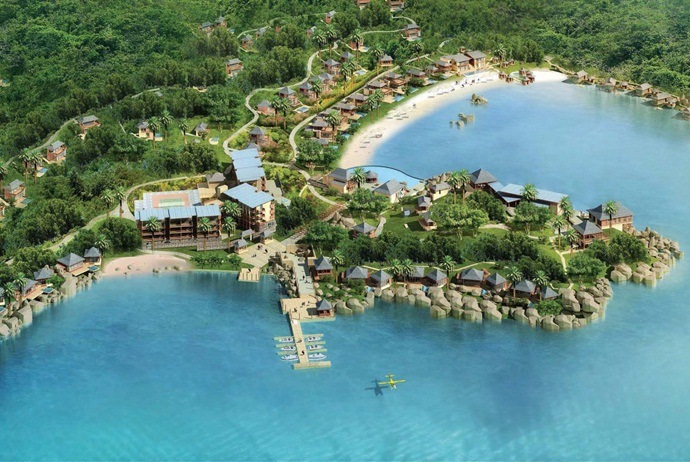 Source: ekistics
The reason why Van Phong Bay Nha Trang is called the bay is that it has deep seafront and is surrounded by Hon Gom peninsula (Bán Đảo Hòn Gốm) for nearly 30km in length. Van Phong Bay is a closed channel, with an average depth of 20m-27m and the maximum depth of 40m.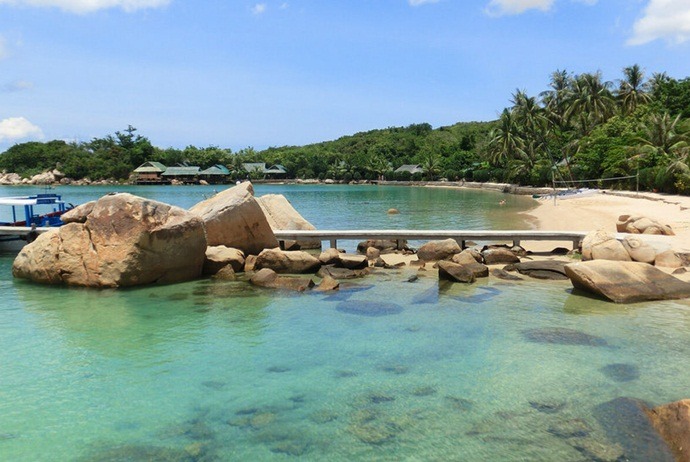 Source: livingnomads
Fact is, most tourists when coming here have to admit that Van Phong Bay is very beautiful, pristine and peaceful. There are many large and small islands, such as Hon Queo Island (Hòn Quéo) – My Giang, Mui Ganh Cape (Mũi Gành) – Hon Trau Nam Island (Hòn Trâu Nằm), Hon Bip Island (Hòn Bịp) and Hon Me Island (Hòn Me).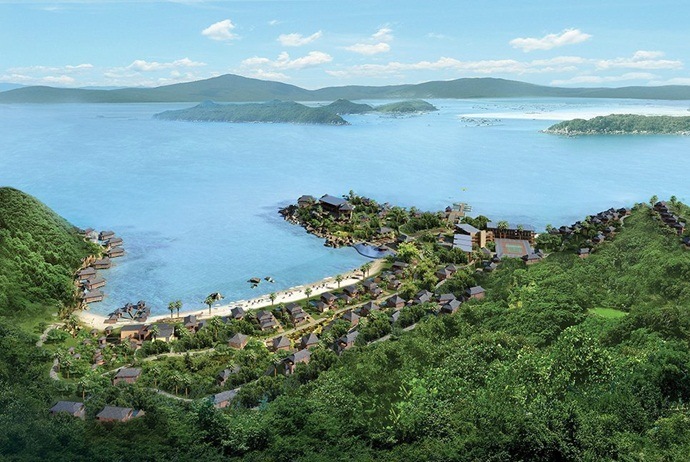 Source: thefirsttravels
This bay is not only beautiful but also an ideal tourist destination for people who love exploration. The most beautiful site in Van Phong bay is Dam Mon Island with more than 30 pristine beaches like Bai Tay beach (Bãi Tây), Son Dung beach (Bãi Sơn Đừng), Bai Bua beach (Bãi Búa), Bai Lach beach (Bãi Lách), etc. Among them, Bai Tay is the most ideal beach and followed by Bai Xuan Dung.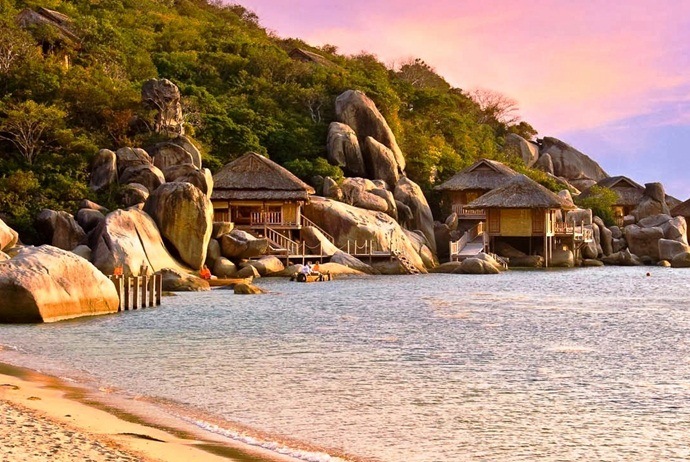 Source: vietnamnowaday
Van Phong bay has different terrains, including island and peninsula system, deep bays, sand dunes, and diversifying ecosystems like tropical forests, mangroves, etc.  This bay is considered one of the most beautiful bays in the world and also a natural wonder with a mild climate, beautiful beaches and surrounding majestic mountains.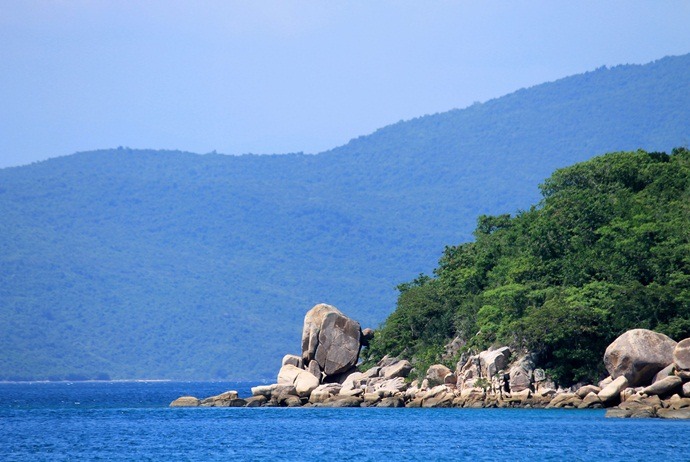 Source: seagroup
There are many ways to go from Nha Trang City to Van Phong Bay; however, perhaps the most enjoyable way is to go through Nha Phu Bay. If you do not like to go by sea, you can go by road.
What Is The Best Time To Visit Van Phong Bay?
Van Phong Bay Nha Trang is bestowed by the nature with many top attractions. The beauty of this island is hidden and changes throughout the year. The climate in this bay is quite cool and moderate all year round, creating a pleasant feeling for visitors. It is best to avoid stormy months (from August to December).
How To Get ToVan Phong Bay?
Depending on your financial condition and the needs and purpose of your trip, you can choose the most suitable transportation from the following suggestions. You should refer to the vehicles below, but generally, each has a few advantages and disadvantages:
1. Coach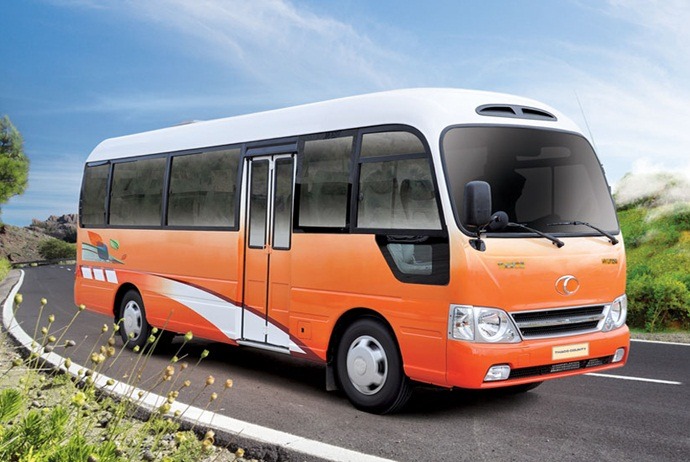 Source: v2.webbnc
You can buy tickets at Mien Dong bus station to go to Van Gia (Vạn Giã), Van Ninh (Vạn Ninh) district, Khanh Hoa (Khánh Hòa) province. Tickets are usually from 220.000 to 360.000 VND depending on the time of purchase.
2. Train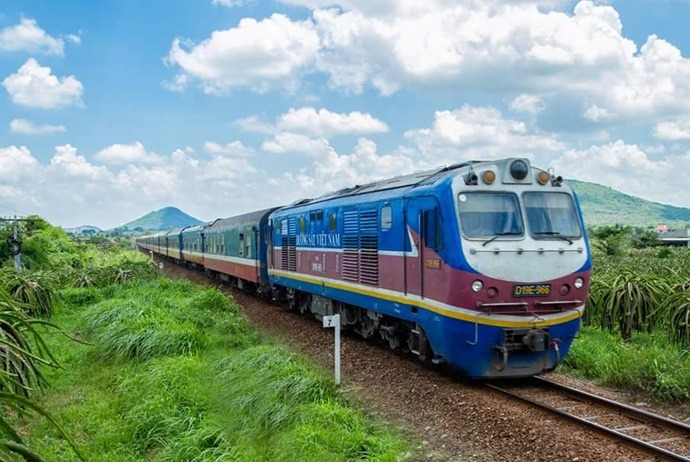 Source: 98provence
Trains will go to Van Gia, but if possible, you should book 1-2 months in advance to avoid the case of out of tickets. If you choose to move by train, the price ranges from 400,000 – 600,000 VND / trip.
3. Planes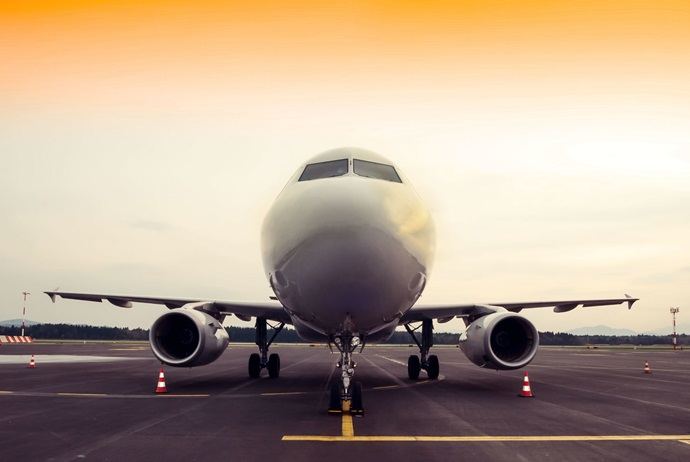 Source: wired
From Cam Ranh airport, take a taxi to Van Gia.
Check out: 7 Islands Nearby Nha Trang That Have Clear Water
Where To Stay In Van Phong Bay?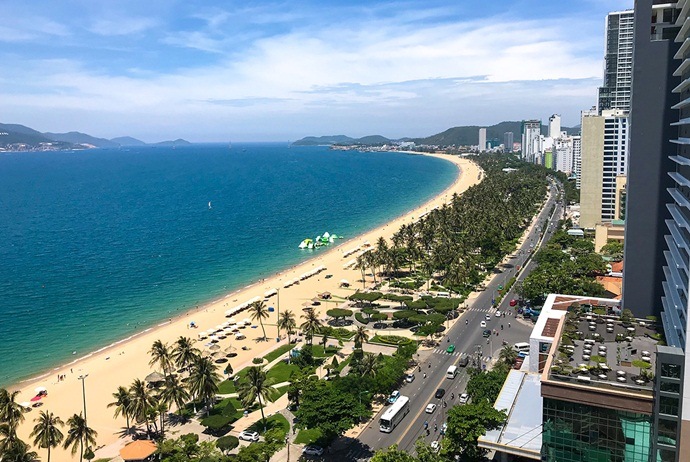 Source: travip
There are many hotels and guesthouses to choose from in Van Phong Bay Vietnam. The renting cost is usually from 300,000 to 450,000VND depending on the number of people.
If you want to enjoy the best service, Whale Island Resort is your perfect choice. Not to mention the ideal location that is near the sea and offers beautiful view, there are a lot of recreational activities for tourists to take part in, namely playing water sports, scuba diving, beach volleyball, trekking, hiking, etc.
What Are Attractions InVan Phong Bay?
Although there are not many attractions in Van Phong Bay, some of attractions are considered the best in Nha Trang, in particular, and Vietnam, in general. Some of the most attractive destinations are:
1. Son Dung Village and Beach (Bãi Sơn Đừng)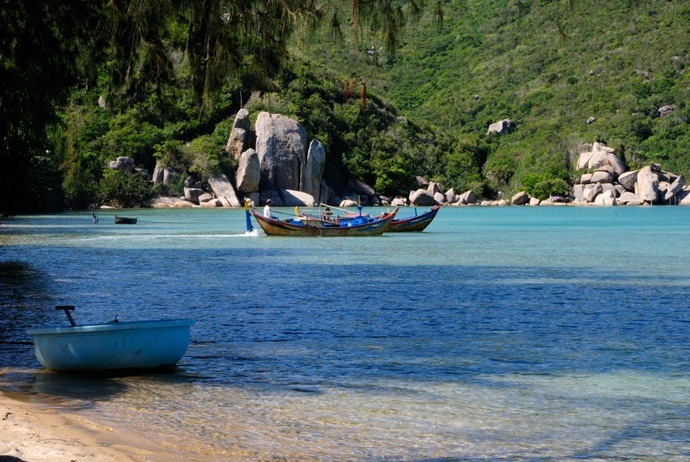 Source: vanphongtrip

Having pristine beaches, Son Dung village is really an attractive destination that tourists cannot miss. This village is picturesque with the majestic beauty of beaches. There is an interesting thing that tourists travelling Van Phong Bay love is exploring the fresh water right on the beach. You will feel extremely excited when knowing that despite the surrounding water is salty, just slightly digging by hands under the sand can also reveal the cool fresh water source beneath. Surely this will become an enjoyable experience for any traveler. From here, you can go by boat to visit Lach beach (Bãi Lách) in which there are many beautiful coral reefs and rocky cliffs.
There are more than 10 households which are living in isolation from the outside world. They use the fresh water in the sand to live.
2. Dam Mon Peninsula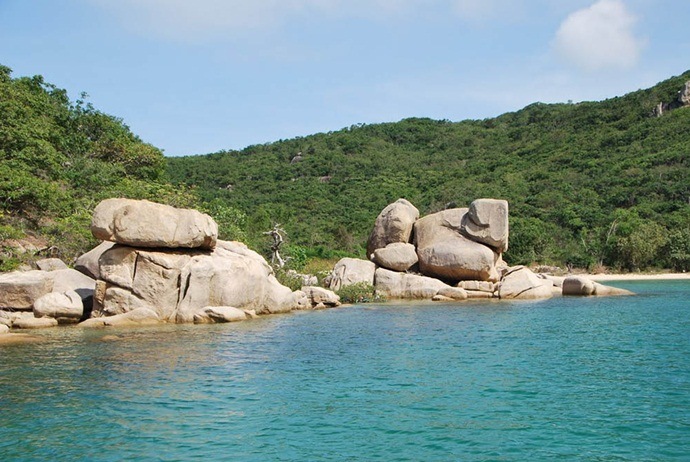 Source: ziontour
Covering an area of 128 km2, Dam Mon Peninsula has 30 beaches, primeval forests, 20 large and small islands, and 3 villages, including Dam Mon Ha (Đầm Môn Hạ), Dam Mon Thuong (Đầm Môn Thượng), and Xuan Dung (Xuân Đừng). Dam Mon Peninsula (Bán Đảo Đầm Môn) is famous for its abundant green casuarina forests, white sand dunes, tranquil blue sea, and peaceful fishing villages. This is one of the first places meeting the sun on the land of Vietnam. Thus, if you have a chance to visit Van Phong Bay and Dam Mon Peninsula, do not forget to enjoy this amazing moment.
There are also some interesting activities in Dam Mon such as boat rental for exploring the sea, watching coral reefs, and swimming in the clear water.
3. Hon Ong Island (Hòn Ông) (Đảo Cá Voi – Whale Island)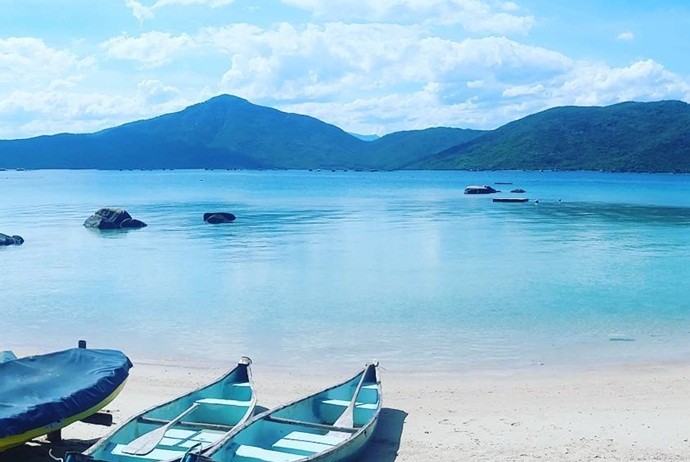 Source: youvivu
Hon Ong Island is also known as Dao Ca Voi (Whale Island), which is a natural, unspoiled, and peaceful place for those who want to stay away from the noise. Do not forget to check-in with your friends or family here. Surely the wonderful natural landscape here will be your unforgettable travel memories.
4. Co Ong Island (Đảo Cỏ Ống)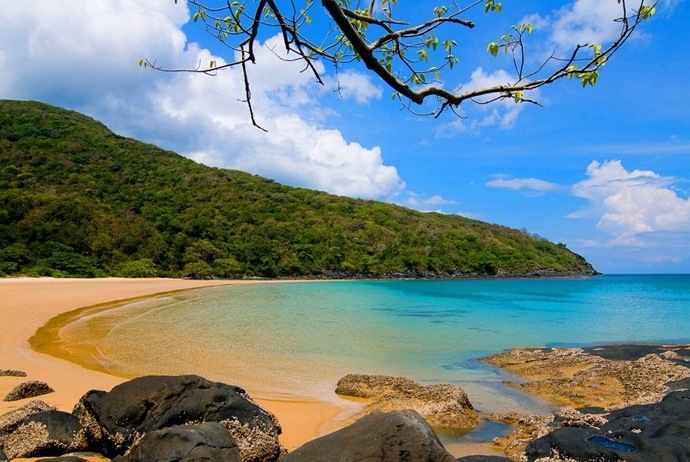 Source: dulichbiendao
This place is called a coral paradise with all kinds of colorful coral. The giant coral will definitely make you feel surprising and exciting.
5. Mui Doi Cape (Mũi Đôi)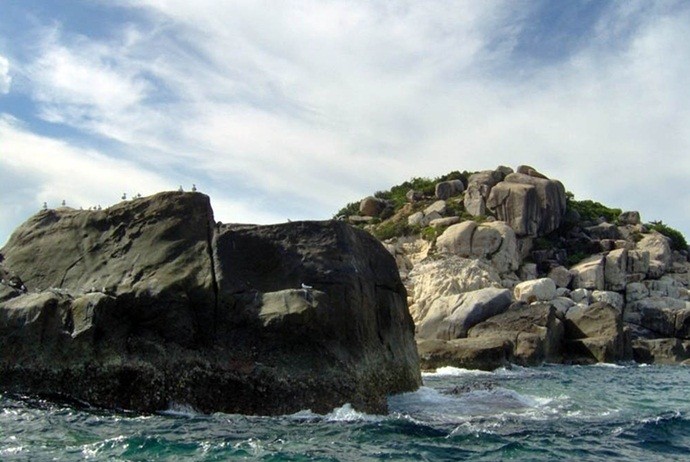 Source: vietnamtourism
Mui Doi is also known as Mui Ba Dau (Mũi Bà Dầu). The stone structure of this natural landscape has a distinct rock formation which seems created by talented sculptors. From Dam Mon, you can choose to go to Mui Doi by foot or by boat.
6. Hon Lớn Island (Đảo Hòn Lớn) and Diep Son Island (Đảo Điệp Sơn)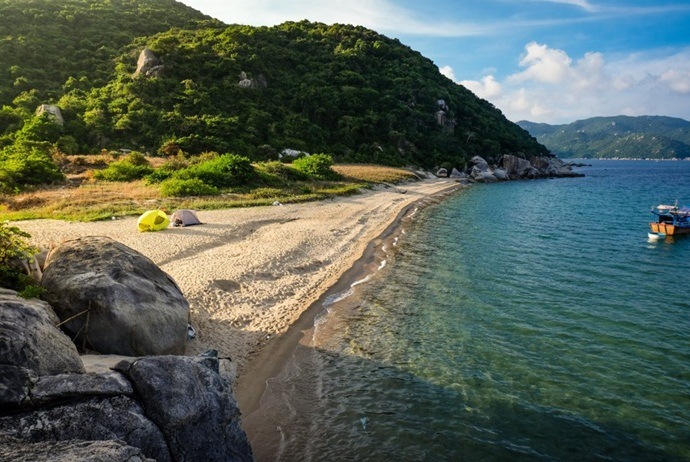 Source: blogdulich
There are beautiful coral reefs growing near the seashore. In Diep Son, you will find the most unique Vietnam's path which allows you to walk in the sea. The road is winding and about 1 meter wide and is situated deeply in less than half a meter below the sea surface. When walking on this road, it will bring to you a sense of excitement, nervousness and fear because you are walking within the vast ocean.
In addition, Van Phong Bay has many beautiful beaches such as Bai Tay, Bai Me, Bai Ham, and Bai Lach, and islands, such as Hon Do Island (Hòn Đỏ), Hon Co Island (Hòn Cổ), Hon Nuoc Island (Hòn Nước), Hon Ong Island (Hòn Ông) and Hon Gom Island (Hòn Gốm). You can also experience a variety of entertainment activities that should not be ignored, such as scuba diving or watching the beach in the sunshine.
Don't skip: Nha Trang Nightlife: 19 Ideas for a Great Night out in Nha Trang
What To Eat In Van Phong Bay?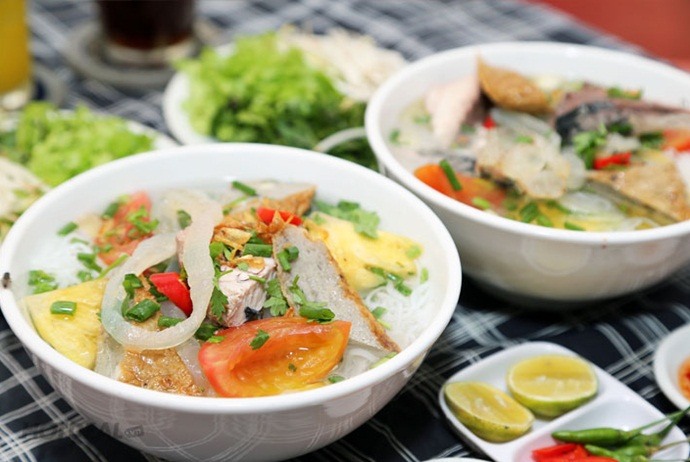 Source: dacsanviet98.chiliweb
Van Phong Bay is famous for fresh seafood. Some famous dishes that you should not miss are grilled fish noodles, jellyfish noodles, Ninh Hoa (Ninh Hòa) fried rolls, etc.
Van Phong Bay has been listed by the World Maritime Association as one of 4 most ideal beach destinations. Whenever you feel constrained in a crowded city, think of a rewarding journey for yourself to regain your spirits. At that time, plan a trip to Van Phong Bay, Nha Trang, Vietnam. Surely this place will not disappoint you.