Danang (Đà Nẵng) coastal city of Vietnam has been bestowed beautiful landscapes by the Mother Nature. This city is embraced by high mountains and blue waters of white sandy beaches therefore, it has many attractions that allure tourists from all over the world, namely Ba Na Hills, Linh Ung Pagoda, Hoa Phu Thanh (Hòa Phú Thành) tourist site, etc. Among them, Hoa Phu Thanh tourist area attracts tourists by blue waters and adventure games, making it a new destination in Danang.
Hoa Phu Thanh tourist area is famous for many fun activities, such as waterfall slides, fish massage, and zip slide. This eco-resort system is equipped with full amenities as well as outdoor activities and located in the pristine jungle which will absolutely bring satisfaction to tourists.
This appealing place attracts a large number of tourists, especially young people who love adventure. Coming to Hoa Phu Thanh, you can have an opportunity to contemplate and explore a new landscape with stunning sceneries, like coastal cliffs and majestic waterfalls. Indeed, Hoa Phu Thanh tourist site gives Danang tourism a breath of adventure with favorable natural conditions.
To help you have a great trip, we would like to share with you tips on traveling to Hoa Phu Thanh tourist area, so do not ignore anything.
Interesting Information About Hoa Phu Thanh Tourist Area
This tourist area is located in Hoa Phu Commune (Xã Hòa Phú), Hoa Vang District (Huyện Hòa Vang), Danang City. It is about 45 km away from Danang city center. It is a combination of 3 in 1: fun, relaxation and experience. It also explains why this tourist site is so crowded, although there are many amusement parks in Danang city up to now.
Surrounded by mountains and rivers, Hoa Phu Thanh play ground always brings freshness and relaxation to tourists. The streams in Hoa Phu Thanh tourist site flows through 3 km and featured with slopes which are ideal for adventure tourism.
The development of amusement, travel and relaxation services has made this place one of the "must-visit places in Danang" and taking part in this type of adventure tours becomes one of things to do in Danang.
This tourist area can meet the demands of sightseeing, entertainment, relaxation and accommodation of both domestic and international tourists.
Also read: Da Nang Nightlife – 8 Entertaining Ideas At Night In Da Nang
How To Get To Hoa Phu Thanh Tourist Area?

Source: imgur

You can go to Hoa Phu Thanh tourist area by motorbike, car, or taxi. For those who are away from Danang and want to experience something wild, it is best to rent a motorbike to explore all the corners of this beautiful destination. You can rent motorbikes in hotels and motels in Danang city with the price from 120.000 – 140.000 VND/motorcycle/day.
To go to Hoa Phu Thanh tourist area, from the city center, go to 2/9 street and turn to Cach Mang Thang Tam street (Đường Cách Mạng Tháng Tám). Going to the end of Cach Mang Thang Tam street, you will reach Hoa Cam bridge. Go through this bridge and keep going ahead about 100m, you will see a signpost heading to Hoa Phu Thanh tourist area.
It takes about 45 minutes to go from Danang city center to this tourist area.
What To Do In Hoa Phu Thanh Tourist Area?
If you are wondering what to do in Hoa Phu Thanh tourist area, take some tips below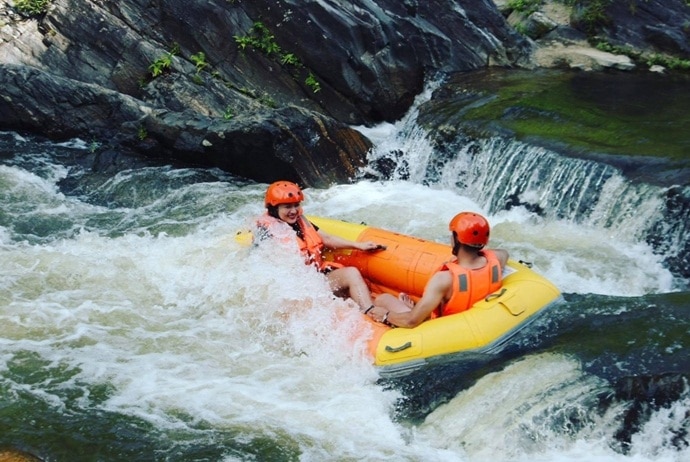 Source: danasea
Operation time: 10:00 and 14:00
Quantity: 2 people / boat
Turn Time: 30 – 45 minutes
Note: This game is not suitable for children under 14 years old.
It is a relatively risky activity. If choosing it, you will be rowing through a 2.5km long waterfall. Sliding the waterfall is considered one of the most attractive games here. Since the game's duration is not long, you need to pay attention to the time to not to miss it.
You need to wear swimwear since you will get wet and need lots of movement upon playing this game. Thus, do not bring your personal belongings, valuable wealth, phones or purses. There is a locker area so you can rest assured that your belongings are stored here.
Before playing, you need to wear life jackets, helmets, and listening to instructions. When you are ready, the staff will open the door for the water to flow down and you will begin the 2.5km journey through waterfalls with different heights.
The resort offers photographic services for participants of the game. After sliding the fall, you can review photos at the photo counter or receive photos by email. Photos will be sent through by email without fee, and you should write down your email clearly to avoid any mistake.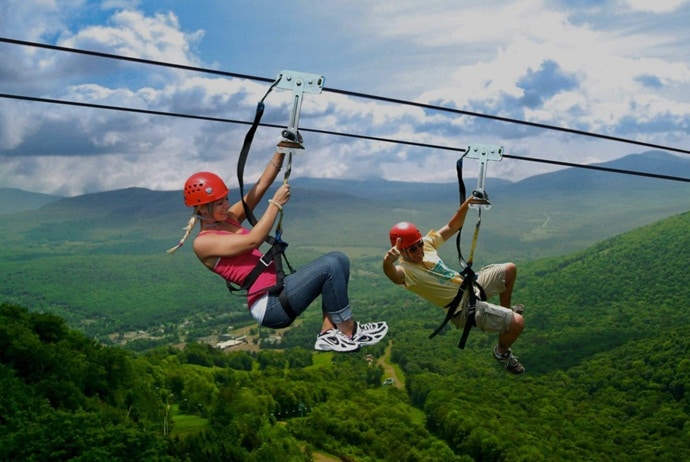 Source: vietnamexplore
Operation time: 8:00 – 17:00
Zipline has two slides with a length of about 350m. Because it is equipped with imported insurance from France, it is very safe for everyone, including children.
All you need to do is to wear protective gear and helmets, and listen to staff instructions. Then you will experience the feeling of "flying" in the vast mountainous forest.
Operation time: 8:00 – 17:00
Turn Time: 30 minutes
After participating in games at Hoa Phu Thanh, you can relax with fish massage services. In the lake, there are about 8000 fish which will massage your feet.
The fare for children to swim in the children's pool is free. This pool is next to the cafe and fish pool. However, if you swim in the large lake, you must wear a life jacket, which can be used for free.
Quantity: 3 people / boat
Turn Time: 3 hours
This game is suitable for small children and those who like the light feeling.
In Hoa Phu Thanh tourist site, you can also have a chance to ascertain about the unique culture of Co Tu people (người Cơ Tu) through Tong Coi cultural village (làng Tống Cói). Then, go camping and take part in outdoor night parties on the mountain.
Ticket Price At Hoa Phu Thanh Tourist Area
Here are the prices of services at Hoa Phu Thanh tourist area:
Entrance fee (except for children under 1.3m): 30.000 VND / person

Waterfall tickets (including life jackets, helmets, and transport vehicles): 180.000 VND / person

Tickets for fish massage: 30.000 VND / time

Zipline tickets: 100.000 VND / time

Hut renting price (area from 10m² – 80 m²): 250.000 – 1.000.000 VND / hut

Double room (1 day): 500.000 VND / room

Double room (1 noon): 250.000 VND / room

Single room (1 day): 400.000 VND / room

Single room (1 noon): 200.000 VND / room
Indeed, Hoa Phu Thanh tourist area has its own attraction thanks to a new type of adventure tourism in Danang city. This offers tourists new travelling experience, making Hoa Phu Thanh a must-see spot in Danang, Vietnam.
The above is our tips to help you have a wonderful day in Hoa Phu tourist area. If you have any questions, please leave a comment, we will reply as soon as possible.
Have a nice time in this city!