Updated: 11/16/2019
Da Nang (Đà Nẵng) is a beautiful city with miles of beaches and plenty of landscapes to see. Over the last two decades recently, Da Nang has spiraled upwards and outwards as the third largest city of Vietnam. Located on the eastern sea coast of Vietnam, topped the annual awards, Da Nang used to be seen as a transit stop to head straight to the fascinating UNESCO World Heritage Site of Hoi An (Hội An). A lot of money has been invested in the development of the infrastructure of Da Nang so this city nowadays is reckoned as the cleanest city of Vietnam. Besides, it is easy to navigate and home to a large number of luxurious holiday resorts with high quality golf courses to match. Local people are proud of their city as being the friendliest city of Vietnam. In fact, this city itself has neither the ambiance of Hanoi (Hà Nội) nor the hustle and bustle atmosphere of Ho Chi Minh (Hồ Chí Minh) City, yet has its share of sights and is similar to the imperial capital of Hue and charms of Hoi An, thereby making it a popular holiday destination for those people who are looking to explore Vietnam's central area or soak up some sunlight while hanging out on those beautiful beaches of the city.
If you are going to travel to Da Nang in the upcoming time, then you should prepare yourself for joining in some interesting Da Nang activities by checking out this list.
1. Visit Marble Mountains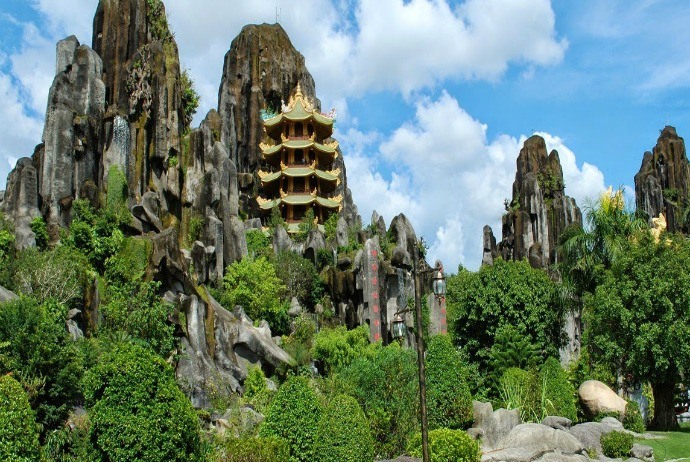 The first idea when it comes to Da Nang activities is visiting Marble Mountains (Ngũ Hành Sơn). Marble Mountains are one of the most popular attractions in Vietnam, in general, and in Da Nang, in particular. Situated at South of Da Nang, the Marble Mountains are right on the street along My Khe (Mỹ Khê) Beach to Hoi An. In Vietnamese, the name Marble Mountains means five element mountains – a cluster of lime stone and marble hills which are 7km away from the centre of Da Nang city. There are tunnels, Buddhist shrines and caves in this destination. Here, you could explore 3 major grottoes that have been transformed into carved Buddhist sanctuaries. Also, there are places of worship dotted across the mountains which are a frequently visited site.
Today, one of the most popular Da Nang activities of tourists is climbing up the Marble Mountains and seeing the spectacular views across China Beach, also known Non Nuoc (Non Nước). Da Nang experiences dry and hot weather from May to late August. The stage of greatest rainfall is from September to January, with the wettest month being October and November. Thus, the best time for tourists to Marble Mountains is from February to May. Also, keep in mind that Da Nang does not get as cold or hot as other Vietnam's parts.
Besides, there are drinks and trinket sellers around here who could get a little annoying yet the climb up to the peaks is still worth it. In order to explore all of the Marble Mountains, you should spend about 4 hours and start your trip early when it is not so hot, wear comfortable clothes and shoes, and bring a torch if you could.
2. Ride Around Son Tra Peninsula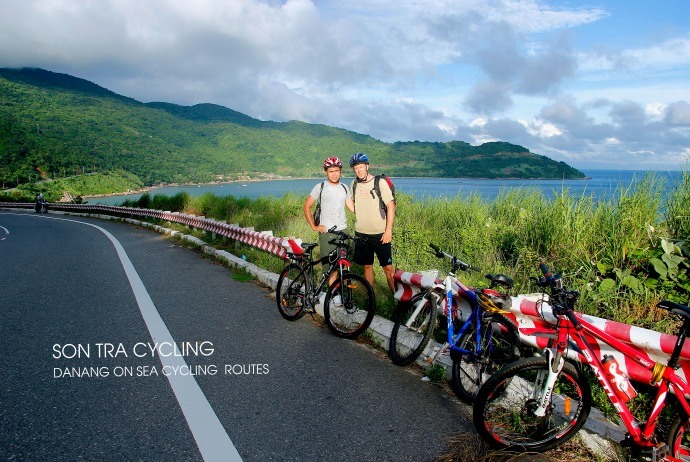 Son Tra Peninsula (Bán Đảo Sơn Trà) is visible from just everywhere in Da Nang and is a wonderful sight, particularly when low lying clouds embrace the top of the mountain. Tourists can enjoy a good morning or afternoon motorbike on clear days in Son Tra with amazing views from every vantage point around the mountain.
Though it looks not too long, the ride might be longer than your imagination if you go the way around and is also steep in places. Just make sure that your motorbike has adequate power.
3. Discover Cham Museum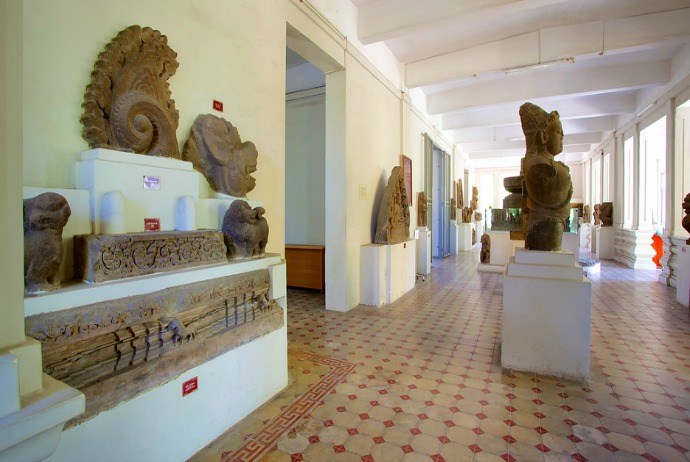 Despite driving through Da Nang and getting to the train station or airport is a priority of most travelers visiting Da Nang, I would like to recommend you a visit to the Cham (Chăm) museum as one point in your list of Da Nang activities.
The museum is situated in the city center on some prime real estate across from the Han River where Bach Dang (Bạch Đằng) and Tan Phu (Tân Phú) streets come together. In reality, most expats in Da Nang never give much thought to this destination, and to be fair it might be just worth an hour of your time budget, I think it still is an hour well spent. The museum seems bigger from the inside than it looks from the outside, yet nearly all of the displays are statues of half statues recovered from ancient Cham sites scattered across the central region of Vietnam. If you are traveling by motorbike, do not skip this place to discover more information about Da Nang and its history and culture.
Location: 01 2/9 Street (End of Tran Phu Street), Da Nang City
4. Try Da Nang Street Food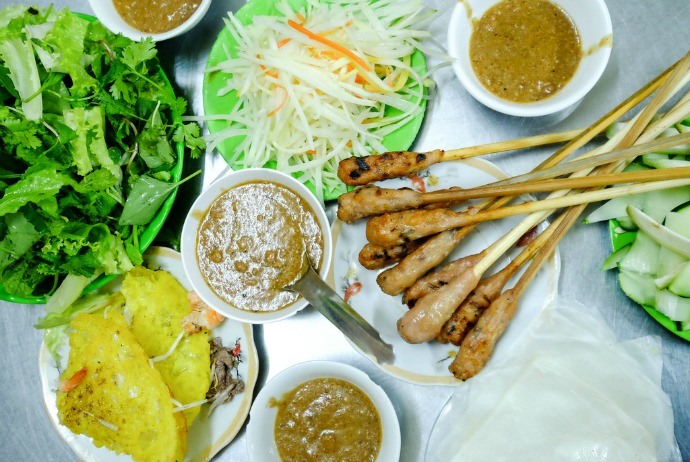 One of the most appreciated activities among many Da Nang activities tourists are recommended to do is trying out street food. While Da Nang is not particularly known for its culinary prowess in the way that Hanoi or Ho Chi Minh City is, Vietnamese food served here in general is still very healthy and even easy for kids to eat. If you have a tour guide during the time of visiting Da Nang,  then that he/she will definitely introduce to you specialties and cuisines of Da Nang, in particular, and Vietnam, in general. Walk around and the enthusiastic tour guide will show you the best places to eat with real Da Nang styles of eating and offer many insights into the process of preparing and cooking Vietnamese street food.
There are some dishes you will totally love to eat, which are grilled chicken, Banh Xeo (Bánh Xèo), dry beef salad, green seaweed salad, and more. According to many international tourists, they witness lots of different seafood that they have never seen before in other coastal cities in the world. One of the special street foods to eat is avocado ice cream which is said as the totally different thing from the normal ice cream. This dish is rather hard to describe, yet in simple words, it is an amazing combination between ice cream, smashed avocado and crispy coconut.
Keep reading this list of Da Nang activities to explore more interesting options about what to do in Da Nang?
5. Stop At Hai Van Pass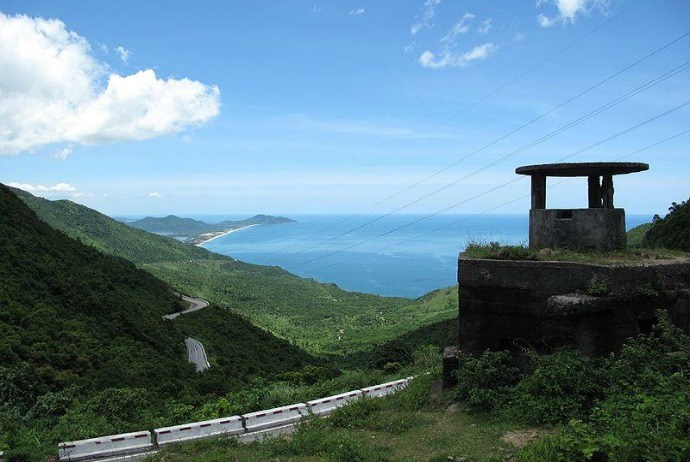 In regard to Da Nang activities, it is worth mentioning stopping at Hai Van Pass (Đèo Hải Vân). This might be supposed to be the most scenic route in Vietnam. Hai Van Pass, located along the Hai Van mountain side, on the border of Da Nang and Thua Thien Hue Province, has the most spectacular section spanning more than 21km and comprise a series of hairpin turns, breathtaking vistas and steep inclines. This deserves a perfect harmony between the fruit of human attempt and natural wonder, also named as the title "a marvelous wonder" given by the Emperor Tran Nhan Tong in 1470.
6. Visit Ba Na Hills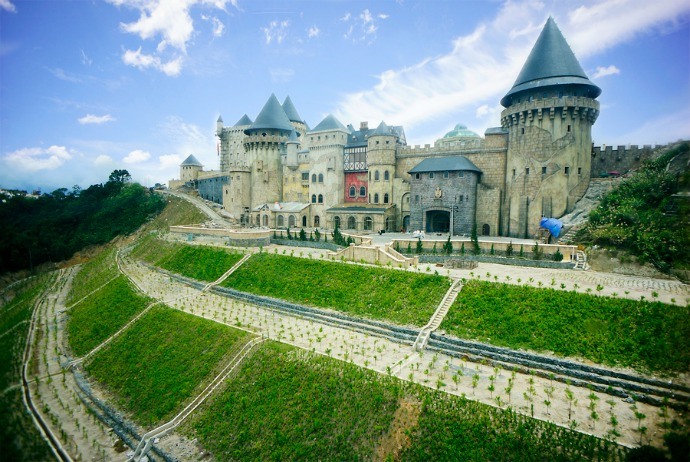 Located among forested hills about 30km west of Da Nang, the resort of Ba Na (Bà Nà) hills is a mountainous resort which becomes a well-known holiday destination for tourists. This area has a variety of flora and fauna, including a lot of rare animals like Crested Argus and Asian Black Bear. It is estimated that there are more than 540 plant species in this region.
Ba Na Hills resort itself has the longest and highest cable car (more than 5km long and 1487m high) in the world, thereby offering really fantastic views of surrounding area. Moreover, the unspoiled forest, temperate climate and spectacular views overlooking Da Nang's bay and Lao mountain range, make Ba Na Hills a popular yet amazing retreat for the French in the past, and for tourist, both domestic and international, in recent days.
At the top of the Ba Na Hills resort is a park that features with a replica European castle, and a spectacular underground amusement park carved in the mountain. Linh Ung pagoda is nearby and features with 27 meters tall, white Buddha statue that overlooks the clouds and mist of Ba Na Hills, is visible for miles around.
Visiting Ba Na Hills, tourists could enjoy 4 seasons in only one day right at the top of the hills – spring in the morning, summer, fall and winter accordingly following in the morning, noon, evening and at night. Usually, the sky is clear at such high altitudes, supplying travelers with a spectacular and clear view of Da Nang City as well as Son Tra peninsula all year long.
7. Enjoy Beach Fun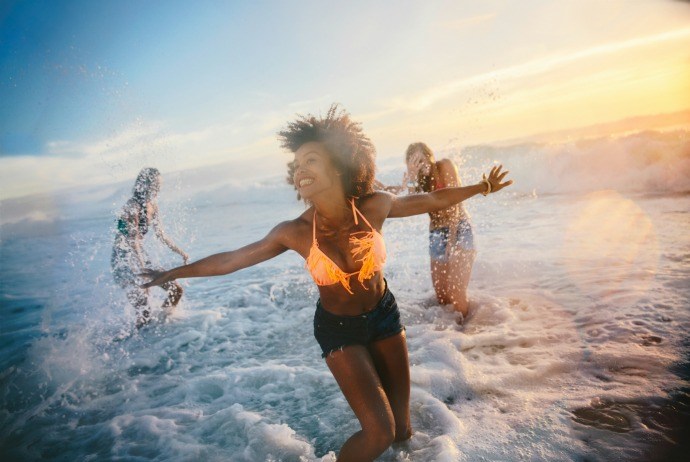 Da Nang is well-known through history as the French colonial port which has an extensive sandy white shoe and translucent waters as well as cultural marvels. There are many beautiful beaches available in Da Nang, accommodating to all kinds of outdoor adventures. Most frequently visited beaches are Red Beach, Non Nuoc, and the DHC Marina, which are worth visiting and spending all day at, even if you plan on doing anything there. With aqua-centric activities, beautiful sights, you could not go wrong spending your whole day in the sun. If you are a person who loves sports, particularly aqua-sports, then the beaches can serve as an extensive playground to surf the waves, swim or lie back and relax under tropical sun of Vietnam. To put in simple words, there are several Da Nang activities at beaches, like fishing, diving, water-skiing, and yachting. It is totally a good idea for families to bring along your children for fun in the sun in these white sandy shores.
8. Play Golf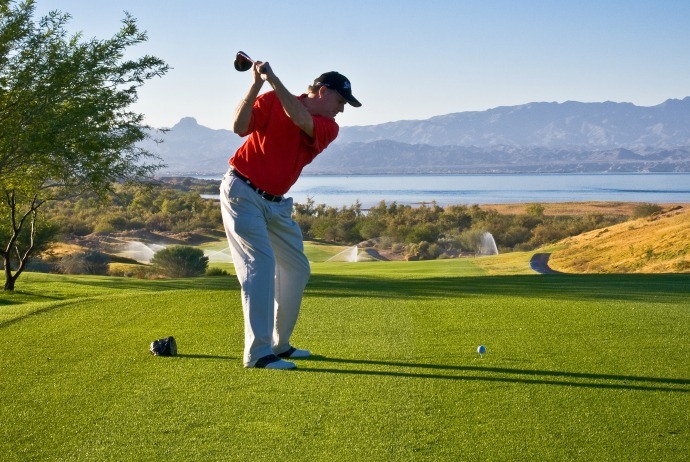 Think of joining in one of the high top end Da Nang activities like golfing if you are a sports lover. Vietnam is on the fast-track to being one of the top golfing holiday destinations of Asia. Avid golfers could play world-class golf course, enjoy luxury accommodation, fine dining and Vietnamese hospitability for just a small fraction of the cost in the West. The central area of Vietnam is no exception to this increasing trend. Regarding to Da Nang activities, golfing is an interesting choice for those who love sports. In general, there are a few big golf courses under development in Da Nang, including two 18-hole courses, named Heritage and Dunes both designed by Greg Norman.
In detail, Da Nang Golf Club is a destination situated not far from Premier Village Danang Resort, this golf course meets the 5-star standards, featuring with extensive facilities and amenities to the avid golfer. Another good quality golf course is the Montgomerie Links Golf Course which is most well-known for its challenging greens as well as sand pits. Also, the Montgomerie Links Golf Course provides players with an excellent Club House along with the restaurant in a well-maintained facility.
9. Experience Da Nang Water Park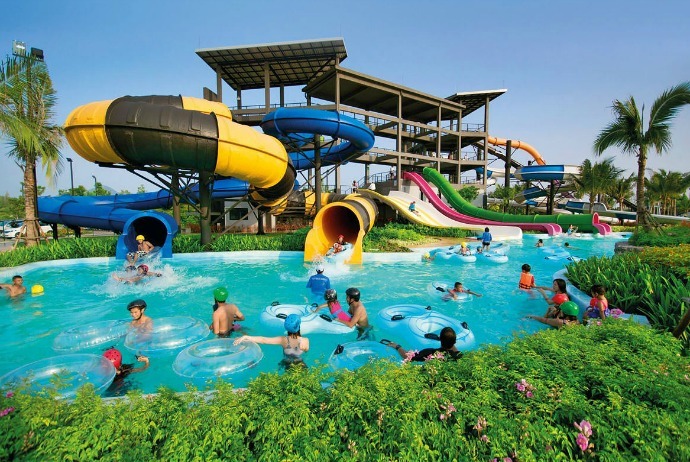 This is a big water park situated in the center of the city, covering 10 hectares and is the first amusement park, not only of Da Nang but also of central Vietnam. There are lots of fun tourists can enjoy while being in this water park. It is not just an ideal playground for children, but also for adults, with pools and slides. In addition, in this water park, there are musical and cultural performances held.
10. Relax At Lang Co Beach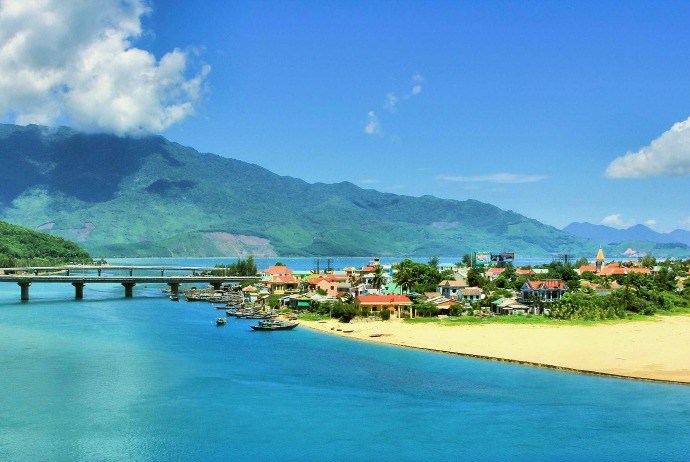 With a length of about 10km, Lang Co Beach is simply just a pit stop between Da Nang (about 30km) and Hue (about 70km). Lang Co (Lăng Cô) beach is a home to one of the most beautiful bays in the world and an ecosystem of high industrial and biological value.
This beach borders the 1A National Highway, close to Bach Ma (Bạch Mã) National Park, Hai Van Pass, and Elephant Springs, where stones form natural waterslides. Considered as one of the most beautiful beaches in Vietnam, with the temperature of water at pleasant 25 degrees Celsius, Lang Co Beach is ideal wit diving, relaxing and many other kinds of water-sport.
With the attractive and natural setting, Lang Co beach features with long stretches of smooth white sand, a continuous backdrop of green mountain ranges, and crystal clear water. Not only does Lang Co offer more than just scenery, but it also has some of the most diverse and freshest seafood you could imagine: various types of shrimp, crab, fish and more will surely turn you at every turn.
On the other hand, do not miss witnessing an unforgettable sunrise at Lang Co Beach as it is the easternmost point in Vietnam.
11. Surfing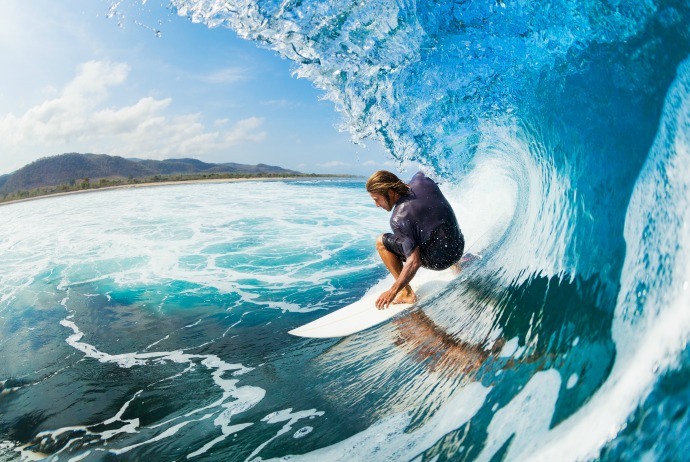 Surfing might be the most interesting idea for those who want to participate in some relaxing but still adventurous Da Nang activities. The Da Nang Surf School is run by a certified surf instructor from Portugal, providing learners with reasonably priced surfing lessons. Normally, lessons cost $40 per person for 2 hours. After learning, you can feel free to use the beach for as long as you want. Each lesson gives learners a board (for rent) to continue practicing their skills of surfing even when classes are finished.
12. Join In Cooking Classes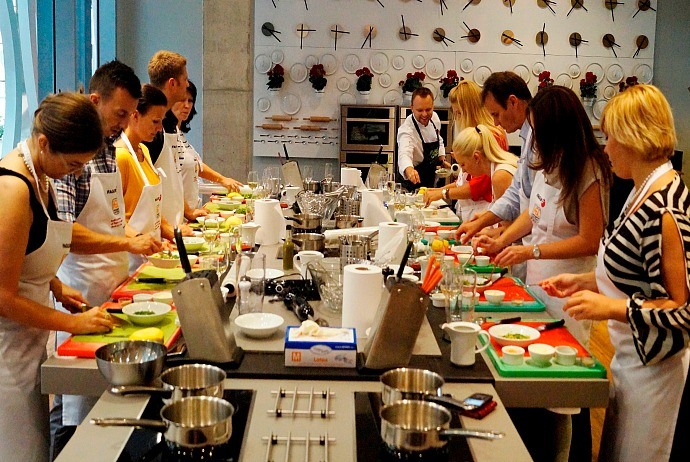 Really, it is not easy to find food which is healthy as Vietnamese food. If you find Vietnamese food delicious and appreciate its value, you can try joining in a cooking class when being in Da Nang. A lot of hotels in Da Nang offer Vietnamese specialties classes like the Furama Resort Danang on China Beach.
13. Treat Yourself A Spa Relax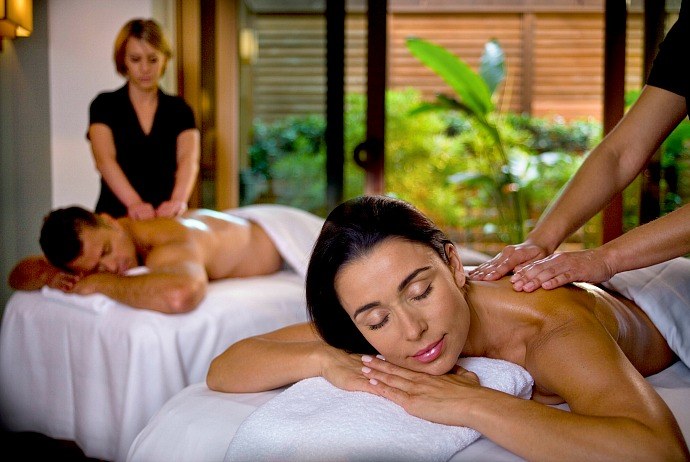 After days of visiting different attractions in Da Nang, you can take part in some relaxing Da Nang activities, such as having a spa at The Nang Spa and Fit Lounge. Take a physical, emotional and intellectual time-out at The Nang Spa in Pullman Danang Beach Resort to strip away all layers of stress, relieve discomfort and irritation. You can also experience a fusion of Thai and Ayurvedic massage and beauty treatments here, while the Fit lounge has customized schedules and routines. Steam, sauna room, and plunge pool are available for complimentary use of resort guests.
You have discovered 13 most interesting and relaxing Da Nang activities which are highly recommended by tourists who used to visit the coastal city of Da Nang. It is clear that there are multiple Da Nang activities people take part in and have fun, some for couples, some for families and some especially for adventure enthusiasts.
If you are planning to visit Da Nang in the near future, consider this list and opt for yourself some of the most attractive Da Nang activities. That way, you will create an impressive memory for your own life.
Related Articles:
Top 17 must-see Da Nang attractions in Vietnam to visit
15 things to do in Da Nang City – what to do in Da Nang?
Da Nang nightlife – 7 entertaining ideas at night in Da Nang
Shopping in Da Nang – where to shop for tourists?
20 best Da Nang restaurants: what & where to eat in Da Nang?