If you are planning a vacation with family or friends in Vietnam, Vam Sat Ecological Tourist Site (Khu Du Lịch Sinh Thái Vàm Sát) is really a worthwhile consideration. Vam Sat is a famous ecotourism area located in Can Gio mangrove forest biosphere reserve in Ly Nhon Town (Thị trấn Lý Nhơn), Can Gio Province (Tỉnh Cần Giờ), which is only 45 kilometers from Ho Chi Minh City (Thành phố Hồ Chí Minh) and very convenient for short-term travel. This may be a familiar destination but never lack interesting things to explore. In this article, we will review from A to Z in detail about the trip to Vam Sat Ecological Tourist Area. Let's take a look!
I. How To Get To Vam Sat Ecological Tourist Site?
There are several travel options to get to Vam Sat Ecological Tourist Area: motorbikes, cars, buses, or even canoes.
Cars and motorbikes: From the city center, follow Huynh Tan Phat Street (Đường Huỳnh Tấn Phát), then go over Nha Be District (Huyện Nhà Bè) to Binh Khanh ferry (phà Bình Khánh), the ferry ticket price is 4.500VND/mean. After getting off the ferry, go straight along the route of Sac Forest (Rừng Sác) for about 14 kilometers until reach Ly Nhon fork (ngã ba Lý Nhơn), you will see the signboard on the right. Turn right and continue driving for 20 more kilometers, there will be another signboard leading the way to the ticket counter of the tourist area.
Motorbikes only: From the city center, take Nguyen Huu Tho Street (Đường Nguyễn Hữu Thọ) as the starting point, turn into Nguyen Van Tao Street (Đường Nguyễn Văn Tạo) and ride for about 23 kilometers. When you see the fork with the signboard of Doi Lau ferry (phà Doi Lầu), turn left and go for 350 meters to pass the ferry. After that, go straight ahead for 500 meters, then turn right for 1600 more meters to Ly Nhon Street. At this point, turn right again and continue straight on for 11 kilometers, you will find the signboard for the ticket counter of the tourist area.
Buses: From the city center, take bus number 20 or 75 to Binh Khanh ferry. The ticket price for one person without vehicles is 1.500VND. Once you get off the ferry, catch a Can Gio bus which goes straight to Vam Sat Ecological Tourist Area.
Canoes: This is a special choice for those who want to try out a new kind of transportation. From the city center, first, you also have to get to Binh Khanh ferry and pass it, after that go for 22 kilometers on Sac Forest route until you see Dan Xay bridge (cầu Dần Xây). From there, turn right into the narrow path next to the signboard of Vam Sat Ecological Tourist Area, walk 100 meters to reach Dan Xay pickup station. You will start your canoe trip here after buying tickets, the more people go together, the cheaper the average price is. For example, if you are alone, you will have to pay 775.000VND, if your group has 19 to 23 people, the price will be down to 220.000VND/person.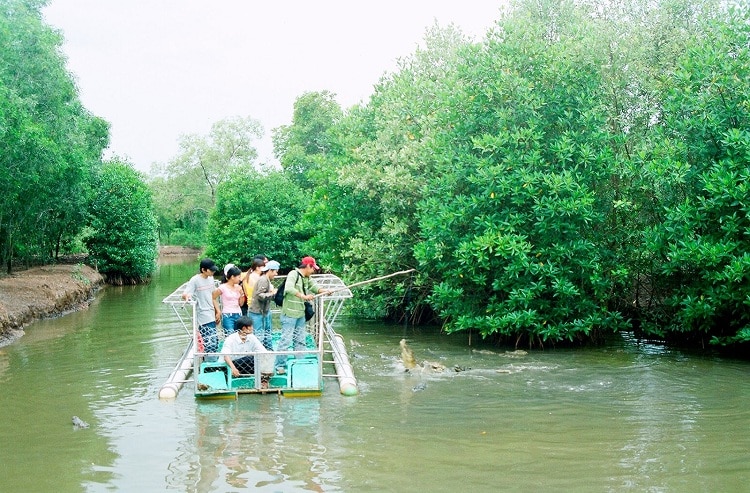 II. Overview Of Price List For Sightseeing Services
You should consult the service fare in advance to make the trip more complete and perfect. In addition to the cost for each activity category, Vam Sat Ecological Tourist Site also offers plenty of package combos which are suitable for large groups. Below we will show you some basic spending categories:
Entrance ticket: 55.000VND/person
Round-trip tram to crocodile farm: 20.000VND/person for a group of at least 2 people
Boat for crocodile fishing: 50.000VND/person for a group of at least 2 people
Fishing rod renting: 20.000VND/basic rod/person; 50.000VND/professional rod/hour (each following hour adds 20.000VND/rod)
Round-trip tram to Bird Garden: 20.000VND/person for a group of at least 2 people
Bat Lagoon ticket: 50.000VND/person
Round-trip wooden boat to Bat Lagoon (maximum 2 hours): 70.000VND/person, 60.000VND/person, and 40.000VND for a group of 9 to 16 people, 17 to 24 people, and 25 to 30 people respectively.
Combo for a group from 9 people: 250.000VND/person including entrance ticket, tram to crocodile farm to fish, Monkey Island ticket, Bird Garden ticket, boat to Bat Lagoon and ticket.
For more details, please check the official website of Vam Sat Ecological Tourist Site. However, the website does not have an English version, so foreigners might need a Vietnamese helper for translation.
III. What Are The Attractions Of Vam Sat Ecological Tourist Site?
1. Bat Lagoon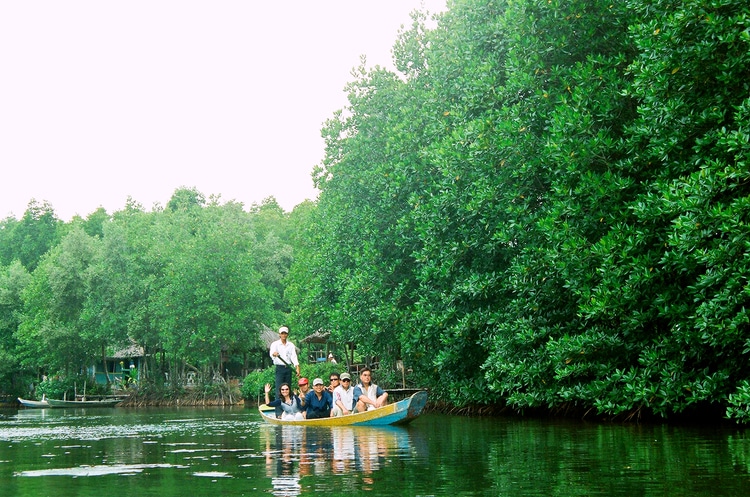 Bat Lagoon (Đầm Dơi) is an extremely interesting spot of Vam Sat Ecological Tourist Area that you definitely cannot ignore. Because it is on an isolated sub-island, therefore, visitors must take canoes or wooden boats to approach, then go on small rowing boats to get into the mangrove area where the bats live.
The bats here are the largest among all types of bats with a turmeric-colored tummy and a wingspan of up to 1 meter. Normally, bats are afraid of people, which means they are easily startled and frightened. For that reason, during the moving, visitors have to be gentle and avoid making too loud noises.
2. Monkey Island
In fact, Monkey Island (Đảo Khỉ) in Vam Sat Ecological Tourist Area is more like a spacious garden full of monkeys. The monkeys are most concentrated near the crocodile area. They are quite bold and obedient, even sit on the tea table with visitors without fear. Thence, you can freely play with them or feed them.
3. Bird Garden
After getting off the tram at the entrance of Bird Garden (Tràm Chim), you can either choose to walk or take a special electric boat to the center of the garden. You will soon see a 25-meter-high watchtower built by the management of Can Gio protection forest to examine and monitor the birds' life. It will be a new experience to get on the watchtower to admire the vast environment of the forest and observe those birds.
Vam Sat Ecological Tourist Area is the habitat of over 30 types of bird such as stork, cauldron, pelican, kingfisher, tern, and some rare birds in Vietnam like painted stork (Mycteria leucocephala), great cormorant (Phalacrocorax carbo), and heron (Ardeidae).
The most suitable time to visit Bird Garden is from April to October when the breeding season begins. It will be more wonderful if you bring along personal binoculars to clearly watch the birds and a camera to capture their beautiful moments.
4. Diverse Animals
Besides the fierce crocodiles, various types of birds, or bats with a unique upside-down style, in Vam Sat Ecological Tourist Area, you will also encounter movements of many other wildlife species such as deer, stag, wild boar, or colorful peacock.
It seems like when coming to Vam Sat, people are much closer to ecology and nature than ever before. The trip will certainly bring you more worthwhile memories than other tourist spots in the suburbs of Ho Chi Minh City can.
5. Tang Bong Tower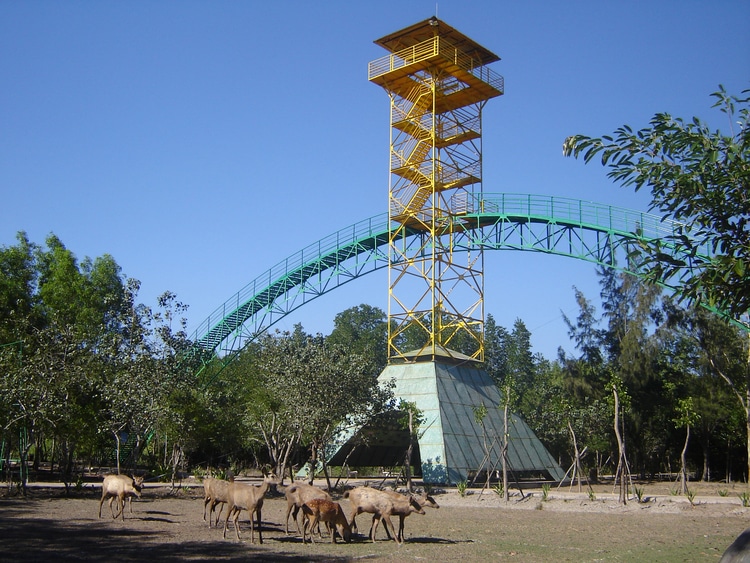 Tang Bong (Tháp Tang Bồng) is a bow-shaped 26-meter tower, which is also the central point of Vam Sat Ecological Tourist Area. It has four observation floors with two levels of stairs, the total numbers of steps to the top is 272. The main purpose of Tang Bong Tower is to create a proper view of the whole tourist area for rangers. Furthermore, the tower was built to commemorate more than 820 special task forces of the Sac Forest Regiment 10, as well as thousands of people and soldiers who fought and sacrificed in Vam Sat.
At the foot of Tang Bong Tower is a photo exhibition of the construction history of Vam Sat Ecological Tourist Site. This is also the place for young people to organize outdoor activities. It can be considered as a multi-purpose hall for union or organizations in skill training.
IV. What To Do At Vam Sat Ecological Tourist Site?
1. Crocodile Fishing
Crocodile fishing is one of the thrilling activities in Vam Sat. If in the past, we could only watch crocodiles in the small premises of the zoo, then now in Vam Sat Ecological Tourist Site, visitors can totally play with the really aggressive ones.
The game starts when you drop the bait and wait for the crocodiles to bite and tear. You will move on a canoe surrounded by an armored net with a high level of safety and protection, so you do not have to be too worried once you have not passed the authorized range.
The number of crocodiles in the river is about 40, and they are all healthy and active. These are absolutely exciting battles between carnivores and adventurous people.
2. Crab Fishing
Surely, fresh seafood lovers will be interested in catching their own ingredients for a delicious meal, crab fishing area in Vam Sat Ecological Tourist Site is where you can satisfy both your hands and your tummy. The crabs, which is as big as two adult's hands, live in the tree holes in Bat Lagoon and in the riverside will give you an amazing culinary experience.
3. Take Photos
One thing that you should not ignore when visiting a new land is to take gorgeous "check-in" photos. In Vam Sat Ecological Tourist Area, you will find lots of distinctive backgrounds. Those are vast rivers, drawbridges, forest pathways, mangroves, and more. It is not too much to say that in this environment, you will capture memorable moments within every step.
4. Cycle Across The Forest
In addition to the main roads that have been concreted for convenient transportation, there are some forest paths in the Bat Lagoon area that still remain the origin for visitors to experience terrain cycling.
The bikes used here is a special type reserved for marsh roads with large spiked wheels and light pedaling. When cycling across Bat Lagoon, you will have a chance to see the most exotic land of Sac Forest: A cluster of forests with diverse plants. If you are wondering why this is a notable point, then, as you may know, the characteristic of Sac Forest is the alternating growth of mangroves and seedlings. Meanwhile, only that area has no existence of these two varieties.
5. Other Outdoor Activities
Of course, there will be dozens more of exciting activities that you should attend such as taking basket boats, trying footbridges, bailing pond water, or planting mangroves. You can also sit on a wooden boat and float yourself on the fresh water  once you have enough playing around.
V. Where To Stay When Visiting Vam Sat Ecological Tourist Area?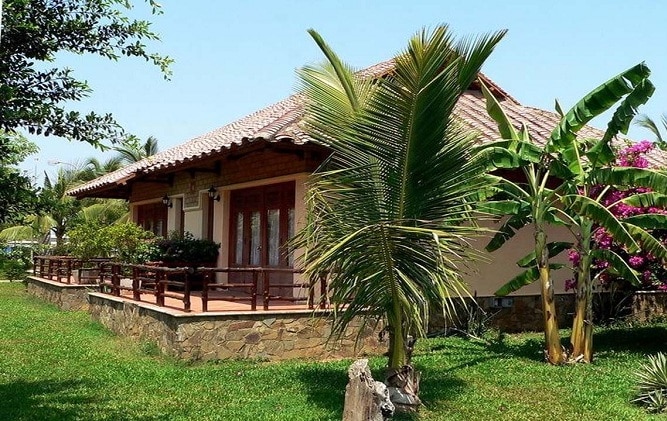 You have two options of accommodation during your stay in Vam Sat Ecological Tourist Area, booking rooms in the tourist area's guest house or renting tents and sleeping bags. Detailed price list:
Family room (for 2 people):
From Monday to Thursday: 300.000VND/day, 500.000VND/night, surcharge 150.000VND for the third person.
From Friday to Sunday: 400.000VND/day, 650.000VND/night, surcharge 200.000VND for the third person.
Collective room (10-bedroom or 18-bedroom):
From Monday to Thursday: 100.000VND/person/day, 150.000VND/person/night.
From Friday to Sunday: 150.000VND/person/day, 200.000VND/person/night.
Camping combo: 150.000VND/person for a group from 30 people, including entrance ticket, tram to the central area, tent, sleeping bag, and camping land cost.
Tent-renting only: 550.000VND/pcs.
Sleeping bag-renting only: 50.000VND/pcs.
Note: If you book a room overnight, you will have your breakfast included in the price. The rooms here do not offer personal items like towels, toothpaste, toothbrushes, slippers, and so on.
VI. What To Eat At Vam Sat Ecological Tourist Site?
Food lovers will absolutely fond of this place because all the food here is caught on the spot and processed deliciously. These Southern specialties will energize the whole day of exploring in the tourist area.
Vam Sat restaurant is the number one choice for a group of varied age. It is in the center of Vam Sat Ecological Tourist Area, near a lake with an open environment and can serve over 200 customers at a time. The restaurant is like a heaven of Can Gio saltwater territory's specialties, namely brine shrimp, crab, oyster, saltwater duck, "vọp" (Geloina coaxans – bivalve mollusks), "cá dứa" (Pangasius kunyit – fish of the Pangasiidae family), "cá thòi lòi" (Periophthalmodon schlosseri – valuable products of mangrove areas), "ba khía" (Sesarma mederi – a small type of crabs in the Sesarmidae family), "rau bui" and "rau lìm kìm" (wild vegetables – indispensable "spices" of signature dishes in Vam Sat). The best thing is the price of food in the restaurant is very reasonable.
On the other hand, renting a fireplace for an outdoor barbeque is not a bad idea at all for the group of young people. With the fish and crabs caught earlier, you will certainly have a stunning meal.
VII. Extra Tips
Bring along sunscreen and insect repellent. Sunscreen is an inseparable thing that protects your skin in a long journey, and because you are going to an eco-forest, it will inevitably avoid the disturbance of mosquitoes and other insects, especially if you intend to camp overnight.

Prepare suitable and also extra clothes since you will be active most of the time.

Wear soft canvas shoes or slip-resistant shoes for comfortable movements.

Other essential items: Flashlight, knife, lighter, raincoat, cap, tarpaulin, nylon bag.
With beautiful and unique scenery, a bunch of games and activities, fascinating food, and many more to discover, it would be a waste if you miss Vam Sat Ecological Tourist Site when listing your tourist destinations for weekends. We hope you will find this article useful and engaging enough to get you to Vam Sat on the earliest opportunity. If you have any questions or want to share with us your story, do not hesitate to write a comment below. For more information about other attractions in Ho Chi Minh City and Vietnam, please check our homepage.
By Crystal