Most tourists who first set their foot on new land, to better understand the cultural history of that place, often visit museums. When coming to Ho Chi Minh City, Museum of Vietnamese History (Bảo Tàng Lịch Sử Việt Nam) is a destination that tourists cannot miss. This is the place to collect and preserve the unique national cultural artifacts of Vietnam since the reign of Hung King. Not only are the objects exhibited inside the museum, the building itself is also a precious heritage.
I. How To Get To Museum of Vietnamese History?
Museum of Vietnamese History is on No.2 Nguyen Binh Khiem Street, Ben Nghe Ward, District 1 (Số 2 Đường Nguyễn Bỉnh Khiêm, Phường Bến Nghé, Quận 1). It is located inside the Zoo and Botanical Gardens (Vườn Bách Thú và Thảo Cầm Viên), opposite the Hung King Temple (Đền Thờ Vua Hùng). The location of this museum is also in the central district of the city, only 1 to 2 kilometers far from other notable attractions such as Independence Palace (Dinh Độc Lập), Notre Dame Cathedral (Nhà Thờ Đức Bà), 30/4 Park (Công viên 30/4), and so on. Therefore, the access to Museum of Vietnamese History is quite easy by both public transport and private means.
If using the Notre Dame Cathedral as a starting point, for public transport, you need to walk to the bus stop near 30/4 Park, get on bus number 42 or 52, and get off right in front of the Zoo and Botanical Gardens. For private means, the fastest route is to drive along Le Duan Street (Đường Lê Duẩn), then turn left at the Le Duan-Nguyen Binh Khiem fork, the destination is on your right-hand side.
II. What Are The Attractions Of Museum of Vietnamese History?
1. Typical Architecture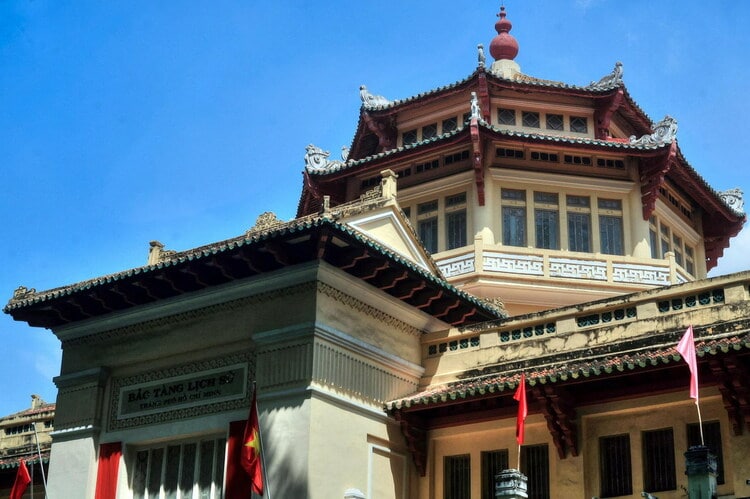 Museum of Vietnamese History, formerly known as the Musée Blanchard de la Brosse, was invested by the Etablissements Lamorte Saigon, designed by the French architect Auguste Delaval in the style of "Modern Indochina" (styleindochinosis), and constructed between 1926 and 1928.
The original structure of the museum includes a main block with a large octagonal hall and two more side blocks. The main block has a two-level tile roof, decorated with stylized phoenix and dragon ornaments, and four different-sized spheres. Some people claim that this roof shows lots of elements of ancient Chinese architecture.
In 1970, Museum of Vietnamese History's overall premises was expanded. This extension was designed by architect Nguyen Ba Lang with a U-shape building and an opencast lake in the middle. Every door of this building directly faces the lake, due to that, gallery rooms are all airy and bright.
2. Poetic Environment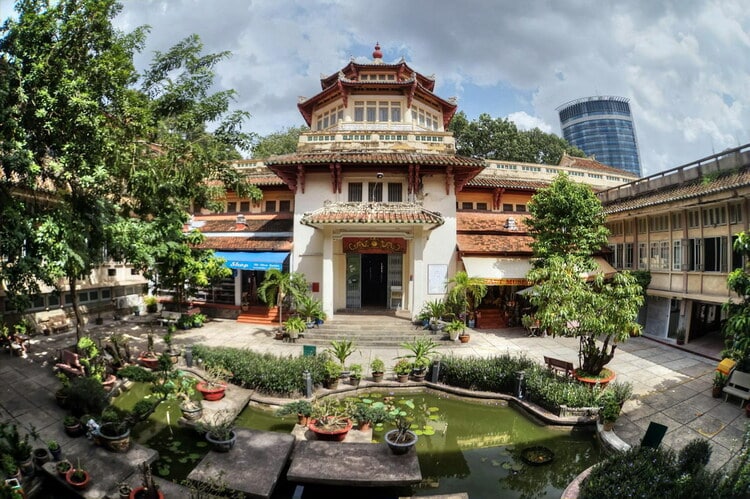 The main gate of the museum also has an ancient feature. Below the staircases before entering the museum hall are two bonsai pots and two long rows of trees, which are very eye-catching. You can see the walls, roofs, stair steps, pillars, and windows have been around for long, they have been somewhat restored but there are still traces of time.
Before going inside, you should not ignore the two opposing corridors right at the main gate. These walkways are not covered, making tourists free to immerse in the open space of the natural landscape here. Along both corridors are numerous potted plants, particularly, on the left corridor there are papers with the names of antiques, their pictures, and historical stories, adorning the antiquity and also the romance of this place.
Museum of Vietnamese History possesses several backgrounds that help tourists get beautiful photos. For example, the old windows along the corridors, benches arranged for visitors to sit and relax after moments of history, the outdoor stairways connecting galleries, all can be ideal shooting angles.
3. Diverse Cultural Treasures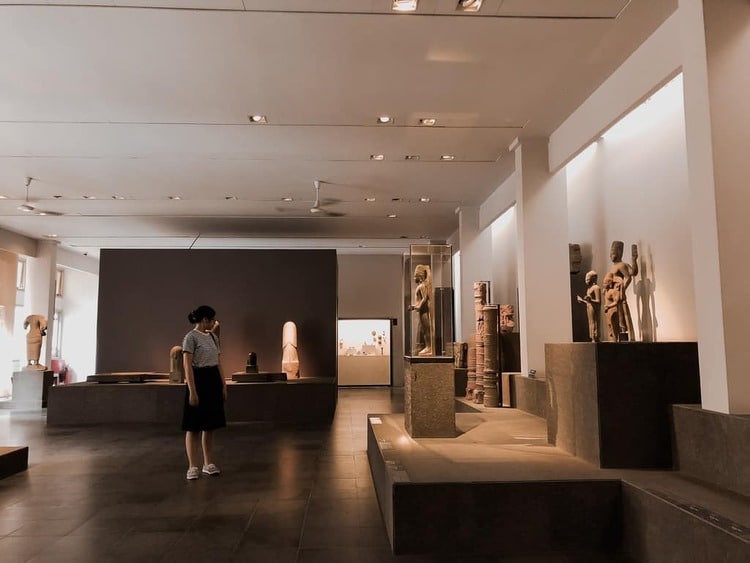 Museum of Vietnamese History opened for the first time on January 1, 1929. In the beginning, the museum had only 2.893 antiques. By the end of the 20th century, it had more than 30.000 valuable artifacts. In addition, the museum also has over 25.000 books, newspapers, and documents, which are very necessary for the study of history, archeology, ethnology, and museology.
Currently, the display system of Museum of Vietnamese History consists of two parts: Vietnamese history from the prehistoric period (about 500.000 years ago) until the end of the Nguyen Dynasty (1945), and Topics about culture in Southern Vietnam and some Asia countries.
Each exhibition room shows a different historical period, bringing tourists the sense of traveling back in time. All history lessons are vividly reproduced with artifacts stored carefully in glass cabinets. Next to each artifact is extremely detailed annotations, which help visitors feel more interested in learning about the history of these objects, thereby understand more about the lives of Vietnamese people many many years ago.
The artifacts exhibited not only demonstrate the development of history but also underline Vietnamese culture since there are some areas showcasing colorful traditional costumes and instruments of ethnic groups.
As mentioned, Museum of Vietnamese History also reserves a few sectors for cultures of neighboring countries, which the two most outstanding are the gallery of Buddha statues with a variety of Buddha images of different cultures in Southeast Asia, and the gallery of Champa culture with tons of terracotta items.
III. Extra Info
If you have personal vehicles, you can park yours at the parking lot of the Zoo and Botanical Gardens.

The ticket prices are: 30.000VND/pcs for adults (both domestic visitors and foreigners).
15.000VND/pcs for children from 6 to under 16 years old, students with a valid student card, elderly people, the beneficiary of social welfare, and people with disabilities.
Free for children under 6 years old and people with severe disabilities.
The museum is open on all weekdays and public holidays from 8:00 to 17:00, lunch break from 11:30 to 13:30.

The museum provides explanations in Vietnamese, English, and Chinese for tourist groups that have contacted for registration in advance 3 to 7 days before. Phone number: 08 382 902 68.
Do not hesitate any longer but visit Museum of Vietnamese History right away to enjoy the arts, to supplement your historical knowledge, and also to capture your most adorable moments. After that, come back here and share with us your experiences about the trip. If you have any comment or further information regarding the museum, write us in the box below, we will be very appreciated. One left thing, do not forget to check out our homepage for more Ho Chi Minh City and Vietnam attractions.
By Crystal