Updated: 08/29/2019
Circuit Triangle Flower Festival is an annual event in Ha Giang province, which attracts thousands of domestic and foreign tourists to visit. Also, it is a wonderful tourist attraction for you to see many beautiful landscapes and colorful triangle circuit flowers. To pick up some of the most amazing natural spots in this land, follow us!
Ha Giang Circuit Triangle Flower Festival In October
I. How To Go To Ha Giang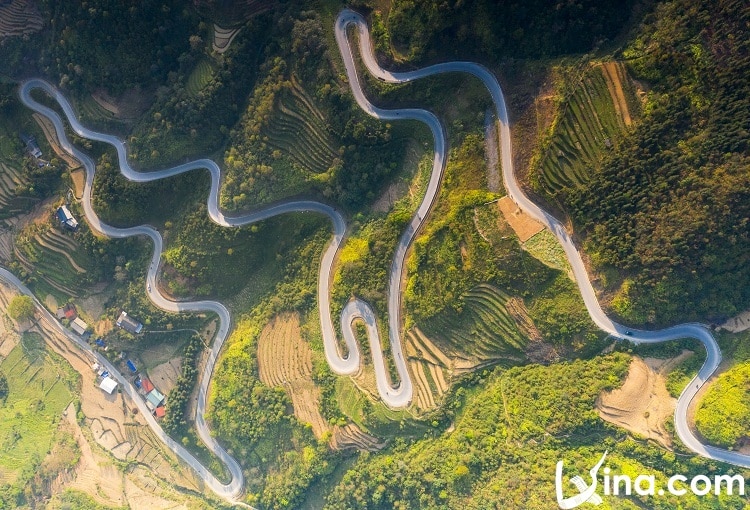 Source: Ha Giang In Spring Photos By Tien Nguyen
1. By car: From Hanoi capital, you should catch a car at My Dinh (Mỹ Đình) bus station in Hanoi at 9pm and arrive at Ha Giang about 5am. There are many famous garages for you to choose; they include Hai Van, Hung Thanh, and Bang Phan with the price from 250,000 to 300,000 VND / person.
2. By motorbike: You can choose 2 routes:
Route 1: Departure from Ha Noi, follow the street 21 in Co Nhue to Son Tay – Trung Ha bridge – Co Tiet – Phong Chau bridge (Phong Chau bridge turns left) – Go along Thao river to Phu Tho (Phú Thọ) town – Doan Hung (Đoan Hùng), and then turn left to Tuyen Quang (Tuyên Quang) –  follow National Highway 2 to Ha Giang (length about 300 km).
Route 2: Departure from Hanoi – Vinh Phuc (Vĩnh Phúc)- Viet Tri (Việt Trì)- Phu Tho – Tuyen Quang – Ha Giang (or 2C and Highway 2, about 280 km in length)
II. The Must-See Tourist Destinations In Ha Giang Province
1. Lung Cu Flag Tower (Cột Cờ Lũng Cú)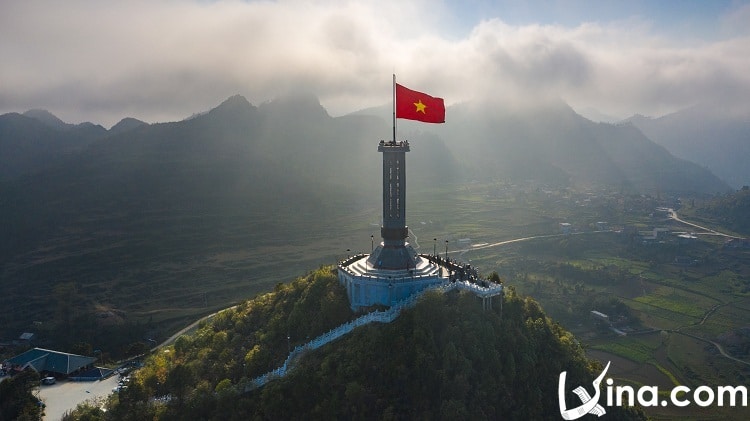 Source: Ha Giang In Spring Photos By Tien Nguyen
This is the northernmost of the country, which is located on the peak of Dong Van (Đồng Văn) Plateau, about 200 km from Ha Giang province. At the foot of the Lung Cu flag pole and the road to Lung Cu, you will see many fields of circuit triangle flowers. It's a nice view! Hence, you can take some photos in this place.
2. Ma Li Peng Pass (Chân Đèo Mã Pí Lèng)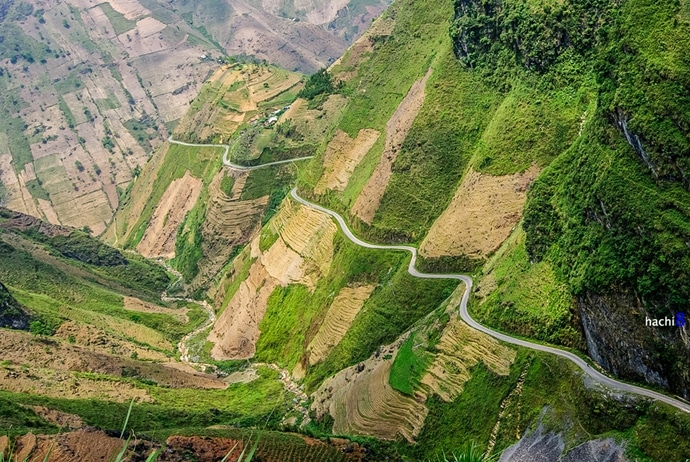 Source: wiki.youvivu
Ma Li Peng Pass is also a wonderful point to enjoy the beauty of triangle circuit flowers in Ha Giang. This is a dangerous passes which is situated on Hanh Phuc (Hạnh Phúc) street connecting Ha Giang city, Dong Van district and Meo Vac (Mèo Vạc) town. Besides, you can see the Nho Que (Nho Quế) green river – a wonderful picture here.
3. Pho Cao Mountain (Núi Phố Cáo)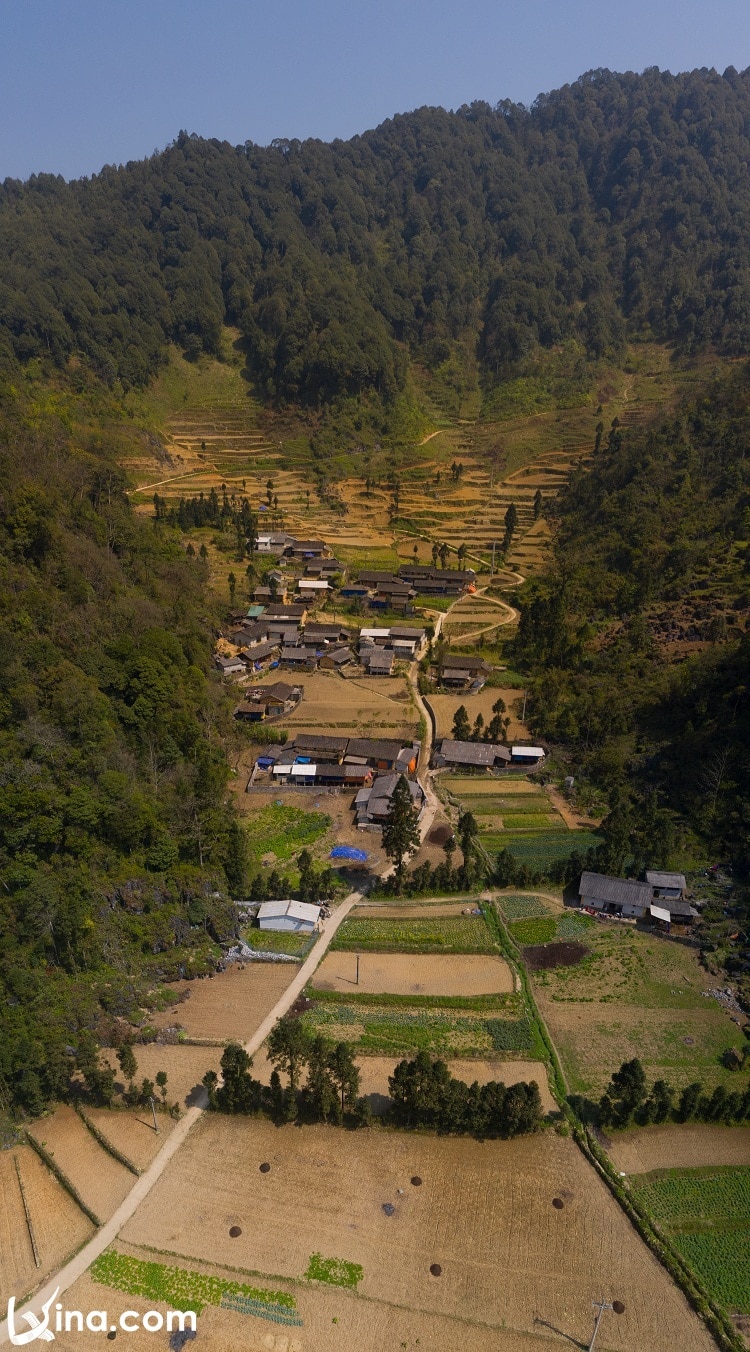 Source: Ha Giang In Spring Photos By Tien Nguyen
Located on the National Highway 4C, this place owns the cultural identity of plateau's land with four ethnic groups, such as Mong (Mông), Dao, Han (Hán), and Pu Peo (Pu Péo).  If you are interested in exploring the new things, you should go into the area nearly the cliffs. You will discover beautiful and tranquil triangular flower beds. It's wonderful!
4. Sung La Valley (Thung Lũng Sủng Là)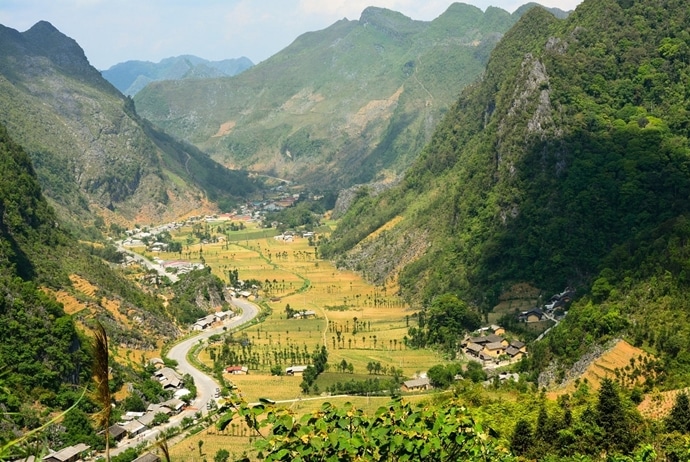 Source: wiki.youvivu
One of the most beautiful views to see triangle circuit flowers in Ha Giang province is Sung La valley. Tourist will be surprised by full of flowers with pink color there. Especially, when coming here, you also get a great chance to visit the house which is filmed on the movie called Pao's House or participate in the Sung market with Mong and Lo Co people on Sunday morning.
5. Hoang Su Phi Terraced Field (Cung Đường Hoàng Su Phì)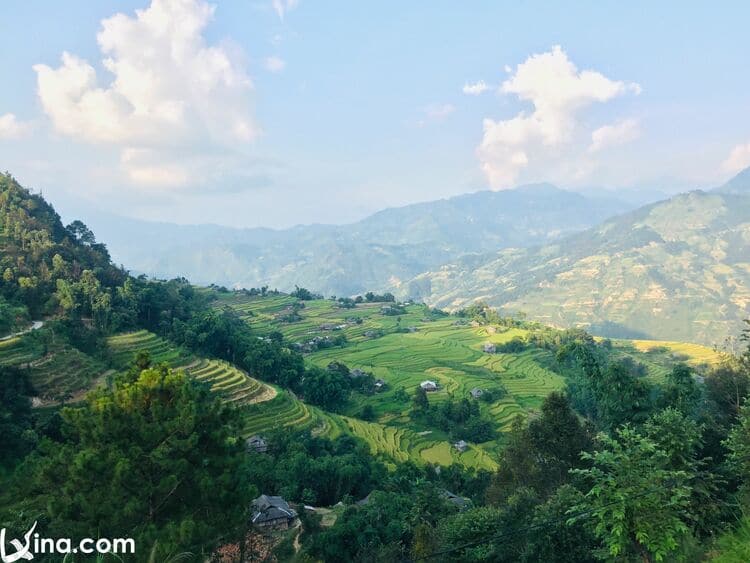 Phung Village Photo By Vu Tuan
Located in the western of Ha Giang province, the terraced field in Hoang Su Phi is a fantastic place that you should not miss when traveling to Ha Giang. Moreover, the terraced field is the great achievement which represents creativity and hard working of local people. Most of tourists like this area due to its charming beauty as a paradise in the clouds.
III. Ha Giang Circuit Triangle Flower Festival In 2018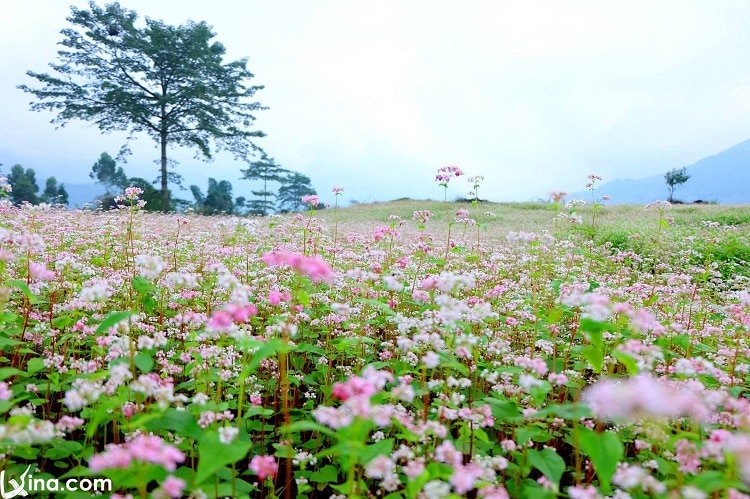 Source: Buckwheat Flower Photos By Huong Dieu Le
Circuit Triangle Flower Festival will be held in some districts of Ha Giang, such as Dong Van, Yen Minh, Quan Ba from 13th to 15th November 2018. Thanks to the images of triangle circuit flowers, the province organizes this festival to promote the Dong Van highland's cultural values and create the tourism reputation for Ha Giang province. From then on, this place will attract more and more visitors.
The Opening Ceremony of the Circuit Triangle Flower Festival with the theme " Stone highland- blooming flowers (Miền hoa – Lan Tỏa)" will take place at 20h on 03/11/2018. However, since October 15th , there are many exciting events such as such as the 5th Circuit Triangle Flower Competition Flower Street in Dong Van Ancient Town (Phố Cổ Đồng Văn), Geopark Photo Gallery (Triển Lãm Ảnh Công Viên Địa Chất), Ha Giang cuisine, etc which are organized,
Annually, this festival attracts a large number of visitors. When visiting this area, tourists not only take part in the festival but also watch the ethnic people's characteristic activities. Especially, you can enjoy the beauty of triangle circuit flowers and many famous tourist destinations in here. If you have a travel plan in October, don't ignore circuit triangle flower festival in Ha Giang province!
Above is all the detailed information about Ha Giang and its circuit triangle flower festival that are worth a visit. We hope you find this article useful for your further journey to Vietnam. To get more information about other places to visit in Vietnam, go to our home page.