Thuy Chau Tourist Site (Khu du lịch Thủy Châu), located in Binh Duong (Bình Dương) and about 20 km from Saigon (Sài Gòn), is a tourist destination suitable for interesting outdoor activities owing to artificial landscapes of forests, waterfalls, rivers, and streams.
If you are looking for a destination where you can enjoy many elements of nature at a time, then look nowhere else than Thuy Chau Tourist Site. Cannot wait to discover this site by yourself? Then, let's check our guide on Vina.com out!
I. General Information About Thuy Chau Tourist Site
Located at 55 DT743, Binh Thang ward (Phường Bình Thắng), Di An (Dĩ An), Binh Duong, Thuy Chau Tourist Site is suitable for visitors to relax and participate in fun activities.
Thuy Chau Tourist site win travelers' heart by the heaven of landscape with forests, rivers, streams, and waterfalls. The most special thing in Thuy Chau, with an area of over 18 hectares, is its cleanness and freshness. Especially, the water here is filtered and sterilized with chlorine standardized daily according to Japan's criteria, so it is really safe and hygienic.
Opening hours: 8am – 6pm on Fridays, Saturdays and Sundays
Phone: 0965 101 510 – 0948 447 262
Entrance fee:
Adult 80.000VND / person

Children from 1.2 to 1.4m: 40.000VND / person

Children under 1.2m tall and older over 65 years old: free
Here, you can sit down, eat, or have a barbecue on the banks of streams without paying any fee. If you want to bring your own food, it is absolutely possible, but remember to clean up after eating.
II. What Are the Attractions Of Thuy Chau Tourist Site?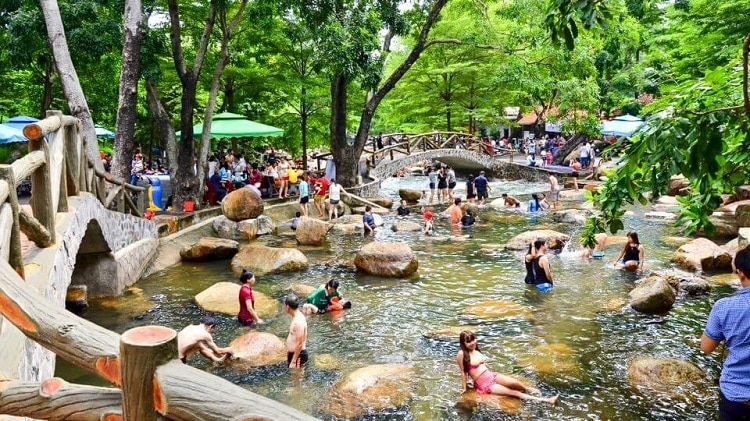 The artificial waterfall in Thuy Chau Tourist Area is like a "miniature Truong Son (Trường Sơn)" with the shape of the hills. Although it is an artificial scene, it was made so naturally, making visitors feel like the real nature.
Coming here, you will surely have fun swimming experience. Children can swim within shallow water zones, and those strong-minded people can swim and challenge themselves at the deeper levels of waterfalls. Because the water here is filtered daily, so it is very clean; therefore, you can completely be reassured about the hygiene.
With green space, green trees and artificial streams, you will feel like being in Da Lat (Đà Lạt) – a famous romantic destination in Southern Vietnam. This scene is sure to make it easy for photographers to "capture" beautiful moments.
At the foot of the waterfall, the water flows along the stream and crosses the rocks scattered all over, forming a beautiful scene as a water-color painting.
In addition, Thuy Chau Tourist Park has a Swimming Pool Park with a depth of just 1.2m and a width of 1200m². Here, you can have fun with the cool water to get rid of daily stress.
If you come here on holidays, chances are, you can see the extraordinary art performances such as lion dance and dragon dance.
In Thuy Chau Tourist Site, there is also a Pacific garden restaurant, which has a rich and varied menu, offering fresh seafood for tourists.
If you are a fan of something wild, do not hesitate to rent a canvas to organize a small outdoor party with friends. With airy space and beautiful natural scenery, Thuy Chau will surely bring you a feeling of peace.
III. How To Get To Thuy Chau Tourist Site?
To get to Thuy Chau Tourist Site, you have several options of means to choose from, namely motorbike or bus.
Here are detailed guidelines for each option:
Travel by bus: Take bus no.150, stop at Tan Van junction (Ngã ba Tân Vạn) and then take a taxi or motorbike taxi to go for about 1km to arrive at Thuy Chau Tourist Site.

Travel by motorbike: Departing from Pham Van Dong Street (Đường Phạm Văn Đồng), you follow the Highway 1K, then turn right at the Binh Thung junction (Ngã ba Bình Thung) before going 3km further to get to Thuy Chau tourist site. The total travel time is about 30 minutes.
IV. Additional Tips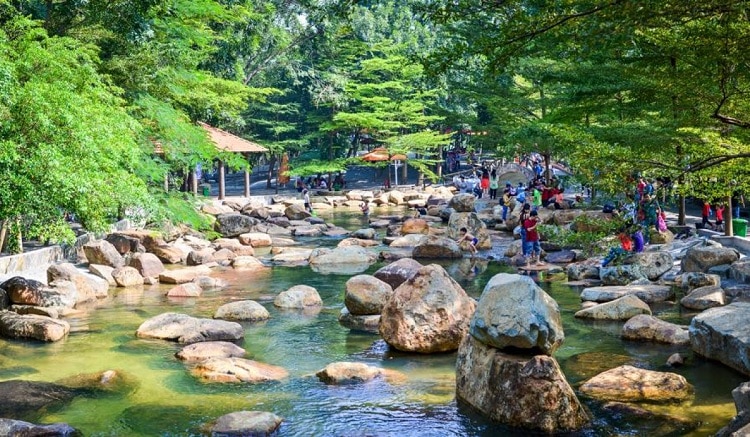 You are fully assured of security here as all areas of this tourist site are closely monitored by security forces.

The site is quite large in terms of area, and there is a jeep picking up visitors free from the entrance.

You can choose for yourself a quiet corner to relax in case you want to relax a little bit.
Read more:
Trung Luong Camping Site: Immersed In Nature In Vietnam's Quy Nhon City
Suoi Tien Theme Park: The Cultural Park In Saigon, Vietnam
Not too far and not too expensive as many other tourist destinations in Ho Chi Minh City, Thuy Chau Tourist Site will be suitable for young people who want to enjoy the nature on a budget. Therefore, during your trip to explore Saigon, arrange your time to visit this place soon.
For any questions related to Thuy Chau or other attractions in Ho Chi Minh City (and nearby areas as well), leave a comment below. We will respond as soon as we could.
By Van Tran