Although Suoi O Beach (Biển Suối Ồ), also known as Song Lo Beach (Biển Sông Lô), is an unspoiled beach, it still attracts tourists at first sight. The beach is just about 3 hour of driving from Ho Chi Minh City, but so far it has not been exploited and impacted by tourism significantly. Thus, many consider it a dreamland in real life. And if you are planning to explore it in the near future, our sharing and travel experiences below on Vina may be useful.
I. What Is The Best Time To Visit Suoi O Beach?
Suoi O Beach is located in the monsoon tropics, under the influence of sea climate (also known as oceanic climate). Since Suoi O beach in Vung Tau is quite close to Ho Chi Minh City, the weather of this beach is similar to that of Ho Chi Minh City.
The average annual temperature at Suoi O Beach is about 27.5 ° C, the highest is 29.3 ° C (in May), and the lowest is 25.6 ° C (in February). In general, the temperature does not fluctuate too much and the air is cool, creating convenient condition for your trip.
As Suoi O Beach is located in the tropical monsoon, the climate is divided into two distinct seasons: rainy and dry seasons. The rainy season lasts from May to October and the dry season is from November to April.
To warrant for an ideal trip, you had better visit Suoi O Beach in the dry season since the seawater is not too cold, waves are not strong, and storms do not happen during this time.
II. What Are Attractions And Activities In Suoi O Beach?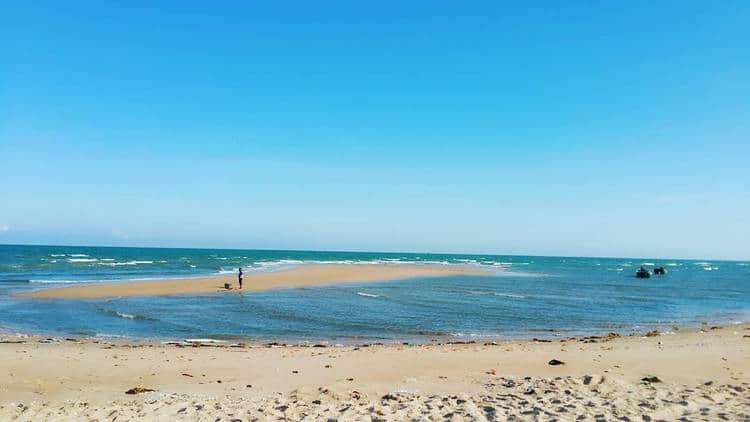 Suoi O Beach is a very special beach, which having both freshwater and saltwater. To get to the beach, you have to wade through the area of freshwater for about 25-30m. This area is not too deep and the flow is light, so you will not have any difficulty going through it.
Trust me, when coming here you will have a feeling that Mother Nature has given this place a miracle that is hardly found anywhere else.
Suoi O Beach is adjacent to Binh Thuan (BìnhThuận) and is deep into the land so there are quite fewer waves, making it safe for swimming and playing water sports. You can take advantage of the long coast to organize team building activities, set campfire, or set up beachside tents for overnight stays.
With the white sand, crystal water, Suoi O is cool and attractive enough to make everyone bare their feet to get a massage on the smooth sand right here. Going straight through the immense forest, Suoi O appears to be a vast, clean and wild beach. The beach and river mouth here are separated from each other by a soft white sand stretch. At Suoi O Beach, just take a walk along the beach and enjoy the peaceful, casual atmosphere and immerse yourself in the natural surroundings to enjoy the most relaxing moments.
Since the beach has not been exploited much yet, its beauty is pristine and wild so that there are only a few scattered small fishing boats of locals parked far from the seashore. If you want to explore local people's life, do not forget to visit the nearby fishing village. Here, you can rent a basket boat to experience the feeling of floating on the sea and learn to be a fisherman.
Suoi O beach is quite serene, so you can let your kids (if any) to have fun on the beach without having to worry about anything. However, during the jellyfish season, there are many jellyfish following the waves to get to the coast. Therefore, in order to be safe, it is best to bring medications to prevent any possible itching and redness caused by jellyfish.
III. What To Eat In Suoi O Beach?
When it comes to having a beach holiday, seafood is an indispensable part of eating. In the early morning, when fishing boats arrive, do not overlook the opportunity to buy fresh seafood directly from local fishermen with very affordable prices. If you want to eat immediately, you can ask the seller to process for you. In case you want to prepare your own food, do not forget to bring your own cooking utensils.
IV. How To Get To Suoi O Beach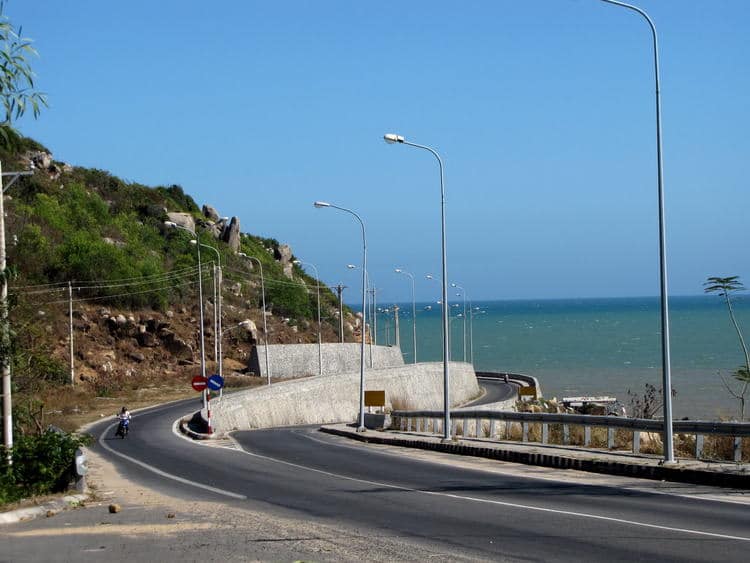 Suoi O Beach is located in Binh Chau Commune (Xã Bình Châu), Xuyen Moc District (Huyện Xuyên Mộc), Ba Ria-Vung Tau province (Tỉnh Bà Rịa – Vũng Tàu), about 3km from Binh Chau Market (Chợ Bình Châu).
To get to this beach, you can depart from Ho Chi Minh City or Vung Tau  city:
1. Travel By Motorbikes / Cars
Follow this routine: from National Highway 1, you head to Dong Nai Bridge (Cầu Đồng Nai), go along Highway 51 to arrive at Vung Tau city. Go straight ahead to Long Hai Beach (Biển Long Hải), and finally Suoi O Beach.
Or you can follow the route: from Sai Gon, get on Cat Lai Ferry (Phà Cát Lái) to head to Long Thanh (Long Thành) of Dong Nai province. After that, head to Vung Tau city to get to Long Hai Beach and Suoi O Beach. This option helps you save a lot of time compared with the first one.
2. Travel By Coaches
From Ho Chi Minh City, you can catch one of these coaches: the Hoa Mai coach (xe khách Hoa Mai), Rang Dong coach (xe khách Rạng Đông), or Thien Phu coach (xe khách Thiên Phú), with fares ranging from 55.000VND to 100.000VND to get to Vung Tau. After that, take a taxi to get to Suoi O Beach.
3. Travel By Hydrofoil
Another option for you to visit Suoi O beach is using the hydrofoil departing from Bach Dang Wharf (Bến Bạch Đằng) in Ho Chi Minh City to arrive at Cau Da Wharf (Bến Cầu Đá) in Vung Tau City. Then, you continue to take the taxi to go to Suoi O beach.
V. Where To Stay In Suoi O Beach?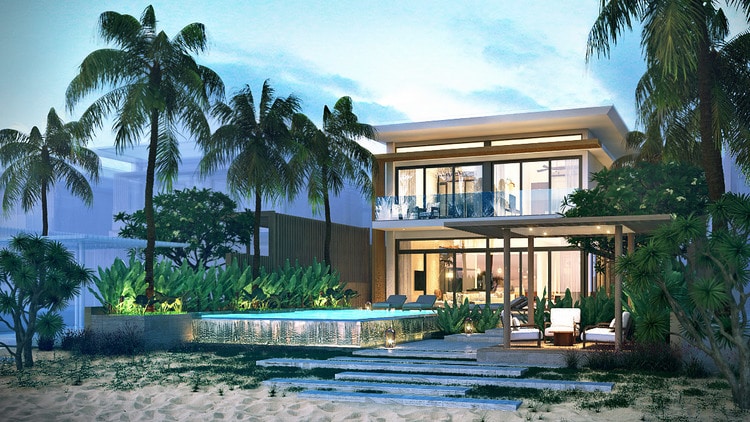 Since Suoi O Beach is still wild and under exploited, the tourist services here are not diversified. You can use the homestay service or bring your own tents for camping overnight on the seaside, enjoy the cool breeze, watch the stars and walk along the beach at night.
If you come to Suoi O Beach for relaxation, you can choose the Ven Ven Resort, Ho Tram Sanctuary Resort & Villa, or Carmelina Beach Resort.
Suoi O Beach is very clean and beautiful so after playing here, do not leave trash on the beach. After exploring this place, if you still have time, you can visit some other nearby places like the Binh Chau Beach (Biển Bình Châu) or Lagi Beach.
For any question about Suoi O Beach or other destinations in Vung Tau or nearby Saigon, leave a comment below. We will reply as soon as possible.
By Van Tran